The global solar microinverter and power optimizer market size was estimated at USD 959.9 million in 2021 and is expected to surpass around USD 2,181 million by 2030 and recording at a notable CAGR of 9.55% during the projected timeframe of 2022 to 2030.
Thermal energy is used by a mechanical device known as a solar microinverter & power optimizer to drive mechanical work from a rotating output shaft. A solar microinverter and power optimizer are made up of a boiler, condenser, turbine, feed pump, and numerous other components.
Growth Factors
Solar PV systems can benefit from solar microinverters and power optimizers, but they work differently. Both systems, which are installed within solar panels, enable PV cells to operate at their best when more than one of the system's panels is shaded. The main difference between the two is that microinverters directly convert the DC current generated by solar panels into the AC current that can be used by home appliances, whereas power optimizers are used to modify the performance of the panel via maximum power point tracking, that is primarily a method to condition a DC current created by the PV cells prior to actually sending it to a central inverter.
High adoption trends regarding clean energy technologies, such as PV systems, among both residential and commercial end users are expected to increase the market share of solar microinverters and power optimizers throughout the projection period. The Solar Investment Tax Credit (ITC) program, which the U.S. federal government has created, provides a 30 percent tax credit for the installation of PV systems in residential as well as commercial structures. The solar microinverter and power optimizer market will be driven by advances in power harvesting technology combined with falling component prices.
Companies like Solar Bridge as well as Tigon are attempting to create integrated module smart technology inverters to improve PV architectural efficiency and, as a result, improve the end user's total return on investment. Over the course of the report's prediction period, the already booming market will continue to grow due in large part to the significant cost reduction of microinverters and power optimizers as well as manufacturers' ongoing efforts to develop and improve the technologies.
As people become more aware of the advantages of renewable energy sources and become more concerned about climate change, there is a sharp rise in the demand for solar energy on a worldwide scale. The market for solar microinverter optimizers is expanding as a result.
The cost of solar panels is decreasing as a result of technological breakthroughs and greater production capacity. The cost of installing rooftop solar systems is decreasing, which is causing the market for solar microinverters and power optimizers to expand.
Rooftop solar systems are being adopted and the market for Solar Microinverter & Power Optimizer products is expanding as a result of government incentives and subsidies for their installation.
The demand for more dependable and sophisticated power harvesting systems will propel the worldwide market's expansion.
The market will profit from enhanced panel-level monitoring and power point tracking.
A few important characteristics that will promote business growth are flexibility, compactness, and a lower needed DC voltage. The market share will be driven by the rising residential and commercial use of solar systems.
Report Scope of the Solar Microinverter and Power Optimizer Market
Report Coverage
Details
Market Size in 2022
USD 1051.55 million
Market Size by 2030
USD 2,181 million
Growth Rate from 2022 to 2030
CAGR of 9.55%
Base Year
2021
Forecast Period
2022 to 2030
By Type

Solar Microinverter
Power Optimizer

By Connectivity
By Application

Residential

Commercial

Utility

Regions Covered

North America
Europe
Asia-Pacific
Latin America
Middle East & Africa

Key Market Drivers
Surging installations of solar products
Over time, there had been a huge increase in solar photovoltaic installations all over the world. In 2015, there were 227.1 GW of installed solar PV, up from 6.6 GW in 2006, according to a survey by Coherent Market Insights. In accordance with the International Energy Agency's (IEA) plan, solar PV capacity is anticipated to reach 4,600 GW by 2050, making up 16% of the world's total power production. Additionally, during the past 10 years, the cost of installing solar energy systems has been reduced by more than 70%, opening up the new business potential for rivals in the sector. Due to a growth in solar installations, the global market for solar microinverters and power optimizers is therefore anticipated to grow throughout the projected period.
The expansion of the business will also be fueled by reasons including quick industrialization and increased electrical demand, particularly in developing nations. Additionally, as electricity demand continues to rise, more yearly thermal capacity increases are being added, which is driving market expansion overall. Growing demand for solar microinverters and power optimizers is also a result of the market for renewable energy, particularly biomass. Additionally, the increased government emphasis on renewable energy, particularly solar, to fulfill the rising demand for power would hasten the market's total expansion.
Increasing popularity as well as the adoption of solar power
Off-grid solar power systems have played a crucial role in expanding access to electricity in a number of nations and areas. Private investors, end users, and politicians are beginning to favor standalone alternatives as an affordable and long-term option for power access. The low administration and maintenance costs that these systems offer for solar panel installation are projected to increase demand for power optimizers. Growing consumer awareness of the use of low carbon-intensive technologies to minimize GHG emissions will boost the market volume.
Key Market Challenges
Strict electrification regulations
The solar microinverter and power optimizer market might suffer significantly from the rigorous regulatory rules surrounding electric safety that are predicted to restrain market expansion. It is projected that these problems would impede the market's overall expansion.
Surging rising adoption of DC optimizer
The main benefit of DC optimizers over micro inverters is their lower cost compared to solar microinverter and power optimizer systems. Due to the fact that an optimizer system needs a central/string inverter and complex DC wiring, the overall cost of a microinverter system is only 10 to 20% more than that of an optimizer system. The cost-effective solutions offered by DC optimizers are therefore anticipated to restrain market growth, which will further provide a significant obstacle to the expansion of the solar microinverter and power optimizer markets.
Key Market Opportunities
Rising usage and government initiatives - From 2022 to 2030, there will be lucrative prospects for market participants due to the rising adoption of photovoltaic systems in both residential and commercial applications. Furthermore, beneficial government programs like feed-in tariffs, tax breaks, and subsidies for the adoption of solar power systems create a variety of market opportunities.
Segments insight
Product Type Insights
The market for solar microinverters, which had the largest market share in the overall market for solar microinverters and power optimizers, is expected to continue on its upward trajectory over the forecast period. To successfully meet the needs of the end user, businesses in this industry are choosing to implement cutting-edge technology in their supply chains. A solar microinverter is a tiny electrical appliance that assists in capturing solar energy and converting it to an alternating current. By controlling the flow of current from one or more solar panels to an electric battery, it is used to enhance the performance of photovoltaic systems, further increasing the power output of a system. Microinverters are mounted on both business and residential rooftops, and they help supply energy to specific buildings or clusters of structures. By lowering the power output voltage and current, a power optimizer boosts a solar microinverter's efficiency. It aids in boosting solar modules' effectiveness, enabling their usage in off-grid or grid-connected applications. Power optimizers come in a variety of shapes and sizes, including diodes, capacitors, resistors, and other parts.
Application Insights
Due to the increased use of solar rooftop systems, the market revenue from residential applications topped USD 501 million in 2021 and will experience significant growth in the years to come. Subsidies, tax breaks, and financial aid in the form of low-interest loans are all initiatives that will help increase market share.
In 2021, the volume share for commercial applications stood for almost 19% of the total. Commercial customers find it appealing due to characteristics including higher energy yield, improved safety precautions, and module level monitoring.
Declining system costs and rising demand for uninterruptible power supplies may stimulate its use in utility applications. Due to the growing popularity of three-phase solar microinverters and power optimizers in the commercial and utility sectors, their market share is anticipated to expand rapidly. When compared to other options, it delivers a high circuit density with improved conversion efficiency. The system downtime can be reduced overall by three phases as well.
Regional Insights
The American government has implemented a number of incentives, like as the FIT, investment tax credit, net metering, and rebate, to promote the use of renewable technologies, which will increase market share. For Europe, the UK's solar microinverter and power optimizer market, which in 2021 contributed over 10.4% of the region's revenue, is expected to expand significantly over the next several years, driven by increased rooftop solar system adoption in the residential and commercial sectors. Government policies that encourage the use of renewable energy over conventional fuel will help the sector flourish.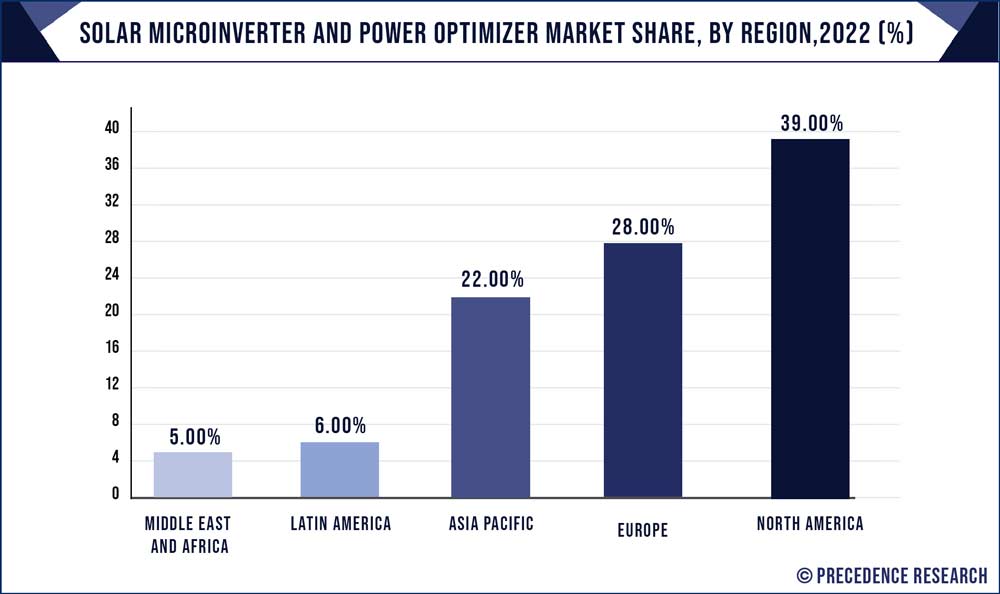 The size of the China market in 2021 exceeded $80 million. Market expansion will be fueled by the government's focus on renewable energy, particularly solar, to fulfill the rising demand for power. In 2021, Chile held 28% of the market share for solar microinverters and power optimizers in Latin America. Numerous solar resources, a stable political climate, and cheap interest rates are just a few of the elements influencing the market landscape. By 2050, the nation hopes to harness 70% of its energy from renewable sources.
Recent Developments
In May 2022, SolarEdge partnered with Shawton, one of the top UK fabricators. Through this partnership, the company hoped to make solar energy more affordable and accessible to more UK companies without requiring them to make any financial investments.
Enphase Energy and Semper Solaris, a reputable residential solar and battery installer, teamed in January 2022. As part of their collaboration, the businesses sought to deploy Enphase energy systems in residential applications that were powered by IQ Microinverters and IQ Batteries. Additionally, this alliance would provide consumers more flexibility and control so they could maximize their home energy system.
Key Market Players
SunPower Corporation (U.S.)
Enphase Energy Inc. (U.S.)
iEnergy Co. Ltd. (Saudi Arabia)
Altenergy Power System Inc. (U.S.)
Chilicon Power, LLC (U.S.)
SMA Solar Technology AG (Germany)
Sparq Systems (Canada)
SMA Solar Technology AG (Germany)
Northern Electric Power Technology Inc (U.S.)
ABB (Sweden)
LG Electronics (SouthKorea)
Darfon (Taiwan)
Segment Covered in the Report
(Note*: We offer reports based on sub-segments as well. Kindly, let us know if you are interested)
By Type
Solar Microinverter
Power Optimizer
By Connectivity
By Application
Residential
Commercial
Utility
By Geography
North America
Europe
Asia-Pacific
Latin America
Middle East & Africa (MEA)