The global allergy diagnostics and therapeutics market size was valued at USD 31.64 billion in 2022 and is expected to be worth around USD 61.60 billion by 2032, registering a CAGR of 6.89% from 2023 to 2032.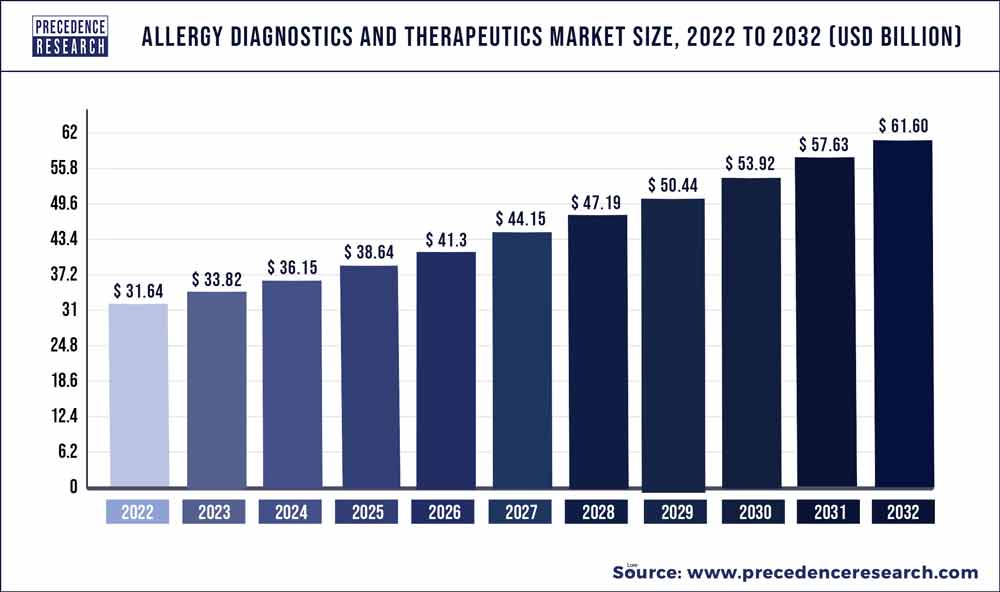 Key Takeaways:
North America generated more than 37% of the revenue share in 2022.
By Product, the consumables segment captured more than 63% of revenue share in 2022.
By drug class, the antihistamines segment is expected to expand at the fastest CAGR of 19% from 2023 to 2032.
By Test, the in-vivo segment recorded more than 50% of revenue share in 2022.
By allergen type, inhaled allergies segment generated more than 50% of the revenue share in 2022.
By end-user, the diagnostic labs segment is expected to share the maximum CAGR during the projection period.
Market Overview:
Allergic diseases are the most widespread worldwide, and an exact diagnosis and optimal treatment need good tests to confirm the allergen sensitization and give detailed facts about exposure to the putative allergen. Allergies develop when the immune system mistakes an undamaging foreign substance for something hazardous, which causes it to produce antibodies to fight it, thus liberating numerous resistant chemical elements such as histamine.
The global allergy diagnostic and therapeutics market revolves around offering multiple testing services along with drug-based treatments for a wide range of allergies. The key market players involved in the allergy diagnostic and therapeutics market are highly focused on developing advanced diagnostic methods and therapeutics to sustain in the competitive market. The infrastructural developments in the global healthcare sector are observed to accelerate the growth of the allergy diagnostic and therapeutics market.
Growth Factors:
The growing population, globalization, urbanization, industrialization, change in consumer lifestyles, faulty nutrition, and rise in greenhouse emissions have raised the cases linked with allergies, supporting the endorsement of allergy therapeutics. Population growth frequently increases urbanization as more people move from rural to urban regions for better opportunities. This urbanization may present problems, including congestion, pressure on the infrastructure, and rising healthcare costs. There is increased pressure on industries to sustainably produce and distribute vital resources like food, water, and energy to meet the demands of a growing population as there are more people on the earth.
Moreover, improving healthcare services acts as a major growth factor or the market's growth. Multiple governments and private healthcare providers are focused on the development of advanced and easily accessible healthcare infrastructure, this supplements the growth of the market.
Report Scope of the Allergy Diagnostics and Therapeutics Market:
| | |
| --- | --- |
| Report Coverage | Details |
| Market Size in 2023 | USD 33.82 Billion |
| Market Size by 2032 | USD 61.60 Billion |
| Growth Rate from 2023 to 2032 | CAGR of 6.89% |
| Largest Market | North America |
| Base Year | 2022 |
| Forecast Period | 2023 to 2032 |
| Segments Covered | By Product, By Drug Class, By Test, By Allergen Type, and By End-user |
| Regions Covered | North America, Europe, Asia-Pacific, Latin America and Middle East & Africa |

Driver:
Increase in demand for personalized medicine
Allergy management is increasingly shifting toward personalized medicine approaches. Tailoring treatment options based on individual patient characteristics, including allergen-specific immunotherapy, has gained prominence. This trend has fueled the demand for advanced diagnostics and therapeutics that can accurately identify allergens and provide targeted treatments. The concept of personalized medicine is gaining traction in the field of allergies. With advancements in molecular profiling and understanding of individual immune responses, personalized allergy diagnostics and therapeutics are becoming a reality. Tailoring treatments based on an individual's specific allergens and immune characteristics can lead to better patient outcomes and increased market opportunities.
Restraint:
Limited treatment options for certain allergies
While effective therapies are available for many allergies, some allergies, such as food allergies, currently have limited treatment options. The lack of definitive curative treatments for specific allergies challenges patients and healthcare providers, impacting the market growth. For example, emergency epinephrine may be necessary in severe cases of allergic reactions, such as anaphylaxis. Epinephrine is commonly available as auto-injectors and can be lifesaving when administered promptly.
Opportunities:
Advancement in allergy therapeutics
There have been notable advancements in allergy diagnostic technologies, enabling more precise and reliable testing. Traditional methods like skin prick and blood tests are complemented by newer approaches such as molecular diagnostics, component-resolved diagnostics, and allergen microarrays. These advanced diagnostic tools offer improved sensitivity and specificity, aiding in accurate allergy diagnosis and personalized treatment strategies. Oral Immunotherapy (OIT) involves gradually increasing doses of an allergen to build tolerance in individuals with food allergies.
It has shown promising results in treating allergies to peanuts, milk, eggs, and other foods. Researchers are exploring various approaches to allergy immunotherapy, including peptide immunotherapy, DNA vaccines, and nanoparticle-based therapies. These innovative methods aim to improve treatment efficacy, reduce side effects, and provide more targeted approaches. Monoclonal antibodies have been developed targeting specific immune cells or molecules involved in allergic reactions. For example, Omalizumab generally targets IgE, vital in allergic reactions.
Segments Insight:
Product Insights:
Consumables are expected to show the fastest growth during the forecast period.
The expansion of the consumables segment is mainly approved to the growing cases of allergies and the need for rapid tests to identify allergic conditions. The demand for the consumable component has increased during the predicted period due to the arrival of covid-19 and significantly witnessed growth in the segment.
Instruments will increase significantly in the allergy diagnostics and therapeutics market during the forecast period.
Various instruments, such as nasal endoscopy equipment, spirometry equipment, and intradermal test syringes, are used in the allergy diagnostics and therapeutics market. For example, nasal endoscopes are thin, flexible, rigid instruments with a light source and a camera. They are used to examine the nasal passages and sinus cavities, allowing physicians to assess allergic conditions such as chronic rhinitis or sinusitis.
Drug Class Insights:
Antihistamines segment is expected to increase in the allergy diagnostics and therapeutics market in the forecast period. Antihistamines are relatively effective on allergies that block the release of histamines in the body. Diverse organizations and institutions are highlighting the use of antihistamines to manage multiple allergic diseases. Antihistamines are observed to be highly effective on a wide range of allergies including food allergies, inhaled allergies and other indoor allergies. The multiple and rapid advantages offered antihistamines drug class for allergic reactions support the segment's growth.
Immunotherapy is expected to register significant growth in the anticipated period.
This is due to the increased need for sublingual vaccines, an extensive drug pipeline, and progressing clinical trials on monoclonal antibodies for treating allergic disorders. The preference shift from traditional therapies to immunotherapy is further anticipated to bolster the allergy therapeutics market in the forthcoming years.
Test Insights:
In-vivo is the dominating segment in the allergy diagnostics and therapeutics market.
The increase in in-vivo tests is primarily because of the growing adoption of numerous examinations in vivo tests, like skin prick tests. Furthermore, these tests are considered safe, dependable, convenient, and cost-effective, which is expected to increase the need for Vivo tests in the upcoming years.
In-vitro is the fastest growing segment in the allergy diagnostics and therapeutics market.
In allergy diagnostics and therapeutics, in vitro testing involves the analysis of blood samples or other bodily fluids to identify specific allergens that trigger allergic reactions. These tests include enzyme-linked immunosorbent assays and molecular diagnostics such as polymerase chain reaction.
Allergen Type Insights:
Inhaled allergies will dominate the allergy diagnostics and therapeutics market in the forecast period. The rising air pollution across the globe is observed to increase the risks of inhaled allergies in the upcoming period. In addition, the increasing construction activities and chemical-based activities in industries will increase the chances of inhaled allergies.
For individuals with severe or persistent allergies caused due to pollen grains, or dust, allergen immunotherapy, commonly known as allergy shots, may be recommended, which involves regular injections of gradually increasing amounts of specific allergens over some time to desensitize the immune system and reduce allergic reactions.
The drug allergies segment will likely show a significant increase during the predicted period. Approximately any drug can cause an allergy, but the most preferred to drive allergies are antibiotics, Insulin, monoclonal antibody therapy, Aspirin, muscle relaxers, nonsteroidal anti-inflammatories, sulfa, chemotherapy, HIV, and anti-seizure drugs.
End-user Insights:
Diagnostic labs held the largest share of the allergy diagnostics and therapeutics market. Diagnostic labs offer a wide array of tests depending on the needs of patients and healthcare providers. Some standard tests include complete blood count, blood chemistry panels, glucose testing, and microbiology labs. For instance, Mayo Clinic laboratories are affiliated with the renowned Mayo Clinic and offer a comprehensive range of diagnostic testing, including allergy testing.
The hospitals segment is expected to witness promising growth during the forecast period. Hospitals provide comprehensive asthma management, including assessment, inhaler techniques, personalized treatment plans, and lung function tests to control asthma symptoms and prevent exacerbations. It also helps in implementing dietary restrictions and providing emergency treatment plans. These can include antihistamines to alleviate itching and sneezing and corticosteroids to reduce inflammations. The availability of advanced therapeutics and testing services in hospitals fuels the development of the segment.
Regional Insights:
North America dominates the global allergy diagnostic and therapeutics market, the region is observed to sustain its position during the forecast period. The factors contributing to the market growth in the region include the high frequency of respiratory allergic havoc, favorable government initiatives, increasing awareness of allergy diagnostics, acquiring of in vitro blood tests, and technological advancements in the healthcare sector. Asthma is North America's leading cause of a sizeable allergic patient pool. According to the CDC's National Center for Health Statistics data, about 1 in 3 United States adults and more than 1 in 4 United States children reported having eczema due to lousy weather or food allergy seasonal allergy in 2021. Nearly 6% of U.S. adults and children have a food allergy.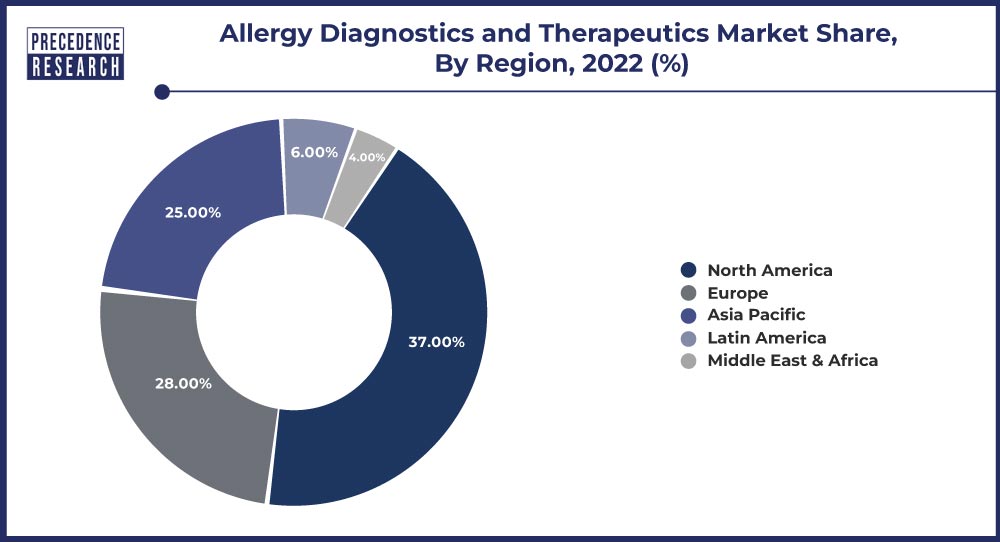 Asia- Pacific shows lucrative growth in the allergy diagnostics and therapeutics market during the forecasted period.
Rising population, industrialization and urbanization in Asia Pacific show chances of allergic epidemic in the region, countries from Asia-Pacific such as India, China, and Japan are considered overpopulated countries, so increasing environmental pollution and the accelerating access to healthcare insurance have grown to treat the people with allergic reactions. For instance, the National Library of Medicine, published in the journal Allergy, Asthma & Immunology Research the topic "Environmental Influences and Allergic Diseases in the Asia-Pacific Region: What Will Happen in Next 30 Years?" states that wheat and buckwheat are common food allergens in Japanese and Korean children, resulted by hen's egg and cow's milk, while shellfish allergy is more frequent in South-east Asian countries such as Singapore, Vietnam, and Philippines.
Along with the pollution and environmental factors, the genetic predisposition accelerates the prevalence of multiple allergies in the region. The rising awareness and demand for advanced and accurate diagnosis methods for allergic reactions are expected to boost the market's growth during the forecast period. The improving healthcare infrastructure with the advancements in technology in the healthcare sector is observed to offer more accessible and affordable allergy diagnostic and therapeutic services in India in the upcoming years.
Recent Developments:
In October 2022, Allergy Partners declared a strategic collaboration with Aimmune Therapeutics, Inc., for the prevention, management, and treating gastrointestinal, metabolic-related diseases and food, and even to treat Allergy Partners' patients aged around 4 with peanut allergy confirmation diagnosis with direct access to PALFORZIA which is the first FDA-accepted peanut allergy treatment.
In January 2022, Allergy Therapeutics declared that the United States Food & Drug Administration has cleared the Group's Investigational New Drug application for its innovative virus-like particle-based peanut allergy vaccine. The withdrawal by the FDA showed how to initiate the Phase I trial, which will be held in the United States. The practice encompassed multiple cohorts' outset with healthy subjects, peanut-allergic patients experiencing skin prick tests, and peanut-allergic patients receiving subcutaneous injections.
Key Market Players:
R-Biopharm AG
EUROIMMUN Medizinische Labordiagnostika AG
DASIT Group SPA
bioMérieux
Thermo Fisher Scientific, Inc.
Stallergenes Greer
Sun Pharmaceutical Industries Ltd
Minaris Medical America, Inc.
Siemens Healthcare GmbH
AESKU.GROUP GmbH
Omega Diagnostics Group PLC
HYCOR Biomedical
Lincoln Diagnostics, Inc.
Alcon
Astellas Pharma Inc.
HOB Biotech Group Corp., Ltd.
Danaher
AbbVie, Inc.
Allergy Therapeutics
Sanofi
Pfizer, Inc.
Teva Pharmaceutical Industries Ltd.
GSK plc
F. Hoffmann-La Roche Ltd.
Merck & Co., Inc.
Segments Covered in the Report:
(Note*: We offer report based on sub segments as well. Kindly, let us know if you are interested)
By Product
Instruments
Consumables
Services
By Drug Class
Nasal Anti-cholinergic
Antihistamines
Corticosteroids
Mast Cell Stabilizers
Leukotriene Inhibitors
Epinephrine
Immunotherapy
Decongestants
Immuno-modulators
By Test
In vivo Test
In vitro Test
By Allergen Type
Food
Inhaled
Drug
Other Allergens
By End-user
Hospitals
Diagnostics Labs
Research & Development Centers
Others
By Geography
North America
Europe
Asia-Pacific
Latin America
Middle East and Africa