The global artificial intelligence in agriculture market size was estimated at USD 1.37 billion in 2022 and it is expected to surpass around USD 11.13 billion by 2032, growing at a CAGR of 23.3% from 2023 to 2032.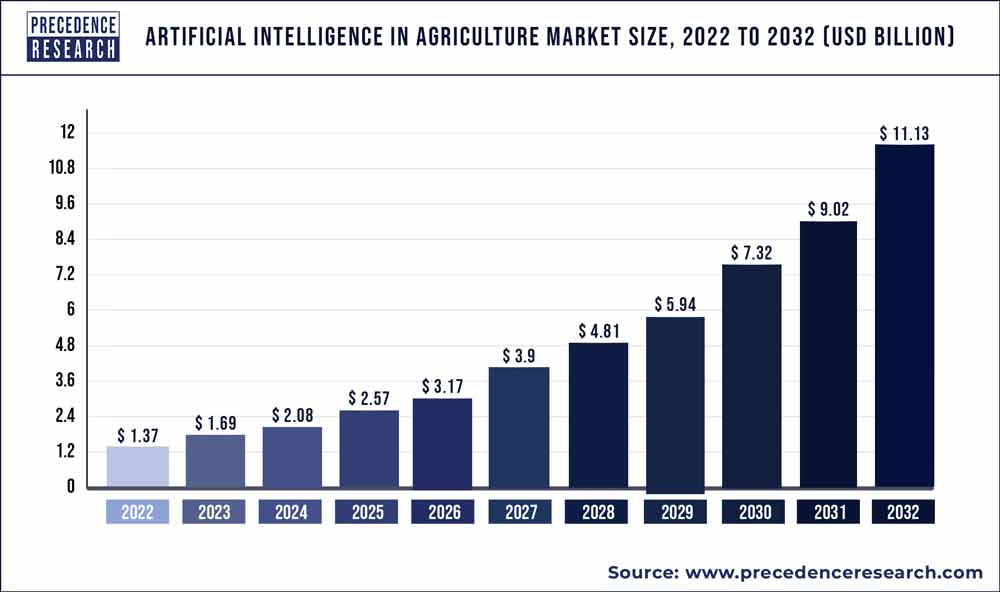 Access our Premium Real Time Data Intelligence Tool, Visit: Precedence Statistics
Key Takeaways:
North America contributed more than 39% of revenue share in 2022.
By component, the software segment is expected to dominate the market during the forecast period.
By technology, the predictive analytics segment captured more than 47% of revenue share in 2022.
By application, precision farming is expected to capture the largest market share over the forecast period.
Market Overview:
Artificial Intelligence (AI) has emerged as a transformative force in the agriculture sector, revolutionizing the way farming and related activities are conducted. AI technologies, such as machine learning, computer vision, and data analytics, are being harnessed to overcome these challenges and unlock the full potential of agriculture. AI in agriculture goes beyond conventional farming practices, enabling farmers and agricultural stakeholders to leverage data-driven insights and intelligent decision-making to enhance productivity, optimize resource utilization, and address various agronomic issues.
This integration of AI in agriculture allows for the collection and analysis of vast amounts of data from diverse sources such as weather patterns, soil conditions, crop health and historical farming data. By processing and interpreting this data, AI systems can provide valuable information to farmers, enabling them to make well-informed decisions to improve yields, reduce waste, and minimize environmental impacts. One of the significant benefits of AI in agriculture is the automation of repetitive tasks through the use of smart machinery and robotics. These advancements help alleviate labor shortages and allow farmers to focus on higher-level strategic planning and management.
Growth Factors:
AI-powered agricultural technologies facilitate precision farming practices, where each crop or even individual plant can be treated uniquely based on their specific needs. This level of precision ensures efficient use of resources, reduces chemical inputs, and ultimately promotes sustainable agricultural practices. The artificial intelligence market is being driven by several factors including a growing population along with increasing demand for food, technological advancements, data-driven decision-making, advancements in robotics and drones, increasing government initiatives, growing investment in AgTech Startups, and increasing utilization of AI in crop monitoring.
Report Scope of the Artificial Intelligence in Agriculture Market:
| | |
| --- | --- |
| Report Coverage | Details |
| Market Size in 2023 | USD 1.69 Billion |
| Market Size by 2032 | USD 11.13 Billion |
| Growth Rate from 2023 to 2032 | CAGR of 23.3% |
| Largest Market | North America |
| Base Year | 2022 |
| Forecast Period | 2023 to 2032 |
| Segments Covered | By Component, By Technology, and By Application |
| Regions Covered | North America, Europe, Asia-Pacific, Latin America, and Middle East & Africa |

Market Dynamics:
Driver:
Increasing population and food demand
The world population continues to grow, leading to a higher demand for food production. AI technologies in agriculture enable farmers to improve crop yields and optimize resource utilization to meet the increasing food demands sustainably. For instance, in mid-November 2022, there were 8.0 billion people on the planet. The global population is projected to rise by about 2 billion people over the next 30 years, from the present 8 billion to 9.7 billion in 2050. Such a rising population grows the demand for faster crop yield, AI is capable of reducing the pace of agricultural activities in multiple ways. Thus, the growth in the population and increasing food demand are expected to drive market growth over the forecast period.
Restraint:
High-cost and unskilled labor
The high initial cost of installation is a significant barrier to this industry expansion. Low-income households in rural regions, among others, find the cost of smart agriculture to be an impassable obstacle depending on the specifications, which inhibits the general adoption of such advanced systems. Due to fragmented land and the high initial cost, there is no standardization of the enormous quantity of cumulative data, which results in an inefficient allocation of resources that significantly limits the market expansion over the analysis period.
Opportunity:
Shortage of labor
The shortage or lack of skilled laborers for agricultural activities acts as a contributing factor for the adoption of artificial intelligence techniques. The lack of labor for such activities is caused by less interest by the younger population in the agricultural sector. Due to the same, private and public entities are rapidly investing in artificial intelligence-based automation systems to overcome the challenge of labor shortage. Multiple countries with aging populations are prone to adopt such technologies to address the shortage of workers on the field. Such challenges are expected to open a plethora of opportunities for the market's growth.
Segments Insight:
Component Insights:
Based on the component, the global artificial intelligence in the agriculture market is segmented into hardware, software, and services. The software segment is expected to dominate the market over the projected period. One of the main drivers driving the expansion of software in AI in the agriculture market is the simplicity with which it can be integrated into agricultural machines, along with labor cost savings and real-time data collecting. The vast quantity of data being produced and saved in the cloud, together with the use of analytical tools, aids the farmer in identifying and managing every part of farming. The software greatly improves farmers' ability to make the necessary adjustments to the changing requirements.
For instance, the 'Farm Assist' application, which gathers data from sensors installed in farms via access points to a company's cloud and enables users to monitor and manage farm conditions using smartphones and PCs, was developed by NTTDOCOMO (a major telecommunications company in Japan) and released in April 2022 that it would use IAR's full development toolchain. During the projection period, such innovations will sharply boost this market's growth.
Technology Insights:
Based on the technology, the global market is segmented into machine learning & deep learning, predictive analytics, and computer vision. Predictive analytics is expected to hold a significant market share over the forecast period. Predictive analytics is a subset of AI that involves the use of historical data, machine learning algorithms, and statistical techniques to make predictions about future events or outcomes. In the context of agriculture, predictive analytics is becoming increasingly important in helping farmers optimize their operations, make informed decisions, and mitigate risks. Predictive analytics models analyze historical data related to crop yields, weather conditions, soil health, and other relevant factors.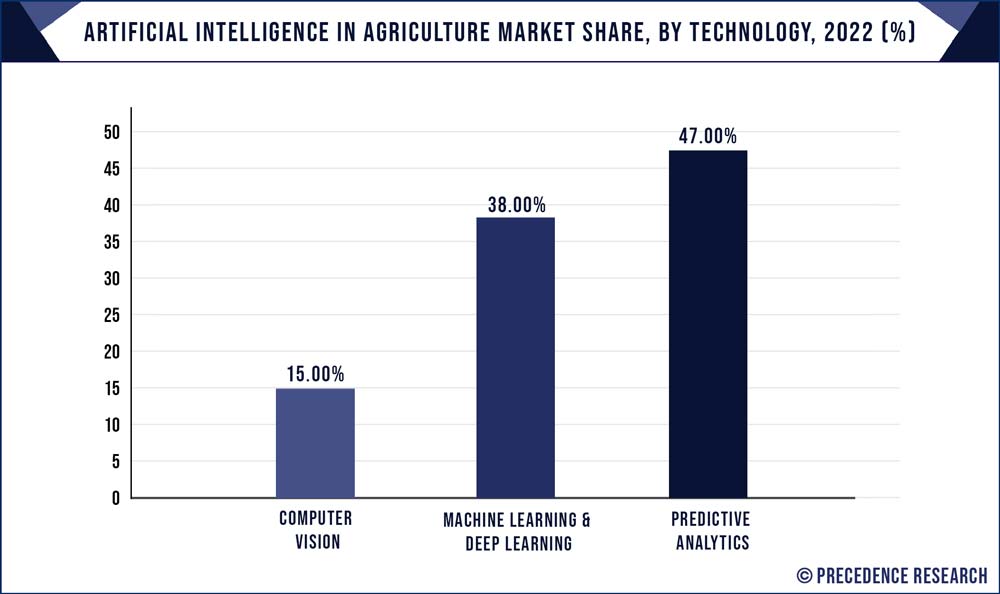 In addition, predictive analytics can be used to monitor and analyze data from various sources, such as weather patterns, crop health data, and pest populations. By detecting early warning signs of potential pest or disease outbreaks, farmers can take preventive measures to protect their crops and reduce the need for extensive pesticide use. Thus, these applications are expected to propel the market growth.
Application Insights:
Based on the application, global artificial intelligence in the agriculture industry is segmented into precision farming, drone analytics, agriculture robots, livestock monitoring and others. Precision farming is expected to capture the largest market share over the forecast period. Some of the key drivers propelling the growth of this market are increased water efficiency, decreased fertilizer and pesticide use, and real-time data collecting of numerous crop characteristics.
By identifying the nutrient levels in soil, modern technologies like IoT, ML, sophisticated sensors, and big data analytics play a crucial role in boosting agricultural productivity and preventing the deterioration of soil health. This allows farmers to precisely apply the minerals needed in specific areas according to the data gathered. Global adoption of these contemporary agricultural practices is being sparked by several external causes, including a growing population, an increase in food demand, and climate change.
For instance, in March 2022, using a system of ML-equipped cameras with a sensitivity level according to the size of the weeds to be sprayed, John Deere announced the debut of a system for precisely spraying weeds exclusively on fallow areas. Thus, this kind of innovation is expected to drive the segment growth.
Regional Insights:
North America is expected to hold the largest share of the market while maintaining its dominance throughout the forecast period. Farmers and agricultural enterprises in North America are embracing AI technology to increase productivity, optimize resource allocation, and strengthen decision-making procedures. Precision agriculture, remote sensing, crop monitoring, predictive analytics, and automated farming systems are just a few of the agricultural uses of AI in the region. Farmers may enhance yields, save costs, lower risks, and make data-driven choices with the aid of this technology.
Additionally, governments in North America are putting supporting policies and programs in place in response to the promise of AI in agriculture. To encourage the use and innovation of AI in the agriculture industry, they include financing initiatives, research grants, and legislative frameworks. Such initiatives support the development of resilient and sustainable agriculture methods while creating a favorable environment for the expansion of the AI industry.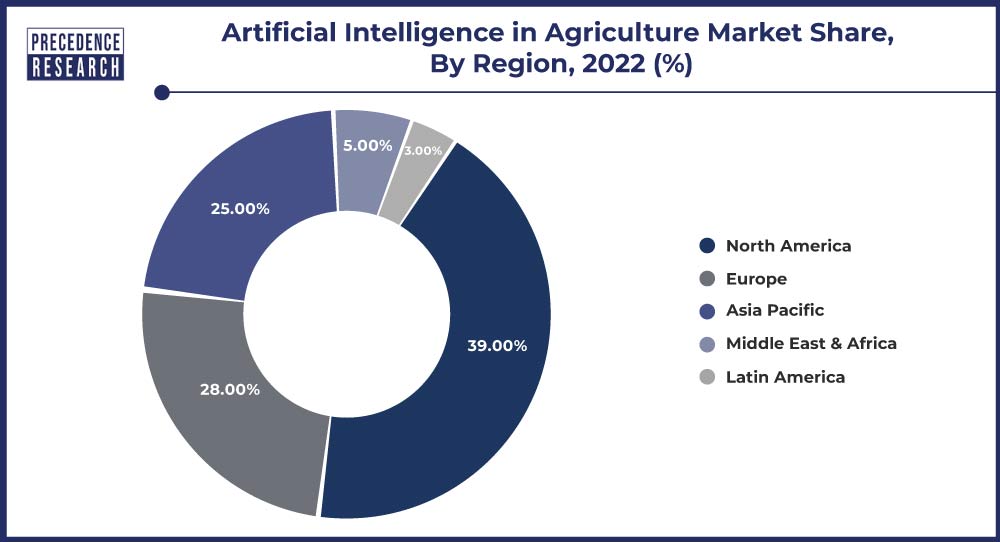 For instance, in January 2023, through the application of artificial intelligence (AI), the United States and the European Union formed a partnership to enhance agriculture, climate forecasting, emergency response, and the electrical grid. The White House, which serves as the executive branch of the 27-member European Union, and the European Commission are now working together. Thus, this is expected to drive the market growth in the region.
The Asia Pacific is expected to grow at the highest CAGR over the forecast period. Population growth, climate change, and water shortage are the main reasons driving the AI Agriculture market in the region. Growing automation, technical developments like AI and ML, and declining soil quality will all fuel this market's expansion in this area. The "Global Action on Green Development of Special Agricultural Products: One Country One Priority Product (OCOP) in Asia and the Pacific" initiative, which the Food and Agriculture Organization of the United Nations (FAO) launched in May 2022, requires countries in the region to participate by creating green value chains and marketing their special agricultural products abroad. Such changes will fuel market expansion.
Recent Developments:
In June 2023, a pioneer in AI-powered robotics, LaserWeederTM from Carbon Robotics was chosen as a Best AI-based Solution for Agriculture at the sixth annual AI Breakthrough Awards competition run by AI Breakthrough. The Carbon Robotics' LaserWeederTM is the first and only laser weeding robot currently on the market, and it has already removed more than one billion weeds. To achieve very accurate weed management, it utilizes powerful AI deep learning technologies, lasers, computer vision, and robots.
In November 2022, for a wide range of application scenarios in the fields of precision agriculture and environmental monitoring, DJI Agriculture introduces the Mavic 3 Multispectral, which is outfitted with a multispectral imaging system that quickly captures crop growth information to achieve more effective crop production while lowering costs and raising income for farmers around the world.
In October 2022, Microsoft announced that Microsoft Research had made FarmVibes open-sourced. AI is a group of technologies and machine-learning algorithms for sustainable agriculture. FarmVibes.Artificial intelligence (AI) includes techniques for combining many types of spatiotemporal and geographic data, such as weather information and satellite and drone imagery.
Key Market Players:
Microsoft

IBM Corporation
Granular, Inc.
AgEagle Aerial Systems Inc.
The Climate Corporation
Deere & Company
Descartes Labs, Inc.
Prospera Technologies
GAMAYA
aWhere Inc.
Taranis
ec2ce
VineView
PrecisionHawk

Tule Technologies Inc.
Segments Covered in the Report:
(Note*: We offer reports based on sub segments as well. Kindly, let us know if you are interested)
By Component
Hardware
Software
Services
By Technology
Machine Learning & Deep Learning
Predictive Analytics
Computer Vision
By Application
Precision Farming
Drone Analytics
Agriculture Robots
Livestock Monitoring
Others
By Geography
North America
Europe
Asia-Pacific
Latin America
Middle East and Africa