The global automotive active safety systems market size was estimated at USD 98.27 billion in 2022 and is expected to be worth around USD 227.35 billion by 2032, expanding at a CAGR of 8.80% during the forecast period from 2023 to 2032.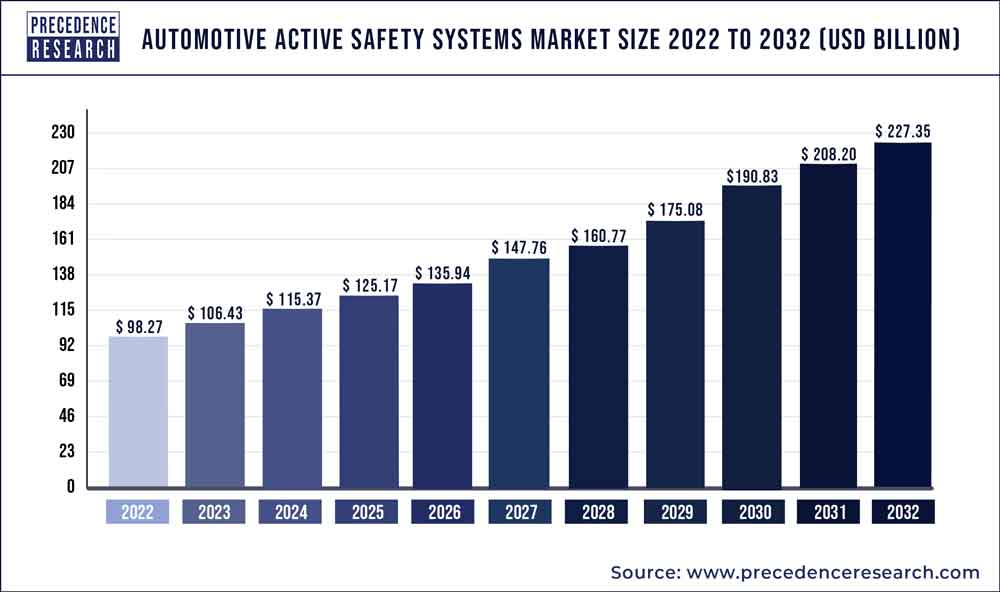 Access our Premium Real Time Data Intelligence Tool, Visit: Precedence Statistics
Key Takeaways
North America led the global market with the largest market share of 33% in 2022.
Europe region is considered to be the quickest-growing region.
By Product Type, the adaptive cruise control segment dominated the market in 2022.
By Product Type, the antilock braking segment is anticipated to grow significantly.
By Sensor Type, the radar sensor segment led the market in 2022.
By Sensor Type, the camera sensor segment is anticipated to increase significantly.
Automotive Active Safety Systems Market in the U.S. 2023-2032
The U.S. automotive active safety systems market size was valued at USD 18.49 billion in 2022 and is estimated to reach around USD 42.37 billion by 2032, growing at a CAGR of 8.7% from 2023 to 2032.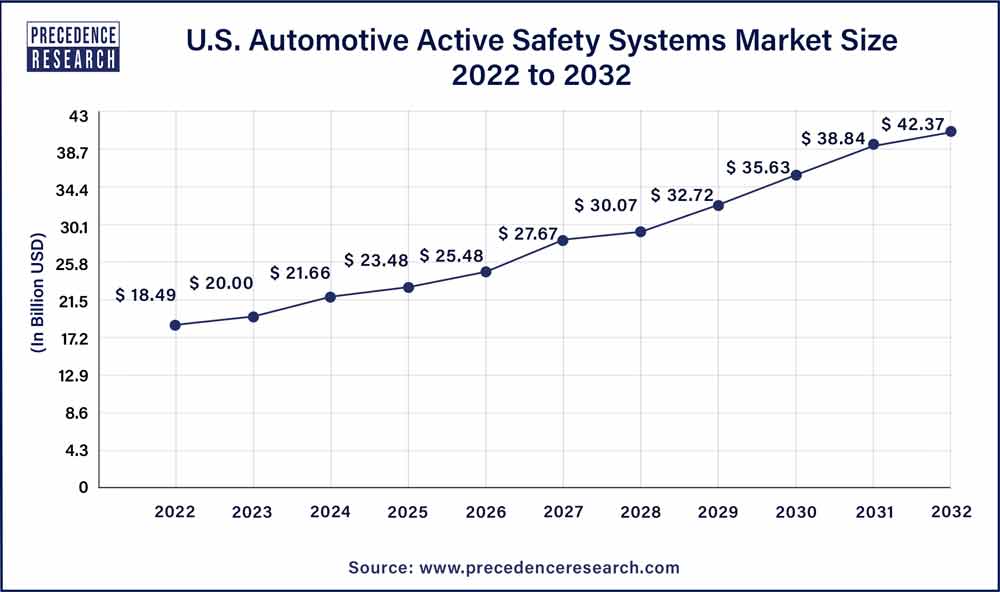 In 2022, North America dominated the market in 2022 and expanding at a significant rate, propelled by a number of important factors. These systems have become more common due to technological improvements, governmental requirements, and shifting customer tastes. They are intended to improve vehicle safety and avoid accidents.
The development of autonomous and connected vehicles has been crucial to the expansion of this business. Advanced driver assistance systems (ADAS) and telematics are two examples of linked features that North American consumers are more accepting of. The convenience and safety advantages of these systems drive this trend and give automakers a competitive edge. Active safety measures are also becoming ever more important as self-driving technology develops in order to maintain vehicle and road safety as we go toward fully autonomous driving.
The growth of European automotive active safety systems is propelled by factors prioritizing driver and pedestrian safety, environmental concerns, and technological advancements. Stringent safety regulations and consumer demand for safer vehicles have been significant catalysts. European authorities have been implementing increasingly strict safety standards, such as the Euro NCAP ratings, encouraging automakers to incorporate active safety features. Consumers are now more conscious of safety and are willing to pay a premium for vehicles equipped with these systems.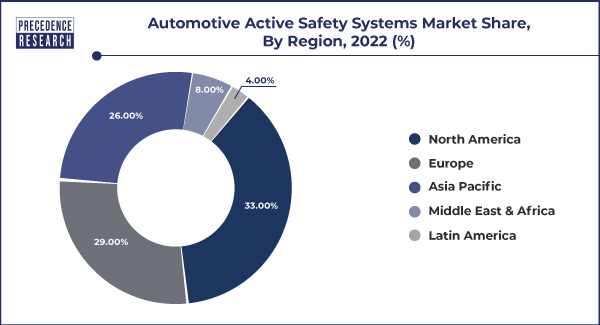 Environmental concerns are also driving growth. Europe has set ambitious emissions reduction targets, such as reducing greenhouse gas emissions by at least 55% by 2030, pushing automakers to produce more fuel-efficient and cleaner vehicles. Active safety systems, such as adaptive cruise control and lane-keeping assist, can enhance fuel efficiency and reduce emissions by optimizing driving patterns.
Many companies are launching new active safety systems in different markets. For instance, in September 2023, Hesai Technology (Nasdaq: HSAI), a leader in automotive lidar worldwide, announced the launch of their premium vehicle lidar on the European market today. The Advanced Driver Assistance Systems (ADAS) aboard the Human Horizons HiPhi Z will be built around Hesai's AT128 lidar.
Automotive Active Safety Systems Market Overview
Automobiles' active safety systems make it simpler to avert or lessen casualties in collisions. The active safety system helps keep the occupant in place during collisions and reduces the chance of injuries, including seatbelts and headrests. The device delivers alerts and other aids to reduce accidents. Additionally, it helps keep the vehicle in the appropriate lane and alerts other road users to blind zones, preventing accidents. Among the more well-known active safety systems are lane departure warning systems (LDWS), tire pressure monitoring systems (TPMS), and electronic stability control (ESC).
Vehicle-to-vehicle (V2V) and vehicle-to-infrastructure (V2I) communication are emerging trends. These technologies enable vehicles to communicate with each other and infrastructure, enhancing safety and traffic management. Governments worldwide are implementing regulations to promote the adoption of active safety systems. These regulations encourage automakers to incorporate safety features into their vehicles.
Growth Factors
Automotive active safety systems are intended to improve a vehicle's safety and prevent accidents. The creation and uptake of these systems are motivated by various factors. Governments worldwide have increased the requirements for automobile safety. Automakers are compelled to install active safety measures to comply with these standards. Customers are increasingly searching for cars with cutting-edge safety features. Many automobile purchasers now prioritize features like adaptive cruise control, lane-keeping assistance, and automatic emergency braking.
Active safety measures can now be implemented more affordably because of developments in sensor technology, including radar, lidar, and cameras. Automobile manufacturers are driven to lower accidents and raise safety standards since doing so can boost their brand's reputation and prevent expensive lawsuits. Consumer preference for passenger cars has skyrocketed recently, propelling the market's expansion. As an illustration, the graph below depicts the ten-year global sales of passenger cars.
Automotive Active Safety Systems Market Scope
| | |
| --- | --- |
| Report Coverage | Details |
| Growth Rate from 2023 to 2032 | CAGR of 8.8% |
| Market Size in 2023 | USD 106.43 Billion |
| Market Size by 2032 | USD 227.35 Billion |
| Largest Market | North America |
| Base Year | 2022 |
| Forecast Period | 2023 to 2032 |
| Segments Covered | By Product Type and By Sensor Type |
| Regions Covered | North America, Europe, Asia-Pacific, Latin America, and Middle East & Africa |

Automotive Active Safety Systems Market Dynamics
Driver
Increase in demand for high-speed vehicles
Consumer preferences are undergoing a substantial transition, with a rise in the desire for fast cars, which impacts the automobile sector. Numerous technological developments, shifting lifestyles, and the quest for better performance all contribute to this trend. Because of this rising desire for fast cars, the automotive active safety systems market is expanding in tandem with it.
The rising demand for high-speed vehicles has several major causes, including changing consumer lifestyles. Urbanization and the necessity for efficient mobility have resulted in a preference for speedier automobiles, particularly in congested urban areas. People want shorter commutes and to experience the excitement of highway driving at high speeds. This shift towards high-speed vehicles necessitates advanced safety systems to ensure that these vehicles can be driven safely, even at high speeds.
Technological advancements have played a crucial role in the development of high-speed vehicles. Automakers continually incorporate cutting-edge technology to improve engine performance, aerodynamics, and overall vehicle design. These advancements enable vehicles to reach higher speeds and offer superior acceleration. However, the faster a vehicle can go, the more critical safety becomes. This is where automotive active safety systems come into play.
Autonomous emergency braking, lane-keeping assistance, adaptive cruise control, and collision avoidance systems are just a few of the active safety features intended to improve the safety of drivers and passengers, particularly when traveling at high speeds. These systems monitor the area around the car and react instantly to any threats using sensors, cameras, and radar technologies. They have the ability to act to avert collisions, maintain proper lane positions, and automatically modify speed.
The demand for high-speed vehicles goes hand in hand with the demand for more advanced active safety systems. As people seek faster cars, they also demand a higher level of safety to mitigate the risks associated with high-speed driving. This has led to a growing market for automotive active safety systems as automakers strive to meet these safety requirements.
Restraint
High cost
The high expense of implementing modern active safety systems in automobiles is a key issue that consumers and manufacturers must deal with. These cutting-edge safety systems integrate several technologies and features to reduce the risk of accidents, safeguard passengers, and improve traffic safety. Developing cutting-edge safety technologies necessitates significant research and development expenditures. This entails creating and testing sophisticated sensors, creating complex real-time decision-making algorithms, and doing meticulous safety evaluations. Time and resources must be committed heavily to these initiatives.
Making sensors, cameras, lidar, radar, and processing units, which are physical parts of active safety systems, is frequently expensive. High reliability and precision requirements for these components may increase production costs. Adding these systems to automobiles is a difficult task. Automakers must either incorporate active safety systems into new designs or retrofit them onto current ones. This integration procedure might be expensive and time-consuming. Thorough testing and validation are necessary to guarantee that these systems operate dependably under everyday driving conditions. Manufacturers require extensive safety testing and simulations, adding to their costs.
Opportunity
Advancements in technology
The market for automobile active safety systems has grown and evolved due to technological advancements. These systems have advanced significantly since their first incarnations, and a number of technological elements are influencing their further development and uptake. The development of sensor technology has been particularly impressive. Radar, lidar, cameras, and ultrasonic sensors are much more capable and reasonably priced. Active safety systems rely on these sensors as their eyes and ears because they help them recognize and evaluate the environment around the vehicle in real-time.
For instance, radar sensors have improved accuracy, enabling better object detection and tracking capabilities. The accuracy and range of lidar, which uses lasers to detect distances, have also increased, making it a useful tool for 3D. Additionally, machine learning and artificial intelligence (AI) have been crucial in boosting the efficiency of active safety systems. With the aid of these technologies, vehicles can evaluate a tremendous amount of sensor data and make quick judgments to steer clear of accidents or hazardous circumstances. The system can learn from various circumstances and adapt due to machine learning algorithms, which makes it more predictive and able to handle challenging real-world driving situations.
The availability of high-end computing power has increased, enabling real-time data processing aboard. Because of the decreased reliance on external servers or cloud computing, active safety systems are now quicker and more dependable.
Product Type Insights
The adaptive cruise control segment accounted for the largest share in 2022 and is expected to maintain its dominance during the forecast period. System developments, safety concerns, and consumer demand have all contributed to the widespread use of Adaptive Cruise Control (ACC), a sophisticated vehicle system. This system improves convenience and safety for drivers by enabling a vehicle to automatically alter its speed to maintain a safe following distance from the vehicle in front.
Safety is paramount in the automotive sector, and adaptive cruise control has been instrumental in tackling this problem. Adaptive cruise control systems use radar and cameras to scan the road ahead and the positions of other vehicles. This real-time data allows for quick response to changes in traffic conditions, reducing the risk of collisions and making driving safer. Sensor technology and computing power advances have made adaptive cruise control more accurate and reliable. High-resolution sensors can detect and track vehicles and objects more precisely, while powerful processors enable faster data analysis and decision-making.
These improvements have enhanced adaptive cruise control systems' overall performance and responsiveness. Many key companies operating in the market are launching adaptive cruise control and other products to maintain a strong foothold. For instance, Mitsubishi Motors Corporation (hereafter, Mitsubishi Motors) declared in 2022 that its European subsidiary, Mitsubishi Motors Europe B.V., has presented the new generation ASX for the European market at an online event. In order to enhance safe driving, the vehicle incorporates cutting-edge driver assistance systems like MI-PILOT single-lane driver assistance technology for highways, which blends Adaptive Cruise Control (ACC) and Lane Centering Assist (LCA).
The antilock braking systems sector is growing quickly in the worldwide market. The automotive sector is primarily responsible for numerous important factors that influence the need for antilock braking systems (ABS). Safety precautions are of the utmost importance. By minimizing wheel lock-up during abrupt braking, ABS considerably improves vehicle safety by lowering the chance of skidding and enhancing driver control. The requirement for ABS in various areas has increased demand as safety standards worldwide become more stringent.
Consumer preferences are also changing, with an increased focus on safety features when buying cars. Automobile manufacturers now use ABS and other ADAS as marketing points because more and more buyers demand these features from their vehicles. An increased awareness of road safety and a desire for less congestion have increased this need. Environmental concerns also contribute to ABS demand. ABS can enhance fuel efficiency by preventing wheel slippage, reducing tire wear, and improving overall vehicle performance. As governments and consumers prioritize fuel efficiency and emissions reduction, automakers are encouraged to incorporate ABS into their vehicles.
Sensor Type Insights
In 2022, the radar sensor segment had the dominating share, which is anticipated to continue its dominance over the projection period. A convergence of forces spanning numerous sectors and applications has recently been propelling the expansion of radar sensor technology on an increasing trend.
Due to their adaptability and efficiency, radar sensors have experienced a spike in demand and acceptance. Radar sensors, which provide real-time information on the environment around the vehicle, are an essential part of autonomous vehicles. Radar sensors are becoming more and more in demand as self-driving technology develops. They provide dependable performance in bad weather, which makes them crucial for secure autonomous navigation.
Traditional vehicles also benefit from radar sensors as part of Advanced Driver Assistance Systems (ADAS). These systems, which include features like adaptive cruise control and collision avoidance, rely on radar sensors for accurate object detection and tracking, enhancing road safety.
The demand for camera sensors is growing quickly. The demand for camera sensors is influenced by several key factors, reflecting the dynamic nature of the photography and imaging industry.
Technological advancements play a pivotal role. As camera sensors continue to improve in terms of resolution, low-light performance, and dynamic range, consumers and professionals seek upgraded equipment to capture higher-quality images and videos. This pursuit of enhanced image quality is further driven by the rising popularity of visual-centric social media platforms and the need for content creators to stand out. Another major factor is the increasing integration of cameras in various devices. Smartphones, tablets, drones, security cameras, and even automotive systems now feature camera sensors, driving demand. The growth of these industries further contributes to the need for camera sensors. Additionally, expanding applications like augmented reality (AR) and virtual reality (VR) rely heavily on advanced camera sensors for accurate tracking and immersive experiences.
Recent Developments
In September 2023, Great Wall Motor ("GWM"), a prominent vehicle manufacturer based in China, and Autoliv China, a division of Autoliv, Inc. (NYSE: ALV and SSE: ALIVsdb), the world leader in automotive safety systems, intend to work together to address opportunities and challenges in the quickly changing global automotive landscape.
In June 2023, a new ultrasonic sensor technology was unveiled by Murata Manufacturing Co., Ltd. (TOKYO: 6981) (ISIN: JP3914400001) for use in automobile applications. The MA48CF15-7N is protected against liquid infiltration by being enclosed in a hermetically sealed container with excellent sensitivity and quick response times.
In February 2023, the 2023 Tata Harrier featured an advanced driver assistance system (ADAS), according to Tata Motors. The upgraded SUV has a starting price of Rs 15 lakh and a maximum price of Rs 24.07 lakh.
Automotive Active Safety Systems Market Players
Bosch
Continental
Delphi
ZF Friedrichshafen
Autoliv
Takata
PSA Peugeot Citroen
Denso Corporation
Hella
Hyundai Mobis
Segments covered in the report:
By Product Type
Tire-pressure Monitoring System
Lane Departure Warning
Adaptive Cruise Control
Night Vision System
Driver Monitoring
Antilock Braking System
Blind Spot Detection
By Sensor Type
Camera Sensor
Radar Sensor
Lidar Sensor
By Geography
North America
Europe
Asia-Pacific
Latin America
Middle East and Africa