The global clinical trial supplies market size was accounted for USD 2.61 billion in 2022 and it is expected to hit around USD 4.9 billion by 2032, poised to grow at a CAGR of 6.51% from 2023 to 2032.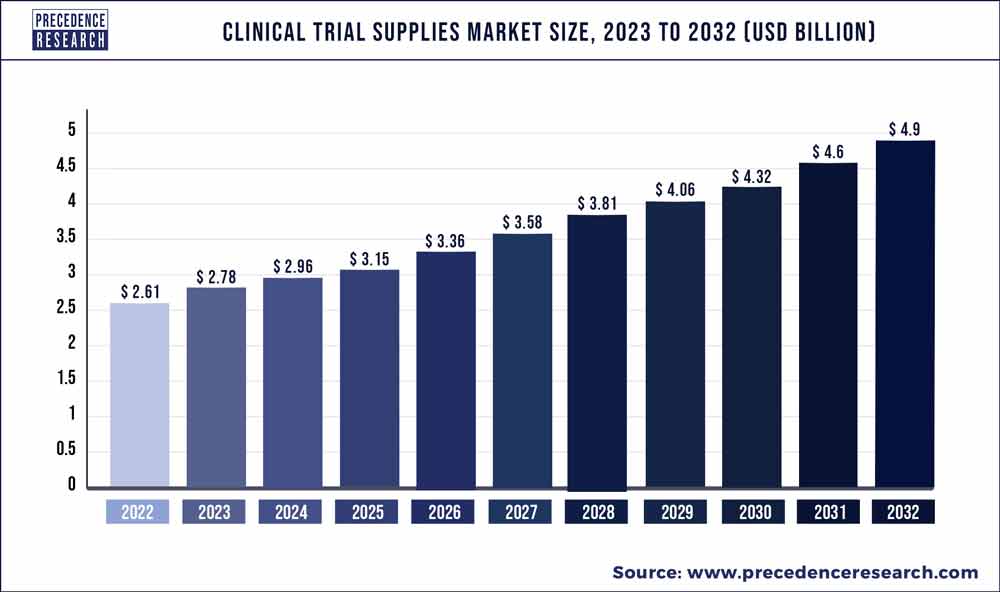 Access our Premium Real Time Data Intelligence Tool, Visit: Precedence Statistics
Key Takeaways:
North America region generates to the maximum market share of around 55% in 2022.
By Phases, the phase III segment has generated revenue share of around 53% in 2022.
By Services, the supply chain management segment captured to largest market share of around 46.8% in 2022.
By End User, the pharma and biotech segment dominated the market with revenue share of 42.5% in 2022.
By Therapeutic Area, oncology segment accounted revenue share of around 38.6% in 2022.
Increased clinical trials influence the market, and the rising number of biologics and biosimilar drugs is attributed to the market growth. The number of biologics and temperature-sensitive medications in clinical trials has increased significantly. Currently, 38.0% of pharmaceutical drugs are temperature-sensitive, and biologics account for 35.0% of late-phase pharmaceutical drugs. This figure is expected to rise as the demand for biologics grows due to their lower adverse effects compared to traditional ties for temperature-sensitive drug storage.
As a result, the increased number of biologics in clinical trials is expected to increase demand for cold chain facilities. By 2022, 8 of the top 10 biopharmaceutical products will likely require cold chain facilities. The high demand for biosimilars in developing and developed economies is expected to boost cold chain supply even further, contributing to market growth over the forecast period.
Report Scope of the Clinical Trial Supplies Market:
| | |
| --- | --- |
| Report Coverage | Details |
| Market Size in 2023 | USD 2.78 Billion |
| Market Size by 2032 | USD 4.9 Billion |
| Growth Rate from 2023 to 2032 | CAGR of 6.51% |
| Largest Market | North America |
| Fastest Growing Market | Asia Pacific |
| Base Year | 2022 |
| Forecast Period | 2023 to 2032 |
| Segments Covered | By Phases, By Services, By End User, and By Therapeutic Area |
| Regions Covered | North America, Europe, Asia-Pacific, Latin America and Middle East & Africa |

Market Dynamics:
Drivers: Increase incidences of chronic and infectious diseases driving the market growth
Globally, chronic diseases have a high prevalence due to the rapidly increasing population and infections among people. These diseases play a significant role in the clinical trial field for drug development. The drug must pass all standard clinical phases to be available for human consumption. As a result, to treat these chronic diseases in humans, the drug must be safe.
The rising prevalence of chronic diseases such as HIV, epilepsy, and cancer propels the clinical trial supplies market forward. Increased emphasis on determining the level of toxicity during the early stages of drug discovery, as well as growing demand for drug discovery outsourcing services, contribute to the growth of the clinical trial supplies market. Aside from that, increased life sciences research and government funding to develop new drugs drive growth in the clinical trial supplies market. Clinical trials for the treatment of HIV and cancer are increasingly assisting in developing novel drug delivery systems.
Retrain: unwanted waste generated from a clinical trial restrain the market growth
Clinical trials are experiencing a high level of waste, with approximately 150-200 percent of clinical supply waste resulting in unanticipated cost escalation and increased inventory. It impacts how pharma and biotech companies use their internal resources. According to a recent analysis, most of it, 25%-30% of total waste - was material available in depots.
The following category is the largest, accounting for 15% - 20% of whole waste material that expires on site. On the other hand, Product manufacturers focus on maximizing resource utilization for product manufacturing and packaging to reduce waste and improve cost factors. Emerging contract research organizations impact the clinical trial supplies market (CRO).
Opportunities: Technological advancement future for clinical tails supplies
The pharmaceutical industry's transformation is being driven by technology. It is altering healthcare, and medical practice, how pharmaceutical innovations reach patients, and how the industry communicates with its patients. Technology increases the capacity of the sector to innovate.
Because of improved technologies and access to real-time data, we anticipate a significant increase in the efficiency and effectiveness of the next wave of clinical trials. Remote clinical trials, and possibly virtual clinical trials, will quickly transition from a future trend to a real-life industry-standard scenario. Remote patient monitoring and real-time patient data access will usher in the next big wave of innovation in the Life Sciences industry.
Covid 19 Impact:
The outbreak of COVID-19 has accelerated the introduction of new models into the market to alleviate the crisis and keep up with changing trends. Virtual trials, underpinning technology, were gradually gaining popularity and are expected to grow significantly in the coming years. due to the pandemic's restrictions, such as social isolation and travel restrictions, approximately 80.00% of sites have been canceled or postponed. And virtual trials are gradually being adopted during the pandemic.
An increase in clinical trials starting in 2021, despite a decline in 2020 due to the pandemic, was a positive indicator for the industry. According to the IQVIA Institute report, overall clinical trial activity was maintained throughout the pandemic as the industry adapted to the disruption and developed new approaches to allow research to continue. In 2021, 5,500 new planned clinical trial starts were reported, a 14% increase over 2020 and a 19% increase over 2019.
Although monthly clinical trial starts fell significantly in early 2020, they recovered to levels higher than in 2019. From June 2020 to 2021, the surge of activity focused on COVID-19 vaccines and therapeutics.
Segments Insight:
Phases Insights:
The phase III segment will dominate the market in 2022
Clinical trials have been divided into phases: phase I, II, and III. However, due to the high demand for supply chain management in this phase, the phase III segment dominated the market. Even though the phase I clinical trials segment is expected to grow the fastest due to increased R&D activities in the biotechnology space, the phase III segment is expected to dominate the market during the forecast period. Clinical trials in Phase III are more complicated than those in earlier stages. Although the number of drugs in this phase is low, its complexity is the greatest.
The failure rate is highest in this phase because the sample size and study design necessitate complex dosing at an optimal level. Failure causes both human and financial loss, and most failures are caused by noncompliance with safety and efficacy standards. Such a scenario may increase demand for an efficient supply chain and logistics, which is expected to boost industry growth. The phase I segment is expected to grow at the fastest rate of X% during the forecast period as of 2022. This is due to increased phase I trials for COVID-19 treatment and prevention.
Services Insights:
Supply chain management dominated the market in 2022
The supply chain management segment had the largest market share in 2022. This scenario exists in most regions worldwide, except the United States, where the manufacturing sector is also expected to increase. The pandemic has widely highlighted the scenario of a disrupted supply chain and its impact on the lives of a country's citizens. This has propelled the United States to become even more self-sufficient, eventually focusing on manufacturing services. This market's product and service segment includes a variety of processes, ranging from drug development to logistics to distribution.
Life science companies and CROs are expected to increase their demand for supply chain management systems as clinical trials become more global, and the number of clinical sites grows. Mobile and supply chain management technology adoption is expected to be a driving factor in segment growth. According to a Sonoco Thermosafe survey, respondents used interactive response systems, and microsoft office tools are significant technologies, accounting for 25.0% and 24.0%, respectively.
End User Insights:
Pharma biotech companies dominated the market in 2022
The pharmaceutical and biotech segment dominated the market in 2022 and it is expected to grow at a remarkable CAGR during the forecast period. Clinical trial supplies are used in pharmaceuticals, biologics, medical device trials, and other research applications. These segments are responsible for procuring, manufacturing, storing, and distributing clinical trial supplies.
Although pharmaceutical drugs account for most drugs in clinical trials, the growing number of biological drugs is likely to impact this figure. On the other hand, the demand for safe, effective, and cost-effective medicines is expected to fuel the development of improved pharmaceutical drugs, propelling segment growth.
Therapeutic area Insights:
The oncology segment expected to grow in the forecast period
Oncology is expected to be the fastest and most dominant therapeutic use segment over the forecast period. This is due to the presence of a large oncology drug R&D pipeline. Because most oncology drugs require temperature-sensitive distribution, the demand for cold chain distribution is expected to rise. Oncology, central nervous system disorders, cardiovascular diseases, infectious diseases, metabolic disorders, and others are the major categories in this segment. On the other hand, cardiovascular diseases are the leading cause of death worldwide.
According to the American Heart Association, approximately 92.1 million people in the United States were living with some form of cardiovascular disease in 2018. This disease is the leading cause of death in the country compared to cancer and other chronic diseases. It also stated that approximately 2,300 people die in the United States each day due to cardiovascular disease, equating to one death every 38 seconds. As a result, such factors are expected to drive segment growth during the forecast period.
Regional Insights:
North America region dominated the market in 2022
The clinical trial supply market is divided into four regions: North America, Europe, Asia Pacific, and the Rest of the World. North America was estimated to have the largest market for clinical trial supply in 2022. The presence of many CROs has driven the clinical trial supply market in North America, as has the growing number of registered clinical trials. Pharmaceutical companies such as Pfizer, Abbott Labs, and Johnson & Johnson are present in North America and supply most of the regional market.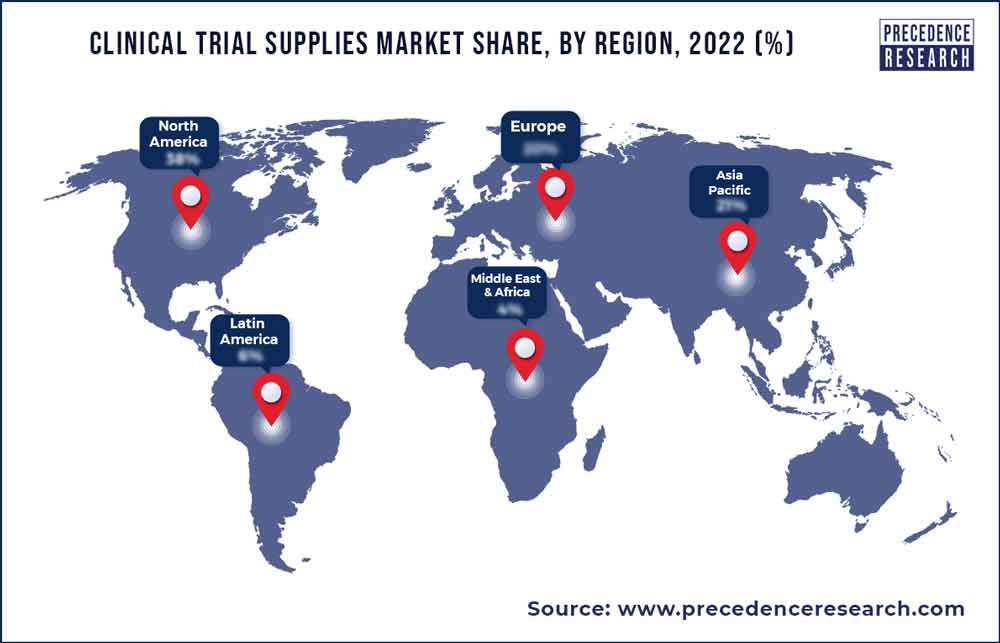 Asia Pacific is expected to grow at the fastest CAGR of X% over the forecast period. North America dominates the market and conducts the most significant number of clinical trials of any region. The increasing number of healthcare firms conducting clinical trials in the area, supportive government legislation, and the availability of cost-effective products contribute to this growth. Asia Pacific is expected to be one of the world's fastest-growing regions.
Clinical research is expected to drive regional market growth, contributing to overall market growth. The low cost per patient in Asia Pacific countries and the presence of a diverse group of patients who are easy to recruit are the primary factors driving the growth of clinical research in these regions.
Recent Development:
In 2022, Thermo Fisher Scientific Inc. is developing a decentralized clinical trial (DCT) solution to deliver clinical trials to patients in collaboration with the PPD clinical research division and Matrix Clinical Trials, a service of Matrix Medical Network.
In 2021, Thermo Fisher announced plans to acquire PPD to expand its clinical research services and clinical trial support.
In 2021, Parexel collaborated with Veeva Systems to improve clinical trial delivery processes and Veeva's cloud technology.
In 2021, ICON plc announced in November 2021 that a new partnership with six research sites spread across four countries has expanded the scope and capabilities of its Accellacare Site Network.
Key Market Players:
Key players are expanding geographically and developing niche business units that cater to the industry. The following companies are major players in the global clinical trial supplies market:
Thermos Fischer Scientific, Inc.
Sharp Packaging Services
Catalent Pharma Solutions
Piramal Pharma Solutions
UDG Healthcare
PAREXEL International Corporation
Almac Group Ltd.
Movianto GmbH
Patheon, Inc.
Biocair International Ltd.
PCI Services
Segments Covered in the Report:
(Note*: We offer report based on sub segments as well. Kindly, let us know if you are interested)
By Phases
Phase I
Phase II
Phase III
Phase IV
By Services
Logistics & distribution
Storage & Retention
Supply Chain Management
Packaging, labeling, and blinding
Manufacturing
Comparator sourcing
By End User
Pharma & Biotech companies
Contract Research Organization (CRO)
Medical Device Companies
By Therapeutic Area
Oncology
CNS & mental disorders
Cardiovascular
Digestive disorders
Infectious diseases
Metabolic disorders
Immunology
Blood disorders
Other therapeutic areas (dermatological disorders, rare diseases, ENT diseases, Nephrology)
By Geography
North America
Europe
Asia-Pacific
Latin America
The Middle East and Africa