The global endocrine testing market size was estimated at USD 5.45 billion in 2022 and it is expected to hit around USD 12.8 billion by 2032, poised to grow at a CAGR of 8.92% during the forecast period from 2023 to 2032.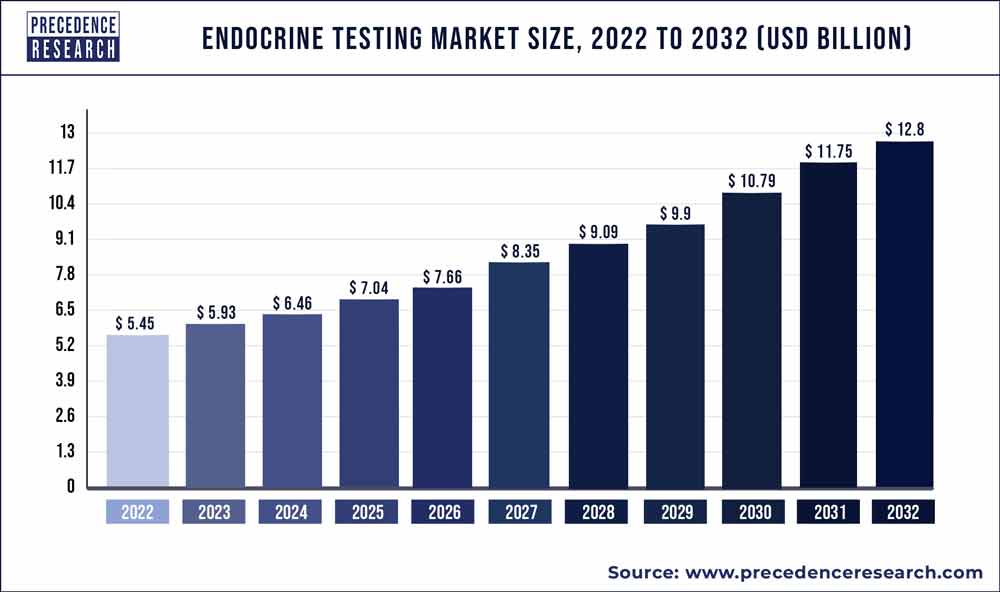 Access our Premium Real Time Data Intelligence Tool, Visit: Precedence Statistics
Key Takeaways:
North America has accounted revenue share of around 46% in 2022.
By End-user, the commercial laboratories segment captured more than 49% of revenue share in 2022.
The hospital end-user segment has captured a revenue share of 35% in 2022.
By Test Type, the human Chorionic Gonadotropin (hCG) hormone test segment dominated the market in 2022, the segment is expected to continue the trend during the forecast period.
By Technology, the immunoassay segment dominated the market in 2022.
Market Overview:
An endocrine test is performed to detect or rule out issues with numerous organs and body parts. It is carried out to determine a patient's body's levels of multiple hormones, the root cause of an endocrinological issue, whether or not the endocrine glands are functioning correctly, and to confirm a previous diagnosis. Endocrinology has undergone tremendous change due to developments in molecular biology, information technology, and clinical chemistry; consumer expectations, secular health trends, and the globalization of health will influence the future of endocrinology.
Endocrine therapy's mainstay, pharmacotherapy, will continue to advance thanks to advancements in pharmacogenomics, drug delivery technology, parasitology, and combinatorial chemistry. The need for anti-obesity and anti-aging medicines will rise due to the endocrine-related effects of obesity and aging. The distinction between endocrine disease and non-disease are observed to become hazier.
The identification and treatment of endocrine problems could be revolutionized by recent advancements in AI technology, enhancing patient outcomes and making healthcare systems more effective. The diagnosis of diabetes, a widespread endocrine illness that affects millions of individuals globally, represents the potential application of AI in this field. The prevention of consequences like damage to the kidneys, heart disease, and eyesight loss due to diabetes depends on early detection and treatment.
Growth Factors:
The demand for endocrine testing has substantially increased as ailments like diabetes, thyroid problems, and hormone imbalances become more common. The prevalence of these illnesses has risen as the world's population ages and leads to more sedentary lifestyles, demanding precise diagnostic techniques. The field of endocrine testing has undergone a revolution because of technological developments. These tests are now more accurate and efficient owing to the development of automated and high-throughput testing platforms, which also increased their usability and dependability. More people are getting endocrine testing due to increased knowledge of the value of early disease identification and easier access to healthcare. People are more likely to request testing for hormone imbalances as they become more proactive about their health.
Report Scope of the Endocrine Testing Market:
| | |
| --- | --- |
| Report Coverage | Details |
| Market Size in 2023 | USD 5.93 Billion |
| Market Size by 2032 | USD 12.8 Billion |
| Growth Rate from 2023 to 2032 | CAGR of 8.92% |
| Largest Market | North America |
| Base Year | 2022 |
| Forecast Period | 2023 to 2032 |
| Segments Covered | By Test Type, By Technology, and By End-User |
| Regions Covered | North America, Europe, Asia-Pacific, Latin America, and Middle East & Africa |

Driver:
Growing prevalence of endocrine disorders
As early diagnosis and monitoring become essential for effectively managing these conditions, the prevalence of endocrine disorders has increased the demand for endocrine testing, leading to advancements in testing technologies and a more comprehensive range of available tests to meet the requirements of patients and healthcare providers. As hormonal balance deteriorates with age, the aging global population is more vulnerable to endocrine illnesses. The requirement for routine endocrine testing to monitor and control age-related hormonal changes is anticipated to increase as the older population grows. According to the National Library of Medicine, up to 40% of all clinically diagnosed pituitary adenomas are prolactinomas. Thus, the rising prevalence of endocrine disorders is observed to drive the growth of the market.
Restraints:
Lack of awareness in underdeveloped and developing countries
Communities in underdeveloped areas may be cut off from knowledge and advancements on a global scale if there is inadequate communication infrastructure, such as internet connectivity and media access. The digital divide makes the lack of awareness much worse, making it difficult for people to stay up to date on significant problems, breakthroughs, and possibilities. The need for greater awareness is primarily influenced by accessibility to high-quality education. There is a need for more schools, trained teachers, and educational resources in many emerging and poor nations, which prevents people from thoroughly understanding various areas, particularly health, hygiene, and socioeconomic growth.
It also hampers the spread of information and knowledge. Health crises in these areas may result from an increased understanding of hygienic procedures and effective healthcare practices. People may be more prone to illnesses and epidemics without proper knowledge of disease control, family planning, and sanitation, further hampering socio-economic development.
Opportunity:
Advancements in diagnostic technologies
Advancements in diagnostic technologies offer the endocrine testing market opportunities for more accurate and efficient hormone level assessments, quicker results, and improved patient experience, ultimately enhancing disease detection and management. These technologies include advanced imaging techniques, high-throughput assays, wearable devices, and telemedicine solutions, which can drive growth and innovation in the endocrine testing sector. The accuracy and affordability of these tests have improved owing to technological developments, which have led to a rise in their use. For instance, the proliferation of test kits for at-home testing has fueled demand, expanding the industry. Technology advancement promotes quicker diagnosis and treatment beginning.
Segments Insight:
Test Type Insights:
The human chorionic gonadotropin (hCG) hormone test segment held the largest share of the market in 2022, the segment is expected to maintain its position throughout the forecast period. Multiple signs related to the presence of tumors can be detected with hCG test. In addition, a substantial demand for accurate and reliable pregnancy tests also boosts the requirement for hCG tests. Pregnancy can be detected using hCG, the hormone released during pregnancy. Routine hCG testing makes early diagnosis and monitoring of these cancers easier. The demand for hCG testing is substantially influenced by the pervasive use of pregnancy tests at home and in clinical settings. HCG monitors fertility procedures, including In-vitro fertilization (IVF) and detecting pregnancy.
The insulin test segment is expected to register the fastest growth during the forecast period. The market for endocrine testing has seen the insulin test rise quickly for various reasons. First, there has been an increase in the prevalence of diabetes worldwide, which has increased the demand for insulin testing because managing diabetes primarily relies on monitoring insulin levels. With the development of diagnostic technology, it is now possible to test for insulin more quickly and accurately using chemiluminescent immunoassays (CLIA) and enzyme-linked immunosorbent assays (ELISA).
Healthcare professionals are incorporating insulin testing into routine check-ups and screenings due to the growing recognition of the significance of early detection and monitoring of diabetes and related disorders. This proactive strategy helps to explain why there is a rising need for insulin testing. Over the projection period, it is expected that the significant increase in the number of diabetics and the rising diagnostic awareness will help to drive up demand for insulin testing.
The thyroid stimulating hormone (TSH) test segment shows a significant growth in the endocrine testing market during the forecast period. This is caused by the rising prevalence of TSH-related conditions and the expanding knowledge of the link between changes in thyroid hormone levels and cardiovascular diseases. Thyroid dysfunction affects a growing percentage of people globally, accounting for 30–40% of patients in endocrine clinics. Undiagnosed thyroid dysfunction can hurt metabolic regulation and raise the risk of cardiovascular risk factors that are present.
Technology Insights:
The immunoassay segment is expected to be dominant in the endocrine testing market during the forecast period. Immunoassays are adaptable for evaluating diverse endocrine functions since they may determine a variety of hormones and biomarkers at the same time. This multiplexing capability is functional when detecting complex endocrine illnesses with numerous hormone abnormalities. Since immunoassay platforms are highly automated, several samples may be processed quickly and effectively. This is especially helpful in clinical laboratories where processing large samples daily is required. Media for immunoassays can be rapidly incorporated into current laboratory workflows, making it possible to do so for routine testing procedures. The healthcare sector has used immunoassays widely and given them regulatory approval. Clinical laboratories and doctors are more inclined to select techniques thoroughly validated, approved, and backed by regulatory bodies.
The mass spectroscopy segment is the fastest growing in the endocrine testing market during the predicted period. Mass spectrometry's remarkable sensitivity and specificity make detecting even minute levels of hormones and metabolites possible. This is essential since many illnesses call for exact measurements to fall within a specific range, which is necessary for effectively diagnosing and monitoring endocrine problems. Mass spectrometry unmatched quantitative accuracy makes it possible to precisely quantify hormone concentrations in intricate biological samples. This accuracy for patients with endocrine diseases is crucial for monitoring treatment progress and optimizing dosages. Mass spectrometry is a particularly effective tool for thorough endocrine profiling since it enables the simultaneous identification of many analytes in a single sample. This multiplexing capability drastically simplifies turnaround time, allowing for resource conservation and quicker patient care.
End-User Insights:
The commercial laboratories segment is expected to be dominant in the endocrine testing market during the forecast period. Commercial laboratories frequently invest in cutting-edge instruments and technology for performing endocrine testing, enabling them to deliver a variety of precise and dependable tests that appeal to patients and healthcare professionals looking for accurate diagnostic data. These labs often provide various endocrine tests encompassing different hormones and indicators. This variety of testing choices draws medical professionals looking for a one-stop shop for the endocrine diagnostic needs of their patients, which helps explain their market domination. To serve a wide range of clients, including healthcare providers and patients from various regions, many commercial laboratories, including national and international networks, have created a more comprehensive presence. This has helped them further strengthen their market leadership.
The hospitals segment is the fastest growing in the endocrine testing market during the predicted period. The increasing prevalence of endocrine disorders such as diabetes, thyroid dysfunction, and hormonal imbalances has increased the demand for accurate and timely diagnostic testing. Hospitals have advanced laboratory facilities and medical expertise, making them natural centers for endocrine testing. Hospitals offer a comprehensive range of medical services under one roof, which includes endocrine testing as part of their diagnostic and treatment processes. This convenience factor encourages patients to seek testing and treatment within a single institution, increasing the demand for hospital endocrine testing services.
Regional Insights:
North America has its largest revenue share in 2022 and is expected to sustain in the endocrine testing market throughout the predicted timeframe. Endocrine conditions such as diabetes, thyroid issues, and hormone imbalances are relatively common in the region. Endocrine testing becomes significantly more necessary as a result, fueling industry expansion. Numerous prestigious colleges, research centers, and pharmaceutical businesses that invest considerably in endocrine development are located in the area.
As a result, new and excellent testing procedures, assays, and diagnostic tools have been developed. Modern diagnostic labs, medical centers, and well-developed and technologically sophisticated healthcare infrastructure may all be found throughout North America, making it easier to use cutting-edge endocrine testing methods and making testing more effective and precise. Endocrine testing is safe, accurate, and reliable because of strict regulatory medical devices and diagnostics standards.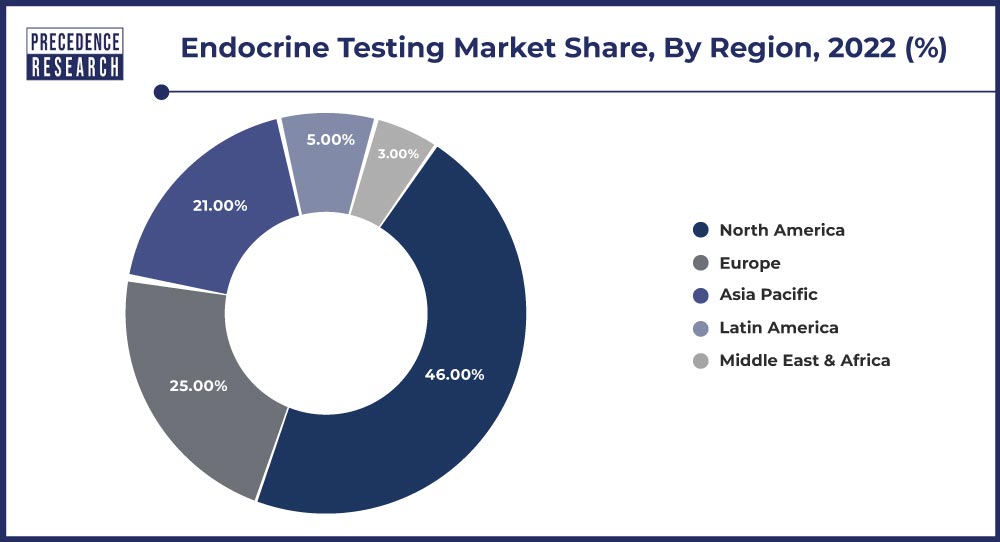 Asia Pacific is expected to expand in the endocrine testing market during the forecasted timeframe. Accurate and early disease detection is more in demand as healthcare awareness rises throughout Asia. Diabetes, thyroid problems, hormonal imbalances, and other endocrine-related illnesses must all be diagnosed with endocrine testing. Investments in healthcare have expanded because of economic expansion in nations like China, India, and Southeast Asian countries.
Hospitals, clinics, and diagnostic facilities are investing in cutting-edge endocrine testing tools and technologies to accommodate the expanding patient population. When disposable earnings rise, people are increasingly inclined to spend money on healthcare services, such as routine checkups and tests. This growth in healthcare spending positively impacts the demand for endocrine testing services. The region's governments are concentrating on enhancing the services and infrastructure related to healthcare.
Recent Developments:
In March 2023, for its most frequently prescribed insulins, Eli Lilly and Company reported price reductions of 70% and the extension of its Insulin Value Program, which restricts patients' out-of-pocket expenses to $35 or less each month. Lilly has implemented these measures to make Lilly insulin more accessible and to assist Americans who might struggle to navigate a convoluted healthcare system, which might prevent them from obtaining inexpensive insulin.
In December 2022, The United States Environmental Protection Agency (EPA) declared that it has validated numerous "new approach methodologies," or NAMs, that will allow the organization to test endocrine disruptors more quickly, effectively, and affordably than using animal models.
Key Market Players:
Abbott Laboratories
bioMerieux SA
Bio-Rad Laboratories Inc.
DiaSorin S.p.A.
F. Hoffmann-La Roche Ltd.
AB Sciex
Agilent Technologies Inc.
Ortho Clinical Diagnostics
Laboratory Corporation of America Holdings
Quest Diagnostics Incorporated
Segments Covered in the Report:
(Note*: We offer reports based on sub-segments as well. Kindly, let us know if you are interested)
By Test Type
Estradiol (E2) Test
Dehydroepiandrosterone Sulfate (DHEAS) Test
Progesterone Test
Testosterone Test
Thyroid Stimulating Hormone (TSH) Test
Prolactin Test
Follicle Stimulating Hormone (FSH) Test
Human Chorionic Gonadotropin (hCG) Hormone Test
Luteinizing Hormone (LH) Test
Cortisol Test
Insulin Test
Others
By Technology
Immunoassay
Chromatography
Mass Spectroscopy
Nucleic Acid Based
By End-User
Hospitals
Commercial Laboratories
Ambulatory Care Centers
Others
By Geography
North America
Europe
Asia-Pacific
Latin America
Middle East and Africa