The global geospatial imagery analytics market size accounted for USD 7.06 billion in 2022 and it is expected to hit around USD 44.26 billion by 2032, expanding at a CAGR of 20.15% during the forecast period from 2023 to 2032.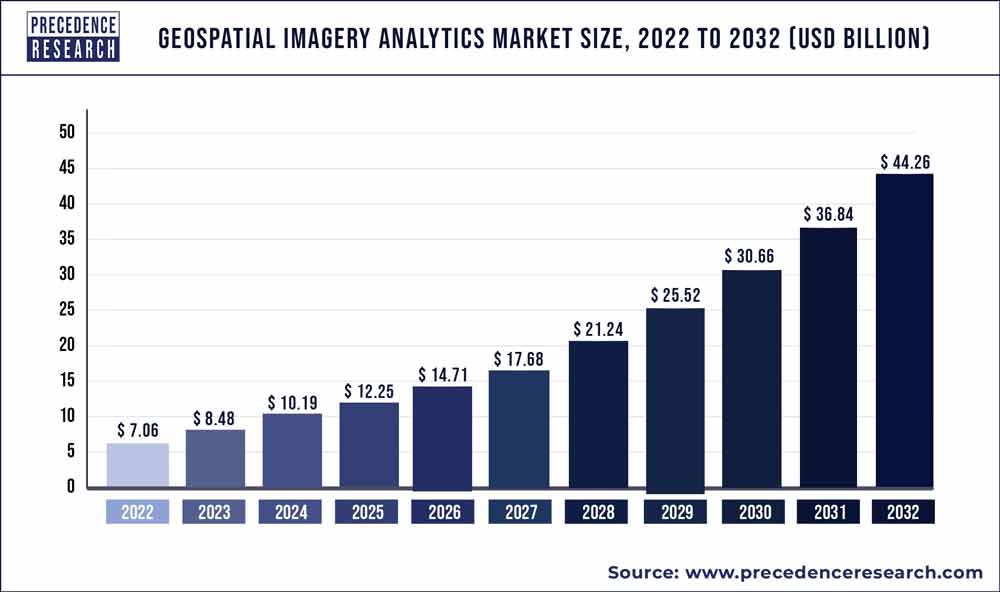 Access our Premium Real Time Data Intelligence Tool, Visit: Precedence Statistics
Key Takeaways:
North America contributed more than 36% of revenue share in 2022.
By Type, the imagery analytics segment held the highest revenue share in 2022.
By Technology, the geospatial information system (GIS) segment is expected to grow at a remarkable CAGR during the forecast period.
By Deployment, the cloud segment is predicted to grow at a notable CAGR during the forecast period.
By Industry, the environmental monitoring industry segment held the major revenue share in 2022.
Market Overview:
Earth-related video and image data are provided through geospatial imagery analytics, sometimes referred to as earth analytics. The use of data to predict hazards in the future and prepare for emergencies is growing among businesses in a variety of industries, which is driving the uptake of geospatial imaging analytics solutions. Geospatial imagery analytics makes use of satellite image data. After then, raster and vector images of the geotagged pictures are shown. Bitmaps, sometimes referred to as raster images, are composed of discrete color pixels. The graphics known as "vector pictures" are created using mathematical formulas and may be scaled endlessly. The growing need for geospatial imaging analytics for analyzing climatic conditions, urban planning, and disaster response management is also likely to fuel the market in the years to come.
Growth Factors:
Software for geospatial imaging has evolved into a base for the growth of smart cities. IT infrastructure for installing and administering applications and data at each stage of the development life cycle of smart cities is provided by a centralized information system based on GIS, creating a sizable market opportunity. The need for geospatial analytics is rising as a result of the growing usage of GPS devices and other technological data. The use of recent analytics in areas like ship navigation and logistics management is growing internationally. In the upcoming years, the ability to track someone's whereabouts, study optical satellite photos, and carry out strategic activities are also projected to fuel market growth. The low-band, mid-band, and high-band portions of the spectrum may be predominantly used by the 5G network to sustain market growth during the forecast period.
Report Scope of the Geospatial Imagery Analytics Market:
| | |
| --- | --- |
| Report Coverage | Details |
| Market Size in 2023 | USD 8.48 Billion |
| Market Size by 2032 | USD 44.26 Billion |
| Growth Rate from 2023 to 2032 | CAGR of 20.15% |
| Largest Market | North America |
| Base Year | 2022 |
| Forecast Period | 2023 to 2032 |
| Segments Covered | By Type, By Technology, By Deployment, By Organization, and By Industry |
| Regions Covered | North America, Europe, Asia-Pacific, Latin America, and Middle East & Africa |

Market Dynamics:
Drivers:
Rising demand for safe and secure mining operations
The analysis of satellite or aerial photographs to generate significant information about the Earth's surface is done by geospatial imaging analytics. This technology is critical in many parts of mining operations, resulting in enhanced efficiency and safety. For instance, it allows mining companies to precisely assess mining conditions by offering a full perspective of the location, which includes topography, terrain, vegetation cover, and infrastructure. Companies can improve safety and reduce accidents by analyzing this data and identifying possible dangers and taking proactive efforts to mitigate them.
Geospatial imaging analytics also aids in mineral exploration by finding possible mineral resources using satellite photos and geological characteristics. This enables corporations to make wiser judgments about where to direct their exploration efforts, lowering costs and improving the likelihood of economically viable mineral resources. Furthermore, by combining geochemical and hydrological data with satellite photography, mining companies may acquire a thorough understanding of the geological and environmental elements driving their operations. This information enables organizations to develop suitable mitigation measures and comply with rules by identifying pollution sources and locations prone to environmental dangers.
Moreover, geospatial imaging analytics helps with mine construction project planning and design by developing precise 3D models of the site, optimizing infrastructure location, and forecasting potential issues during development. Mining businesses can reduce hazards and increase worker safety by including safety factors in the planning phase.
Restraints:
Legal and regulatory difficulties
The legal and regulatory issues surrounding the usage of geospatial imaging analytics technologies are difficulties that stem from a variety of issues, including regional variations, location privacy concerns, intellectual property rights, data licensing, and geographical data storage. One of the key limits is the regional variation in data collection techniques. Geospatial imaging analytics is strongly reliant on current and reliable data, such as satellite images and aerial pictures. Access to such data, however, might be limited in particular locations or nations, making it difficult for geospatial technology suppliers to collect complete and consistent data for analysis.
Another critical consideration is location privacy. Geospatial imagery analytics entails gathering and analyzing data about specific areas. This rise worries about individuals' and organizations' privacy, as the device may mistakenly gather sensitive or confidential information. Adhering to privacy standards while undertaking geospatial analysis becomes a difficult issue for a provider, this increases the legal scrutiny and potential constraints. Intellectual property rights are also very important in the geospatial imagery analytics business. Geospatial data frequently contain significant information and insights that are protected by intellectual property. To efficiently use third-party data sources, vendors must handle licensing agreements and maintain compliance with copyright regulations. Failure to get relevant licenses or infringement on intellectual property rights can result in legal consequences and impede the expansion of geospatial technology companies.
Government prohibitions on private investment and data exchange in the geospatial imaging business impose further constraints. In India, for example, governmental rules hinder private investment and inhibit state institutions such as the Indian Space Research Organization (ISRO) from collecting and disseminating certain types of geospatial data. These constraints make it difficult to acquire cutting-edge geospatial technology and limit the operating capabilities of both public and commercial enterprises. Collaboration among technology companies, governments, and regulatory agencies is vital for developing standardized norms and regulations that protect privacy while allowing for the responsible use of geographic data. The industry can negotiate the legal and regulatory framework and realize the full potential of geospatial image analytics by finding a balance between privacy protection and data accessibility.
Opportunities:
Increasing deployment of 5G networks
Governments and organizations are rapidly recognizing the value of precise location data and real-time access in advancing smart city development and improving public services. The ability to deliver exact location data is one of the primary benefits of geospatial imaging analytics in the context of 5G. With the growth of connected devices and Internet of Things (IoT) applications in smart cities, precise location data is becoming increasingly important for optimizing resource deployment, regulating traffic flows, and improving public safety.
Geospatial technology can provide extensive insights into a city's physical environment, infrastructure, and assets, allowing for more effective planning and decision-making. Higher frequencies, which are necessary for 5G networks, have a limited range and are prone to interference from a variety of things. This data may be utilized to optimize the location of 5G infrastructure, resulting in higher network coverage and fewer signal disturbances. Several governments that are seeking to attract foreign direct investment have prioritized the development of 5G technology and infrastructure. Geospatial technology is critical in advancing these efforts, notably in the development of smart cities.
The integration of geospatial imaging analytics with 5G networks also opens the door to sophisticated applications and services. Real-time geospatial data, for example, may be utilized in emergency response management, urban planning, environmental monitoring, and predictive analytics. These applications have the potential to improve inhabitants' quality of life, increase operational efficiency, and allow more sustainable and resilient urban development.
Impact of Covid-19:
Demand for some geospatial analytics applications, such as those used in tourism and transportation, decreased as a result of Covid-19. The production facilities were also closed, which made it more challenging to supply and regulate electrical components. However, the epidemic increased the demand for public health applications, emergency response applications, and environmental monitoring applications which in turn are used to track the spread of Covid-19 and to identify areas that are at risk.
This information was used to help public health officials make decisions about how to allocate resources and how to prevent the spread of the virus, to help emergency responders identify areas that need assistance and to coordinate their response, and to track environmental changes. To prevent the disease from spreading, it became essential to monitor everyone's movements. Overall, the global epidemic's early impacts on the geospatial imaging analytics market were finally overcome, and the industry will experience phenomenal development throughout the forecast period.
Segments Insight:
Type Insights:
On the basis of types, the imagery analytics segment held the largest revenue share in 2022. This is a result of the strong demand for imaging analytics, particularly from the mining, manufacturing, and oil and refinery industries. An enormous refinery or oil rig offers a serious and unforeseen risk. These firms must thus create a balance between safety and exploration, and visuals can help them with this challenging task. Drones or nano-bots inserted within pipes and machinery can be used to take these pictures. In a method that is safe for people, robotics, mapping based on Light Detection and Ranging (LiDAR), and unmanned aerial vehicles (UAVs) contribute to this visual data. Additionally, image analytics provide real-time warnings and proactive maintenance, both of which aid in preventing accidents.
Technology Insights:
On the basis of technology, the geospatial information system (GIS) segment is anticipated to grow at the fastest CAGR during the forecast period. Due to their effectiveness in gathering and storing geographic data, geospatial information systems (GIS) are increasingly used in the mining, industrial, and defense & security industries. Geospatial imagery analytics is an all-inclusive system that delivers both video and picture data of the earth by using the characteristics of global positioning systems (GPS) and geographic information systems (GIS) supported by reliable technology. These data are gathered by suppliers of geospatial imaging analytics, who then make them available to customers.
Deployment Insights:
On the basis of deployment, the cloud segment is expected to expand at the fastest CAGR during the forecast period. This is due to elastic cloud computing and online connectivity giving clients much more reach and flexibility across almost all industries. Users can use cloud computing skills for analysis and mapping, as well as easy and affordable access to a vast amount of geographic information on any topic. Through simple apps, users can easily share and combine their data, fostering a sense of community and collaboration. Geospatial analytics are effective decision-making tools that can assess topographic, demographic, and environmental data, assisting corporations, governmental organizations, and regular individuals in making decisions.
Organization Insights:
On the basis of organization size, the small and medium-sized businesses (SMEs) segment held the largest revenue share in 2022 and is also expected to grow at the fastest CAGR. This is due to the cloud-based goods and services that help users increase productivity and improve business performance. Numerous major companies are using geospatial imaging analytics software and services as a result of the rising popularity of the cloud, and this trend is predicted to continue over the projection period.
Industry Insights:
On the basis of Industry, the environmental monitoring industry segment held the largest revenue share in 2022 and is also expected to grow at the fastest CAGR. Environmental changes like global warming are giving people a lot of anxiety. Geospatial technologies like Geographic Information Systems (GIS) and Remote Sensing (RS) are required for efficient environmental change monitoring. Photographs of the Earth are mapped and analyzed using satellite technology. Analyzing geospatial images can help us understand how human activity affects the environment and inspire conservation and preservation efforts.
Regional Insights:
North America region dominated the global market in 2022. Due to the existence of large corporations and rising high-value spending for new satellite systems, this has occurred. It is anticipated that the fast use of big data, machine learning, and cloud computing will fuel market revenue development in this area. The geospatial imagery analytics market in the Asia Pacific region is anticipated to have rapid growth in the forecast period.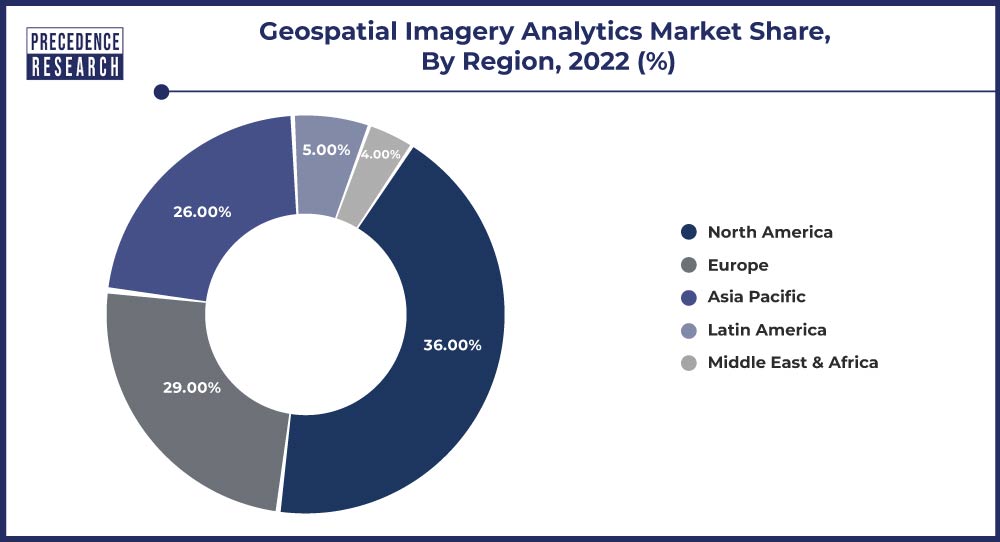 This is a result of an increase in development projects brought on by a rise in the need for geospatial imaging analytics for urban planning across several growing nations. Furthermore, the increasing demand for geospatial imagery analytics systems is the desire for location-based services and real-time information. The growing e-commerce is also encouraging the integration of these services, particularly for logistical and transportation needs in this region.
Recent Developments:
In November 2022, TerraScope, a self-service analytics tool, was introduced by Orbital Insight. TerraScope democratizes geographic information by providing rich, actionable insights based on automated analysis of phone, car, truck, ship, and satellite location data
In September 2022, Sanborn Map Company Inc. purchased Applied Geographics, Inc., Applied Geographics, Inc. has worked with a variety of organizations, including governments and corporations, to provide the best location intelligence, GIS, and geospatial solutions for their specific needs.
In November 2021, to provide clients with sophisticated agriculture data solutions, Planet Labs bought VanderSat.
Key Market Players:
Microsoft
Google
Oracle
Hexagon AB
ESRI
L3Harris Corporation
UrtheCast
Maxar Technologies
Geocento
Sparkgeo
Trimble
SafeGraph
Mapidea
Geospin
Alteryx
Orbital Insight
OneView
Boston Geospatial
Hydrosat
Planet Labs
Segments Covered in the Report:
(Note*: We offer reports based on sub segments as well. Kindly, let us know if you are interested)
By Type
Imagery Analytics
Video Analytics
By Technology
Global Positioning Systems
Geographical Information Systems
Remote Sensing
Unmanned Aerial Vehicles
By Deployment
By Organization
Small and Medium-sized Organizations
Large Organizations
By Industry
Defense and Security
Energy and Utility
Engineering and Construction
Others
By Geography
North America
Europe
Asia-Pacific
Latin America
Middle East and Africa