The global glycol market size was evaluated at USD 40.87 billion in 2022 and is projected to hit around USD 80.55 billion by 2032, growing at a CAGR of 7.02% during the forecast period from 2023 to 2032. The Asia-Pacific region generated more than 44% of the revenue share in 2022.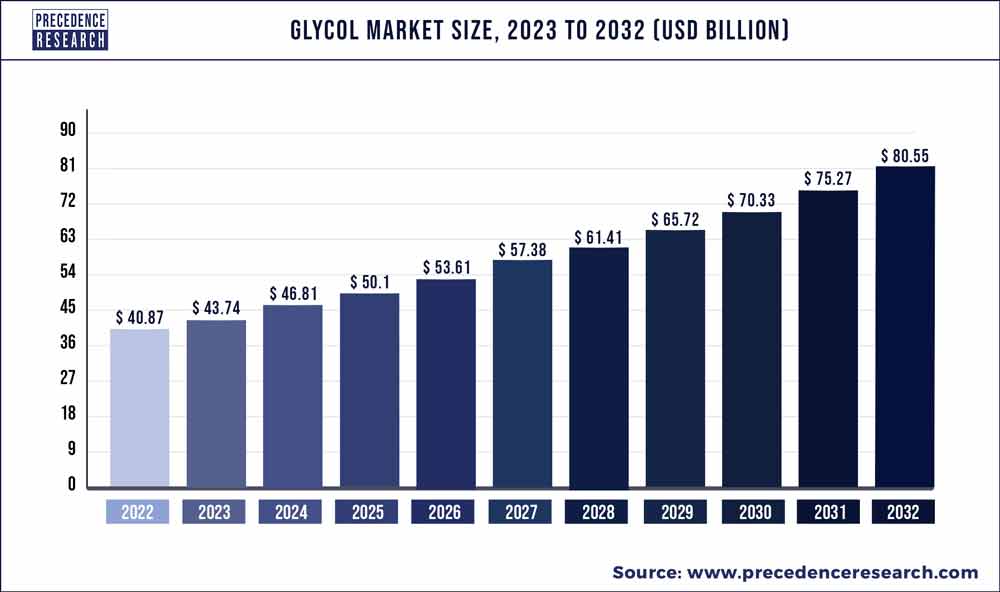 Access our Premium Real Time Data Intelligence Tool, Visit: Precedence Statistics
Market Overview:
An organic substance known as glycol has the chemical formula (CH2OH) 2. Glycol is largely utilised for two things: making polyester fibres as a raw material and making antifreeze preparations. Glycol has the qualities of being an odourless, colourless, sweet-tasting, and gluey liquid. It is also utilised as an antifreeze in synthetic fibers, brake fluid, and low-freezing explosives in addition to car cooling systems. Glycol is a non-hazardous, sweetened substance that serves as a solvent, antimicrobial, and moisture-retaining ingredient in foods, dental care, and personal care items.
It is also utilised in a variety of products, including toys, food packaging, film, bottles, pipelines, antifreeze, carpets, insulation, and animal feeds. The automotive and transportation industry, food and beverage processing, heating, ventilation, and air conditioning (HVAC), as well as the production of polyester fibres, all require derivatives of glycol. The recent improvement in the outlook for western markets' economies as a result of resurgent industrial activity has had a beneficial effect on the market's expansion.
Glycols have been under great attention from organisations like the U.S. Environmental Protection Agency (EPA) and FDA due to their harmful impacts on human health during the period of increased regulatory control. Although the FDA has designated propylene glycol as generally recognised as safe (GRAS), the organisation has established appropriate daily intake amounts to protect human health.
Similar research has been done by the EPA about the toxicological profile of glycols and suggested guidelines for their use and handling.
Growth Factors:
Throughout the projected period, the worldwide glycol market is anticipated to grow due to the rising use of non-perishable resources. Government actions are also anticipated to increase the use of bio-based goods like glycol. They are thought to be secure and environmentally responsible. Furthermore, they adhere to strict governmental rules. Due to their extensive use in the pharmaceutical, food, and cosmetic industries, bio-based glycols are predicted to gain appeal.
The rising demand for processed foods is one of the main driving forces behind the worldwide glycol industry. The growing labour force, modern lifestyle, and population all contribute to an increase in the use of processed foods. The demand for propylene glycol is also fueled by expansion in the transportation and construction sectors.
It is anticipated that technological advancements in the packaging sector will increase the range of food products that are suitable for use, including frozen, chilled, shelf-stable, microwaveable, and prepared mixes. Increased consumer expenditure on personal hygiene and personal care items like moisturizers and sunscreen creams will accelerate market expansion.
Report Scope of the Glycol Market:
| | |
| --- | --- |
| Report Coverage | Details |
| Market Size in 2023 | USD 43.74 Billion |
| Market Size by 2032 | USD 80.55 Billion |
| Growth Rate from 2023 to 2032 | CAGR of 7.02% |
| Largest Market | Asia Pacific |
| Base Year | 2022 |
| Forecast Period | 2023 to 2032 |
| Segments Covered | By Product, By Application, and By End-User |
| Regions Covered | North America, Europe, Asia-Pacific, Latin America and Middle East & Africa |

Market Dynamics:
Driver: Increasing usage in the textile industry
Glycols are used to make cellophane, leather, and polyester fibres. One substance that is frequently used in textile applications is ethylene glycol. The COVID-19 pandemic had a significant negative impact on global fibre production in 2020, which saw a decline from 111 million tonnes to 109 million tonnes. With improved market activity in 2021, however, as a result of the active recovery in the world economy, it largely recovered. China, the European Union, and India are three of the top exporters of textiles, with a combined market share of more than 65%.
The first ten months of 2021 saw noteworthy growth in China's textile sector. Major companies' combined sales increased by almost 14% year over year to reach USD 650 billion. One of the global industries with the quickest growth rates is the textile industry in India. From April to December 2021, exports of textiles increased by almost 31% over the same period in the previous year. Since COVID-19's breakout, investments in the Indian textile industry have shown a pronounced development.
The government proposed a plan for creating mega textile parks in India in Budget 2021–22 to increase employment and make India more competitive internationally. The Indian textile and apparel sector was valued at USD 152 billion in 2021, according to the Indian government. Additionally, the USD 75 billion domestic consumption was broken down into USD 55 billion for garments, USD 15 billion for technical textiles, and USD 5 billion for home furnishings.
The government announced a new Buy America Act waiver procedure in 2021 in order to increase textile production in the country. The new waiver procedure seeks to increase procurement process transparency, which is expected to be advantageous to textile companies as they can better grasp the possible business prospects and work to improve and supply made-in-America products. All these factors will drive the growth of the market.
Restraints: Health issues
The main difficulty facing glycol makers is health problems brought on by the use of glycol. The market growth rate may be negatively impacted by a variety of health issues linked to glycol. The allowable daily consumption of glycol as a food additive, according to WHO, should not, however, exceed 25 mg/Kg of weight. The main market restraints that will slow the market's growth rate are health problems brought on by the increasing intake of glycol.
Opportunities: Increasing demand of glycol in the automotive industry
It is projected that the growing demand for glycol in the automotive sector will accelerate the expansion of the global market. Due to its lower melting point than water, ethylene glycol prevents ethylene engines from freezing in the winter and serves as a coolant to prevent overheating in the summer. The global glycol market is anticipated to benefit greatly from the usage of ethylene glycol in cars to absorb combustion heat.
Impact of COVID-19:
As consumers become more aware of personal hygiene and homecare needs in the aftermath of the COVID-19 pandemic, the demand for these products is anticipated to increase. Due to the pandemic, consumers are now more conscious of the importance of maintaining personal and household hygiene in order to lower the risk of infection. The market demand for personal care products is expected to rise as a result.
The COVID-19 pandemic has an impact on the world's food business because governments have shut down bars and restaurants to stop the virus's spread. Restaurant closures had a significant effect on related industries, including those that produce food, alcoholic beverages, wine, and beer, ship food & beverages, and engage in fishing and farming. In terms of output, foreign currency earnings, and employment, the textile and apparel business is one of the biggest and most important sectors for the economy.
The exports are anticipated to be most affected by the global health catastrophe. Additionally, the opening of new stores has ceased, and even local retailers are experiencing inventory problems because they have already buffered stock for a buildup. The market for textiles and clothing has significantly decreased.
Segments Insight:
Product Insights:
Based on the product, the industry has been divided into ethylene glycol and propylene glycol (1, 2-propanediol) (1, 2-ethanediol). These goods serve a wide variety of industry segments. The production of polyester composites makes extensive use of propanediol, which is also employed as a solvent in the production of food colouring, flavouring, paint dispersions, and plastic resin.
Propylene glycol is increasingly popular and is expected to grow in the projected period as it is used as an alternative to ethylene glycol in antifreeze applications due to its intrinsic low toxicity. 1, 2-propanediol is used as an antifreeze in the chemical, food, and medicinal industries. However, as an alternative to ethylene glycol, the chemical has found increased use as an eco-friendly automotive and marine antifreeze in a 40:60 ratio of 1,2-propanediol: water.
A common antifreeze, coolant, and heat-transfer substance is ethylene glycol. The substance works as a reagent in the creation of polyesters, alkyd resins, synthetic waxes, and explosives in addition to lowering the freezing point of fluids. Additionally, the ethylene-based glycols are used as a component in hydraulic lubricants, paint solvents, and printing inks.
Application Insights:
The market primarily serves the automotive, pharmaceutical, food & beverage processing, pipeline repair, textiles, aviation, medical, and HVAC industries. After the global recession, trade policies, localization & sustainability of business, and fiscal mechanisms all experienced fundamental changes.
As of 2018, the global GDP increased by almost 3.7% as industrial activity recovered in established countries and significantly advanced in developing regions. The development of the world economy paved the way for a bright future for glycol producers. During the forecast period, the application sector for automotive will experience the fastest growth. World automotive production increased by XX in 2017 to XX million units, with double-digit growth rates recorded in a few European nations, notably the Netherlands, Finland, Portugal, Slovenia, Russia, and Ukraine. Positive macroindicators, as mentioned above, should be a source of optimizing the growth outlook for the glycol business. Europe continues to be the region with the highest demand for glycol.
End User Insights:
The food and beverage sector is anticipated to experience rapid expansion in the near future as it is used in various food products such artificial sweeteners, ice cream, flavouring & essence, icing, soft drinks, sweets, frostings, and baked goods as an anti-freeze agent, solvent, thickening, flavour enhancer, emulsifier, and stabilizer.
Regional Insights:
Asia Pacific held the maximum share of the glycol market due to the traditional centres of innovation for manufacturing technologies and ways to create an industrial ecosystem.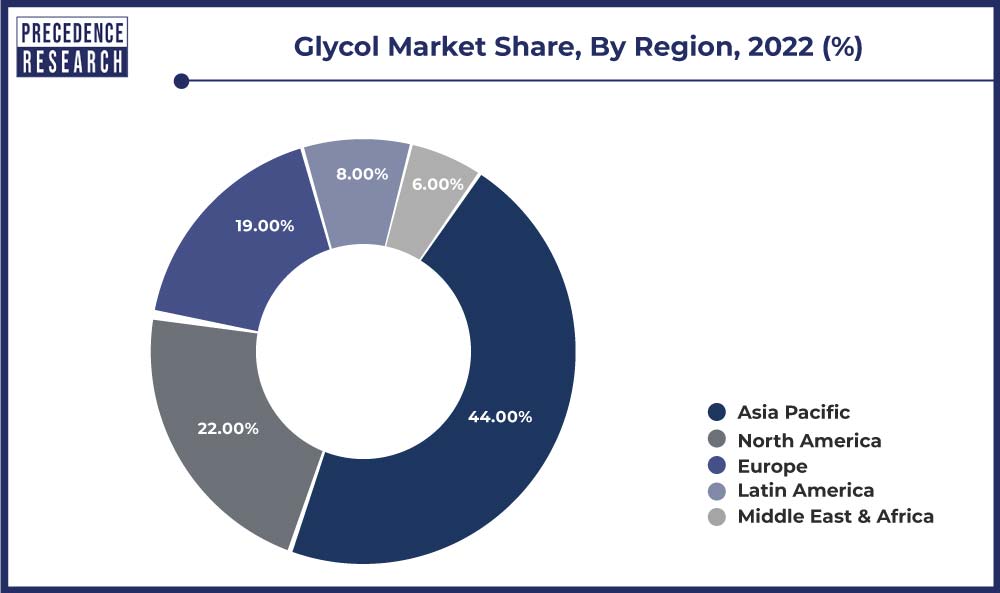 The market has seen a significant change in the production landscape towards Asian countries, with China presenting itself as a regional as well as a worldwide centre for manufacturing, despite the fact that these regions combined accounted for close to 50.0% of the global demand.
Recent Developments:
In September 2021, INEOS Oxide was accredited by EXCiPACT for pharmaceutical excipients for ethanolamines produced in Plaquemine, Louisiana, USA. The certification guarantees that all QMS components adhere to GMP standards as outlined in the 2017 EXCiPACT for Pharmaceuticals Excipients. This accomplishment helps to ensure and sustain the sales of specialised products that demand a high level of quality assurance.
The Verbund site, which is managed by BASF-YPC Co., Ltd., a 50/50 joint venture between the two companies in Nanjing, China, was extended by BASF and SINOPEC in August 2021. It entails expanding the targeted chemical factories, including building a new tert-butyl acrylate production to serve the expanding China market.
In October 2022, the INR 100 billion (USD 1.33 billion) expansion and debottlenecking of Reliance Industries Ltd.'s Hazira manufacturing complex received approval from the Ministry of Environment, Forests, and Climate Change panel. In 1991–1992, Mukesh Ambani's RIL's HMD complex was given the go-ahead to produce utilities and other products including Vinyl Chloride Monomer (VCM) and MonoEthylene Glycol.
Petro Rabigh and Gulf Cryo signed a contract in March 2022 to absorb carbon dioxide emissions from the Petro Rabigh complex's Mono Ethylene Glycol MEG unit. The project is in line with Saudi Arabia's ambitious programmes to lower carbon emissions in the Kingdom, including the Saudi Vision 2030 and the Circular Carbon Economy Concept.
Key Market Players:
Dow
LyondellBasell Industries N.V.
BASF SE
ADM
Global Bio-chem Technology Group Company Limited
DuPont Tate & Lyle Bio Products
SKC
Temix Oleo
INEOS Oxide
Huntsman International LLC
ADEKA CORPORATION
Chaoyang Chemicals, Inc.
Manali Petrochemicals Limited
Haike Chemical Group Co., Ltd.
Arch Chemicals Inc.
Repsol
Segments Covered in the Report:
(Note*: We offer report based on sub segments as well. Kindly, let us know if you are interested)
By Product
Ethylene Glycol
Propylene Glycol
By Application
Automotive
HVAC
Textiles
Airlines
Medical
Pipeline Maintenance
Polyester Fibers and Resins
Food and Beverage
Others
By End-User
Automotive and Transportation
Packaging
Food and Beverage
Cosmetics
Pharmaceuticals
Textile
Other End-user Industries
By Geography
North America
Europe
Asia-Pacific
Latin America
The Middle East and Africa