The global handheld ultrasound market is surging, with an overall revenue growth expectation of hundreds of millions of dollars during the forecast period 2023 to 2032.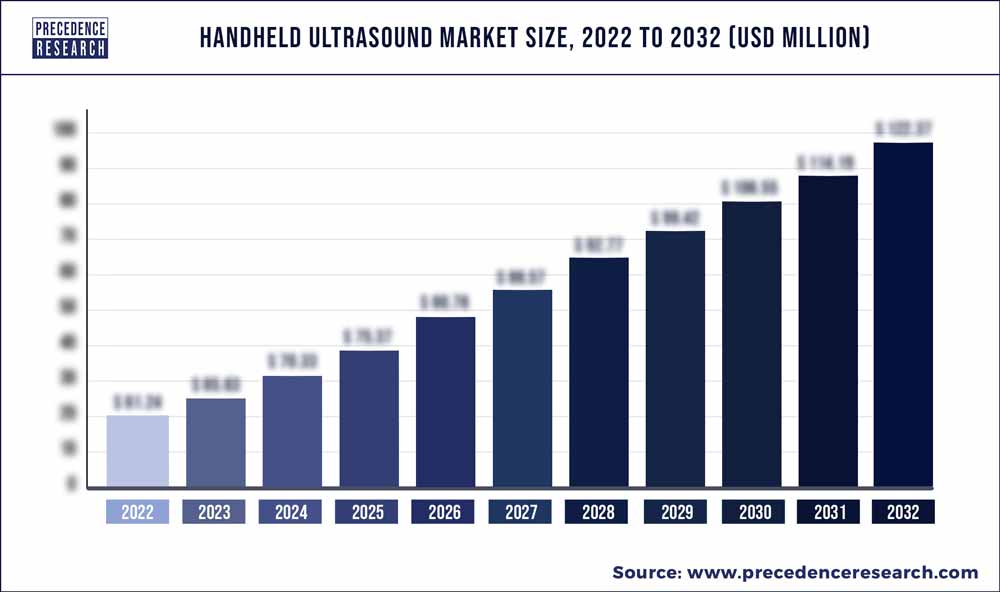 Key Takeaways:
North America dominates the handheld ultrasound market during the forecast period.
By technology, 3D shares the highest revenue throughout the predicted period.
By application, gynecology shows significant growth during the forecast timeframe.
By end-user, the hospital segment is the highly invested segment in the handheld ultrasound market.
Market Overview:
Handheld ultrasound devices are less costly than ultrasound units and convenient for professionals. The global handheld ultrasound market revolves around the innovation, development and distribution of handheld ultrasound devices for the healthcare sector across the globe. The market growth is driven by factors such as the rising prevalence of chronic diseases, the need for clinical trials, and the adoption of new patient care and treatment technologies.
Growth Factors:
The increased demand for image-based diagnostic systems and real-time delivery are observed asfor the growth of the handheld ultrasound market. Doctors can comfortably carry these ultrasound devices in their pockets or folders because of their smaller size, which makes it easy for physicians, nurses, and sonographers, to take them when traveling to a patient. Furthermore, wireless ultrasound devices have made image-seizing for detection and treatment convenient, whereas initially, it was not feasible financially.
In recent years, the global market of handheld ultrasound has witnessed immense growth owing to the rising production and innovation of advanced healthcare-related devices. For instance, Philips point-of-care ultrasound technology constituted Pulse Wave Doppler for all doctors, from radiologists and cardiologists to casualty care, in order to quickly assess cardiac function's hemodynamics anywhere. Lumify is the foremost handheld ultrasound with algorithms B-lines software to enhance heart and lung assessment. It is considered to register the fastest growth rate over the predicted period. These devices are in high demand due to the increasing trend of home healthcare and remote patient monitoring. Handheld ultrasound equipment has proven efficient in monitoring critically sick patients.
Report Scope of the Handheld Ultrasound Market:
| | |
| --- | --- |
| Report Coverage | Details |
| Largest Market | North America |
| Fastest Growing Market | Asia-Pacific |
| Base Year | 2022 |
| Forecast Period | 2023 to 2032 |
| Segments Covered | By Technology, By Application, and By End-user |
| Regions Covered | North America, Europe, Asia-Pacific, Latin America, and Middle East & Africa |

Driver:
Instant and quick estimation offered by handheld ultrasound devices
When there is a risk of failed diagnosis through imaging tools, physicians are often made to make decisions without ultrasound. Medical practitioners in small clinical settings can associate physical test findings with visual findings with this handheld ultrasound equipment instead of sending patients to a radiology lab. Similarly, emergency physicians use these mobile devices for instant and quick estimation. Moreover, the initial investment in handheld ultrasound devices is comparatively less complicated, which is beneficial for small-scale clinics to invest.
Restraint:
High cost of initial investment
The high-resolution ultrasound imaging equipment generates a large quantity of information at a higher rate to provide high-resolution imaging for various biomedical applications, which has been a trade between image quality and device price and hinders the usage of ultrasound imaging with good-resolution pictures at an affordable price. It needs intensive computational resources and high-speed data transfer links, making the machine heavy and power-consuming, resulting in a lack of portability and deployment of the system in remote locations where the power budget is limited, further restricting healthcare accessibility.
Opportunities:
Increasing growth of telemedicine and remote monitoring
The growing factors such as remote collaboration, efficient triaging of patients, and expert consultations are stimulating for expanding the handheld ultrasound market. The increasing usage of telemedicine and remote monitoring has allowed healthcare providers to remotely assess and monitor patients. There is a reduction in in-person visits and mainly massive use in rural or underdeveloped areas. The growing need for remote healthcare services, mainly during the COVID-19 pandemic and the shift towards patient-customized and value-based care, has raised the need for telemedicine.
Segments Insight:
Technology Insights:
The 3D scanner is expected to increase rapidly during the forecast period. A physical product can be scanned into a digital layout using a 3D scanner, and then prototypes can be built using the digital model and 3D printers; the increasing granularity of scan data decreases the manual time required to generate a solid model, the high level of precision made manageable by high-quality 3D scanners considerably accelerates this procedure.
The 2D scanner shows a noticeable growth during the forecast period. 2D scanning is used in pregnancy, which gained its importance during COVID-19 when there was a rise in pregnancy complications. This segment got boosted as the reliable delivery and good imaging attracted the adoption of 2D scanners.
Application Insights:
The gynecology segment is the maximum contributor to the handheld ultrasound market. The commercially available number of ultrasound devices for prenatal diagnosis and ultrasonography promotes the growth of the segment. Moreover, the rapid adoption of portable ultrasound devices by pregnant women highlights the development of the overall market.
Considering the demand of handheld ultrasound devices from the gynecology sector, market players are focused on the advancements of handheld ultrasound devices. For instance, Vscan Extend, developed by engineers at GE Healthcare, United States, is a pocket-friendly ultrasound tool that allows gynecologists to speed up treatment decisions. Further, it can execute fetal position, heart checks, and measure fluid levels, assess maternal health, and picture uterine fibroids. And it is easy to operate to show a visual heartbeat to the concerned mother. It serves various outcomes, such as clinical, operational, and financial.
The urology segment shows attractive growth during the forecast period. The ultrasound system generally visualizes the pelvis, urinary tract, and abdomen by assisting with percutaneous nephrolithotomy, renal biopsy, catheterization, BPH residual urine, and prostate. The rising cases of urinary tract infection is promoting the application of handhold ultrasound in the urology sector. Portable ultrasound machines are light in weight and small, making them handy for casualties or patients who can rarely happen to travel. The image quality generated is clear. It can help diagnose problems such as urinary tract infections, kidney stones, and bladder tumors, even used for biopsies.
End-user Insights:
The hospital is the dominating segment with the highest revenue during the forecast period. This growth can be approved to the wide range of hospital ultrasound devices and the increased number of patients visiting hospitals with different ways of living disorders. Introducing portable systems is projected to fuel the demand for ultrasound equipment in OPD and in-patient departments.
Diagnostic Centers show lucrative growth in the handheld ultrasound market during the predicted period. This segment is developing as there is a growing need for diagnostic centers, and there is a wide range of increasing applications, such as in cardiology and oncology. The increasing prevalence of various lifestyle-related disorders and technological advancement are boosting the need for this segment's growth. The presence of different diagnostic devices is fueling the market.
Regional Insights:
North America is dominating the handheld ultrasound market during the forecast period. The United States, with high grant funding support, is considered a prime contributor for research and development in chronic diseases sector. Furthermore, major medical institutes' involvement, easy approval for clinical trials, and the vigorous rate of initiating research and development initiatives to develop therapeutic options for chronic diseases are predicted to support market growth in North America.
For instance, in January 2023, headquartered in the United States, Sound Technologies and GE HealthCare announced a deal to distribute the Vscan Air. This wireless pocket-sized ultrasound gives whole-patient scanning competence, crystal clear image quality, and intuitive software to veterinary applications in the United States.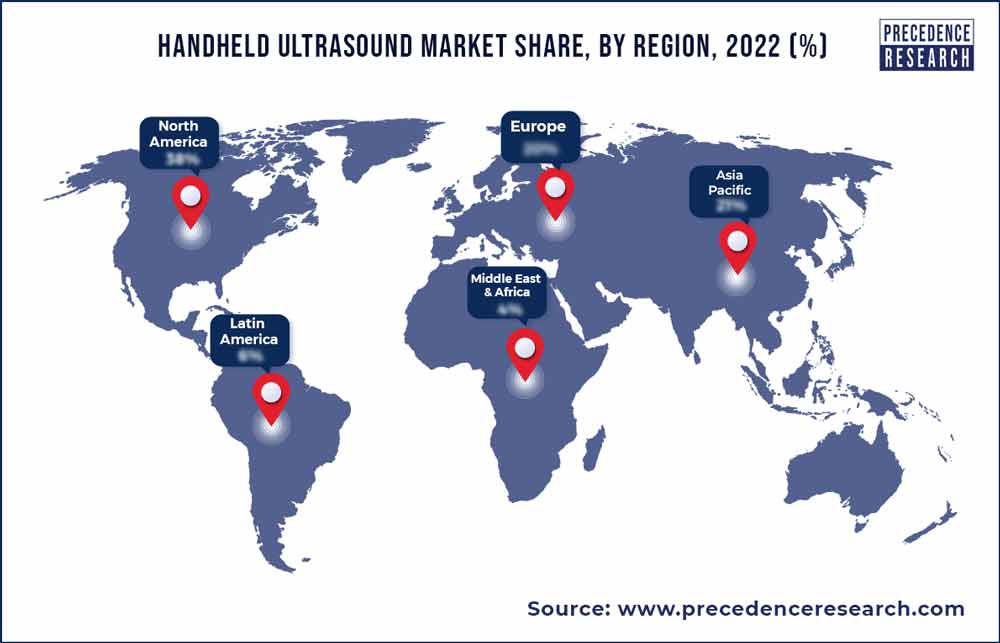 Asia-Pacific is the fastest-growing segment in the handheld ultrasound market during the predicted period. The increased adoption of diagnostic imaging drives the growth of the market as healthcare professionals and patients across Asia-Pacific increasingly adopt minimally invasive therapies and image-guided procedures. The higher occurrence of chronic diseases such as cancer, neurological stroke, and cardiovascular diseases, the excellent death rates in these countries, and the increasing knowledge among the population for early detection are fueling the market expansion in Asia.
The rapid adoption of advanced technologies and well-established healthcare infrastructure along with the presence of potential key players in the country have promoted the growth of the market in Japan. The Japanese market players are even more focused on the development of innovative diagnosis products. New product development in the country is observed to fuel the growth of the market during the forecast period. In January 2022, The Japanese contributor of TechsoMed Ltd generated ultrasound-based picture evaluation software systems for tissue detriment monitoring and to control in multi-clinical applications.
Recent Developments:
In May 2023, Clarius Mobile Health, a leading manufacturer of high-definition handheld ultrasound, disclosed Voice Controls, a new feature powered by artificial intelligence that enables clinicians to manage multiple imaging functions with voice commands, withdrawal their hands-free to execute procedures and exams. It is attainable now to all Clarius members adopting any Clarius HD3 remote ultrasound scanner with the recent 10.3 reprieves of the Clarius Ultrasound App for Android and iOS.
In May 2023, Researchers established that artificial intelligence could assist with triaging patients with a palpable breast mass and precisely identify cancer using images from low-cost, transportable ultrasound scanners. Study shows that early breast cancer diagnosis by regular screenings is the standard of care in Western countries. In contrast, less-income countries lack access to screening technologies and programs, requiring a different approach to enable early cancer detection and improve outcomes.
In January 2022, the future of ultrasound will be quickly arousing and affordable. EagleView Ultrasound presented its wireless transportable ultrasound equipment at the start of 2021, which offers much freedom for ultrasound imaging and makes the point-of-care solution more reasonable.
Key Market Players:
Shenzhen Mindray Bio-medical Electronics Co., Ltd.
General Electric Company
Siemens
Koninklijke Philips N.V.
FUJIFILM Holdings Corporation
SAMSUNG
Canon Inc.
BenQ Corporation
Segment Covered in the Report:
(Note*: We offer report based on sub segments as well. Kindly, let us know if you are interested)
By Technology
By Application
Cardiology
Trauma
Urology
Gynecology
Oncology
Musculoskeletal
By End-user
Hospitals
Diagnostic Centers
Ambulatory Surgery Centers
By Geography
North America
Europe
Asia-Pacific
Latin America
Middle East and Africa