The global healthcare discount plan market size reached USD 20 billion in 2022 and is expected to hit around USD 80.56 billion by 2032, poised to grow at a CAGR of 15% during the forecast period from 2023 to 2032.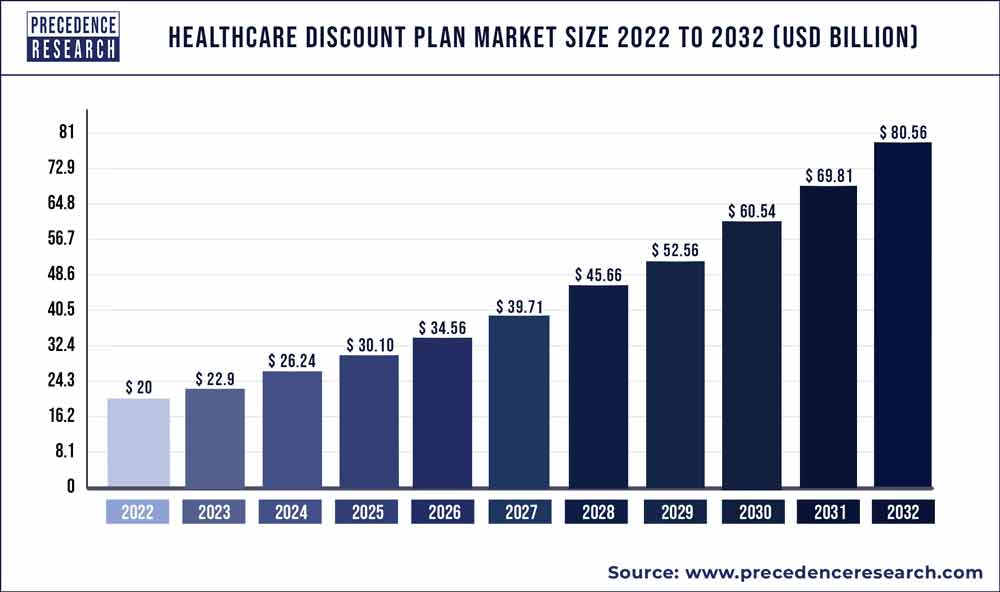 Access our Premium Real Time Data Intelligence Tool, Visit: Precedence Statistics
Key Takeaways
North America led the global market with the largest market share of 30% in 2022.
Asia Pacific is considered the quickest-growing region
By Service, the other service segment dominated the market in 2022 and is expected to maintain its dominance during the forecast period.
By Service, the virtual visits segment is anticipated to grow significantly.
By Application, the hospitals segment led the market in 2022.
By Application, the growth of the clinics segment is anticipated to increase significantly.
Healthcare Discount Plan Market in the U.S. 2023-2032
The U.S. healthcare discount plan market size accounted for USD 1.8 billion in 2022 and is estimated to reach around USD 7.06 billion by 2032, growing at a CAGR of 14.7% from 2023 to 2032.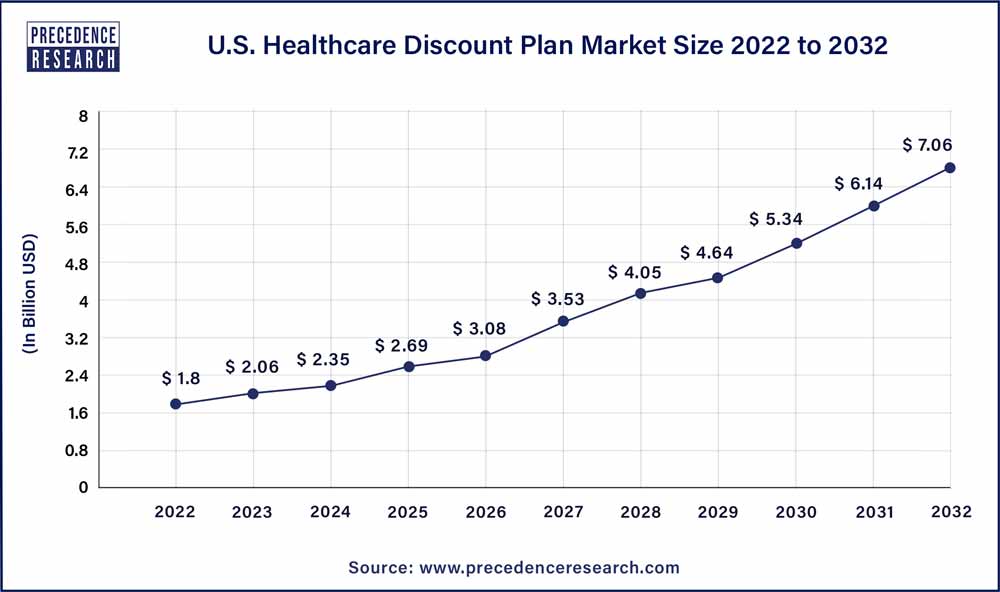 North America dominated the market in 2022. North America's healthcare discount plan market has experienced significant growth in recent years. Demand for healthcare discount plans is strong in North America, partly due to several important elements that have created the region's healthcare system. These elements reflect customers' and healthcare providers' changing requirements and preferences, making healthcare discount programs appealing. Healthcare cost inflation is a persistent problem in both the US and Canada. High out-of-pocket costs are a burden for many people, particularly for those without full insurance coverage. Healthcare discount plans offer a solution by offering savings on various medical services, such as doctor visits, prescription medications, dental work, and more. This aspect of affordability significantly influences demand. Healthcare discount plans are readily accessible and do not require lengthy approval processes, unlike traditional insurance. This accessibility makes them appealing to individuals seeking immediate cost savings on healthcare expenses.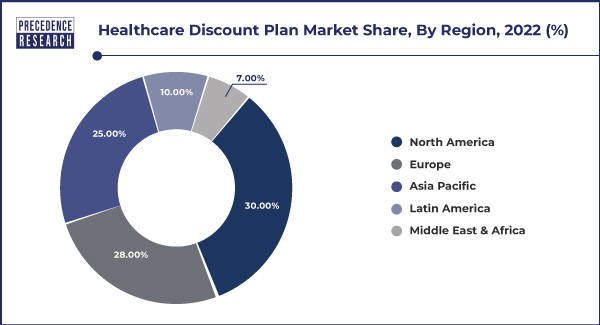 On the other hand, Asia Pacific is observed to witness the fastest rate of growth throughout the forecast period. Several important elements that worked together to foster a supportive environment are responsible for expanding the Asia Pacific market. The rising demand for inexpensive and accessible healthcare services, shifting consumer tastes, and developing healthcare systems drive these trends. Increasing healthcare expenses are a significant worry for Asia Pacific as a whole. People and families are looking for affordable strategies to manage their healthcare costs as medical costs continue to rise. Access to a network of healthcare providers who offer discounted services is made possible by healthcare discount programs, which assist people in reducing the cost of their medical expenses.
The growing awareness of the importance of preventive healthcare also drives the adoption of healthcare discount plans. As people become more health conscious, they actively seek ways to maintain their well-being. Healthcare discount plans often include benefits like preventive check-ups, screenings, and wellness programs, encouraging individuals to take a proactive approach to their health.
Healthcare Discount Plan Market Overview
The term healthcare discount plan market describes a healthcare sector that provides consumers with an additional means of cost-saving on medical bills aside from regular health insurance. These programs, usually referred to as medical discount plans or healthcare savings plans, give people and families access to a network of healthcare professionals, including physicians, dentists, hospitals, and pharmacies, who have agreed to offer their services at discounted prices to plan participants. Participants in a healthcare discount plan often pay a monthly or yearly membership fee in return for the right to use these lower prices. The discounts might vary greatly depending on the plan and the provider network it collaborates with.
Healthcare discount plans frequently cover various healthcare services, from standard check-ups to more specialized treatments. For instance, the monthly costs for discount health insurance, which range from $8 to $148, are reasonable. Sometimes, they charge a $200 one-time, non-refundable enrollment fee. Depending on the service, discounts can range from 5 to 70% and do not need a lot of paperwork or waiting for refunds. The healthcare discount plan market has become a supplementary option for cost-conscious consumers seeking to reduce out-of-pocket healthcare costs.
Growth Factors
The market growth is being boosted by increased collaboration between healthcare payers, insurance providers, and care providers to cut costs and expenses and improve patient experience and quality of care.
Health discount plans are being quickly embraced by customers due to rising healthcare expenditures. For example, the United States spent an anticipated $12,555 per person on healthcare in 2022, the largest among OECD nations. Healthcare bundled payments benefit patients, payers, and providers, yet consumers cannot fully exploit them.
A wide range of healthcare discount options are being developed in the private health sector to spur demand for futuristic health plans. For instance, members of Coverdell enjoy hearing aid discounts between 10% and 20% and coverage through a nationwide network of professional audiologists. Members receive a 40%–55% discount on the typical LASIK treatment cost.
Healthcare Discount Plan Market Scope
| | |
| --- | --- |
| Report Coverage | Details |
| Growth Rate from 2023 to 2032 | CAGR of 15% |
| Market Size in 2023 | USD 22.9 Billion |
| Market Size by 2032 | USD 80.56 Billion |
| Largest Market | North America |
| Base Year | 2022 |
| Forecast Period | 2023 to 2032 |
| Segments Covered | By Service and By Application |
| Regions Covered | North America, Europe, Asia-Pacific, Latin America, and Middle East & Africa |

Healthcare Discount Plan Market Dynamics
Driver
Rising healthcare costs
The rising demand for healthcare discount plans is mostly due to the rising healthcare expenses in many nations. Healthcare costs have steadily risen over the past few decades, impacting everyone from individuals to families to businesses. Several reasons are responsible for these increased expenses. Medical progress has resulted in better treatments and patient outcomes but has also raised prices. Costly medications, procedures, and advanced technologies are frequently required. Healthcare services are in greater demand as the world's population ages. Elderly people often need more medical attention and treatments, which puts significant financial strain on the healthcare system. The overall cost of healthcare is heavily impacted by administrative costs related to insurance paperwork, billing, and compliance.
Restraint
High adoption of cheap insurance coverage plans over conventional discount plans
The healthcare sector constantly evolves due to factors like shifting consumer preferences, technological improvements, and changing demographics. Healthcare discount plans have become a well-liked substitute for standard insurance coverage programs in this environment. However, the market for healthcare discount plans may be constrained by the widespread preference for low-cost insurance coverage plans over traditional discount plans.
Members of healthcare discount plans often receive discounted prices on various medical services and goods, from doctor visits to prescription drugs. Members of these plans must pay a monthly or annual charge to use these savings. Contrarily, traditional insurance coverage plans entail paying premiums to an insurance provider in exchange for all-inclusive coverage that may cover physician visits, hospital stays, and other medical expenses, with various degrees of out-of-pocket charges.
The perceived security and extensive coverage of low-cost insurance plans contribute to this desire. Unexpected medical costs from accidents or major diseases concern many people and families. In this context, insurance coverage plans provide a sense of financial protection, as they often cover a significant portion of healthcare costs, reducing the financial burden on the insured individual. In contrast, healthcare discount plans are primarily discount programs and do not offer the same level of financial security, as they do not cover medical expenses but only provide reduced rates.
Opportunity
Cost savings
The potential for cost reductions is a key factor propelling the market for healthcare discount plans. Many people and families struggle to pay for essential medical services, prescription medications, and dental care as healthcare expenses continue to climb globally. An alternative that might greatly lessen these financial constraints is healthcare discount programs. Healthcare discount plans offer coverage for various services, from standard check-ups to more advanced procedures. Due to the breadth of coverage, members can take advantage of discounts on numerous elements of their healthcare requirements, including diagnostic testing, surgical treatments, and even mental health services.
Furthermore, these plans' prescription medicine coverage may result in significant cost savings. Buying medications can be expensive for many people, especially those with chronic diseases. Prescription drug prices are frequently reduced by healthcare discount programs, enabling members to afford their medications and follow their treatment regimens.
Service Insights
The other service segment accounted for the largest share in 2022 and is expected to maintain its dominance during the forecast period. A number of factors are responsible for the increase of the medical supply, diabetic supply, lab test, and computed tomography (CT scan) businesses, and these same factors are also boosting the market for healthcare discount plans.
The need for medical supplies, particularly diabetic ones, has increased due to the aging population and the general growth in chronic illnesses. The market for these products is growing as more individuals depend on ongoing care and supervision. Lab testing and CT scans are now more accurate and effective due to developments in medical technology. Both healthcare practitioners and patients are drawn to these advancements, which increase utilization and spur expansion in these industries.
The virtual visits sector is growing quickly in the worldwide market. A number of factors that have emerged in recent years are driving up demand for virtual visits in the market for healthcare discount plans. These variables can be divided into four categories: the effects of the COVID-19 pandemic, changing patient preferences, and technology improvements.
The rise of virtual visits is mostly due to technical improvements. Patients can now more easily obtain healthcare services remotely because of the growth of cell phones, high-speed internet, and telemedicine platforms. Applications and platforms for telehealth have improved in usability, making it easier for patients to get in touch with medical professionals. This convenience feature appeals particularly to people with hectic schedules or those who live in remote locations, increasing demand for virtual visits overall.
Application Insights
In 2022, the hospitals segment had the largest share in 2022, which is anticipated to continue its dominance over the projection period. The increasing demand for medical services is one of the main factors influencing the segment's growth. The need for medical treatment grows as populations age and grow, which prompts the building of new hospitals and expanding existing ones. As people look for ways to control their healthcare expenditures, the market for healthcare discount plans is also driven by this demand spike.
Modern medical technology has completely changed how healthcare is delivered. Hospitals invest in cutting-edge infrastructure and technology to deliver cutting-edge treatments and draw in more patients. In parallel, technology has helped healthcare discount plans by streamlining their operations and making it simpler for customers to get cheaper services. Despite the widespread use of health insurance, frequent coverage gaps, high deductibles, and co-pays can strain people's budgets. By providing discounted prices on medical services, healthcare discount plans step in to close these gaps and make healthcare more accessible to those who are uninsured or underinsured.
Recently, patients have started taking a more active role in decision-making. They actively look for affordable choices to save costs and are open to researching healthcare discount programs. The market for discount plans is growing as a result of this tendency. Hospitals and healthcare discount programs may be strongly impacted by governmental laws and regulations. Hospital expansion can be boosted by policies that encourage universal healthcare or insurance coverage. In contrast, the market for discount health plans might grow due to policies supporting patient choice and private healthcare options.
On the other hand, the clinics segment is observed to be the rapidly growing segment of the market. The need for clinics is accelerated by several factors, which also contribute to expanding the market for healthcare discount plans. The healthcare landscape is changing in many ways due to this dynamic interaction. A key factor in the need for clinics is the growing recognition of the value of preventative healthcare. People are taking a more proactive approach to controlling their health, seeing doctors regularly, and getting vaccinated.
Clinics provide these services in a convenient and accessible setting, which attracts more people. The COVID-19 pandemic has accelerated the need for healthcare services. Clinics have played a crucial role in testing, vaccination, and treatment during the pandemic. This experience has highlighted their importance and trustworthiness, driving more people to seek care in such settings. Also, the shortage of primary care physicians in many regions has pushed patients towards clinics. Nurse practitioners and physician assistants often staff clinics, providing high-quality care and reducing the burden on the healthcare system.
Recent Developments
In 2022, UnitedHealthcare unveiled its individual and family plans for 2023 in the health insurance marketplace. These plans offer low-cost insurance, various benefits, and a straightforward service process in 22 states.
In February 2022, in partnership with Quip, UnitedHealthcare Dental launched digital resources to improve dental care.
In January 2022, the first direct-to-consumer (D2C) marketplace for authorized dental membership plans was launched by Membersy. This digital health firm is democratizing access to high-quality dental treatment through subscription-based dentistry. Through the online marketplace, people and families from all across the country may browse, evaluate, and buy membership plans powered by Membersy offered by neighborhood dentists.
Healthcare Discount Plan Market Players
New Benefits, Ltd.
CAREINGTON International Corporation
AmeriPlan
True Dental Discounts
Avia Dental Pan, Inc.
Best Care Medical Plan, Inc.
Florida Health Solution Corp.
United Health Group
Access One Consumer Health, Inc.
Careington International Corporation
Segments Covered in the Report:
(Note*: We offer reports based on sub-segments as well. Kindly, let us know if you are interested)
By Service
Health Advocate
Virtual Visits
Alternative Medicines
Prescription Drugs
Dental Care
Vision Care
Hearing Aids
Chiropractic Care
Nurse Services
Vitamins & Supplements
Wellness Plans
Podiatry Plans
Others
By Application
By Geography
North America
Europe
Asia-Pacific
Latin America
Middle East and Africa