The global infectious disease diagnostics market size was reached at USD 28.65 billion in 2022 and it is expected to hit around USD 56.62 billion by 2032, poised to grow at a CAGR of 7.05% during the forecast period from 2023 to 2032.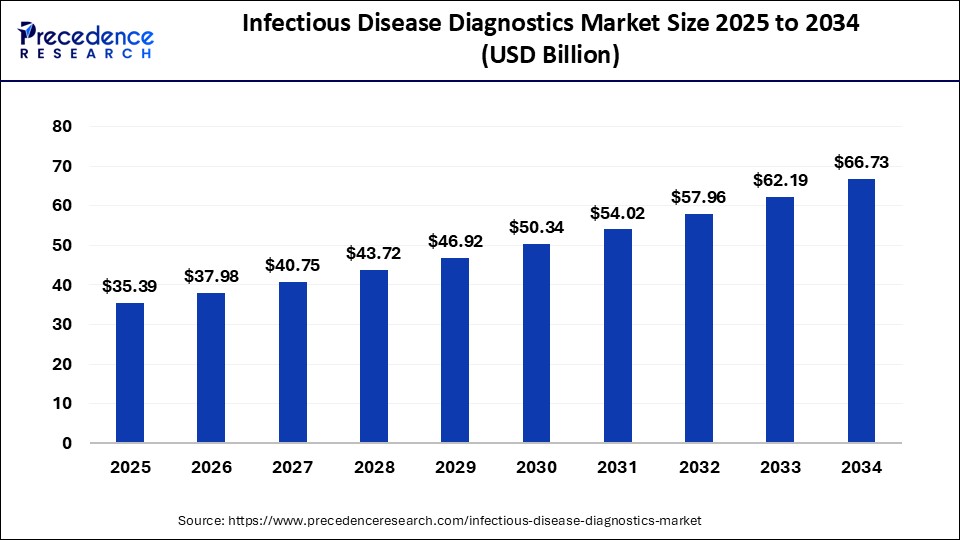 Access our Premium Real Time Data Intelligence Tool, Visit: Precedence Statistics
Key Takeaways:
North America region is predicted to capture the largest market share between 2023 and 2032.
By Product, the assays & reagents segment generated more than 51% of revenue share in 2022.
By Technology, the immunodiagnostics segment is estimated to record the highest market share from 2023 to 2032.
Infectious diseases are caused by pathogenic microorganisms such as parasites, viruses, bacteria, & fungi, and they can be spread from one person to another person through various means such as breathing in an airborne virus, contact with blood and bodily fluids, or by being bitten by an insect. Infectious disease diagnostics is crucial for identifying the presence of specific pathogens in individuals, aiding healthcare professionals to make precise diagnoses, initiate appropriate treatments, and implement control measures to stop the transmission of infections.
Diagnostic tests for infectious diseases may include a range of techniques, such as immunoassays, microbiology cultures, molecular diagnostics, and serological testing. The market for infectious disease diagnostics includes various products and services, such as reagents and test kits, instruments and devices, software and systems, and laboratory services. These products and services are utilized in different settings, including hospitals, clinics, diagnostic laboratories, and research institutions.
The market is driven by several factors, such as the growing occurrence of infectious diseases globally, the emergence of new and drug-resistant pathogens, the necessity for accurate & rapid diagnostic methods, and the advancements in technology that led to the development of more specific and sensitive diagnostic tools. Infectious diseases pose a key threat to public health, and their prevalence has increased. This created a need for robust and efficient diagnostic tools to detect and manage these diseases effectively. Thus, the infectious disease diagnostics market is expected to grow as the burden of infectious diseases persists and as healthcare systems prioritize the early detection and effective management of these conditions.
Furthermore, increasing focus on early detection & prevention, increasing awareness and healthcare expenditure, and growing demand for rapid diagnostic tests have increased the demand for the infectious disease diagnostics market. There is rising recognition of the importance of early detection and prevention of infectious diseases. Timely diagnosis allows prompt treatment initiation, decreases disease transmission, and improves patient outcomes. Healthcare systems and policymakers are stressing the implementation of surveillance and screening programs, leading to increased demand for diagnostic tools in the infectious disease space, which may further drive demand in the infectious disease diagnostics market.
However, high costs, limited healthcare infrastructure, regulatory challenges and lack of awareness and education are anticipated to impede market growth. Limited awareness and understanding of the importance of diagnostic testing for infectious diseases can be a restraint. In several regions, healthcare professionals and the general public may lack awareness and education regarding the benefits of early diagnosis. Promoting awareness and providing educational initiatives can help address this restraint and drive market growth.
The lockdown measures implemented by various governments in anticipation of the COVID-19 pandemic have disrupted supply chains and manufacturing processes, leading to shortages of reagents, testing supplies, consumables, and logistical matters, obstructing diagnostic product distribution and availability. However, the pandemic led to an unprecedented global demand for diagnostic tests to identify SARS-CoV-2, the virus causing COVID-19. The necessity for mass testing to detect infected individuals and contacts, trace, and implement control measures resulted in a substantial rise in demand for diagnostic tools and testing supplies. This has led to increased interest in infectious disease diagnostics for these applications.
Report Scope of the Infectious Disease Diagnostics Market:
| | |
| --- | --- |
| Report Coverage | Details |
| Market Size in 2023 | USD 30.67 Billion |
| Market Size by 2032 | USD 56.62 Billion |
| Growth Rate from 2023 to 2032 | CAGR of 7.05% |
| Largest Market | North America |
| Base Year | 2022 |
| Forecast Period | 2023 to 2032 |
| Segments Covered | By Product, By Disease Type, and By Technology |
| Regions Covered | North America, Europe, Asia-Pacific, Latin America, and Middle East & Africa |

Key Market Drivers:
Rising demand for rapid diagnostic tests to brighten the market prospect
Rapid diagnostic tests (RDTs) offer several advantages over traditional laboratory-based testing methods, including quicker results, ease of use, and the ability to perform testing at the point of care. The urgency to quickly detect and control infectious diseases has driven the demand for rapid testing solutions. In outbreaks or epidemics, such as the COVID-19 pandemic, timely identification of infected individuals is crucial for implementing appropriate containment measures and preventing further spread of the disease. RDTs provide results in minutes to hours, allowing for rapid decision-making and immediate initiation of treatment or isolation protocols. Furthermore, the convenience and simplicity of RDTs make them suitable for use in various healthcare settings, including resource-limited areas. These tests often require minimal infrastructure, specialized equipment, or technical expertise, making them accessible to a broader range of healthcare providers. RDTs are particularly valuable in remote or underserved regions where laboratory facilities may be limited, and transportation of samples to centralized labs can be challenging.
Moreover, point-of-care testing allows immediate diagnosis and treatment initiation, eliminating the delays associated with sending samples to centralized laboratories and waiting for results. This approach is especially beneficial in emergency departments, ambulatory care settings, and low-resource healthcare settings, enabling faster clinical decision-making and improving patient outcomes. In addition, RDTs have gained popularity due to their cost-effectiveness and scalability. These tests are often less expensive than laboratory-based testing methods, making them more affordable for healthcare systems and patients. The scalability of RDTs allows for mass testing campaigns and surveillance efforts, which are crucial in managing outbreaks and pandemics. Thus, the rising demand for rapid diagnostic tests is a significant driver for the growth and demand across the infectious disease diagnostics market.
Emergence or re-emergence of infectious diseases
The emergence or re-emergence of infectious diseases creates a sense of urgency and highlights the need for accurate and efficient diagnostic tools. Diseases such as Ebola, Zika, and COVID-19 have demonstrated the devastating impact that novel pathogens can have on global health. Prompt detection and identification of these pathogens are essential for effective containment and management strategies. Diagnostic tests play a critical role in early detection, enabling timely interventions and preventing the further spread of these diseases. Furthermore, the emergence or re-emergence of drug-resistant strains of infectious agents further drives the demand for diagnostic solutions. Antimicrobial resistance (AMR) poses a significant threat to public health as it limits the effectiveness of traditional treatment options. Diagnostic tests that can identify specific pathogens and determine their resistance profiles are essential for guiding appropriate treatment decisions and preventing the spread of drug-resistant infections.
Moreover, the emergence or re-emergence of infectious diseases often triggers increased investments in research and development of diagnostic technologies. For instance, in May 2020, the Innovative Medicines Initiative provisionally selected eight projects for funding through its fast-track Call for Proposals on coronavirus diagnostics and treatments. Furthermore, the IMI funding pot has been increased from EUR 45 million to EUR 72 million. Furthermore, EFPIA companies, IMI Associated Partners, and other organizations may contribute more than EUR 45 million to support these projects.
The urgency to develop accurate and reliable diagnostic tools to detect and monitor these diseases leads to innovation and advancements in the field. These factors drive market growth as diagnostic companies strive to meet the evolving needs of healthcare systems and respond to emerging infectious threats. In addition, the emergence or re-emergence of infectious diseases stimulates collaborations between researchers, healthcare organizations, and diagnostic companies. These partnerships aim to develop and implement effective diagnostic solutions to combat the spread of these diseases. The shared goal of identifying, tracking, and controlling these infectious agents creates opportunities for cross-sector collaborations, leading to advancements in diagnostic technologies and expanded market presence.
Key Market Challenges:
High cost causing hindrances to the market
The process of validating and developing diagnostic tests involves significant investment in research and development. This comprises the identification of appropriate biomarkers, formulation of assays, and optimization of testing protocols. Research and development costs can be substantial, especially when working with novel and complex infectious agents or developing innovative diagnostic technologies. In addition, manufacturing diagnostic tests involves several expenses. Producing high-quality test kits, reagents, and consumables requires specialized equipment, raw materials, and quality control processes. These manufacturing costs can be substantial, particularly for tests that involve sophisticated technologies or require precise calibration and quality assurance measures.
Moreover, executing diagnostic tests in healthcare settings comprises additional expenses. Healthcare facilities must invest in the infrastructure to execute tests, such as laboratory equipment, trained personnel, and quality management systems. The costs associated with establishing and maintaining testing laboratories, compliance with regulatory standards, and ensuring proper storage and transportation of samples can be significant. The high cost of diagnostic tests can also impact accessibility and affordability, especially in resource-limited settings or regions with inadequate healthcare infrastructure. Diagnostic companies need to consider the cost-effectiveness of their products and ensure that they are affordable for healthcare systems, patients, and payers. In some cases, the high cost of diagnostic tests can lead to limited access, delayed or restricted testing, and disparities in healthcare delivery.
Key Market Opportunities:
Integration of digital health technologies
Increasing healthcare awareness
Rising demand for point-of-care testing
Segments Insight:
Product Insights:
On the basis of product, the infectious disease diagnostics market is divided into assays & reagents, instruments, and software, with the assays & reagents segment accounting for most of the market. This is because assays and reagents are crucial to infectious disease diagnostics. These chemical or biological substances are used to detect specific infectious agents or markers in patient samples.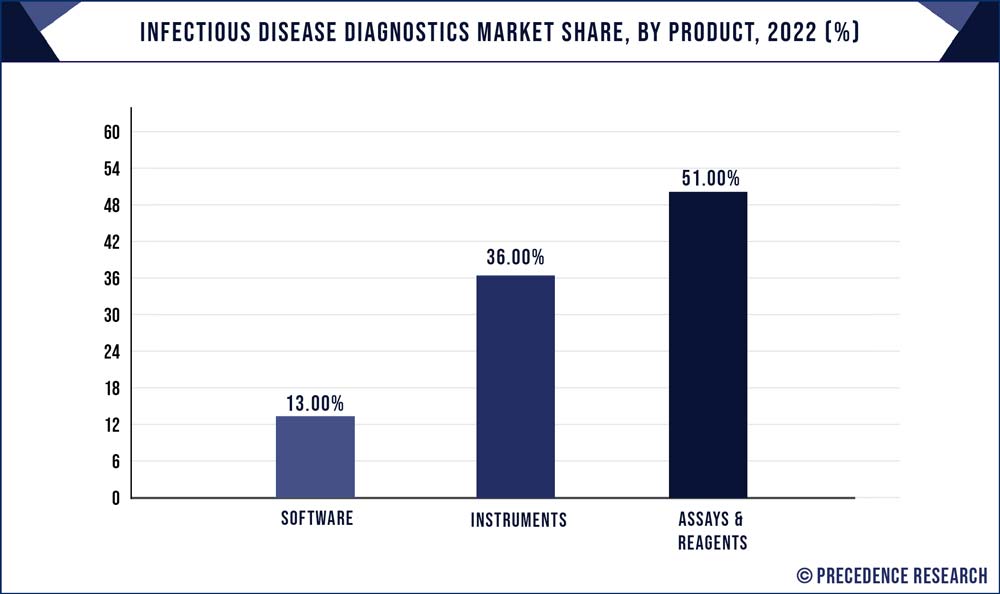 Assays may include immunoassays, molecular assays, serological tests, or culture-based tests. Reagents are the substances used in these assays to facilitate the detection and analysis of pathogens. Assays and reagents are developed and manufactured by diagnostic companies and are essential for accurate and reliable diagnosis of infectious diseases.
Disease Type Insights:
On the basis of the disease type, the infectious disease diagnostics market is divided into hepatitis, human immunodeficiency virus (HIV), influenza, and others, with the others segment accounting for most of the market. This is due to the rise in the prevalence of healthcare-associated infection, the increase in surgical procedures and the surging demand for early diagnostics. The other segment includes diagnostic tests for infectious agents such as tuberculosis, malaria, sexually transmitted infections (STIs), respiratory infections, gastrointestinal infections, and emerging infectious diseases. Diagnostic tests for these diseases may include molecular assays, serological tests, culture-based methods, and rapid antigen detection tests. However, the hepatitis segment is anticipated to experience substantial growth throughout the forecast period. This growth can be attributed to the increasing prevalence of hepatitis, the rising demand for early diagnosis, and the development of advanced diagnostic laboratories in hospitals and clinics.
Technology Insights:
On the basis of technology, the infectious disease diagnostics market is divided into immunodiagnostics, clinical microbiology, polymerase chain reaction, next-generation sequencing, and others, with the immunodiagnostics segment accounting for most of the market. Immunodiagnostics involves detecting and measuring specific antigens or antibodies present in patient samples. These tests rely on the interaction between antigens and antibodies to identify and diagnose infectious diseases. Immunodiagnostic tests include techniques such as enzyme-linked immunosorbent assays (ELISA), lateral flow assays, and chemiluminescent immunoassays.
Regional Insights:
On the basis of geography, North America dominates the market, primarily driven by several factors. The region strongly focuses on infectious disease control and prevention, leading to a high demand for accurate and efficient diagnostic tests. Furthermore, North America faces a significant burden of infectious diseases, including HIV, hepatitis, influenza, sexually transmitted infections (STIs), and emerging infectious diseases. Accurate and timely diagnosis is crucial for effective disease management and public health interventions. This drives the demand for infectious disease diagnostic tests in the region.
Europe is a significant market for infectious disease diagnostics, with Germany, the United Kingdom, and France being the major contributors to the market's growth. This is due to Europe's well-established healthcare infrastructure, technological advancements, high disease burden, favorable regulatory environment, collaborative approach, presence of key market players, and focus on personalized medicine contribute to the growth and advancements in the infectious disease diagnostics market in the region. Europe remains a prominent market for innovative diagnostic technologies and solutions, driving improvements in patient care, disease management, and public health outcomes.
The region in Asia-Pacific is anticipated to have the greatest CAGR. This is because Asia-Pacific is home to a large and densely populated region with diverse healthcare needs. The region experiences a high burden of infectious diseases such as tuberculosis, malaria, dengue, hepatitis, and emerging infectious diseases. The need for accurate and timely diagnostic tests to control and manage these diseases drives the region's demand for infectious disease diagnostics. Thus, driving the growth of the Asia-Pacific infectious disease diagnostics market.
Recent Developments:
In February 2023, Thermo Fisher Scientific announced that its Applied Biosystems TaqPath PCR kits for infectious diseases such as multi-drug-resistant tuberculosis (MTB MDR), M. tuberculosis complex (MTB), hepatitis B virus (HBV), hepatitis C virus (HCV), human immunodeficiency virus (HIV), and for genetic analysis (HLA B27). These kits have received licensing rights from the Central Drugs Standard Control Organisation (CDSCO) and will be manufactured in India in collaboration with Mylab Discovery Solutions.
In February 2023, the Centre for Cellular and Molecular Platforms (C-CAMP) launched a program to enhance India's readiness for present and future pandemics and expand the diagnostics sector for infectious diseases. The National Diagnostics Catapult (C-CAMP InDx 2.0) was officially launched with the esteemed presence of Dr. Parvinder Maini, Scientific Secretary at the Office of the Principal Scientific Adviser to the Government.
Key Market Players:
Abbott Laboratories
Becton Dickinson and Company
bioMerieus SA
Bio-Rad Laboratories
Danaher Corporation
F Hoffman-La Roche
Hologic Inc.
Luminex Corporation
Qiagen Inc.
Thermo Fisher Scientific Inc.
Segments Covered in the Report:
(Note*: We offer reports based on sub segments as well. Kindly, let us know if you are interested)
By Product
Assays & Reagents
Instruments
Software
By Disease Type
Hepatitis
Human Immunodeficiency Virus
Influenza
Others
By Technology
Immunodiagnostics
Clinical Microbiology
Polymerase Chain Reaction
Next-generation Sequencing
Others
By Geography
North America
Europe
Asia-Pacific
Latin America
Middle East and Africa