The global infectious disease in-vitro diagnostics market size accounted for USD 84.63 billion in 2022 and it is anticipated to reach around USD 28.62 billion by 2032, with a CAGR of -10.31% during the forecast period 2023 to 2032.
Key Takeaways:
By Products, the reagents segment dominated the market in 2022.
By Technology, the molecular diagnostics segment held a dominating share in 2022.
By Technology, the immunoassay segment is predicted to grow quickly between 2023 and 2032.
By Test Location, the central laboratories segment led the market with the largest market share of 56% in 2022.
North America dominates the global market with the highest market share of 56% in 2022.
Europe region is expected to expand at the fastest CAGR between 2023 and 2032.
Market Overview:
The infectious disease in vitro diagnostics market is a critical component of the healthcare industry, focused on the detection and diagnosis of diseases caused by pathogens such as bacteria, viruses, fungi, and parasites. This market encompasses a wide range of diagnostic tests that are performed outside the human body, typically in a laboratory setting.
The market is characterized by a diverse array of diagnostic methods, including molecular diagnostics (PCR, DNA/RNA sequencing), immunoassays (ELISA, lateral flow assays), microbiology culture, and point-of-care testing (rapid antigen and antibody tests). Each of these methods has its own advantages and limitations, catering to different clinical needs and settings.
The COVID-19 pandemic has also significantly accelerated innovation and investment in infectious disease diagnostics, leading to the rapid development and deployment of tests for SARS-CoV-2. This unprecedented demand has underscored the importance of a robust IVD market for infectious diseases.
Growth Factors:
The industry is growing globally due to various factors, such as an increase in the elderly population who are prone to infections, high demand for point-of-care testing due to the pandemic, and greater awareness surrounding early testing. The prevalence of infectious diseases is also on the rise. The market saw a shift during the pandemic with the launch of new and innovative products for COVID-19 testing.
Key factors driving the growth of the infectious disease IVD market include the global burden of infectious diseases, the need for rapid and accurate diagnosis, and the ongoing development of innovative diagnostic technologies. These diagnostics play a pivotal role in disease management, monitoring treatment efficacy, and preventing disease transmission.
Report Scope of the Infectious Disease in-Vitro Diagnostics Market:
| | |
| --- | --- |
| Report Coverage | Details |
| Market Size in 2023 | USD 76.24 Billion |
| Market Size by 2032 | USD 28.62 Billion |
| Growth Rate from 2023 to 2032 | CAGR of -10.31% |
| Largest Market | North America |
| Base Year | 2022 |
| Forecast Period | 2023 to 2032 |
| Segments Covered | By Product, By Technology, and By Test Location |
| Regions Covered | North America, Europe, Asia-Pacific, Latin America, and Middle East & Africa |

Market Dynamics:
Driver:
Growing aging population
A dramatic change in the demographic landscape of the world is being brought about by an aging population. According to WHO, by 2030, 1 in 6 individuals worldwide would be 60 years of age or older. The number of individuals in the globe who are 60 or older will double by 2050. Healthcare is only one of several industries affected by this demographic shift. The increased susceptibility of elderly people to infections is one of the noticeable repercussions, and this has a significant effect on the market for in vitro diagnostics for infectious diseases.
Immunosenescence is the term for the immune system's tendency to deteriorate as people age. Older persons are more vulnerable to infections including influenza, pneumonia, urinary tract infections, and even developing diseases because of this reduction in immune function. Furthermore, these infections tend to react differently in older individuals, often presenting with atypical symptoms that can complicate diagnosis.
In order to effectively detect infectious pathogens in elderly patients, there is an increasing demand for prompt and accurate diagnostic techniques. This demand drives the creation and uptake of sophisticated in vitro diagnostics adapted to the special traits of aging populations. These diagnostics help distinguish between various pathogens, aid in the identification of diseases, and direct the selection of the most suitable treatments.
Diagnostics that take into account age-related physiological changes are being developed to serve the unique demands of older persons. These tests take into account things like weakened immune responses, ongoing medical problems, and possible drug interactions with prescription drugs frequently taken by elderly individuals.
Restraint:
Regulatory challenges:
The field of infectious disease in vitro diagnostics (IVD) is subject to strict regulatory scrutiny due to its crucial role in maintaining public health. In order to guarantee the safety, effectiveness, and caliber of diagnostic tests, governmental organizations like the European Medicines Agency (EMA) and the U.S. Food and Drug Administration (FDA) implement a complicated web of regulations such as getting regulatory approvals for new IVD products may be an expensive and time-consuming process. In-depth clinical trials are required to prove the accuracy and reliability of diagnostic tests. A tremendous amount of effort, money, and experience must be put toward this. Smaller businesses, particularly startups, frequently struggle to get the necessary clearances through this regulatory maze, which can hinder innovation and prevent them from entering new markets. The regulatory standards also keep changing frequently. Regulatory organizations regularly revise their policies and specifications, demanding continual compliance activities. As a result of having to modify their processes and products to meet new regulations, IVD producers may feel more pressure as a result of this changing environment. Failure to do so may lead to product recalls or market withdrawals, which could harm a company's finances and reputation.
Market access may also be hampered by regional variations in regulatory requirements. Businesses that want to grow internationally must deal with differences in documentation requirements and approval procedures, which adds to the difficulty and expense of launching new products. As a result, there may be discrepancies in the availability of modern diagnostic technologies, with some countries enjoying quicker product approvals and wider product availability than others.
Opportunity:
Home testing for infectious diseases:
A combination of technology development and a change in healthcare preferences has led to a major uptake in the idea of infectious disease testing at home in recent years. Home testing offers a practical and confidential method of disease identification, empowering people to take control of their health.
Home testing provides unmatched comfort. People can either utilize self-contained test kits or take samples (such as blood, saliva, or nose swabs) in the comfort of their own homes and submit them to a laboratory. For those who often monitor chronic ailments or who reside in distant places with little access to medical services, this convenience is particularly alluring. For infectious diseases associated with social stigma, like HIV or sexually transmitted infections, home testing provides a discreet alternative. It encourages more people to get tested, helping with early diagnosis and prevention.
Segments Insight:
Product Insights:
In 2022, the reagents segment had the largest share, and it is anticipated that it would continue to dominate during the forecast period. The necessity for the accurate diagnostics is driving up the need for high-quality reagents. Acute and chronic infectious diseases are becoming more prevalent globally, and flow cytometry techniques are being more widely used in academic and research settings. The growing demand for protein treatments and customized pharmaceuticals is also predicted to create lucrative opportunities for reagent market participants. The last two to three decades have seen a significant increase in R&D activities in academic institutions and government research institutes due to increased funding from various government organizations, the complexity of clinical trials, and higher drug failure rates in earlier phase studies.
In the global market, the instrument segment is seen as having the fastest rate of growth. Continuous technical advancements have significantly improved the precision, sensitivity, and effectiveness of in-vitro diagnostic instruments. New technologies, such as molecular diagnostics, next-generation sequencing, and immunoassays, which enable speedier and more precise diagnosis, are revolutionizing the field. These innovations are promoting the usage of in-vitro diagnostic instruments and hastening market growth. The aim of personalized medicine, which is gaining more attention and awareness, is to tailor medical care for each patient in accordance with their particular genetic features. Genetic testing, molecular profiling, and identification all rely significantly on the in-vitro diagnostic instruments.
Technology Insights:
The molecular diagnostics segment dominated the market in 2022. It is anticipated that market growth will accelerate throughout the projected period as high-throughput PCR technology becomes more widely employed to identify viral and genetic illnesses. In Point of Care (PoC) settings, the usage of molecular diagnostic platforms has increased recently. For POC or near-patient testing, many businesses are developing molecular diagnostic platforms and assays. Furthermore, it is anticipated that the growing accessibility of innovative assays that deliver speedy PoC outcomes would speed industry expansion.
In the global market, the immunoassay category is anticipated to be the one that is expanding most quickly. Immunoassays are essential for tracking drug levels in patients, assuring accurate dosage, and reducing side effects. This is particularly important for drugs with limited therapeutic windows. It is increasingly being modified for use at the point of care, offering quick outcomes in clinics, ERs, and outlying locations. As a result, underserved areas now have greater access to healthcare.
Test Location Insights:
In 2022, the central laboratories sector held the largest share of the market. Since central laboratories offer centralized and standardized testing services, they play a crucial part in clinical trials and drug development. Comprehensive and trustworthy testing is becoming necessary due to the intricacy of pharmaceutical research and the development of biologics, which central labs excel at providing.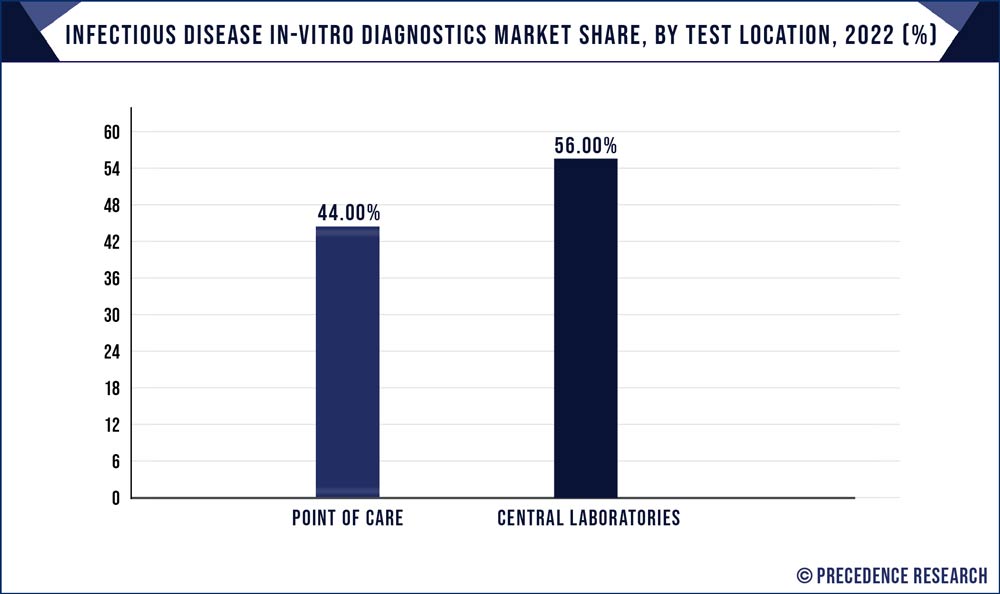 Technology advancements have made it possible for central labs to provide a greater range of diagnostic services, from advanced imaging and biomarker analysis to genomes and proteomics. For cutting-edge research and tailored medicine, these qualities are essential.
Regional Insights:
The North American region currently dominates the global market for in-vitro diagnostics for infectious diseases, and it is anticipated that it will continue to do so during the projected period. The COVID-19 pandemic made clear how crucial reliable diagnostic tools are. In order to improve their capacity to effectively diagnose, monitor, and manage infectious diseases, governments and healthcare organizations in North America have boosted their IVD investments. Seasonal flu, HIV, hepatitis, and other infectious diseases are among the issues that North America continues to face. This increases the need for diagnostic solutions that are easier to access and more precise. Infectious disease diagnosis has become more precise and rapid due to ongoing developments in diagnostic technologies like PCR, next-generation sequencing, and point-of-care testing. Both healthcare professionals and patients are drawn to these advancements.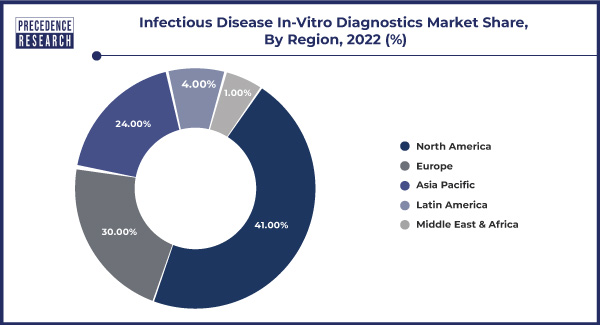 Europe has one of the largest and fastest-growing infectious disease in-vitro diagnostics markets globally due to rising private company investments in research and development of IVD technologies. Due to its connectivity and accessibility, Europe is more prone to disease epidemics, demanding advanced diagnostic tools. Moreover, the overall well-established healthcare sector also promotes the growth of the market in Europe.
Recent Developments:
In 2023, Quidel Corporation was granted De Novo U.S. FDA clearance to market its new Sofia 2 SARS Antigen+ FIA test. This test can rapidly detect COVID-19 and is the first of its kind to receive FDA authorization. For prescription use only, it is ideal for point-of-care locations.
In 2021, the FDA has granted EUA to LabCorp for its home collection kit, which concurrently tests for the flu and SARS-CoV-2.
In 2022, two tests have been introduced by Eurobio Scientific: EBX 060, a viral test to identify the measles, varicella, and simian pox viruses, and EBX 048.
Key Market Players:
A few of the prominent players of the global infectious disease in-vitro diagnostics market include:
QIAGEN
BD
BioMérieux SA
F. Hoffmann-La Roche, Ltd.
Hologic, Inc. (Gen Probe)
Abbott
Quidel Corporation
Siemens Healthineers AG
Bio-Rad Laboratories, Inc.
Danaher Corporation
OraSure Technologies, Inc.
Segments Covered in the Report:
(Note*: We offer reports based on sub-segments as well. Kindly, let us know if you are interested)
By Product
By Technology
Immunoassay
Molecular Diagnostics
Microbiology
By Test Location
Point of Care
Central Laboratories
By Geography
North America
Europe
Asia-Pacific
Latin America
Middle East and Africa