The global benzene market size was evaluated at USD 39.29 billion in 2022 and is expected to hold USD 82.6 billion by 2030, expanding at a CAGR of 9.73 percent during the forecast period from 2022 to 2030.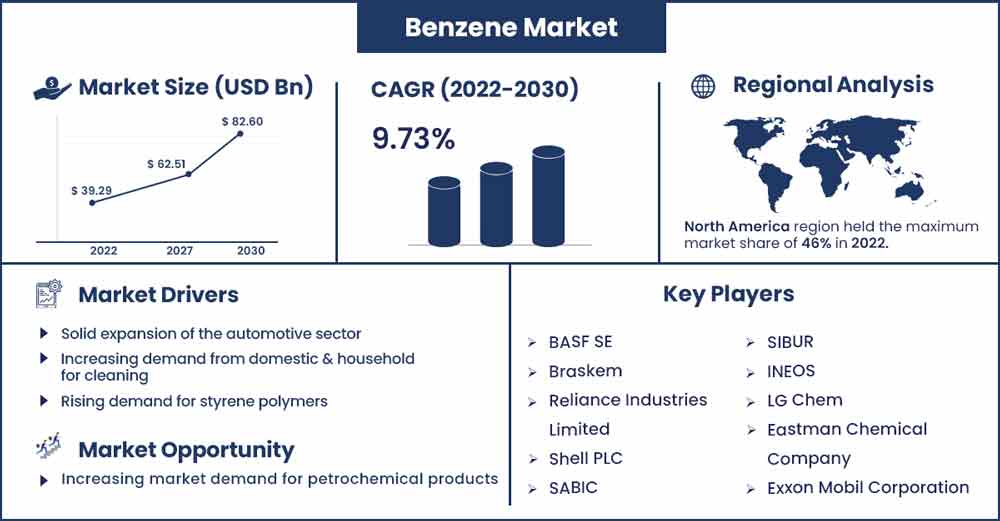 The chemical molecule benzene, having the formula C6H6, is colorless, very combustible, and has an odor that is similar to sweet gasoline. An aromatic hydrocarbon that burns is benzene. Because it is so easily ignited, benzene quickly disappears into the atmosphere. For instance, benzene is naturally contaminated in the air by volcanoes and forest fires. A major source of benzene in an interior setting is paint. Other prominent sources include furniture wax, glue, and detergents. In addition to preparing phenol and aniline, it is largely used in the manufacturing of polystyrene. Benzene can be found in plastics, gasoline, synthetic rubber, industrial solvents, and pigments.
It is a by-product of oil refining and is also present in cigarette smoke, gasoline, and crude oil. Despite being widely employed for several industrial uses, its caustic toxicity restricts its non-industrial utilization. Benzene has been classified as a carcinogen, or a material that may cause cancer, and ongoing exposure to it might have negative health effects. Benzene was once often used to decaffeinate coffee and clean metals, but less hazardous compounds are now quickly taking its place.
Report Highlights:
On the basis of type derivatives, the ethylbenzene segment will have a larger market share in the coming years period, the amount of revenue generated through the use of this product will grow well in the coming year. It can be found naturally in produced products like paints, insecticides, and inks, as well as coal tar and petroleum. Ethylbenzene is mostly used to make chemical styrene. Additional applications include as a solvent, in fuels, and in the production of other compounds.
On the basis of application, the industrial chemical segment has the biggest market share in the nitrogen gas market during the forecast period. Benzene and its derivatives are utilized by most industries to make compounds that are employed in nylon, resins, and plastic. Numerous medicines include benzene derivatives, including analgesic drugs like aspirin, ibuprofen, naproxen, and rofecoxib among others that are used to relieve pain, lower temperature, and reduce inflammation.
Benzene Market Report Scope:
| | |
| --- | --- |
| Report Coverage | Details |
| Market Revenue in 2023 | USD 43.11 Billion |
| Projected Forecast Revenue in 2030 | USD 82.6 Billion |
| Growth Rate from 2022 to 2030 | CAGR of 9.73% |
| Largest Market | North America |
| Base Year | 2022 |
| Forecast Period | 2022 To 2030 |
| Regions Covered | North America, Europe, Asia-Pacific, Latin America, and Middle East & Africa |

Regional Snapshots:
The biggest market share was held by the Asia-Pacific in the nitrogen market during the forecast period. Due to the relocation of manufacturing operations to China and India where labor costs are lower and raw materials are more readily available, consumption habits in the Asia Pacific region are on the rise. The Asia Pacific market for benzene and its derivatives is anticipated to be driven by rising demand from the automotive, coatings, textile, and other sectors. Additionally, rising specialized chemical manufacturing capacities are anticipated to drive the market's expansion.
The Asia-Pacific region is expected to increase at the quickest pace of any region throughout the projection period because to the rising end-user markets for electronics and home appliances, construction, and textiles in India, China, and other Asian countries. Additionally, the production of products for the construction sector, such as paints, carpets, adhesives, fiberglass, and others, makes extensive use of benzene.
Market Dynamics:
Drivers:
During the projection period, there will likely be a significant increase in demand for benzene due to the spike in demand for its derivatives, such as ethylbenzene, cumene, cyclohexane, nitrobenzene, and linear alkyl benzene, across a variety of end-user sectors. Additionally, an increase in the usage of insulation materials in buildings is a major factor in the market's expansion. Additionally, increasing urbanization and growing disposable incomes have increased demand globally for consumer goods like furniture wax and thinners. In several industrial, scientific, and commercial activities, benzene serves as a crucial solvent. Alkyl benzene, for instance, is frequently used to make surfactants in the manufacturing of detergents. Similarly, cyclohexane, another benzene derivative, is a key raw ingredient in the production of nylon, which is used to make textiles. The vibrant paints and coatings industry (PCI) is also a significant growth driver for the global benzene market.
The downstream market for benzene derivatives is also quite interesting due to the rising demand for chemicals used in rubber processing, nylon resins, and synthetic fibers. One of benzene's derivatives, ethylbenzene, is used to make styrene, and the demand for styrene-based materials, such as polystyrene and styrene-acrylonitrile reins acrylonitrile butadiene styrene rubber used in disposable medical equipment and consumer electronics, is expanding.
Restraints:
Increased benzene exposure-related health and environmental issues are probably going to limit the market growth. The benzene chemical has been classified as human carcinogenic by the International Agency for Research on Cancer (IARC). Long-term exposure can result in major health issues such anemia, decreased immunity, and cancer, while short-term exposure can induce narcosis, eye irritation, and skin irritation.
Opportunities:
In the years to come, the market may see possibilities brought on by future petrochemical facilities. The new plants setup and the rising demand of petrochemical products are associated the rising demand of benzene and its derivatives in the market.
Challenges:
The dependence on crude oil for its production is one of the main issues the benzene market faces. Crude oil prices have grown in the current economic climate, and they are often very volatile, which is a big constraint on the benzene market since their price is directly impacted by the swings. The danger that benzene poses to this sector is yet another formidable obstacle. Because of its low flashpoint and strong flammability, benzene is explosive. Additionally, it has poisonous, mutagenic, and carcinogenic effects on people when they come into touch with it or breathe it in. The growth of the market for benzene is so impacted by these variables.
Recent Developments:
In January 2021- A partnership between Total and Covestro was established to provide sustainable benzene. Total has said that it will give Covestro 2,000 tons of benzene with an ISCC Plus certification. It will be transformed by Covestro into a significant precursor for a variety of applications, such as insulating boards, cooling units, and alternative raw material drop-in solutions for more environmentally friendly automobile parts.
Major Key Players:
BASF SE
Braskem
Reliance Industries Limited
Shell PLC
SABIC
SIBUR
Chevron Phillips Chemical Company LLC
China Petroleum & Chemical Corporation
Eastman Chemical Company
Exxon Mobil Corporation
Flint Hills Resources
Hengyi Industries Sdn Bhd
INEOS
LG Chem
LyondellBasell Industries Holdings BV
Marathon Petroleum Company
Maruzen Petrochemical
Mitsubishi Chemical Corporation
Market Segmentation:
By Derivative
Ethylbenzene
Cumene
Alkylbenzene
Cyclohexane
Nitrobenzene
Others
By Manufacturing Process
Catalytic Reforming
Toluene Disproportionation
Toluene Hydrodealkylation
Pyrolysis
Steam Cracking of Naphtha
From Biomass
By Application
Plastics
Solvent
Chemical Intermediates
Surfactants
Rubber Manufacturing
Detergents
Explosives
Lubricants
Pesticides
Others
By End-Use
Packaging
Pharmaceuticals
Agriculture
Constructions
Textiles
Others
Buy this Research Report@ https://www.precedenceresearch.com/checkout/2275
You can place an order or ask any questions, please feel free to contact at sales@precedenceresearch.com | +1 9197 992 333