The global disposable medical sensors market size was evaluated at USD 10.43 billion in 2022 and is expected to attain around USD 42.55 billion by 2032, growing at a CAGR of 15.1% from 2023 to 2032.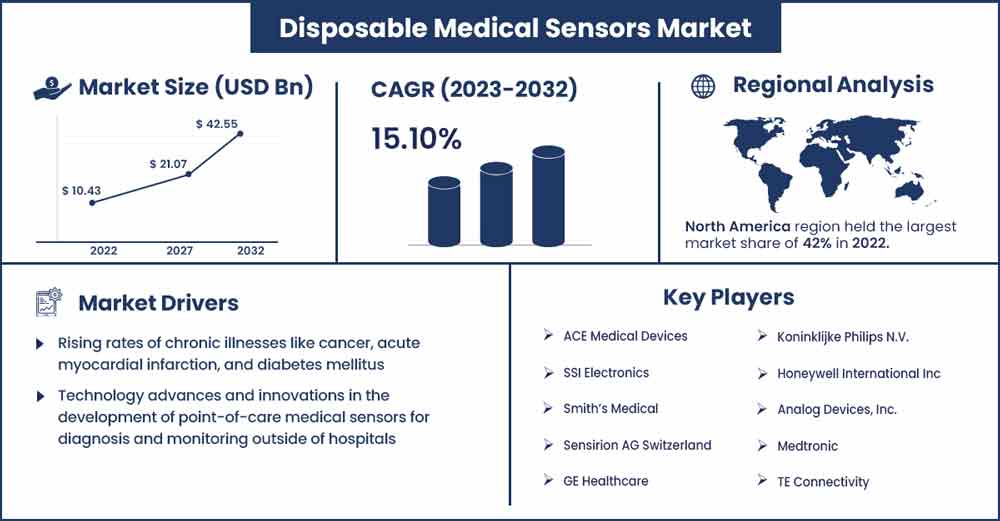 Mobile scanning devices, known as disposable medical sensors, are helpful for therapeutic operations, patient monitoring, and disease diagnosis. They are designed to detect and provide information in the form of electrical impulses by converting the patient's various sources of stimulation. Controlling the transmission of diseases from one patient to another is the central goal of manufacturing disposable medical sensors.
Continuous patient monitoring is made possible by disposable medical sensors that measure vital signs such as temperature, breathing rate, blood oxygenation level, heart rate, and pulse rate. Ophthalmology, urology, cardiology, and neurology are just a few medical specialties that use these sensors.
The introduction of implantable sensors and ongoing technological developments in medical sensors such as wireless, disposable, and biosensors used in various monitoring and diagnosing systems propel the disposable medical sensors market over the forecast years.
Additionally, the market will grow in the next years due to the rising incidence of chronic diseases and the rising need for medical sensors for at-home treatment. Additionally, government initiatives to promote R&D and the increased adoption of biosensors will fuel the market during the anticipated period.
Some limitations and difficulties may prevent the market from expanding. Strict government rules on validation, safety standards for diagnostic medical sensors certification, and unfavorable reimbursement practices will impede market expansion.
Report Highlights
By application, diagnostic testing is necessary to look for symptoms and illness signs in people with chronic diseases like diabetes. Various diagnostic tools, including surgical instruments, spirometry, endoscopy, and medical imaging devices, use disposable medical sensors. Microbes, including S. aureus and E. coli, are found using biosensors made of carbon nanotubes. The patient monitoring market will experience the highest CAGR growth.
By product, an analyte is detected by a sensor called a biosensor. Image sensors use light waves, transform them into signals to create images, and have various applications in the diagnostic industry. Throughout the forecast period, the market for image sensors is anticipated to rise because of technological developments and the demand for greater resolution.
By type, Consumer demand for home medical devices and tools for self-diagnosis is driving the market. Ingestible sensors are expanding due to the rising incidence of chronic diseases and the demand for invasive diagnostic procedures. The FDA approved using two LINQ II implantable cardiac monitors with the AI AccuRhythm algorithms in July 2021, according to Medtronic plc.
Disposable Medical Sensors Market Report Scope:
| | |
| --- | --- |
| Report Coverage | Details |
| Market Revenue in 2023 | USD 12 Billion |
| Projected Forecast Revenue in 2033 | USD 42.55 Billion |
| Growth Rate from 2023 to 2032 | CAGR of 15.1% |
| Largest Market | North America |
| Base Year | 2022 |
| Forecast Period | 2023 To 2032 |
| Regions Covered | North America, Europe, Asia-Pacific, Latin America, and Middle East & Africa |

Regional Snapshot:
The disposable medical device sensors market has been categorized geographically into Asia-Pacific, North America, Latin America, Europe, the Middle East, and Africa. Throughout the projection period, North America will dominate the global disposable medical device sensors market. Diagnostic applications frequently employ disposable wearable sensors due to their numerous advantages, including cost-effectiveness, the convenience of use, non-infectious nature, and speedier findings, which further add to market expansion. Developing sensors and better healthcare IT infrastructure will help drive this market. The European market, dominated by Germany, France, and the United Kingdom, makes up a sizeable percentage of the disposable medical device sensors market after North America.
Due to the increased frequency of chronic illnesses and patient pools, Asia-Pacific will also experience a significant growth rate during the projected period. Another factor contributing to the region's economy is medical tourism and improved healthcare infrastructure. The market will grow due to the early adoption of new technologies in biomedical device sensors.
Market Dynamics:
Market Drivers and Restraints:
The market for disposable medical sensors will expand quickly due to rising rates of chronic illnesses like cancer, acute myocardial infarction, and diabetes mellitus, particularly in the geriatric population, and the number of people undergoing postoperative rehabilitation worldwide.
Technology advances and innovations in the development of point-of-care medical sensors for diagnosis and monitoring outside of hospitals are major drivers for the disposable medical sensor market regarding the increase in sales of disposable medical sensors.
Producers may benefit from the requirement for remote patient monitoring and the rising demand for disposable medical device sensors. Examples include wearable wristwatches and painless diabetes monitors. Additionally, the market for disposable medical sensors is expanding due to several regulatory approvals for biodegradable sensors.
However, the main obstacles to developing disposable medical sensors over the projection period would be the absence of sufficient reimbursement schemes for breakthrough technologies and strict regulatory requirements.
Recent Developments
In 2021, to conduct the BinaxNOW COVID-19 investigation, Abbott received FDA Emergency Use Authorization (EUA). Self-antigen test kits are readily available without a prescription and have quick results.
In 2020, Medtronic produced the MiniMed 770G, and the FDA gave it the go-ahead for usage. It is a hybrid loop system, and mobile applications make the results accessible.
In 2018, after receiving approval from the Food and Drug Administration, Smiths Medical announced the DeltaVen closed system catheter's US commercial release (FDA).
Competitive Analysis:
In order to begin mass manufacturing, producers of disposable medical sensors are moving more quickly to secure licences for their goods. The market players are also using various strategies to strengthen their market positions, such as collaborations, product releases, product launches, and innovations like creating disposable medical sensor devices.
For example, Hill-Rom disclosed that it paid EarlySense USD 30 million in February 2021 for its continuous monitoring contactless technology. This acquisition can help the business create the next generation of AI-based sensing technologies, emphasizing the remote patient care market. In addition, Stryker purchased OrthoSensor, Inc. in May 2021. This was anticipated to aid the business in gaining market share in joint replacement and musculoskeletal treatment. In the market for disposable medical sensors, some significant companies are:
Major Key Players:
ACE Medical Devices
SSI Electronics
Smith's Medical
Sensirion AG Switzerland
GE Healthcare
Koninklijke Philips N.V.
Honeywell International Inc
Analog Devices, Inc.
Medtronic
TE Connectivity
NXP Semiconductor
Market Segmentation:
By Application
Therapeutic
Diagnostic
Patient Monitoring
By Product
Pressure Sensors
Biosensors
Temperature Sensors
Accelerometers
Image Sensors
Others
By Type
Wearable Sensors
Strip Sensors
Invasive Sensors
Implantable Sensors
Ingestible Sensors
Buy this Research Report@ https://www.precedenceresearch.com/checkout/2507
You can place an order or ask any questions, please feel free to contact at sales@precedenceresearch.com | +1 9197 992 333