The global electric vehicle power inverter market size surpassed USD 32.78 billion in 2022 and it is projected to attain around USD 68.5 billion by 2030, expanding at a CAGR of 9.65% between 2022 and 2030.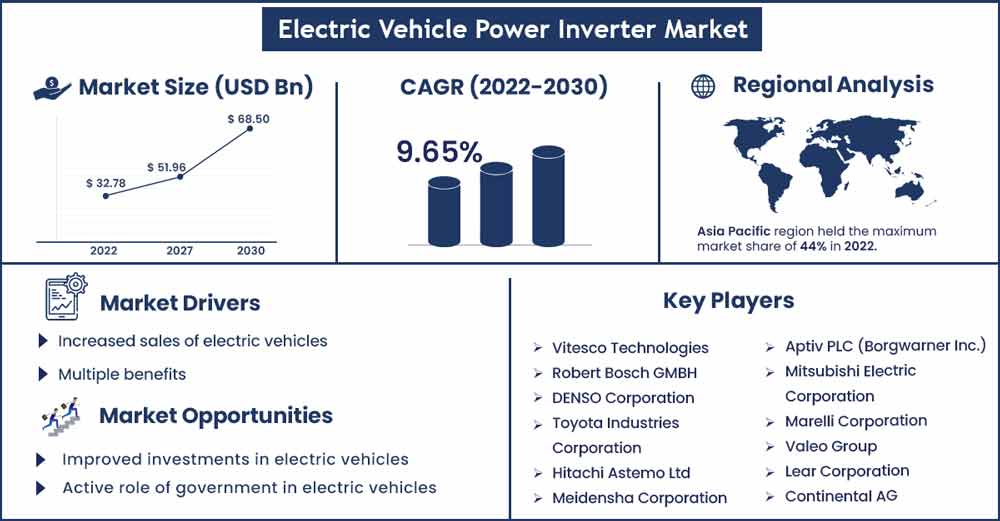 Despite a global fall in car sales due to the COVID-19 epidemic in 2022, demand for electric vehicles increased significantly, driving the sector into focus. A power inverter is a critical component of an electric vehicle that transforms battery DC power into AC power to electric motors. Given automakers' rising interest about optimising energy use in automobiles, inverter manufacturers have developed inverter capabilities to manage energy from both sources (i.e., battery and motor). With more rigorous pollution requirements all around the world, manufacturers are steadily transitioning production away from traditional engine cars and toward hybrid and electric vehicles.
Furthermore, governments have implemented incentives, such as reduced car taxes, bonus payments, and premiums, for owners of electric vehicles in their various nations in order to boost the rise of electric vehicle sales. Increasing charging station facilities in the areas, particularly in China, Europe, North America, and Asia-Pacific, particularly in Japan have also contributed to the region's increased electric car sales.
Vehicle inverter manufacturers are always attempting to increase the efficiency and compactness of their devices. The practise of pairing an inverter with a motor or converter is gaining traction among automakers. For example, a motor with an integrated inverter or a single power module with inverter and DC-DC converter functionality offers enhanced efficiency while taking up less space and weight in cars.
Report Highlights:
In terms of propulsion, the electric vehicle battery market is predicted to increase significantly throughout the projection period.
The soft switching inverter segment is expected to lead the worldwide electric vehicle power inverter market by inverter type.
The commercial vehicle sector is expected to lead the worldwide electric vehicle power inverter market by vehicle type.
The integrated inverter system category is expected to lead the worldwide electric vehicle power inverter market in terms of level of integration.
The aftermarket distribution channel is expected to lead the worldwide electric vehicle power inverter market.
Asia-Pacific is expected to have the greatest CAGR throughout the projection period.
Regional Snapshots:
Asia-Pacific leads the market for electric car power inverters, followed by Europe and North America. Electric car sales in China are rapidly increasing. Despite a global drop in auto sales caused by a lack of semiconductor supply caused by the COVID-19 epidemic, electric vehicle sales in China soared by 153.9% last year as more people selected greener automobiles. In China, electric vehicle (EV) manufacturers sold 3.3 million units in 2021, up from 1.3 million in 2020 and 1.2 million in 2019.
The Indian government has launched a number of measures to encourage the manufacture and acceptance of electric cars in India in order to comply with international standards and develop electric mobility in the wake of rising urbanization. To meet the rising demand for electric vehicles in India, manufacturers are investing in the creation of new technologies and expanding production capacity.
Electric Vehicle Power Inverter Market Report Scope:
| | |
| --- | --- |
| Report Coverage | Details |
| Market Revenue in 2023 | USD 35.95 Billion |
| Projected Forecast Revenue in 2030 | USD 68.5 Billion |
| Growth Rate from 2022 to 2030 | CAGR of 9.65% |
| Largest Market | Asia Pacific |
| Base Year | 2022 |
| Forecast Period | 2022 To 2030 |
| Regions Covered | North America, Europe, Asia-Pacific, Latin America, and Middle East & Africa |

Market Dynamics:
Drivers:
With increasingly rigorous pollution requirements throughout the world, major manufacturers are shifting their attention away from conventional engine cars and toward electric and hybrid vehicles. Furthermore, regional governments in numerous countries have initiated financial benefits such as incentives, tax benefits, and other non-financial benefits such as carpool lane access, ease in new car registration, greater access of charging infrastructure, and active participation by automotive OEM, among others, to motivate the sale growth of electric vehicles among customers. Furthermore, the main electric car manufacturers' expanding construction of charging station facilities in important regions such as North America, Europe, and Asia-Pacific has sustained the growing electric vehicle sales.
The market is likely to be driven by the increasing usage of electrical and electronic devices within vehicles. Increasing the desire for handheld devices within the car for convenient usage of gadgets while driving contributes to market growth at the same time. Furthermore, the increasing rise of connected-vehicle services throughout the world would boost the automobile on-board power inverter market over the forecast period. The automobile business is expanding and car demand is increasing on a daily basis. Furthermore, the adoption of electric cars is increasing since there is a greater awareness of the environmental problem caused by the production of dangerous gases such as CO2. These are some of the primary reasons driving the worldwide automobile on-board power inverter market.
Furthermore, regulatory agencies' rising worries about the environment have fuelled demand for zero-emission automobiles. Major economies such as the United States, Canada, Germany, Japan, South Korea, and the United Kingdom are eagerly supporting the use of electric vehicles to reduce carbon emissions, which has contributed to an increase in electric vehicle sales.
Restraints:
When an electric motor operates, the produced voltage and the input voltage are polarised in the opposite direction. This causes a very high current to be generated within the initial few seconds after turning on the engine, even if the motor has not yet begun to run. This high current can endanger large motors, which are usually used in commercial vehicles electric vehicles, by causing the motors' fuses to explode or get damaged. This is expected to limit the growth of the electric vehicle power inverter market during the projected period.
Opportunities:
Increased government and consumer spending is propelling the electric vehicle power inverter industry forward. Tax breaks are being offered by governments all around the world to encourage the purchase of electric vehicles. Global governments invested USD 14 billion on direct investment, subsidies, and tax breaks for electric vehicles in 2020, a 25% increase from 2015. In Europe, significant government spending occurred. Spending declined in China due to early implementation of incentive schemes to encourage sales. Price limitations for subsidies resulted in a small price decrease for electric vehicles. In Europe and China, this led in a 3% drop in the price of BEVs and an 8% decrease in the price of PHEV automobiles. To encourage the sale of electric cars, India offered a tax exemption of INR 1,50,000 in December 2021.
Consumer expenditure on electric vehicles has grown due to improved business moods, post-COVID recovery, and more knowledge about green vehicles. The increase in EV sales presents good potential for makers of EV parts, especially power inverter manufacturers. In 2020, total investment on electric vehicles was USD 120 billion, a 50% increase over 2019. Despite a 6% rise in the average price of electric vehicles, sales climbed. Such spending opens up significant market expansion potential.
Challenges:
The market for electric car battery recycling will be hampered by a lack of adequate infrastructure for electric vehicles. A solid infrastructure for charging electric vehicles is essential for EV adoption. Despite its environmental and economical benefits, electric vehicles have struggled to become the mainstream. The electric vehicle industry is hampered by a scarcity of charging stations. According to a poll conducted by Grant Thornton-Bharat as well as the Federation of Indian Chambers of Commerce and Industry (FICCI), India would require 4 lakh public charging stations by June 2021 to service the anticipated 2 million electric vehicles that will be travelling on Indian roads that year. As of December 2021, India had just 1,028 public electric car charging stations. As a result, this has a detrimental impact on the production and acceptability of electric cars, limiting the growth of the market for EV power inverters. As a result, such a disparity between the requirement for charging and the distribution of infrastructure inhibits the development of electric vehicles and further stifles market growth.
Recent Developments:
In November 2021, BorgWarner announced expansion plans for the second phase of its Suzhou Industrial Park plant, with manufacturing set to begin in mid-2023. The Suzhou facility's R&D Center will focus on the whole range of electronics design and development, including power electronics, inverters, and DC/DC converters, with the goal of pioneering power electronics technology in the Chinese market.
Major Key Players:
Vitesco Technologies, Robert Bosch GMBH
DENSO Corporation
Toyota Industries Corporation
Hitachi Astemo Ltd
Meidensha Corporation
Aptiv PLC (Borgwarner Inc.)
Mitsubishi Electric Corporation
Marelli Corporation
Valeo Group
Lear Corporation
Continental AG
ZF Friedrichshafen AG
LG Magna
John Deere Electronic Solutions
Drive System Design LTD
Hyundai Mobis Co. Ltd.
Market Segmentation:
By Propulsion Type
Hybrid Vehicle
Plug in Hybrid Vehicle
Battery Electric Vehicle
By Vehicle Type
Passenger Vehicles
Commercial Vehicles
By Inverter Type
Traction Inverter
Soft Switching Inverter
By Level of Integration
Integrated Inverter System
Separate Inverter System
Mechatronic Integration System
By Distribution Channel
Buy this Research Report@ https://www.precedenceresearch.com/checkout/2224
You can place an order or ask any questions, please feel free to contact at sales@precedenceresearch.com | +1 9197 992 333