The global electric vehicle power inverter market size was estimated at USD 22.68 billion in 2022 and it is predicted to hit around USD 51.99 billion by 2032, expanding at a remarkable CAGR of 8.7% during the forecast period 2023 to 2032.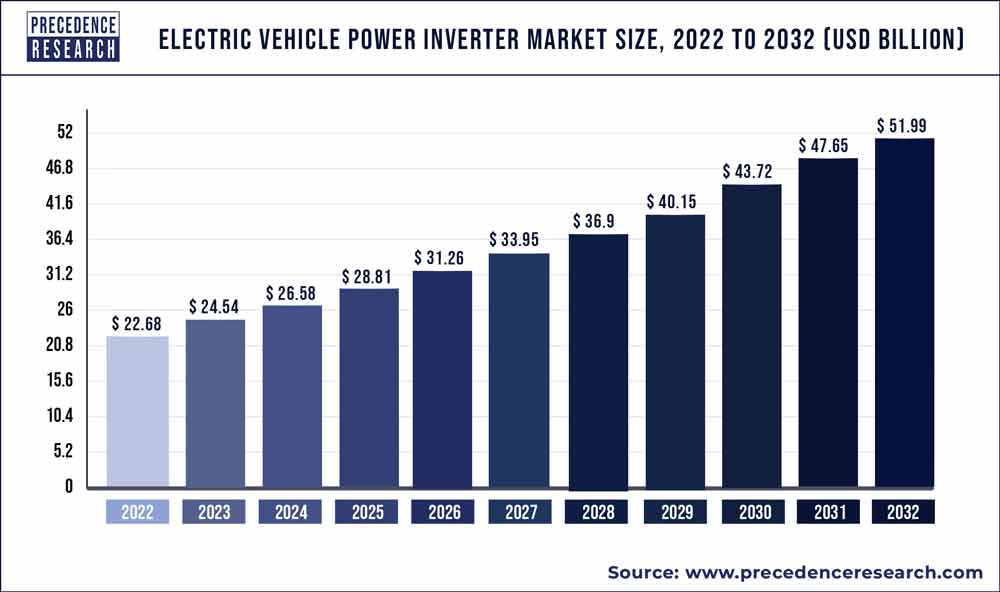 Access our Premium Real Time Data Intelligence Tool, Visit: Precedence Statistics
Key Takeaways:
By propulsion, the Electric Vehicle Battery segment has registered a 59% revenue share in 2022.
By inverter type, the traction inverter segment has led the market with a 55% revenue share in 2022.
By vehicle type, the passenger vehicle segment has captured 87% revenue share in 2022.
By distribution channel, the aftermarket segment has generated 79% market share in 2022.
The Asia-Pacific made up 44% market share in 2022.
A power inverter is a machine that converts one kind of a voltage to another, such as converting DC voltage input to symmetric AC output voltage or exactly opposite. Produced AC output voltage has a specific magnitude as well as frequency. Inverters of various varieties, including traction inverters as well as soft switching inverters, are used in electric vehicles for a variety of applications. Increasing OEM efforts to develop and introduce electric vehicles as soon as possible are projected to enhance the electric vehicle power inverter market over the forecast period.
The increasing government support for the development of electric vehicles from various nations across the globe is expected to boost the electric vehicle power inverter market in coming future. During the forecast period, rapid technical breakthroughs in the field of power electronics, such as the development of high-power density inverters, are projected to fuel the electric vehicle power inverter market. In recent years, prominent vehicle manufacturers such as Tesla have increased the inclusion of inverters working on an AC power supply in electric cars, which is expected to boost the electric vehicle power inverter industry over the projected period.
Growth Factors
The increase in need for electric cars, aggressive government measures for the production of vehicles that run on electricity, and increase in the market for low emission as well as fuel efficient automobiles are factors driving the rise of the electric vehicle power inverter market. The market economy is accountable for the market's growth. India, China, Brazil, and South Africa all have expanding economies. Thus, the manufacturing sector in these nations saw significant expansion, which is projected to give attractive prospects for the growth of the automotive industry, thereby fueling the market. Furthermore, there is a surge in electric car sales in several developing nations, which is projected to drive the EV power inverter market.
Report Scope of the Electric Vehicle Power Inverter Market
| | |
| --- | --- |
| Report Coverage | Details |
| Market Size in 2023 | USD 24.54 Billion |
| Market Size by 2032 | USD 51.99 Billion |
| Growth Rate from 2023 to 2032 | CAGR of 8.7% |
| Base Year | 2022 |
| Forecast Period | 2023 to 2032 |
| Segments Covered | Propulsion Type, Vehicle Type, Inverter Type, Level of Integration, Distribution Channel, and Geography |
| Companies Mentioned | Vitesco Technologies, Robert Bosch GMBH, DENSO Corporation, Toyota Industries Corporation, Hitachi Astemo Ltd, Meidensha Corporation, Aptiv PLC (Borgwarner Inc.), Mitsubishi Electric Corporation, Marelli Corporation, Valeo Group, Lear Corporation, Continental AG, ZF Friedrichshafen AG, LG Magna e-Powertrain, John Deere Electronic Solutions, Drive System Design LTD, Hyundai Mobis Co. Ltd. |

Key Market Drivers
Increased sales of electric vehicles - The car industry has accepted electric vehicles as a crucial component, providing a way to enhance energy efficiency while also lowering pollution and other greenhouse gas emissions. Rising environmental issues and supporting government actions are critical factors driving the market growth. Increased sales of BEVs and PHEVs, as well as lower costs of inverter components due to material breakthroughs and superior package layout, are further driving the market. Furthermore, the high cost of batteries has prompted the upgrading of inverters as well as other power electronics, as well as the performance of automobiles.
Multiple benefits - Electric vehicle power inverters provide several advantages, for example, cheap operating costs as compared to traditional fuel motors, rigorous unofficial rules to limit climate contamination, and reduced outflows from tailpipes that essentially underpin their global appeal. Electric car transactions, for example, have grown as a result of developments in the United States, China, and Europe. Electric vehicle sales grew by 150% year on year in the first six months of 2021, to 2.59 million units, accounting for around 25% of brand-new sales in the worldwide auto industry. Furthermore, this is anticipated to increase the demand for electric car power inverters for electric cars within the predicted time range. Furthermore, key players in the electric vehicle power inverter market are undertaking various critical actions, for example, item advancement and item dispatch, to capitalize on the company potential. As a result, the advancement in the electric vehicle market is expected to propel the market for the electric vehicle power inverter sector over the forecast time frame. Because of factors such as environmental change and efforts to achieve net zero discharges, the electric vehicle power inverter industry has grown dramatically. Furthermore, ideal motivators and tactics offered by state-run administrations of different nations to advance electric cars aid in the growth of the EV industry.
Key Market Challenges
High cost associated with the electric vehicle - The high cost of automotive on-board power inverter is anticipated to stymie the industry. The COVID-19 pandemic's impact on the global economy affects the auto sector; supply chain disruptions pose problems for manufacturers and restrain market development throughout the forecast period.
Key Market Opportunities
Improved investments in electric vehicles - The electric vehicle market is expanding and will most likely accelerate more throughout the projection period. This is due to the fact that most car manufacturers and related businesses perceive electric cars as an investment opportunity. This expansion is propelling the electric vehicle and charging station markets. China is the most potential market for electric buses internationally, and it will most likely drive e-bus demand throughout the projected period. The country's overall bus sales are predicted to stay constant, with over 400,000 additional purchases expected by 2025. Electric bus sales are expected to increase as a result of continuous government measures to promote e-mobility. Global adoption of e-buses is predicted to account for 40% of all new bus sales by 2040.
Active role of government in electric vehicles - Governments throughout the world have also launched numerous programmers and regulations to encourage customers to select electric vehicles over conventional ones. One such plan that encourages the purchase of electric vehicles is the California ZEV programmed, which intends to have 1.5 million electric vehicles on the road by 2025. Other nations with varied incentives for consumers interested in purchasing electric vehicles include India, South Korea, China, the United Kingdom, France, Germany, Norway, and the Netherlands. Rapid global sales expansion and continuous technical breakthroughs in electric vehicle power inverters are projected to drive market growth throughout the forecast period.
Segments Insight
Propulsion Type Insights
The greatest market share is held by battery electric vehicles in 2022. Increased sales of battery electric cars, as well as the expensive cost of batteries, have demanded the upgrading of inverters and other power electronics, as well as vehicle performance. Companies that carry goods are also replacing their present fleets of vehicles with ones driven by electric propulsion due to the fast-rising use of electric mobility worldwide. Governments all across the globe have taken the lead in developing legislation to encourage the usage of electric cars. With the growing worldwide demand for battery electric cars, the need for power inverters is likely to rise throughout the forecast period.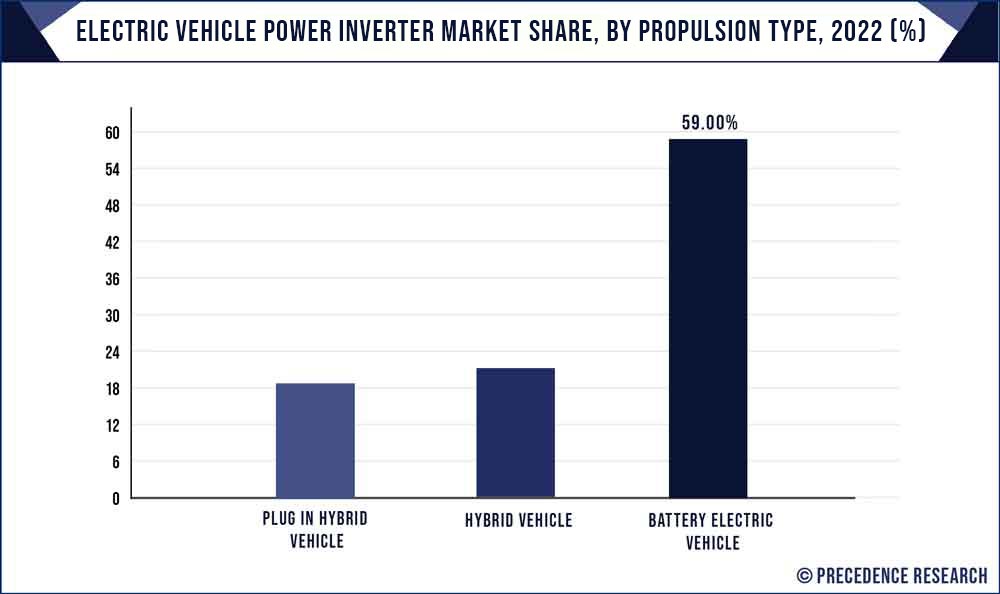 The second-largest sector is Hybrid Electric Vehicles. Hybrid electric car sales have been steadily increasing over the world. For example, 454,890 hybrid car sales in the United States in 2019 compared to 380,794 hybrid electric vehicle sales. In 2019, 0.5 million hybrid cars were sold, representing a 20% increase year over year. Many premium car manufacturers throughout the world are now introducing hybrid vehicles.
Vehicle Type Insights
Passenger Cars have the most market share in 2022. The inverter regulates the electric motor in an electric powertrain. This inverter, like the engine management system (EMS) in combustion cars, is a critical component in the automobile since it controls the vehicle's efficiency.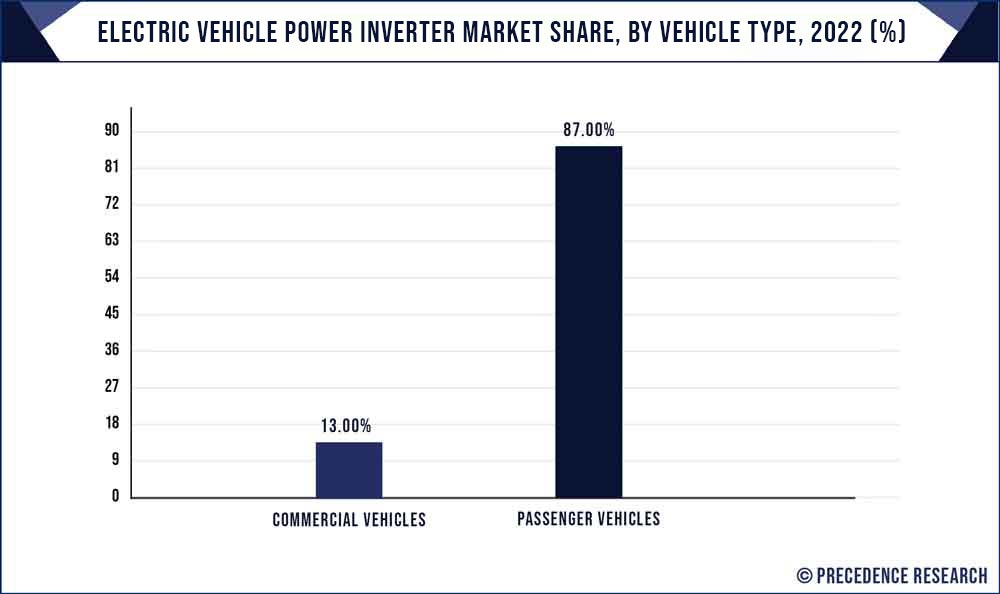 The global market for hybrid, electric, and fuel cell passenger automobiles has been increasing in recent years, mainly to increased demand in North America, Europe, and Asia-Pacific (especially China). Because of planned models from manufacturers throughout the world, automotive electrification is projected to continue during the projection period. These improvements in electric passenger vehicles are expected to open up new potential for participants in the power inverter industry.
Electric Vehicle Power Inverter Market Share, By Region, 2022 (%)
| | |
| --- | --- |
| Regions | Revenue Share in 2022 (%) |
| North America | 20% |
| Asia Pacific | 44% |
| Europe | 28% |
| Latin America | 5% |
| MEA | 3% |

Regional Insights
Asia-Pacific has dominated the market with the largest market share in 2022. China is a significant global player in the electric vehicle industry. Furthermore, the Chinese government is pushing citizens to use electric automobiles. The country intends to phase out diesel and gasoline automobiles altogether by 2040. The Chinese electric passenger vehicle market is also one of the largest in the world, and it has been quickly expanding in recent years. It is likely to rise throughout the forecast period, influencing demand for electric vehicle power inverters as the demand for electric vehicles rises. Contracts and agreements for the sale of electric buses between Chinese automotive manufacturers and other countries are likely to stimulate demand for electric vehicle power inverters in China. The primary factors projected to raise demand for electric car power inverters in China are an increase in vehicle manufacturing for export to other countries and the adoption of electric mobility.
Europe is expected to be worth USD 6,500 million by 2032, with a CAGR of 23.6%. Germany is a prominent European vehicle market. It is one of the world's top markets for electric trucks. In Germany, the demand for electric vehicles has been steadily increasing in recent years, paving the way for electric vehicle power inverters. For example, passenger automobile sales have increased dramatically in recent years. Electric vehicles increased by 207% year on year, with 194.4 thousand unit sales in 2020 compared to 63.2 units in 2019. Several alliances, partnerships, and joint ventures amongst component producers are expected to benefit the electric car power inverter industry. For example, on May 22, 2020, VIC, an Israeli technology firm, and ZF Friedrichshafen AG announced a collaboration. The major purpose of the cooperation endeavour is to manufacture inverters for electric automobiles. The above-mentioned causes present potential for producers of electric vehicle components and parts, since demand for components such as electric vehicle power inverters is likely to expand throughout the forecast period.
Recent Developments
In March 2022, Sony Group Corporation and Honda Motor Co., Ltd signed a memorandum of understanding indicating their aim to create a joint venture to work on the development and sale of high-value-added battery electric cars (EVs).
A company called Robert Bosch introduced a new initiative in collaboration with the Fraunhofer IZM and Porsche in Berlin aimed at boosting the variety of electric cars (EVs) by improving the driving performance of the power inverters in cars in May 2021.
Mitsubishi Electric Corp stated in August 2019 that the company has finished the structure of its new eight plant building located at Himeji Works in Hirohata. The business spent approx $63.6 million on the new factory, which produces motors, generator, and inverter for hybrid electric vehicles.
Segments Covered in the Report
(Note*: We offer report based on sub segments as well. Kindly, let us know if you are interested)
By Propulsion Type
Hybrid Vehicle
Plug in Hybrid Vehicle
Battery Electric Vehicle
By Vehicle Type
By Inverter Type
Traction Inverter
Soft Switching Inverter
By Level of Integration
Integrated Inverter System
Separate Inverter System
Mechatronic Integration System
By Distribution Channel
By Geography
North America
Europe
Asia-Pacific
Latin America
Middle East & Africa (MEA)