The global industrial generator market size surpassed USD 18.64 billion in 2022 and is projected to rise to USD 30.9 billion by 2030, anticipated to grow at a CAGR of 6.52 percent during the projection period from 2022 to 2030.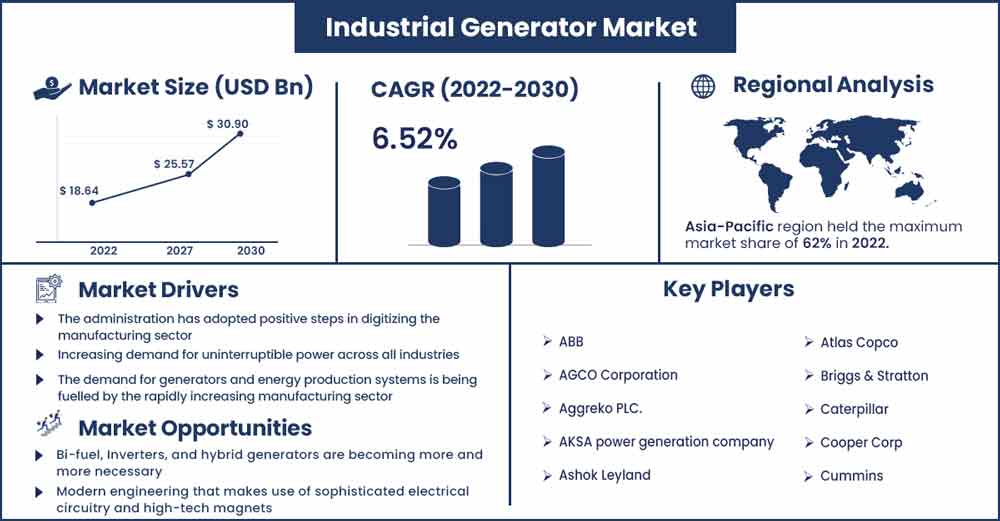 The market need for commercial generators would be boosted by rising dependence on power & supply security. Strict environmental regulations for energy efficiency and a growing interest in greener sources will accelerate the growth of the industrial generator industry. The industry picture will be aided by the increasing demand for a consistent and dependable supply of power from end users such as manufacturing operations, oil & gas amenities, mining operations, and building sites. A focus shifted towards protracted outages and stricter government regulations will both help the sector advance.
The increased vulnerability of grid power plants to disasters brought on by alterations in regional weather patterns has an impact on the economy as well. In the diesel generator business, solution providers are mainly responsible for manufacturing, installing, maintaining, and repairing generator systems. Customers who use generators as emergency backup power systems for homes, small companies, and commercial settings engage in agreements with generator dealerships or electrical subcontractors for product availability and support. Businesses also hire a monitoring engineer to keep an eye on a lot of generating in large-scale operations.
Report Highlights:
The market's increasing reliance on energy and supplier security would increase the demand for commercial generators. The commercial generator sector will experience rapid growth due to stringent environmental requirements for renewable energy sources and rising consumer desire for cleaner sources. The growing demand for a steady and continuous supply of power from end users such as production facilities, oil, and natural gas amenities, mining operations, and construction sites will help the industry's outlook.
The sector will develop if attention is directed to lengthy outages and tougher government controls. Government restrictions on the production of hazardous carbon dioxide are predicted to increase the market share of gas-powered generators over generating units. All end-use sectors' demand for generating units is predicted to be constrained by this trend. However, one of the main elements supporting the current demand for diesel generators is their cheap running costs & low upfront outlay.
Regional Snapshots:
Due to the Asia Pacific city's relatively developed electrical infrastructure, which provides cheap electricity from the utility grid, diesel engine sets are primarily employed for backup generators in this region. The nation's power stations, emission standards, and consumer spending all influence the buying patterns for diesel generators. In 2022, North America held a sizeable market share of 21.85%, with the U.S. dominating the area in terms of revenue contributors.
The architecture of datacentres as well as other commercial enterprises is constantly evolving, and the power grid's increased sensitivity to weather-related outages has increased the demand for dependable backup power solutions, which in turn has boosted the need for generators in the area.
Industrial Generator Market Report Scope:
| | |
| --- | --- |
| Report Coverage | Details |
| Market Revenue in 2023 | USD 19.86 Billion |
| Projected Forecast Revenue in 2030 | USD 30.9 Billion |
| Growth Rate from 2022 to 2030 | CAGR of 6.52% |
| Largest Market | Asia Pacific |
| Base Year | 2022 |
| Forecast Period | 2022 To 2030 |
| Regions Covered | North America, Europe, Asia-Pacific, Latin America, and Middle East & Africa |
Market Dynamics:
Drivers:
The development of the economies of numerous countries in the Asia Pacific region has relied heavily on the manufacturing sector. Growing urbanization is increasing consumer demand for goods and services, which is driving the growth of the manufacturing sector. The governments of various Asian countries have also signed extra-regional trade agreements to position themselves as centers of industrial output. According to the ASEAN Community, the Comprehensive Economic and Trade Agreement could be a step closer to a more extensive Free Trade Area within the Asia Pacific if it is executed well. It can serve as an appropriate intergovernmental platform for free trade, promote the growth of several industries, and aid the expansion of the manufacturing sector in the area. The growth of the industrial sector has raised the need for generators and power generation equipment in the region.
Restraints:
Over the past several years, the energy storage business has experienced exponential growth. Additionally, the World Economic Forum granted a loan of USD 300 million for the China Regenerative Energies and Battery Store Development Project, which will be used to scale up the deployment of battery storage systems to boost the integration and exploitation of renewable energy. The goal of this project was to lower carbon emissions by increasing the amount of solar and wind energy while also enhancing grid stability, dependability, and electricity quality in developing nations. Less energy is wasted since energy storage devices can retain these resources at times of peak output thanks to the batteries they incorporate. Irrespective of the generation source, battery technology enhances electricity supply and assists the grid to maintain balance.
Opportunities:
New and innovative fuel sources were continuously being developed to find energy alternatives to conventional fossil fuels. In essence, hybrid generators—which are available from numerous OEMs—are internal combustion engines connected to batteries. These hybrid generators instantly power the engine when the loads are high; when the density is low, the battery powers the engine. They reduce the amount of noise and fuel consumption produced by generators. They have several advantages over conventional gensets and are expected to overtake portable generation units, which are typically used in remote industries like mining and construction.
Challenges:
Diesel generators have a wide range of residential, business, and industrial applications. Nitrous oxides, carbon dioxide, and particulates are released when diesel is burned. The ecosystem and the local population are both harmed by these pollutants, which are instantly released into the sky. Several regulations have been implemented globally to reduce the noise and air pollution brought on by producing units. Every country has created its own set of laws and regulations to reduce air pollution as environmental concerns have grown. Manufacturers of ship equipment put a lot of effort into developing maritime propulsion technology that conforms with various environmental standards established by authorities of nations all over the world. For local and expanding enterprises selling generators, this creates a serious issue.
Recent Developments:
Caterpillar debuted the Cat G3516 natural gas-powered Quick Response generating sets in January 2022. These units have US EPA certification and may be used in both emergency and non-emergency situations.
Rolls-Royce and its distribution partners Knopf & Wallisch (K&W) shipped three MTU worth of trigeneration units for combined cooling, heating, and electricity plant to the Romanian cloud service provider ClusterPower in January 2022.
Two new, sizable diesel units from Generac will go on sale in October 2021, according to the company. The MDE330 & MDE570 diesel portable generators are made to be easy to use and maintain. Rental-ready machines have wide-opening detachable doors as a feature to increase serviceability.
Tests of mixed-fuel combustion of city gas and hydrogen in an industrial gasoline engine for a cogeneration plant will be successfully run by Toho Gas and MHIET in August 2021.
The C2750D5BE was announced by Cummins Power Systems in March 2021. The most recent model increases the backup power range for 50Hz countries of the well-liked QSK60 series from 2500kVA to 2750kVA.
Major Key Players:
ABB
AGCO Corporation
Aggreko PLC.
AKSA power generation company
Ashok Leyland
Atlas Copco
Briggs & Stratton
Caterpillar
Cooper Corp
Cummins
Deere & Company
Denyo Co. Ltd
Doosan Portable Power
FG Wilson Inc.
Generac Power Systems Inc.
Genset India
Greaves Cotton Limited
Himoinsa
Honda India Power Products Ltd.
Jackson
JCB
JS Power
Jubaili Bros
Kirloskar Electric Company
Kohler Co.
Kubota Corporation
Mahindra Powerol
Mitsubishi Heavy Industries Ltd
Multiquip Inc.
Powerica
Rolls-Royce Holdings
Siemens
Southwest Products
Sterling & Wilson
Supernova Gensets
Sutton Power Engineering
Wacker Neuson
Wartsila Corporation
Weichai Group
Yanmar Co Ltd
Market Segmentation:
By Power Rating
≤ 75 kVA
> 75 kVA - 375 kVA
> 375 KVA - 750 kVA
> 750 kVA
By End-Use
Oil & Gas
Manufacturing
Construction
Electric Utilities
Mining
Diesel
Transport & Logistics
Others
By Application
Standby
Peak Shaving
Prime/Continuous
By Fuel
Buy this Research Report@ https://www.precedenceresearch.com/checkout/2435
You can place an order or ask any questions, please feel free to contact at sales@precedenceresearch.com | +1 9197 992 333