The global life science tools market revenue was evaluated at USD 145.71 billion in 2022 and is expected to attain around USD 295.18 billion by 2032, growing at a CAGR of 7.31% from 2023 to 2032.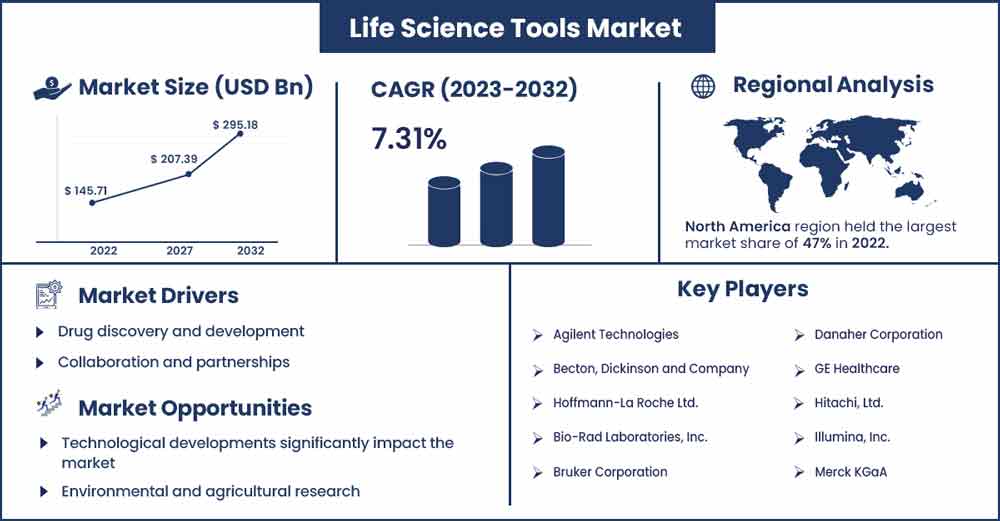 Market Overview
The market for life science tools is a sizable and quickly developing subsector. "Life science tools" refers to a broad category of equipment, reagents, consumables, and software utilized in various research, diagnostic, and testing applications. The advancement of scientific knowledge, the discovery and development of new drugs, and diagnostic and clinical Research depend on this market.
Several factors, including technological advancement, advancement in life science, drug discovery and development, personalized medicine, and emerging markets, contribute to the growth of the life science tool market. The development of the life science tools market was supported by government financing for academic and scientific research. The demand for biomanufacturing equipment, such as cell culture, fermentation, and bioprocessing, rose as the biotechnology sector expanded. These instruments were used to create biopharmaceuticals and other bioproducts. Corporate investors have continued to play a significant role in the ecosystem of life sciences and healthcare supported by venture capital (VC).
In July 2023, according to Goldman Sachs Research, the global pharmaceutical industry has over $700 billion available to buy other businesses and invest in research and development.
In March 2023, Apollo's next-generation market insights technology platform was launched, which is intended to facilitate quick data gathering and insights in the healthcare and life science sectors. Apollo is a prominent provider of real-time global data and insights to these sectors. The company's continued investments in its core technologies, driven by machine learning (ML) and artificial intelligence (AI), power the cutting-edge platform.
Regional Snapshot
North America holds the largest share in terms of revenue and is continuously growing in the life science tool market. The region covers a broad spectrum of goods and services, including those related to genomics, proteomics, cell biology, molecular biology, and other life sciences research and development areas. Numerous elements, such as technological developments, research funding, and biotechnology and healthcare developments, impact the market. Government subsidies and support for medical and scientific research are significant to the market's expansion. Life science research in North America is mostly financed by institutions like the National Institutes of Health (NIH) and private foundations. There is a growing need for specialized tools and solutions due to precision medicine, personalized healthcare, and synthetic biology.
One of the world's biggest markets for life science equipment is the United States. Government research funding, sizable pharmaceutical and biotechnology firms, and a robust academic research sector are some variables that affect the market's size. The advancement of life sciences is centered in the United States. The demand for cutting-edge life science instruments and technology is fueled by significant research and development investments made by academic institutions, governmental organizations, and commercial businesses.
The pharmaceutical and biotechnology industries are two of the most influential users of life science instruments. For research in genomics, proteomics, and other fields, as well as drug discovery, these sectors depend on cutting-edge equipment and technology. Precision farming, personalized medicine, and the creation of sophisticated analytics and informatics solutions are some themes that impact the life science tool market.
In January 2023, SCHOTT expanded the development and production of diagnostics and life science consumables by opening a new plant in Phoenix, Arizona. SCHOTT's worldwide growth strategy is validated by opening the country's first fully integrated microfluidic foundry, which also boosts manufacturing capacities to help these goods reach consumers more quickly and effectively.
In June 2023, for a U.S. capital initiative to support the global biopharma's manufacturing of essential specialty medications, Wood received a grant from GSK worth around $50 million. For GSK's global production plant in Rockville, Maryland, Wood will offer engineering, procurement, construction management, and validation (EPCMV) improvement services as the capital project delivery partner.
North America has several key players in life science tools market, including Thermo Fisher Scientific, Illumina, Agilent Technologies, Bio-Rad Laboratories, PerkinElmer, Becton-Dickinson and Company, Waters Corporation, Merck KGaA, Qiagen, and Bruker Corporation.
In August 2023, after getting IVDR certification, Thermo Fisher Scientific announced the EXENT Solution's commercial debut. The EXENT solution is a fully automated, integrated mass spectrometry system created to revolutionize diagnosis and evaluation for patients with monoclonal gammopathies, including multiple myeloma, which the World Health Organization predicts will rank as the second most common blood cancer globally in 2020.
In June 2023, in conjunction with the introduction of the new timsTOF Ultra mass spectrometer, Bruker Corporation announced transformational sensitivity on the 4D-Proteomics timsTOF platform. It includes a brand-new 4th-generation TIMS (trapped ion mobility separation) XR cell, a 14-bit digitizer, and a new Captive Spray Ionization (CSI) Ultra ion source with a bigger capillary and improved vortex gas flow.
Life Science Tools Market Report Scope
| | |
| --- | --- |
| Report Coverage | Details |
| Market Revenue in 2023 | USD 156.37 Billion |
| Projected Forecast Revenue by 2032 | USD 295.18 Billion |
| Growth Rate from 2023 to 2032 | CAGR of 7.31% |
| Largest Market | North America |
| Base Year | 2022 |
| Forecast Period | 2023 to 2033 |
| Regions Covered | North America, Europe, Asia-Pacific, Latin America, and Middle East & Africa |

Market Dynamics
Drivers
Drug discovery and development
The market for life science tools is essential for developing, testing, and discovering new drugs. The market for drug research and development tools is still strong due to the increased demand for new medications and treatments globally. Researchers can test thousands of chemicals quickly and effectively using life science technologies to find prospective medication candidates.
It is crucial to have cell culture systems, bioreactors, and tissue engineering equipment to produce and test new medications, particularly biologics like monoclonal antibodies and gene treatments. Drug design and optimization are aided by computational technologies such as molecular modeling and virtual screening. These instruments forecast molecular behavior and interactions using algorithms.
Collaboration and partnerships
Companies that make tools for the life sciences frequently work with academic institutions and research organizations to create and certify new tools and technologies. These partnerships aid in bridging the commercialization and research divide. Life science instrument companies may license innovations or intellectual property from universities, research institutions, or other businesses to improve their product offerings. Manufacturers of life science tools may work with other businesses to provide parts or tools incorporated into a more extensive system or device. Companies might collaborate to create fresh products or services. Sharing resources, knowledge, and risks may be necessary. Life science tool producers may collaborate with distributors or resellers to increase their market share and gain access to new client segments.
Restraints
High cost
A significant investment in research and development is necessary to create cutting-edge life science tools, such as sophisticated microscopes, gene sequencing devices, or biotechnology instruments. Advanced technologies and materials, which can be costly to develop and produce, are frequently used in life science tools. Continuous investment is necessary to be on the cutting edge of technological breakthroughs. Additionally, the cost of life science tools is increased by the need to comply with numerous regulations and certifications and high quality and safety standards. Businesses investing in cutting-edge life science equipment frequently need patents to safeguard their intellectual property. This increases the expense of law and administration, which can be passed on to customers.
Data privacy and security
Data security and privacy concerns become more severe as data usage in life science research increases. Data breaches and cybersecurity risks might damage the faith in using life science technologies. It's essential to store data securely. Many life science businesses and research organizations employ cloud-based services or internal servers to store and manage their data. With the help of encryption, access controls, and robust cybersecurity measures, these systems must be well-safeguarded. Encrypt data in transit and at rest to prevent interception and unwanted access. This is crucial when moving data to and from cloud storage or across research institutions.
Opportunities
Technological advancements
Technological developments significantly impact the market for life science tools. Emerging technologies like single-cell sequencing, CRISPR-Cas9 gene editing, and sophisticated imaging techniques allow businesses to produce and market new products and services to support these technologies. The development of 3D bioprinting technology makes it possible to produce intricate tissue constructs for use in regenerative medicine, drug testing, and disease modeling. Moreover, the emergence of artificial intelligence is also observed to create potential for the industry's growth in the upcoming period. For instance, in August 2023, researchers at University of Toronto have introduced an artificial intelligence-based tool to predict gene expression data. The tool is also capable of merging distinct batches of data.
Environmental and agricultural research
Environmental and agricultural research uses various life science technologies and tools such as plant genomics, soil and water testing, and agricultural biotechnology. Specialized software solutions make data management, environmental process modeling, and farming practice optimization possible. These could include tools for crop management, climate modeling, and software for environmental impact assessments. Scientists can see the details of soil and plant structures with microscopes, keep track of environmental changes, and examine cellular functions. Life science studies frequently employ fluorescence imaging, electron microscopy, and confocal microscopy. As research studies grow for agriculture and environmental purposes, the element is expected to highlight the importance of life science tools by promoting the market's growth.
Recent Developments
In May 2023, two new AI-powered life sciences solutions from Google Cloud have been introduced to help biotech companies, pharmaceutical corporations, and government agencies speed up drug discovery and precision medicine. The Target and Lead Identification Suite, which is currently available globally, aids researchers in better understanding the role of amino acids and predicting the structure of proteins. The Multiomics Suite hastens the discovery and interpretation of genomic data, assisting businesses in developing precise treatments.
In September 2023, the first ChatGPT plugin for American life sciences companies was introduced by Klick Health. By entering their National Provider Identifier (NPI), life sciences professionals can quickly and easily access information within ChatGPT about industry payments to any healthcare professional (HCP) in the United States thanks to the free KlickRx ChatGPT plugin, which is based on OpenAI.
Key Market Players
Agilent Technologies
Becton, Dickinson and Company
Hoffmann-La Roche Ltd.
Bio-Rad Laboratories, Inc.
Bruker Corporation
Danaher Corporation
GE Healthcare
Hitachi, Ltd.
Illumina, Inc.
Merck KGaA
Oxford Instruments plc
Qiagen N.V.
Shimadzu Corporation
Thermo Fisher Scientific, Inc.
ZEISS International
Market Segmentation
By Technology
Genomic Technology
Cell Biology Technology
Proteomics Technology
Lab Supplies & Technologies
Other Analytical & Sample Preparation Technology
By Product
NGS
Sanger Sequencing
Nucleic Acid Preparation
Nucleic Acid Microarray
PCR & qPCR
Flow Cytometry
Mass Spectrometry
Separation Technologies
Electron Microscopy
NMR
Others
By End-User
Biopharmaceutical Company
Government & Academic
Industry
Health Care
Others
Buy this Research Report@ https://www.precedenceresearch.com/checkout/1064
You can place an order or ask any questions, please feel free to contact at sales@precedenceresearch.com | +1 9197 992 333