The global medical polymer market size was evaluated at USD 20.44 billion in 2022 and is expected to rise to USD 38.3 billion by 2030, growing at a strong CAGR of 8.16 percent during the forecast period from 2022 To 2030.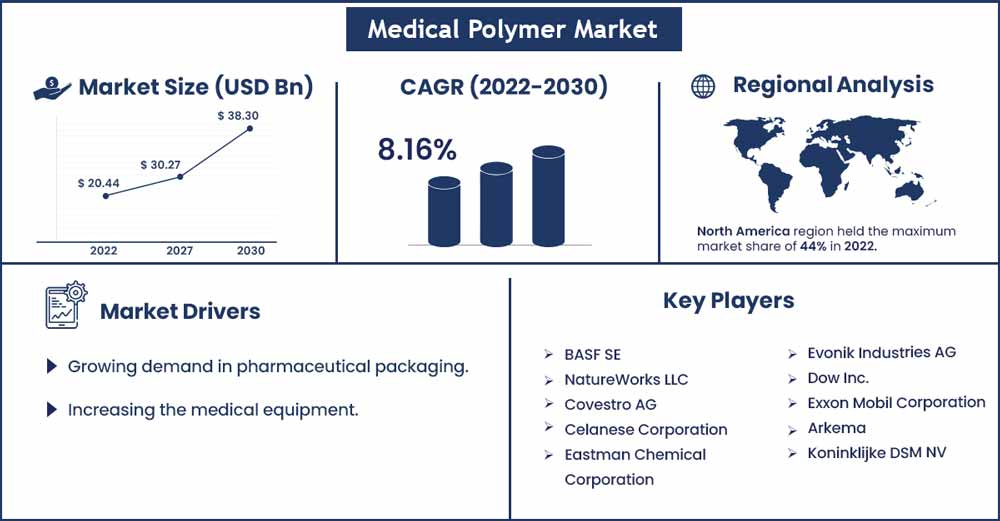 Medical polymers are widely used in the healthcare business, and major efforts are being made to commercialize novel medical polymers that match the specifications of high-end applications. Polymer demand in healthcare markets is expanding considerably due to a considerable increase in demand for medical implants, whereas implant demand is increasing primarily due to the higher prevalence of chronic illnesses and an increasing global elderly population. Due to the increased acceptance and implementation of polymers from product design to final product manufacture, demand for medical polymers is increasing significantly across all areas.
The Medical Polymers Market is expected to rise due to factors such as the expanding pharmaceutical device sector, an aging population and the accompanying medical treatments, and shifting patterns toward home healthcare treatment. The growing interest in therapeutic polymers in the assembly of clinical devices and hardware, as well as clinical bundling, is expected to fuel growth. Furthermore, legislators in numerous countries are funding clinical innovation work (R&D) projects to strengthen the foundation of medical services. Aside from that, the growing necessity for organ transplantation as the senior population grows and the number of accidents rises is propelling the market. Furthermore, the growing clinical travel sector and the growing popularity of home medical care administrations are propelling the market growth. The major market players are also focusing on introducing new and advanced biopolymers, which are expected to increase the usage of clinical polymers in muscle balancing out materials and vascular stents.
However, changing raw material prices, rigorous restrictions controlling new items, and a long regulatory clearance procedure are expected to stymie industry growth. R&D to produce improved polymers, as well as the development of patient-specific implants and 3D printed devices, are projected to benefit market participants. Furthermore, waste management is a challenge. Fibers and resins will account for 74.36 percent of the total value share in the worldwide Medical Polymers Market in 2020. Fibers and resins, such as PVC and PP, account for the bulk of the market due to their wide variety of applications in medical devices and equipment. Because of the rising need for new and advanced medical equipment, as well as the aging population and the rise of the home healthcare sector, these medical polymers have achieved extraordinarily high penetration.
Medical Polymer Market Report Scope:
| | |
| --- | --- |
| Report Coverage | Details |
| Market Revenue in 2023 | USD 22.11 Billion |
| Projected Forecast Revenue in 2030 | USD 38.3 Billion |
| Growth Rate from 2022 to 2030 | CAGR of 8.16% |
| Largest Market | North America |
| Base Year | 2022 |
| Forecast Period | 2022 To 2030 |
| Forecast Period | North America, Europe, Asia-Pacific, Latin America, and Middle East & Africa |

Regional Snapshots:
The global medical polymers market is divided into four regions: North America, Europe, Asia Pacific, and the Rest of the World. North America is the largest market for medical polymers in terms of both production and consumption. The region's revenue share in 2020 was 42.22 percent. The emergence of the medical device manufacturing industry has resulted in exceptional growth, mainly to the rising need for better healthcare facilities, the rise of the home healthcare equipment market, and the aging population.
North America is the largest market for medical polymers in terms of both use and manufacture. It had a 42.22 percent revenue share of the global medical polymers market in 2022. The growing older population, the expansion of the home-based healthcare equipment industry, and the growing need to provide better healthcare services has all contributed to the region's spectacular rise in the medicinal apparatus manufacturing segment. Due to advancements in health check equipment and an increase in demand for more modern medicinal devices, the United States accounts for the bulk of local demand and is a key buyer of medical polymers.
Report Highlights:
North America will dominate the business with more than 44 percent revenue share by 2022, owing to the region's strong awareness of personal healthcare, which has pushed healthcare expenditure per person. The existence of key players, considerable R&D investments, and high demand in end-user sectors such as medical devices and equipment are expected to sustain the North American medical polymer market.
Medical polymers market trends demonstrate that, while medical polymers have been utilized in the industry for a long time, acceptance has recently increased. There is a dramatic increase, which might be attributed to increased research and development of alternatives to conventional materials, such as polymers for use in medical applications. The development of engineering plastics such as PEEK, PET, PMMA, and PMMA has caused an increase in the growth rate since these polymers can meet the standards for safety and security when used in medical devices and implants.
Market Dynamics:
Drivers:
Growing demand for medical polymers in the manufacture of pharmaceutical packaging, medical equipment, and apparatuses is expected to drive market growth. Medical-grade polymers, often known as medical polymers, are artificial materials that are divided into resins and fibers and elastomers. Polymers, which include elastomers, resins and fibers, and recyclable plastics, are increasingly being used in the manufacture of medical devices.
The rise of the home-based healthcare industry has resulted in an increase in demand for pharmaceutical equipment due to their lower down expenses in comparison to intensive care and hospital care. The numerous important aspects driving the medicinal apparatuses market are adaptability, awareness, affordability, and availability. Engineering polymers such as Polyethylene Terephthalate (PET), Polyvinyl Chloride (PVC), Polystyrene, Polyethylene (PE), and Polypropylene are some key medical polymers used in the manufacture of devices and equipment.
The healthcare sector has seen an increase in the use of polyetheretherketone (PEEK) in a range of roles due to its improved biocompatibility and lower costs when compared to traditional materials such as titanium. Hip and joint replacements, spinal implants, and brain traumas are all included. During the forecast period, this is expected to enhance demand for medical polymers.
Restraints:
The high cost of raw materials, on the other hand, is a key limitation for the worldwide medical polymer market. Furthermore, severe rules and regulations imposed by governing agencies such as the United States Food and Drug Administration (FDA) and the European Union (EU) are impeding the target market's growth.
Stringent government restrictions governing the usage of medical polymers, as well as changing raw material costs, are major issues that might stymie worldwide market expansion. In addition, a lack of understanding about modern medical techniques may have a detrimental influence on market growth to some extent.
Opportunities:
In the near future, the expanding usage of biodegradable materials in the production of medical implants is projected to generate attractive market prospects. This is due to increased environmental concerns, as well as rigorous regulatory rules for polymers used in the medical business. Biodegradable medical implants are also a low-cost and effective alternative to typical medical implant materials.
The expanding relevance of medical elastomers such as styrene block copolymers and rubber latex in the healthcare industry is expected to open up new prospects. Additionally, increased usage of fibers and resins in hip and joint replacements and spinal implants due to their improved biocompatibility and reduced cost compared to traditional materials is expected to drive market expansion.
Challenges:
The primary problem for the global medical polymer market is the shifting raw material price trends caused by unpredictable energy costs. According to BP data, the average oil price in 2018 jumped to $71/bbl from $54/bbl in 2017. As a result, fluctuating oil prices constrain the worldwide medical polymers industry. Furthermore, rigorous restrictions set by various medical authorities regarding product quality and pricing may impede the expansion of the medical polymers market in the approaching years.
Recent Developments:
Customizable RESOMER Print Powder from Evonik for 3D Printing of Personalized, Implantable Medical Devices: Evonik introduced a new variety of RESOMER Print Powder polymers on November 17th, 2021, to enable the 3D printing of individualised implantable medical devices. The new powders are now accessible worldwide for 3D printing using selective laser sintering (SLS).
Eastman Introduced New Family of Medical-Grade Polymers: Eastman Chemical Co. announced the debut of a new family of medical-grade polymers on July 1st, 2021, at the MedTec Europe trade event in Stuttgart, Germany. Eastman Tritan copolyester medical grades are transparent polymers that provide a blend of design, molding, and end-product qualities for medical devices.
Major Key players:
BASF SE
NatureWorks LLC
Covestro AG
Celanese Corporation
Eastman Chemical Corporation
Evonik Industries AG
Dow Inc.
Exxon Mobil Corporation
Arkema
Koninklijke DSM NV
Formosa Plastics Corporation
Foryou Medical
KRATON CORPORATION
SABIC
Trinseo S.A.
Market Segmentation
By Product
Fibers & Resins

PVC
PP
PE
PS
Others (engineering thermoplastics such as nylon, PET, PLA, PHA, PA, PC, ABS)

Medical Elastomers

Styrene Block Copolymer
Rubber latex (NR + Butyl Rubber+Silicone rubber)
Others (TPU, TPO, TPV)

Biodegradable Polymers
Polyhydroxyalkanoate (PHA)
Others
By Application
Medical Device Packaging
Medical Components
Orthopedic Soft Goods
Wound Care
Cleanroom Supplies
BioPharm Devices
Mobility Aids
Sterilization & Infection Prevention
Tooth Implants
Denture-based Materials
Other Implants
Others
By Processing Method
Blow Fill Seal
Extrusion Blow Molding
Injection Stretch Blow Molding
Others
Buy this Research Report@ https://www.precedenceresearch.com/checkout/2142
You can place an order or ask any questions, please feel free to contact at sales@precedenceresearch.com | +1 9197 992 333