The global pain management drugs market size was evaluated at USD 78.41 billion in 2022 and is expected to touch around USD 115.50 billion by 2032, growing at a noteworthy CAGR of 4% from 2023 to 2032.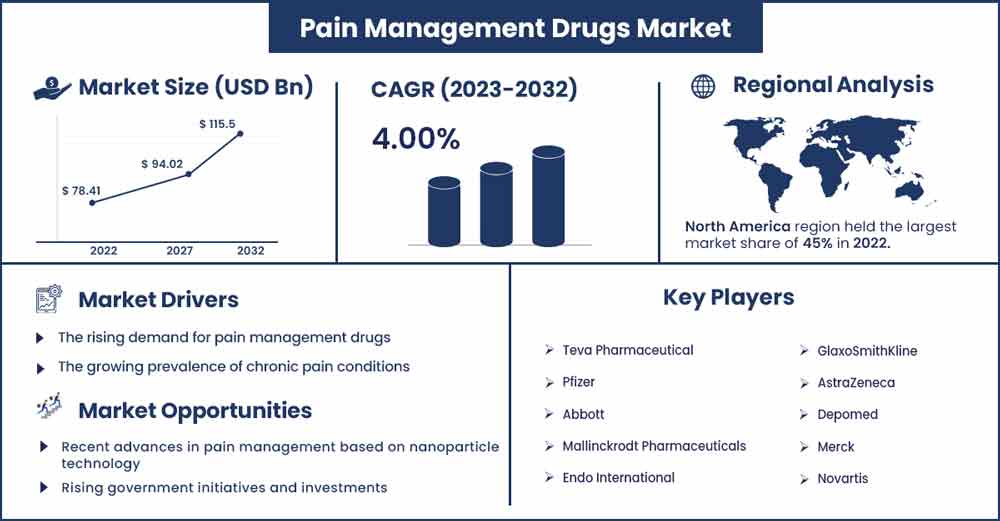 The factors driving the market are driving the rising demand for pain management drugs, increased healthcare expenditures, higher disease awareness, enhanced healthcare infrastructure, and R&D initiatives. On the other hand, the rise in concerns regarding drug exploitation is restraining the market. Nonetheless, recent advances in pain management based on nanoparticle technology are expected to create ample opportunities in the pain management drugs market.
COVID-19 Impact:
The COVID-19 outbreak, caused by SARS-CoV-2, had a global impact. The economic significance and repercussions in practically every business, including the medical sector, were significant. Patients who rely on exercise and physical therapies as part of their pain management regimen were hampered by the lockdown enforced by various governments. Furthermore, numerous elective procedures and in-person patient appointments were canceled, increasing demand for home-pain treatment.
Following the COVID-19 outbreak, several clinics and pain treatments were closed to the public due to government safety measures. As a result, numerous chronic pain therapies were deemed non-urgent, and the program was put on hold. Furthermore, telemedicine, which has become an effective way of providing medical services to patients suffering from chronic pain, has increased demand for primary management drugs.
Pain Management Drugs Market Report Scope:
| | |
| --- | --- |
| Report Coverage | Details |
| Market Revenue in 2023 | USD 81.15 Billion |
| Projected Forecast Revenue in 2032 | USD 115.50 Billion |
| Growth Rate from 2023 to 2032 | CAGR of 4% |
| Largest Market | North America |
| Base Year | 2022 |
| Forecast Period | 2023 To 2032 |
| Regions Covered | North America, Europe, Asia-Pacific, Latin America, and Middle East & Africa |

Market Dynamics:
Market Driver:
Rising prevalence of chronic diseases
The growing prevalence of chronic pain conditions is expected to drive growth in the pain management drugs market. For instance, according to data published by the National Center for Biotechnology Information, the Centers for Disease Control and Prevention (CDC) estimated that 50.2 million US adults suffered chronic pain as of February 2022. This figure was established using data from the 2019 National Health Interview Survey (NHIS). According to a second CDC article based on the National Health Interview Survey (NHIS), 22.1% of these people with chronic pain used prescription opioids.
Furthermore, according to statistics from the National Health Interview Survey (NHIS), the prevalence of chronic pain was 20.4% globally in February 2022, while high-impact chronic pain was 7.4% (or 36.4% of individuals with chronic pain). Globally, women (21.7%), non-Hispanic white individuals (23.6%), and those aged 65 and up (30.8%) had the highest rates of chronic pain.
Market Restraint:
Side effect of the pain management drugs
The major factors impeding the growth of the global pain management drugs market include drug side effects. According to the National Institute on Medication Abuse, an opioid overdose can be reversed using the drug naloxone when administered in January 2022. Some areas of the United States have seen improvements in the form of decreased availability of prescription opioid pain medications and decreased misuse among the country's teens.
Market Opportunity:
Rising government initiatives and investments
Increasing government initiatives, such as financing by government organizations for pain management drug research and development, are expected to open opportunities for the global pain management drugs market. For instance, the National Institute of Neurological Disorders and Stroke (NINDS) launched the Anticonvulsant Drug Development (ADD) Program in May 2022. For the symptomatic treatment of epilepsy, this initiative assists in identifying and characterizing novel experimental anticonvulsant medicines.
The Anticonvulsant Drug Development (ADD) program is the department's focal point for epilepsy-related research. This initiative aims to find novel antiepileptic medications, and the effort is supported by a long-term National Institute of Health (NIH) research contract for anticonvulsant drug early evaluation. The research uses preclinical seizure models and neuroscience approaches to aid in developing new antiepileptic drugs. Every year, around 800-1000 new compounds are tested against conventional medications for neurotoxicity, anticonvulsant efficacy & potency, mechanism of action, and effect on liver function.
Segments Insight:
Drug Class Insights:
Based on the drug class, in 2022, the NSAIDs segment accounted for the largest market share due to the counter drugs' availability and low cost. These drugs are widely used for pain relief, reducing inflammation, and bringing down high temperatures. NSAIDs were used extensively during COVID-19 and for regular treatment of headaches, painful periods, colds, and flu. NSAIDs include aspirin, ibuprofen, celecoxib, mefenamic acid, and indomethacin.
On the other hand, the opioids segment is expected to grow faster during the projected timeframe owing to the launch of new products by the market players and high use in alleviating cancer pain. Rising incidences of cancers are expected to augment the growth of this segment over the forecast period.
Indication Insights:
Based on indication, in 2022, the neuropathic segment accounted for the largest market share owing to the increasing prevalence of the target population and increasing initiatives by the industry players.
On the other hand, the cancer pain segment is expected to grow at an above-average rate over the projected timeframe owing to the rising cancer cases. According to GCO, there were approximately 19.3 million cancer patients in 2020, and it is estimated to reach 28.9 million by 2040.
Distribution Insights:
In 2022, the retail pharmacy was the largest distribution channel due to the high demand for over the counter drugs and the strong network of retail pharmacies. On the other hand, online pharmacy is expected to grow faster during the projected timeframe. This is due to the increasing number of e-pharmacy websites.
Regional Insights:
North America holds the major market share in 2022 and is expected to maintain its dominance owing to the high incidence of chronic disorders and the presence of strong market players, skilled professionals, and advanced infrastructure. On the other hand, the Asia Pacific region is expected to grow at a faster rate during the forecast period owing to the R&D investments to manufacture technologically advanced healthcare medication options.
Recent Developments:
In November 2022, Abbott introduced the IonicRF Generator, a revolutionary radiofrequency ablation device that provides a non-surgical, minimally invasive treatment for nervous system discomfort.
In March 2021, Hinge Health purchased Enso which is a recognized non-invasive device that helps individuals with Musculoskeletal (MSK) discomfort manage pain.
In March 2020, Eli Lilly and Company and Pfizer, Inc. received approval by USFDA for the commercial production of Tanezumab 2.5 mg. This drug is administered subcutaneously (SC) and used in treating chronic pain experienced for patients suffering from moderate-to-severe osteoarthritis (OA).
In March 2020, Concentric Analgesics, Inc., a clinical-stage biopharmaceutical company focusing on discovering and commercializing novel, non-opioid pain therapeutics, recently announced positive results from its recently completed Phase 2 pilot clinical study of vacacapsaicin in patients undergoing open laparotomy for ventral hernia repair.
Q Biomed, Inc. received approval by FDA for the commercial production of Strontium-89 Chloride USP in November 2019. This drug aids in treating skeletal metastases caused by cancer.
Insights:Abbott signed an agreement with the National Institutes of Health (NIH), US, where Abbott provided NIH with neuromodulation technologies, including directional DRG, DBS, and SCS therapy, for further research of applications.
Major Key Players:
Teva Pharmaceutical
Pfizer
Abbott
Mallinckrodt Pharmaceuticals
Endo International
GlaxoSmithKline
AstraZeneca
Depomed
Merck
Novartis
Market Segmentation:
By Drug Class
NSAIDs
Opioids
Anesthetics
Antidepressants
Anticonvulsants
Others
By Indication
Arthritic Pain
Neuropathic Pain
Chronic Back Pain
Post-Operative Pain
Cancer Pain
Others
By Distribution Channel
Online Pharmacy
Retail Pharmacy
Hospital Pharmacy
Buy this Research Report@ https://www.precedenceresearch.com/checkout/2494
You can place an order or ask any questions, please feel free to contact at sales@precedenceresearch.com | +1 9197 992 333