The global primary cell culture market size was estimated at USD 6.28 billion in 2022 and it is projected to hit around USD 19.56 billion by 2032, expanding at a CAGR of 12.04% during the forecast period 2023 to 2032.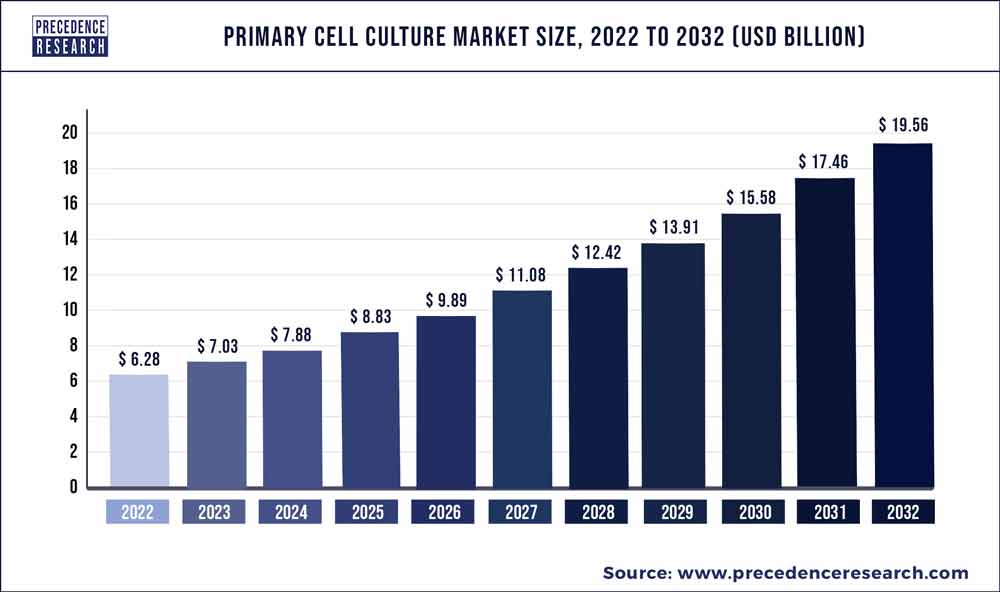 Key Takeaways:
By Product, the primary cell culture segment captured more than 36% of revenue share in 2022.
By Application, the vaccine production segment dominated the global market in 2022.
By Cell Type, the animal cells segment contributed more than 60% of revenue share in 2022.
North America generated more than 52% of revenue share in 2022 and is anticipated to keep this position between 2023 to 2032.
Market Overview:
The rise in chronic diseases such as cancer, infections, autoimmune disorders, cardiovascular diseases, diabetes mellitus, and nephrological diseases is mostly to blame for the market expansion. Because of the growth in research, primary cell cultures have been widely used. The American Cancer Society estimates that there will be 16.9 million cancer patients and survivors in 2020. 71.0 million persons worldwide have chronic hepatitis C infection, according to the WHO (2020). Consequently, the need for research into cutting-edge therapeutics is being driven by the increasing number of chronic ailments being identified, which is anticipated to accelerate market expansion in the next years.
The market for primary cell culture is expanding in part because primary cell cultures are being used for in-vitro testing and medication screening. These are produced from tissues, allowing researchers to examine the cellular structure in the in vivo setting and demonstrate how normally they operate. As a result, they are employed as model systems to research drug and toxin effects, aging processes, signaling investigations, metabolic processes, and cell biochemistry and physiology.
Growth Factors:
Demand for primary cell culture is rising as a result of expanding research into developing new treatments. The need for primary cell culture is also growing as a result of the study into the characterization and isolation of viruses. The market for primary cell culture products is being driven by growing academic tissue culture research activities worldwide in the field of life sciences. In addition, the primary cell culture product makers continue to benefit from the rising prevalence of chronic disorders such as diabetes mellitus, autoimmune diseases, cancer, chronic infections, nephrological diseases, and cardiovascular diseases. Additionally, the prevalence of cancer is continuously rising on a global scale.
Report Scope of the Primary Cell Culture Market:
| | |
| --- | --- |
| Report Coverage | Details |
| Market Size in 2023 | USD 7.03 Billion |
| Market Size by 2032 | USD 19.56 Billion |
| Growth Rate from 2023 to 2032 | CAGR of 12.04% |
| Largest Market | North America |
| Base Year | 2022 |
| Forecast Period | 2023 to 2032 |
| Segments Covered | By Product, By Application, and By Cell Type |
| Regions Covered | North America, Europe, Asia-Pacific, Latin America, and Middle East & Africa |

Market Dynamics:
Drivers:
Increasing cancer research
9.6 million people died from cancer, which is now the biggest cause of mortality in the world. Primary cells play a significant role in this study since the frequency of this illness has increased, necessitating substantial research for diagnosis and therapy. These cells are excellent models for finding cancer biomarkers and testing medications. They are also utilized to comprehend the molecular mechanisms behind cellular communication. In cancer research, initial cells are frequently subjected to high chemicals, radiation doses, and viruses, which cause these cells to become cancer by introducing oncogenes and causing genetic abnormalities. This makes it possible to study the altered signaling pathways of malignant cells as well as the molecular-level process and the etiology of cancer.
Restraints:
Concerns regarding primary cell culture contamination
One of the most frequent issues in cell culture labs is primary cell culture contamination. Utilizing tainted cells puts cell physiology at peril, frequently yields inaccurate findings, or results in the loss of distinctive cell lines. In addition to slowing down cell metabolism, contamination in cell cultures may infect finished goods like vaccinations, which can completely ruin a batch. As a result, businesses restrict their funding for cell-based research and choose alternate techniques for drug screening.
Opportunities:
Advancing biomedical research using primary cells in 3D cultures
Due to their nearly exact resemblance to the original donor tissue, primary cells are thought to be more physiologically representative than cell lines. This makes it clearer that primary cells used in 3D cell structures are better adept than cell lines to create physiologically accurate representations of in vivo multicellular settings. Because they produce results that are more precise than those of conventional cell lines, primary cells are widely used in 3D cultures. For instance, primary hepatocytes grown in a monolayer on plastic undergo undifferentiation and pass away after four days.
Impact of COVID-19:
The COVID-19 epidemic is helping to fuel the expansion of the primary cell culture sector. Primary cell culture is being used more often by researchers to study the illness. Epithelium cell culture models that have been standardized and characterized are making it easier to comprehend how the coronavirus eroded the physical barrier. These models can assist in simulating the features and operations of the respiratory system, which might result in a breakthrough for the translation of a research finding into a medicinal application. Additionally, it has been demonstrated that the primary immune cell culture is highly helpful in the investigation of the immunological repertoire to generate antibodies and antigens for the COVID-19 virus. Researchers from the German Primate Centre in Gottingen discovered that the COVID-19 virus might prevent infection in lung cells by using TMPRSS2, a serine protease inhibitor. With the primary cell culture experiment, the findings have been confirmed.
Segments Insight:
Product Insights:
The primary cell culture market was led by the reagents and supplements category, which also generated the most revenue at 36% in 2022. The segment's expansion is the result of its regular use in primary cell culture-based research and manufacture. Because primordial cells are naturally delicate, the reagents and supplements are thought to be essential for their development.
The creation of novel products like growth factors and cytokines is also a role in the segment's expansion. For instance, in October 2020, Safi Biosolutions, Inc. and iBio, Inc., a biotechnology business with headquarters in the United States, struck a strategic partnership to work together on the creation of cytokines and growth factors utilizing iBio's FastPharming System.
Applicational Insights:
In 2022, the primary cell culture market was dominated by the vaccine manufacturing sector, which also had the biggest revenue share. This expansion can be attributed to the growing use of primary animal cultures for the viral generation that is used to create various vaccinations, including those for hepatitis B and measles. Additionally, this has reduced the costs related to using animal models for vaccination testing. Over the course of the projected period, the stem cell treatment market is anticipated to grow at a profitable CAGR. The expansion of the market is linked to scientists' increased interest in employing stem cells in various research initiatives. Researchers' perspectives on primary cells are being quickly altered by studies involving adult, induced, and embryonic stem cells. In addition, stem cell-based treatments have demonstrated considerable promise and potential in treating a variety of conditions, including diabetes, dentistry, ophthalmic illnesses, and neurodegenerative diseases. As a result, it is further projected that the market would be driven by the growing application of such therapies.
Cell Type Insights:
In 2022, the market for primary cell culture was dominated by the animal cells sector, which contributed 60% of total revenue. One of the main drivers of the market's expansion is the expanding use of primary cells of animal origin for the creation of vaccines. The creation of vaccinations against rabies, chickenpox, polio, measles, and hepatitis B has utilized animal-derived primary cultures.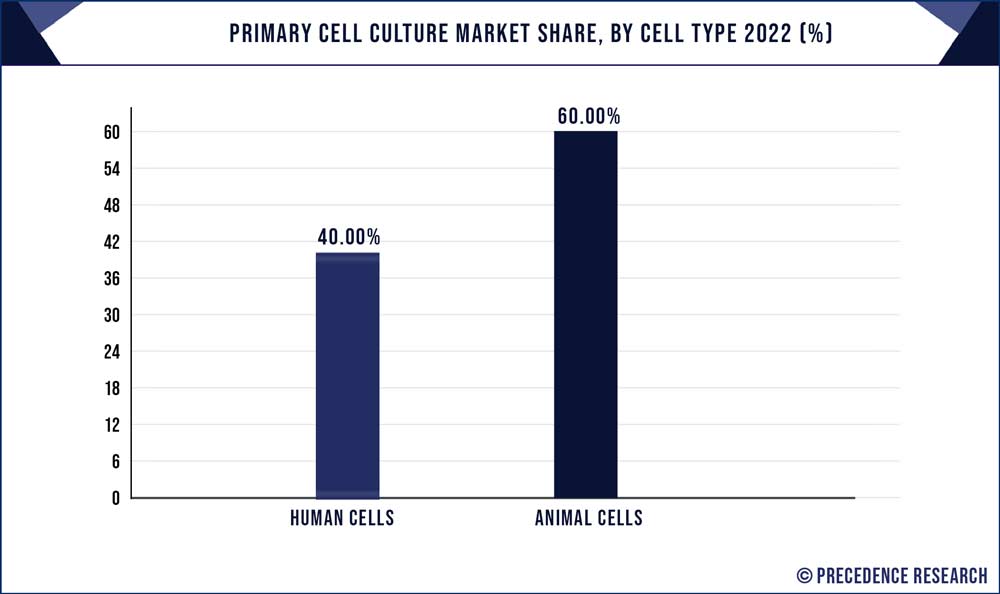 Over the course of the projection period, the human cells sector is anticipated to experience significant expansion. The increasing use of primary cultures made from human tissue for cancer research is largely to blame for the segment's rise. To enable the physiologically appropriate research of cancer, primary human cancer cells are obtained from a range of tissue types, including the brain, skeletal muscle, and connective tissue. These cultures can be used as a reliable tool for preclinical and clinical investigations in cancer research because they closely match the behavior and phenotype of cancer tissues.
Regional Insights:
North America held the largest share of 52% in 2022 and is anticipated to keep this position during the forecast period. The growth of the region is driven by factors such as the high cost of healthcare, the increasing prevalence of chronic diseases, an aging population, and government funding support. Market players' focus on developing innovative cell culture applications, the availability of diverse cell types, and their interactions also contribute to the expansion of the market in the region.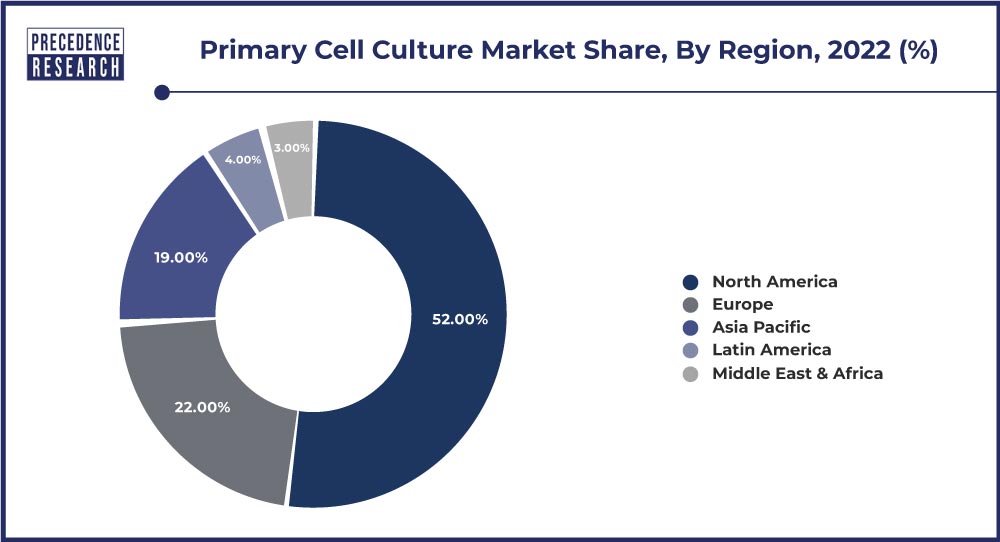 Meanwhile, the Asia Pacific region is projected to experience the fastest growth over the forecast period. This growth is primarily attributed to decreased costs of stem cell transplantation, which drives strong demand in the region. Additionally, significant research and development activities conducted by scientists in the area contribute to its expansion. For example, in March 2020, researchers at China's Centre for Disease Control (CDC) successfully cultured SARS-CoV-2 by means of lung airway cells grown in human tissue culture systems.
Recent Developments:
In January 2021, Thermo Fisher Scientific Inc. introduced a groundbreaking medium designed for the cultivation of human T cells used in allogeneic cell therapies. The newly developed Gibco CTS OpTmizer Pro SFM is specifically designed to enhance the expansion of donor T cells, also known as lymphocytes. This innovative media option prioritizes the metabolism of healthy donors and offers a cost-effective solution for efficient production of cell-based treatments.
To aid in the discovery and development of new liver disease drugs, BioIVT (US) added high-purity Kupffer cells to their collection of human primary hepatic cells in May 2020.
HemaCare Corporation was purchased by Charles River Laboratories in January 2020. The scientific skills of Charles River will be enhanced as a result of this purchase in the quickly developing cell therapy market.
Monkey and rodent hepatocytes were introduced to Sekisui XenoTech, LLC's (US) proprietary CryostaX product range in September 2018.
Key Market Players:
Thermo Fisher Scientific, Inc.
Merck KGaA
Lonza
Cell Biologics, Inc.
PromoCell GmbH
HemaCare Corporation
ZenBio, Inc.
STEMCELL Technologies, Inc.
Corning Incorporated
AllCells
American Type Culture Collection
Axol Bioscience Ltd.
iXCells Biotechnologies
Neuromics
StemExpress
BioIVT
ScienCell Research Laboratories, Inc.
PPA Research Group, Inc.
Creative Bioarray
BPS Bioscience, Inc.
Epithelix Sàrl
ReachBio LLC
AcceGen
Sekisui XenoTech, LLC
Biopredic International
Segment Covered in the Report:
(Note*: We offer report based on sub segments as well. Kindly, let us know if you are interested)
By Product
Primary Cell
Reagents
Supplements
Media
By Application
Vaccine Production
Stem Cell Therapy
Cancer Research
By Cell Type
By Geography
North America
Europe
Asia-Pacific
Latin America
Middle East and Africa