The global real estate market size accounted for USD 3,704.02 billion in 2022 and it is expected to be worth around USD 6,219.88 billion by 2032, growing at a CAGR of 5.32% between 2023 and 2032.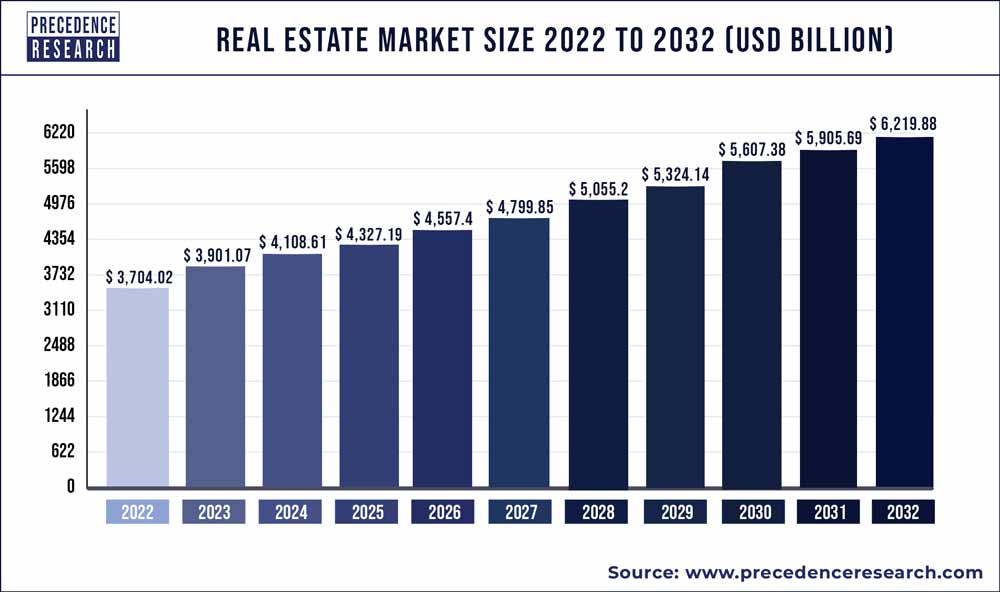 Access our Premium Real Time Data Intelligence Tool, Visit: Precedence Statistics
Key Takeaways:
Asia Pacific contributed more than 40% of revenue share in 2022.
Middle East & Africa regions is expected to grow at a CAGR of 6.52% between 2023 and 2032.
By Property, the residential property segment dominated the market in 2022 with the largest market share of 37% in 2022.
By Property, the commercial real estate segment is anticipated to grow at a CAGR of 5.37% from 2023 to 2032.
By Type, the rental segment led the market in 2022 with the largest market share of 53% in 2022.
By Type, the sale segment is expected to expand at the fastest CAGR of 6.20% between 2023 and 2032.
Market Overview:
Real estate is referred to as the land as well as any permanent, whether natural or man-made, structures or improvements related to the property, such as a house. One type of real property is real estate. It varies from personal property, such as cars, boats, jewellery, furniture, and farm equipment, which is not permanently affixed to the land.
Growth Factors:
Consumers are now more aware of online real estate services because of the Internet's influence on the real estate business. To increase their market share, major players are providing a range of services, including live-streaming rooms. For instance, according to Alibaba, more than 5,000 real estate agencies in China have embraced the live-streaming rooms technique, enabling homebuyers to browse properties and close purchases from the comfort of their own homes.
Additionally, a number of government programs from different countries are probably going to help the market to expand. The Indian government, along with the governments of numerous states, has launched a number of initiatives to encourage sector development. The Smart City Project, which aspires to construct smart cities, presents an opportunity for real estate.
Report Scope of the Real Estate Market:
| | |
| --- | --- |
| Report Coverage | Details |
| Market Size in 2023 | USD 3,901.07 Billion |
| Market Size by 2032 | USD 6,219.88 Billion |
| Growth Rate from 2023 to 2032 | CAGR of 5.32% |
| Largest Market | Asia Pacific |
| Base Year | 2022 |
| Forecast Period | 2023 To 2032 |
| Segments Covered | By Property and By Type |
| Regions Covered | North America, Europe, Asia-Pacific, Latin America, and Middle East & Africa |

Market Dynamics:
Driver:
Social factors
In the real estate market, social factors, such as evolving lifestyle choices, have a big impact. The demand for various types of properties might change as a result of changes in society attitudes and behaviors. A growing interest in flexible workspaces and home offices, for instance, is a result of the expansion of remote work and the digital economy. As a result, there is a higher demand for buildings with designated office space or co-working amenities. Similar to this, shifting interests in leisure and entertainment may increase demand for homes close to parks, recreation areas, and cultural attractions. The real estate market is also impacted by trends in household formation and marriage rates.
The desire for smaller, more inexpensive housing options, including studios or one-bedroom apartments, is rising as a result of postponed weddings and an increase in single-person families. Contrarily, households made up of couples or families tend to prefer bigger homes with more bedrooms and living space. These trends determine the demand for various sorts of residential properties and have an impact on the types and sizes of units that are built by developers. There are several ways that cultural diversity might affect the real estate market. Housing alternatives that meet various cultural tastes and demands are frequently in demand in cities and regions with diverse populations. This can apply to homes built with particular architectural elements, amenities, or close proximity to cultural or religious institutions. The demand for commercial real estate that includes ethnic food markets, eateries, or shopping centres that serve certain cultural communities can also be influenced by cultural variety.
Restraint:
Government regulations
Various government restrictions have a big impact on the real estate industry. These rules are in place to safeguard the public's interests, promote sustainable growth, and preserve a steady housing market. For buyers, sellers, and investors, they can, however, also pose restrictions and difficulties. Government restrictions that affect real estate include zoning laws. These regulations set down the permitted uses of land in certain areas, such as residential, commercial, or industrial zones. By avoiding incompatible land uses, zoning restrictions support the preservation of a balanced community. But they might restrict the freedom of landowners and developers, preventing them from using or developing their holdings as they see fit.
Another set of rules that affect real estate is the building codes. These guidelines make sure that buildings adhere to strict safety and quality requirements. Although they are essential for maintaining public safety, they can raise construction costs and present difficulties for property owners, especially when remodelling or building new homes. Building code observance can be time-consuming and expensive, which has an impact on project timeframes and costs. The real estate market is significantly impacted by tax laws as well. Property taxes, capital gains taxes, and transfer taxes may have an impact on investment choices and property prices. The affordability of homeownership, the allure of real estate as an investment, and the general demand for homes can all be impacted by changes in tax regulations.
The real estate market may be impacted by rent control laws that are imposed by some governments to protect tenants. These regulations place restrictions on the amount that landlords can raise rents, which can lower rental income and deter property owners from making rental property investments. Due to decreased incentives for property owners to maintain or improve their units, rent control regulations can occasionally result in housing shortages and deteriorating property conditions.
Opportunity:
Commercial real estate
Acquiring properties that are predominantly used for commercial activities, such as office buildings, retail establishments, industrial warehouses, or multifamily apartment complexes, constitutes investing in commercial real estate. In comparison to residential homes, commercial properties have a bigger potential for rental income. Long-term leases are frequently signed by businesses, giving investors a consistent cash stream. Commercial real estate can aid in portfolio diversification. Compared to residential buildings, it is less vulnerable to market changes brought on by tenant turnover. Commercial properties that are well-located and well-maintained may increase in value over time, offering potential capital appreciation when it comes time to sell.
Under triple net leases, tenants may occasionally be liable for all property costs, such as taxes, insurance, and upkeep. By doing this, the landlord's ongoing costs can be reduced and net rental income can rise.
Impact of COVID-19:
The real estate industry was not an exception to how the COVID-19 epidemic affected other areas of the global economy. The real estate sector witnessed both short-term disruptions and long-term alterations in demand and investment patterns as countries enacted lockdowns, travel restrictions, and social distance measures. Due to the pandemic, the real estate market suffered immediate difficulties in the short term. As a result of disruptions in the labour and supply chains, several construction projects had to be stopped or put off. Additionally, prospective homebuyers and investors showed increased caution, which decreased the amount of real estate sales and leasing activity. The significant business closures had an adverse impact on the commercial real estate market since there was less demand for office space, retail space, and hotel properties.
The real estate industry, however, proved resilient and adaptable, with some segments seeing noticeable shifts. People's tastes in the residential sector changed as they opted for bigger homes with greater outside space to meet their needs for remote work and social isolation. Demand for rural and suburban areas increased as more people sought to emigrate from heavily populated cities. This change in demand led to an increase in housing costs in some areas.
The pandemic also amplified already-existing trends in the real estate sector. The adoption of remote work and digital technology forced businesses to reevaluate their office space requirements, which may have resulted in a decline in the need for traditional office spaces and an increase in remote work arrangements. The commercial real estate industry may have long-term effects from this change in labour dynamics, forcing the rehabilitation or repurposing of underutilised facilities. The pandemic has also brought attention to the significance of sustainability and wellbeing in real estate. Buildings that are energy-efficient, air quality, and adaptable spaces that can accommodate health and safety precautions are all receiving more attention. These elements have evolved into crucial criteria for both purchasers and developers.
The real estate market was significantly shaped by government involvement and monetary policies during the pandemic. Many countries put in place stimulus plans, cut interest rates, and put a stop to mortgage payments to help the sector and lessen the financial burden on individuals and businesses. It is anticipated that the real estate market will continue to shift and adapt in reaction to the pandemic.
Segments Insight:
Property Insights:
With a 37% revenue share, residential property dominated the market in 2022. The millennial generation, who have recently shown a greater propensity for homeownership, is mostly responsible for the growth. For instance, the homeownership percentage among millennials rose to 48% in 2021, according to Apartment List's Homeownership study.
From 2023 to 2032, commercial real estate is anticipated to grow at a CAGR of 5.37%. The market is expanding at a remarkable rate as a result of the expansion of the tourism industry. Additionally, the need for bathroom furniture is anticipated to increase as hotels and resorts continue to expand. Citadines Apart' Hotels was the most active hotel brand in Thailand in 2020, according to TOPHOTELPROJECTS GmbH, with five projects comprising of 945 rooms.
Type Insights:
With a share of 53% in terms of revenue, the rental type led the market in 2022. This is a result of growing property costs in industrialized countries, which has led to an increase in renters and favoured segment development. For instance, a blog written by Mansion Global claims that in 2021, 60% of the residences in Germany will be rented, making it the country of renters.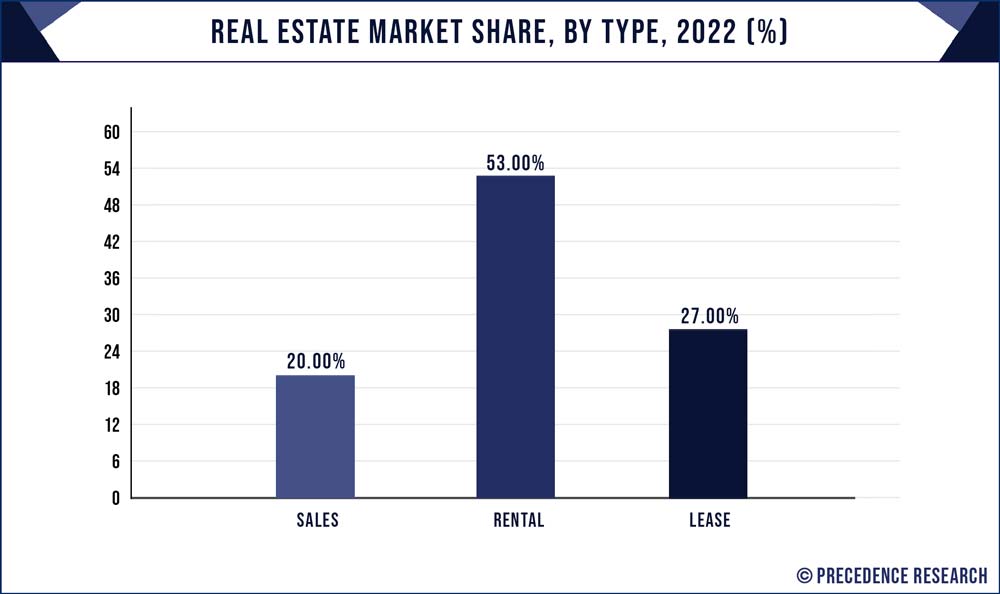 Over the forecast period, it is predicted that sales type would increase at a CAGR of 6.20%. Luxury homes, villas, and second homes are in more demand as a result of how the COVID-19 pandemic has altered consumer attitudes regarding home ownership. For instance, a blog post by Construction Week Online claims that between January and September 2021, new residential supply from India's top 7 cities increased by almost 163,000 units.
Regional Insights:
In 2022, Asia Pacific held the majority of the market, with a share of 40%. The region's rising homeownership rates are mostly responsible for the growth. According to estimates, China holds the majority of the market share in the region. Additionally, it is anticipated that the rising number of tourists in emerging nations like Vietnam, Thailand, Indonesia, the Philippines, India, and the Philippines will encourage market expansion in the region.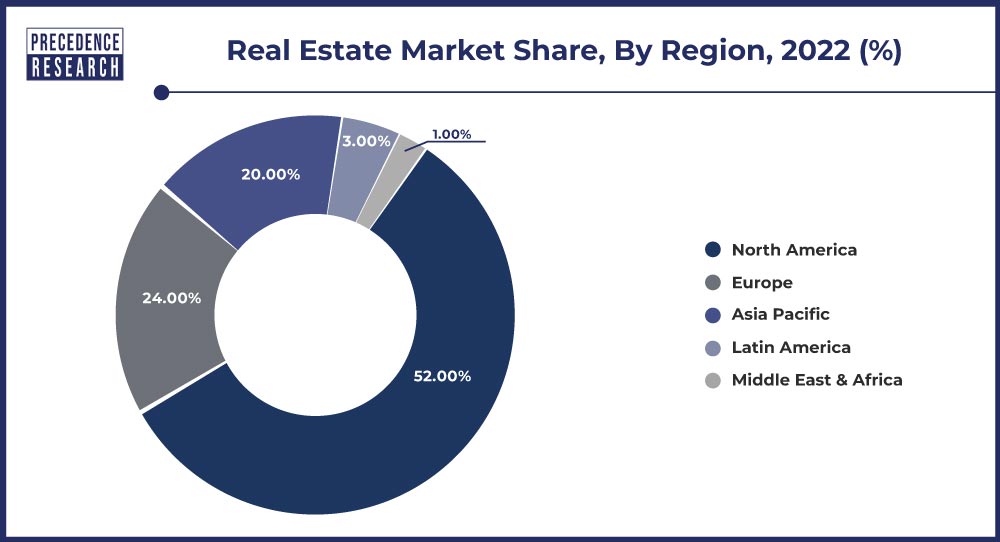 Middle East & Africa is projected to experience a CAGR of 6.52% between 2023 and 2032. The country's growing pipeline of residential and commercial projects is primarily responsible for the growth. Additionally, a contract for the development of 18 private homes in Bahrain was signed in July 2021 by Durrat Marina and Tamcoon.
Recent Development:
Coldwell Banker, for instance, introduced the "Franchise and Capitalise" programme in December 2021 to aid the growth of Egypt's real estate industry. The "more choices" brand campaign was introduced by Simon Property Group in September 2021 at Simon Mall. The advertising effort favours attracting customers by showcasing the brand's variety of products and services.
Key Market Players:
Brookfield Asset Management Inc.
ATC IP LLC.
Prologis, Inc.
SIMON PROPERTY GROUP, L.P.
Coldwell Banker
RE/MAX, LLC.
Keller Williams Realty, Inc.
CBRE Group, Inc.
Sotheby's International Realty Affiliates LLC.
Colliers
Segments Covered in the Report:
(Note*: We offer reports based on sub-segments as well. Kindly, let us know if you are interested)
By Property
Residential
Commercial
Industrial
Land
Others
By Type
By Geography
North America
Europe
Asia-Pacific
Latin America
Middle East and Africa