The global real-time spectrum analysis market was valued at US$ 259.2 million in 2020 and is predicted to reach USD 438.7 million by 2027, growing at a CAGR of around 7.8% during the forecast period 2020 to 2027.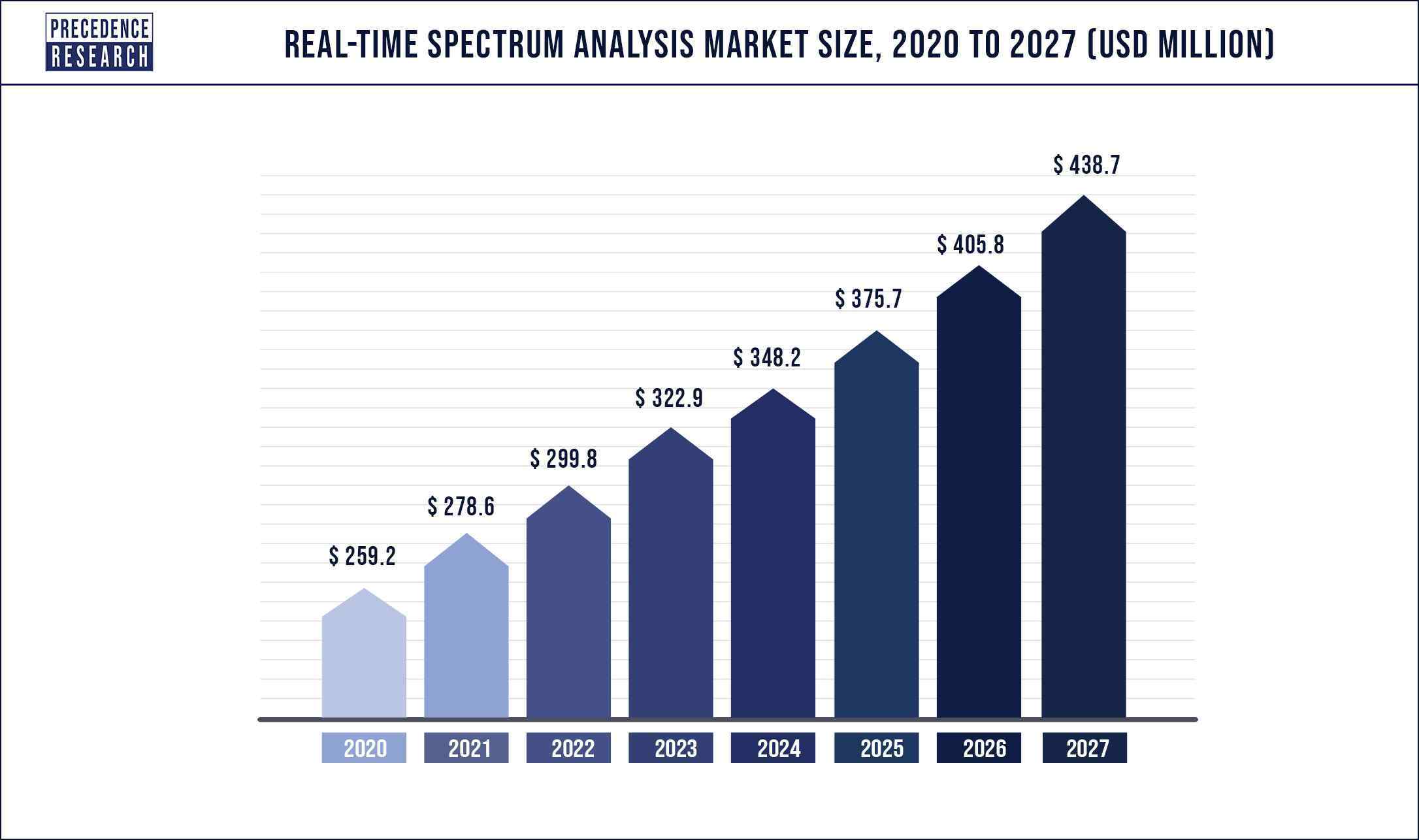 Access our Premium Real Time Data Intelligence Tool, Visit: Precedence Statistics
Regional Insights
The report covers in-depth data for North America, Europe, Asia Pacific, Latin America, and Middle East and Africa. North America accounted for more than 30% of the global revenue. Presence of major manufacturers in the U.S. and quick uptake of latest technologies are the key factors contributing the growth of real-time spectrum analysis market in North America.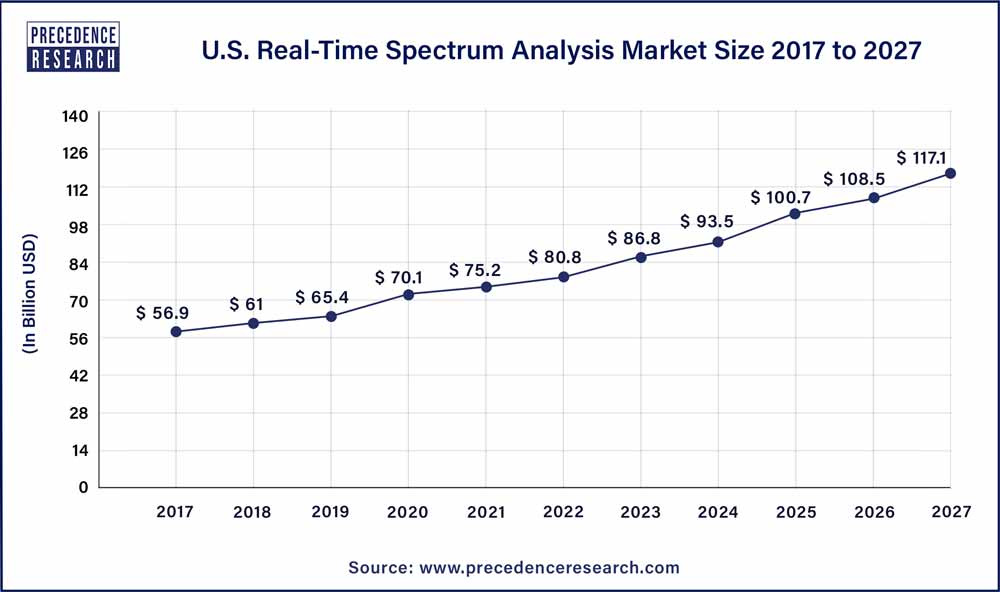 Asia Pacific will exhibit highest growth in the forecast time frame and is expected to surpass North America in terms of revenue share by the year 2027. The Asia Pacific region is expected to major revenue chunk of the global real-time spectrum analysis market. The expected launch of 5G services in major countries like China, Japan, Korea, and India is expected to boost the demand for spectrum management in the Asia Pacific region. The European region accounted for a revenue share of 28% in 2019 of the global market. High investment in the research and development and presence of latest communication infrastructure will generate high demand for real-time spectrum analysis.
Growth Factors
The propagation of wireless applications and amenities has increased the mandate for radio frequency (RF) range. As increasing number of radio transmitters are affixed into the RF system, the possibility for RF interference grows significantly. RF interference (RFI) can be described as the effect of unsolicited energy due to single or a combination of radiations, emissions, inductions or conductions upon entrance in a radio communication arrangement, manifested by any presentation degradation, misconception, or loss of info which could be derived in the absence of such undesirable energy.
One of the major applications of real-time spectrum analysis is the spectrum monitoring of Wi-Fi and Bluetooth. As Wi-Fi and Bluetooth progress and become even further prominent, different test apparatuses are required to ensure systems match the key performance indicators (KPIs). Conventionally, field engineers and technicians used the swept frequency spectrum analyzers to supervise activity in the 2.4 GHz ISM band. The swept-tuned apparatuses, however, are not able to provide a comprehensive sight because most indicators in the group are short in length and/or frequency hop at fast rates. Supervise up to three Wi-Fi admittance points and their linked devices along with the Bluetooth devices and supplementary potential handlers becomes highly impossible with a swept frequency spectrum analyzer. Thus, the usage of real-time spectrum analyzers is on the upsurge. Thus, the widespread adoption of Bluetooth and Wi-Fi in everything from headsets, PCs and cell phones to debit and credit card readers will drive the market for real-time spectrum analysis.
Today's RF/Microwave ecosphere is merging the digital computing and conventional analog RF machineries. This amalgamation of analog and digital RF is offering engineers a new highly intricate environment, demanding a new generation of RF/Microwave examination tools. The application of real-time spectrum analysis in pulse measurement, radar, and RFID is expected to create new opportunities for the market players. Further, the advantages of real-time spectrum analyzer over other tools in relation with measurement of frequency will boost the demand for global real-time spectrum analysis market.
Report Scope of the Real-Time Spectrum Analysis Market
| | |
| --- | --- |
| Report Highlights | Details |
| Market Size | USD 483 Million by 2027 |
| Growth Rate | CAGR of 7.8% from 2021 to 2027 |
| Largest Market | North America |
| Fastest Growing Market | Asia Pacific |
| Base Year | 2021 |
| Forecast Period | 2021 to 2027 |
| Segments Covered | Product Type, Application Type, Region Type |
| Companies Mentioned | B. Braun Melsungen AG, Merck KGaA, Thermo Fisher Scientific, Inc., Baxter International, Inc., Intermountain Life Sciences, Cytiva (Danaher), Standard Reagents, Pvt. Ltd., FUJIFILM Irvine Scientific, CovaChem, LLC, Pfizer, Inc and Fresenius Kabi AG. |
Segment Insights
The global real-time spectrum analysis market has been segmented into product type and application. The product type segment has been further divided into handheld analyzer, benchtop analyzer, and portable analyzer. Based on application, the real-time spectrum analysis market has been divided into healthcare, automotive, energy & power, aerospace & defense, IT& telecommunication, semiconductor & electronics, industrial, and others.
Type Insights
The benchtop analyzers dominated the product type segment mainly due to applications in commercial settings and wide options of products. The global market for the benchtop analyzer was valued at USD 103.38 million in 2019. Portable analyzers are the second-most revenue generating product type. Ease of use and low cost are the major factors responsible for the high growth of portable analyzers.
Application Insights
IT & telecommunication domain generated highest revenue within the application segment. The prime reason is the increased demand for spectrum management. Applications in automotive sector are expected to exhibit high compounded annual growth rate (CAGR) in the forecast time-frame. The global market for the IT & telecommunication was valued at USD 98.1 million in 2019 and is expected to grow at a significant CAGR from 2020 to 2027.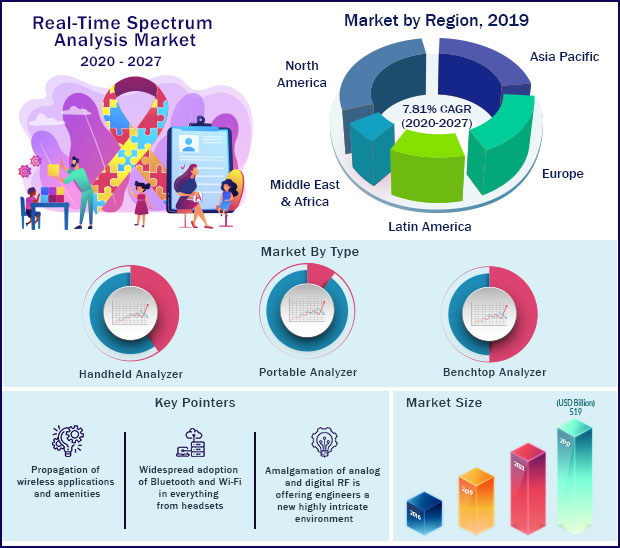 Key Companies
ThinkRF Corp
Rohde & Schwarz GmbH & Co.
Keysight Technologies
Signal Hound
Aaronia AG
Tektronix
Anritsu Corporation
Standford Research Systems
Micronix Corporation
Market Segmentation
This research report includes complete assessment of the market with the help of extensive qualitative and quantitative insights, and projections regarding the market. This report offers breakdown of market into prospective and niche sectors. Further, this research study calculates market revenue and its growth trend at global, regional, and country from 2016 to 2027. This report includes market segmentation and its revenue estimation by classifying it on the basis of product, application, and region as follows:
By Product
Handheld Analyzer
Benchtop Analyzer
Portable Analyzer
By Application
Healthcare
Automotive
Energy & Power
Aerospace & Defense
IT & Telecommunication
Semiconductor & Electronics
Industrial
Others
By Region
North America
Europe

UK.
Germany
France
Rest of Europe

Asia Pacific

China
India
Japan
South Korea
Rest of Asia Pacific

Latin America

Brazil
Rest of Latin America

Middle East & Africa

GCC Countries
North Africa
South Africa
Rest of Middle East and Africa