The global specialty fibers market demand was valued at 5.35 million tonnes in 2022 and it is projected to surpass around 10.55 million tonnes by 2032 with a compound annual growth rate (CAGR) of 7.02% from 2023 to 2032.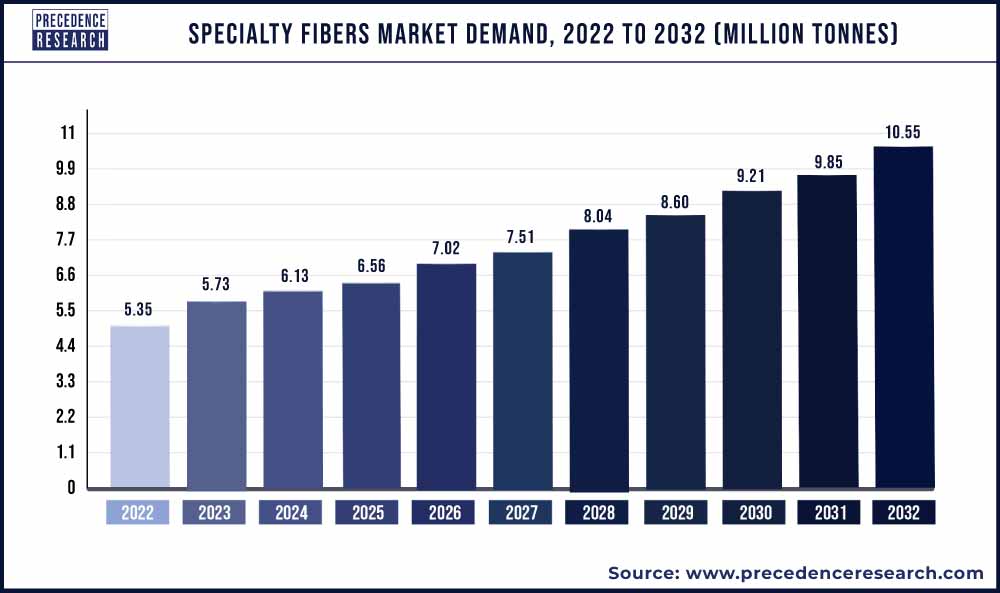 Key Takeaways:
North America region dominated the global market in 2022.
Asia Pacific region is expected to expand at the fastest CAGR from 2023 to 2032.
By Product, the polybenzimidazole (PBI) segment is predicted to grow at a double-digit CAGR of 14% between 2023 and 2032.
By Application, the aerospace and defense segment generated more than 44% of the revenue share in 2022.
Specialty fibers are high-performance fibers that are designed to provide specific and desirable characteristics for various applications. These fibers are often made from advanced materials, such as aramids, carbon, glass, and ceramics, and are engineered to have superior strength, durability, stiffness, and other properties that make them suitable for use in demanding and high-performance environments. They are used in a variety of applications, including aerospace, defense, automotive, energy, electronics, medical, and sports.
The ascension of the specialty fibers market can be primarily attributed to the escalating requirement for high-performance materials across a multitude of applications. Numerous pivotal factors are anticipated to fuel the growth of this market, including but not limited to, the mounting demand for lightweight and durable materials, the burgeoning use of composites in various end-use industries, and the surging awareness pertaining to the advantages offered by specialty fibers.
As per the market analysis, the carbon fiber segment is prognosticated to witness the most rapid growth with an impressive CAGR of over 9% throughout the forecast period, whereas the aramid fiber segment is poised to maintain its dominance in the market due to its exceptional attributes like high tensile strength and modulus, which render it eminently suitable for demanding applications such as the aerospace and defense industry.
Growth Factors:
The global specialty fibers market has been growing at a significant rate due to a variety of factors. Specialty fibers are high-performance fibers designed to provide superior strength, durability, and other desirable characteristics. They are used in a wide range of applications, including aerospace, defense, automotive, energy, and electronics. The demand for specialty fibers in these countries is increasing, driving the growth of the global specialty fibers market.
Numerous end-use sectors, including aerospace, defense, automotive, energy, and electronics, are served by the specialized fibers industry. High-performance materials with enhanced durability, toughness, and other desired qualities are increasingly in demand in these sectors. Due to the increasing need for specialty fibres in various sectors, the speciality fibers market is expanding globally.
High-performance fibres with enhanced qualities are now being produced thanks to the advancement of novel materials and technologies. For instance, aramid fibers are being manufactured with greater heat resistance, whereas carbon fibers are being generated with greater durability and stiffness. These technical developments are expanding the market for specialty fibers globally and creating new uses for them.
Governments all across the globe are assisting in the development of advanced materials, including specialty fibers, by providing financing for R&D initiatives as well as tax breaks and manufacturing subsidies. The market for specialty fibers is expanding as a result of these measures, which are promoting investment and innovation.
As people become more conscious of environmental problems like pollution and climate change, the need for environmentally friendly products that can lower waste and carbon emissions rises. This need, which is fueling the expansion of the worldwide specialty fibres market, is being met by specialty fibers including biodegradable fibers and recycled fibers.
Specialty fibres are strong and durable materials that may be utilised to make buildings and components lighter without compromising their structural integrity. This is crucial for the aviation and automobile industries, where reducing weight can have a major impact on both performance and fuel economy.
Finally, several factors including increased demand in emerging markets, a growing need for products from industries that use these fibers, technological progress, new governmental initiatives, environmental concerns, rising requirements of lighter fiber materials, and higher consumption of reinforced composites are driving significant growth on the global specialty fibers market. The global market for specialty fibers is projected to increase over the next few years, allowing producers, importers, and investors to take advantage of this growth potential.
Report Scope of the Specialty Fibers Market:
| | |
| --- | --- |
| Report Coverage | Details |
| Market Demand in 2023 | 5.73 Million Tonnes |
| Market Demand by 2032 | 10.55 Million Tonnes |
| Growth Rate from 2023 to 2032 | CAGR of 7.02% |
| Largest Market | North America |
| Fastest Growing Market | Asia-Pacific |
| Base Year | 2022 |
| Forecast Period | 2023 to 2032 |
| Segments Covered | By Product and By Application |
| Regions Covered | North America, Europe, Asia-Pacific, Latin America and Middle East & Africa |

Key Market Drivers:
The growing demand for high-performance fibers in a wide range of industries: Special fibers are used in the air, defence and medical sectors as well as consumer goods. The specialty fibres market is being stimulated by an increase in demand for highly effective fibers with special performance characteristics that include strength, durability and resistance to harsh weather conditions.
For instance, a significant factor influencing the use of special fibers in air transport has been the need to be lighter and stronger materials capable of coping with high temperatures and pressures. Likewise, specialty fibers offer a range of properties such as biocompatibility and chemical strength to the healthcare sector for applications such as implants, drug delivery or tissue engineering. As these sectors are constantly expanding and developing, demand for high-performance fibers is expected to increase leading to growth on the specialty fiber market.
Key Market Challenges:
Huge manufacturing costs
One of the main challenges in the market for specialty fibers is that it costs more to produce them. In order to manufacture specialty fibers, special equipment and techniques are needed which can cost a substantial amount of money to set up and operate. Furthermore, it may be costly to obtain the materials needed for the production of specialty fibers.
In the production of carbon fibers expensive raw materials, e.g. polyacrylonitrile PAN or pitch, may also be applied to this effect and can lead to increased manufacturing costs. These higher costs may restrict the use of specialised fibres in certain applications, which could be a deterrent to their attraction as replacements for more common materials. Therefore, in order to reduce costs and make speciality fibres available more widely, manufacturers within this industry need to constantly develop and improve their production processes.
Key Market Opportunities:
Demand for sustainable and environmentally friendly materials increases in many sectors
As the world population continues to grow, as environmental concerns become more pressing, there is an increasing demand for sustainable and eco-friendly materials across a wide range of sectors. The ability of specialty fibers to be manufactured from renewable sources and they also tend to be biodegradable make them a valuable asset for this purpose. For instance, natural fibers such as bamboo and hemp can be used to produce specialty fibers that offer excellent strength and durability while being eco-friendly. In addition to natural fibers, there is also an opportunity to develop specialty fibers using recycled materials, which could help to reduce waste and promote circular economy practices. As demand for sustainable materials continues to increase, the specialty fibers market is likely to experience significant growth.
Segments Insight:
Product Insights:
From 2023 to 2032, the Polybenzimidazole (PBI) fibers market is anticipated to grow at an astonishingly rapid compound annual growth rate (CAGR) of more than 14%. This is primarily due to the exceptional properties that this product offers, including a high glass transition temperature, the absence of a melting point, and an extremely high heat deflection temperature. Firefighter uniforms and safety gloves are only a couple of the heat- and safety-related apparel items made from PBI fibres that have greatly aided the expansion of this market area. PBI fibres are frequently combined with other high-performance fibres, such as Kevlar, for a variety of applications. On the contrary side, the second-largest market category in 2021 was Carbon Fiber (CF), which accounted for more than 22% of the worldwide market revenue. This is because the aerospace sector uses CF in a variety of products, including airplanes, rockets, satellites, and missiles. The demand for CF is also anticipated to rise due to the growing usage of Carbon Fiber Reinforced Composites (CFRCs) in aviation components due to its lightweight and stiffness characteristics.
Application Insights:
The aerospace and defense application segment demonstrated remarkable performance in the market, accounting for over 44% share of the global revenue in 2022. This market segment is projected to exhibit a stable compound annual growth rate (CAGR) from 2023 until 2032, owing to the industry's inclination towards the lightweight materials with the aim to improve the cost-efficiency and the environmental performance of the aircraft.
During the course of the projected period, market growth is anticipated to be driven by rising automotive sector demand for carbon fiber. The demand for fuel-efficient automobiles has increased due to the rise in gasoline prices. Nowadays, a sizable proportion of automobiles still use traditional fuel technology, which increases demand for fuel-efficient automobiles. Due to the growing usage of fiber-reinforced synthetic structures in the sector to buck the trend of weight reduction, the automotive application segment is anticipated to record a significant CAGR over the course of the projection period. The substantial decrease in curb weight significantly increases fuel economy and lowers vehicle emissions.
Regional Insights:
North America is one of the major markets for specialty fibers due to the presence of several key players and the increasing demand for high-performance fibers in various end-use industries such as aerospace and defense, automotive, and healthcare. The United States dominates the North American market, with Canada being a significant contributor to the region's growth.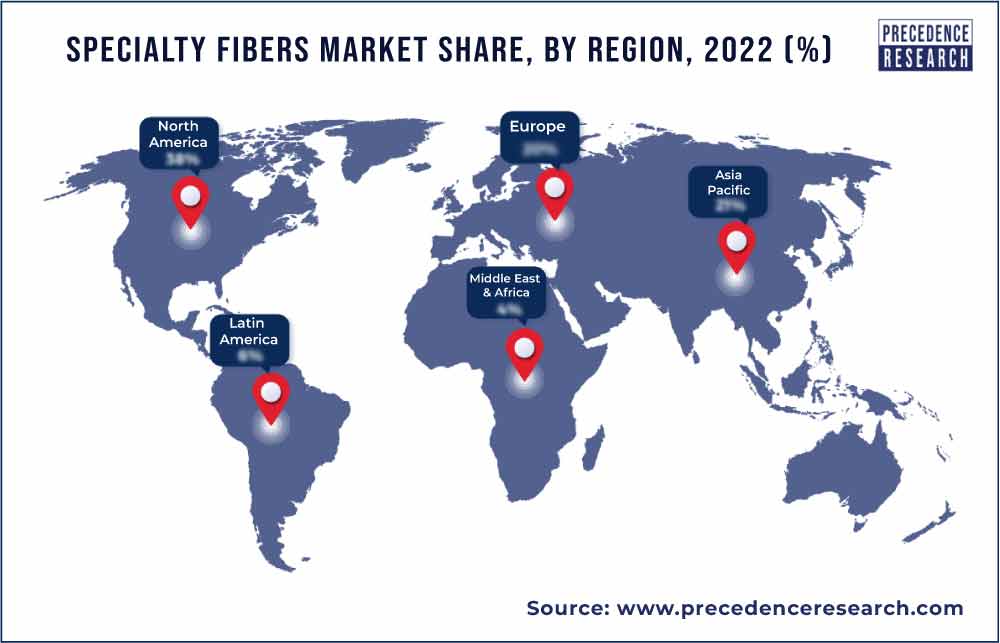 Europe is another significant market for specialty fibers due to the region's increasing focus on sustainable and lightweight materials in various applications such as transportation, construction, and energy. Countries like Germany, France, and the United Kingdom are major contributors to the region's growth.
The Asia Pacific region is expected to witness the fastest growth in the specialty fibers market, owing to the rising demand for high-performance fibers in countries like China, India, Japan, and South Korea. The region's increasing population, urbanization, and industrialization are the key factors driving the demand for specialty fibers in various end-use industries.
Recent Developments:
Teijin Frontier Co. Ltd., in March 2021, undertook a merger with its subsidiary, Teijin Modern Yarn Co. Ltd., and Shinwa Limited, to establish a new entity called Teijin Frontier Knitting Co. The new company is set to engage in the development, production, sale, and processing of cables while also focusing on creating next-generation materials for circular knitting patterns. The circular knitting patterns will incorporate special threads derived from the combined technological expertise of the two predecessor companies.
Key Market Players:
DuPont de Nemours, Inc.
Teijin Limited
Mitsubishi Chemical Holdings Corporation
Kolon Industries, Inc.
Toyobo Co., Ltd.
Honeywell International Inc.
Kermel SAS
Toray Industries, Inc.
Bally Ribbon Mills
SGL Carbon SE
W. L. Gore & Associates, Inc.
Zoltek Companies Inc.
Cytec Solvay Group
Owens Corning
DowAksa Advanced Composites Holdings BV
Segments Covered in the Report:
(Note*: We offer report based on sub segments as well. Kindly, let us know if you are interested)
By Product
Carbon Fiber
Polybenzimidazole (PBI)
Aramid Fiber
M5/PIPD
Polybenzoxazole (PBO)
Glass Fiber
High Strength Polyethylene
Others
By Application
Electronics & Telecommunication
Textile
Aerospace & Defense
Construction & Building
Automotive
Sporting Goods
Others
By Geography
North America
Europe
Asia-Pacific
Latin America
Middle East and Africa