The global steam methane reforming market size was estimated at USD 750 million in 2022 and it is expected to hit around USD 1,299.39 million by 2032, growing at a CAGR of 5.7% during the forecast period 2023 to 2032.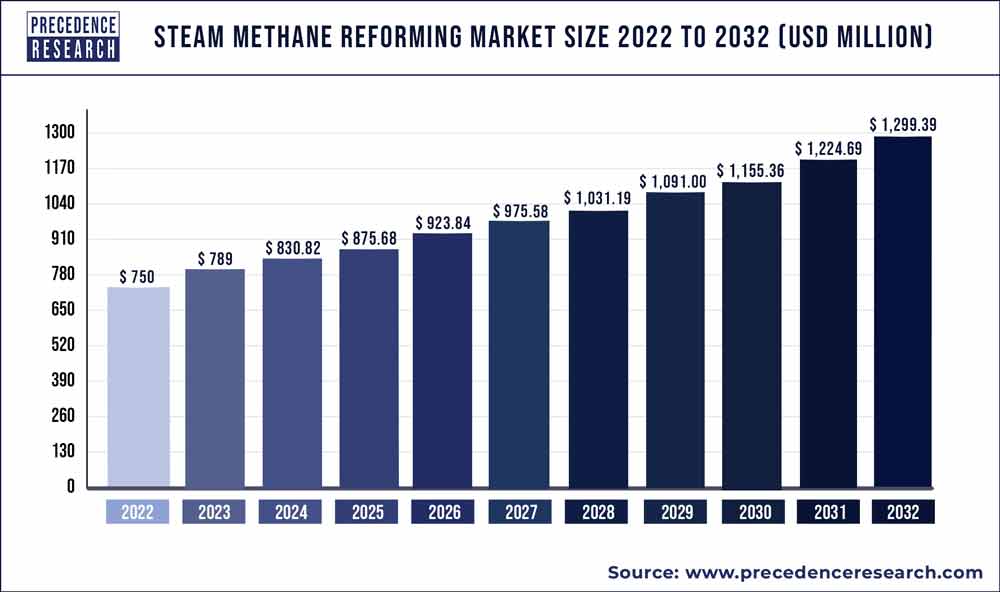 Access our Premium Real Time Data Intelligence Tool, Visit: Precedence Statistics
Key Takeaways
Asia Pacific contributed more than 35% of revenue share in 2022.
By Technology, the steam methane reforming segment is expected to dominate the steam methane reforming market.
By System, the merchant segment is expected to hold the dominating share of the market during the forecast period.
By Application, the methanol production segment is expected to dominate the steam methane reforming market.
Steam Methane Reforming Market in the Asia Pacific 2023-2032
The Asia Pacific steam methane reforming market size accounted for USD 262.5 million in 2022 and is estimated to reach around USD 446.25 million by 2032, growing at a CAGR of 5.5% from 2023 to 2032.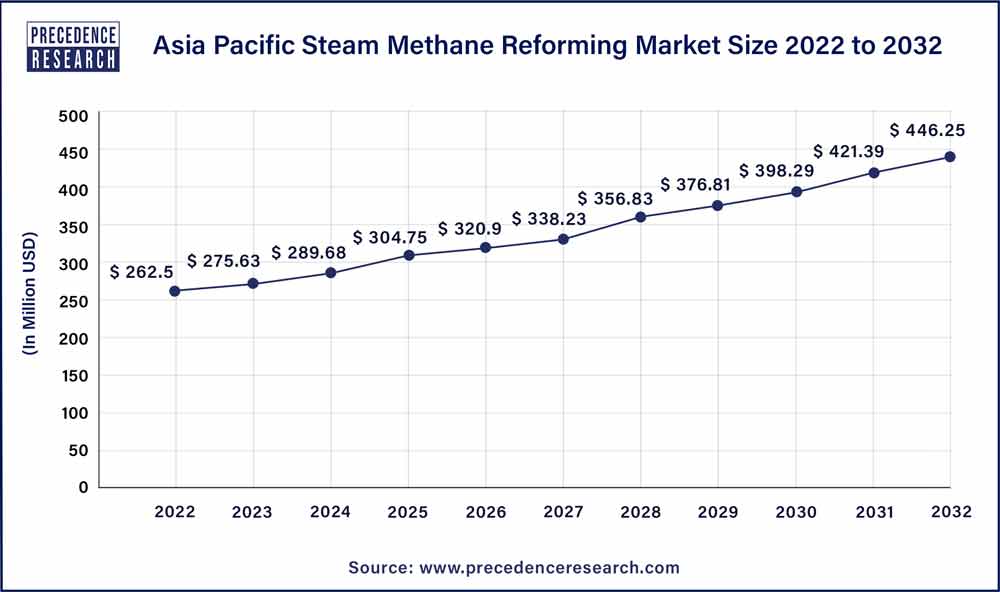 Asia Pacific carried the largest share in 2022, the region is expected to grow at a significant rate throughout the forecast period. Natural gas resources abound in the area, with significant deposits held by nations like China, and India acts as major contributor to the growth of the market in Asia Pacific. Natural gas is readily available, offering a solid base for advancing SMR technology. Asia-Pacific region has been at the vanguard regarding the worldwide movement toward a hydrogen-based economy. Given that it may be used in transportation, manufacturing, and power generation, hydrogen produced from steam methane reforming is crucial to this transformation. Many nations in Asia are eager to develop local hydrogen sources to cut their reliance on imports, gain a competitive edge in the global hydrogen market, and address the geopolitical significance of energy security. All these elements supplement the market's expansion in Asia Pacific.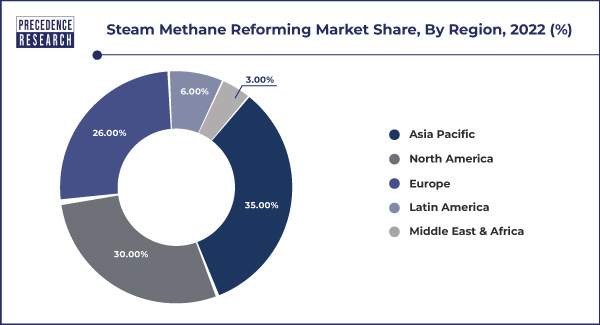 North America is steadily growing in the steam methane reforming market during the forecasted timeframe. Natural gas, the principal fuel for steam methane reforming, is abundant in North America. The region's plentiful natural gas supply gives SMR production a competitive edge. Significant investments have been made to build hydrogen production plants, including SMR ones. Funding initiatives about sustainable energy and hydrogen generation have attracted interest from the governmental and private sectors. The sustainability of hydrogen generation can be improved by combining SMR with renewable energy sources like solar and wind. Such integrated systems have been actively investigated and implemented in North America.
The move towards a low-carbon economy in the region is likely to depend heavily on hydrogen. It is employed in several sectors, including transportation, chemicals, and refining. With an emphasis on lowering carbon emissions and fulfilling sustainability objectives, North America has seen a rise in hydrogen consumption. Steam methane reforming technology advancements have improved the process's effectiveness and cost-efficiency. These upgrades have facilitated the expansion of SMR facilities in North America.
Steam Methane Reforming Market Overview
The steam methane reformer market revolves around resolving issues with storing and transporting hydrogen cylinders. Steam methane reforming (SMR) is the most popular and practical approach for producing hydrogen gas compared to all other known technologies. For the steam methane reforming industry to expand, a robust supply chain for hydrogen generation must be established, including infrastructure for transportation and distribution. Steam methane reforming hydrogen can also fuel power plants, particularly gas turbines and fuel cells. This application is becoming more popular, particularly in areas prioritizing renewable energy alternatives.
Growth Factors
A greater demand for low-carbon and renewable energy sources is being seen as the globe works toward decarbonization. SMR-produced hydrogen is regarded as a crucial component of this shift. SMR technology has advanced owing to ongoing research and development activities in hydrogen production.
These developments improve SMR's efficiency and lower associated costs, increasing its competitiveness. The creation of low-carbon or blue hydrogen is made possible by integrating carbon capture and storage technologies with SMR. This strategy promotes the steam methane reforming industry and is consistent with the carbon reduction objectives.
Green hydrogen can be created using steam methane reforming in combination with renewable energy sources such as solar or wind energy. This strategy, also referred to as power-to-gas, supports the expansion of SMR while stabilizing the intermittent character of renewable energy sources.
Numerous countries worldwide are putting policies and regulations in place to promote the use of hydrogen as a sustainable energy source, including targets, incentives, and subsidies for hydrogen generation, all of which positively impact the steam methane reforming market.
Steam Methane Reforming Market Scope
| | |
| --- | --- |
| Report Coverage | Details |
| Growth Rate from 2023 to 2032 | CAGR of 5.7% |
| Market Size in 2023 | USD 789 Million |
| Market Size by 2032 | USD 1,299.39 Million |
| Largest Market | North America |
| Base Year | 2022 |
| Forecast Period | 2023 to 2032 |
| Segments Covered | By Technology, By System, and By Application |
| Regions Covered | North America, Europe, Asia-Pacific, Latin America, and Middle East & Africa |

Market Dynamics
Driver
Expanding hydrogen generation industry
The demand for hydrogen has grown due to the worldwide movement towards decarbonization and the shift to a low-carbon economy. SMR is the central low-emission technology used to create hydrogen, a versatile and clean energy source. SMR can be used in many businesses because they already have well-established infrastructure and knowledge in managing natural gas. By converting to hydrogen production via SMR, proficiency in operating natural gas can be used to lower entry barriers for this technology. SMR has proven economically viable, especially in areas with significant natural gas deposits.
This method makes it possible to produce hydrogen cheaply, making it a desirable alternative for businesses and governments looking to invest in hydrogen as part of their clean energy initiatives. Governments worldwide are implementing rules and offering incentives to help the hydrogen economy thrive. This comprises monetary rewards, research funding, and legal frameworks that support the creation and application of SMR technology.
One of the most popular processes for producing hydrogen on an industrial scale is steam methane reforming. At high temperatures and pressures, methane and steam react to produce hydrogen and carbon dioxide. This method is well-known for its effectiveness and is easily expandable to handle the rising demand for hydrogen. The energy and environmental performance of SMRs are constantly being improved through ongoing research and development. The SMR market is expanding and becoming more competitive thanks to advancements in catalyst technology, reactor design, and process optimization.
Restraint
Complexities in decarbonization
Hydrogen, an essential component in numerous industrial processes, is produced using the widely utilized SMR technique. However, because CO2 is a byproduct, it is inherently carbon-intensive. Removing CO2 from SMR becomes a key constraint as worldwide worries about climate change and the need to minimize greenhouse gas emissions grow. Governments enact strict rules to reduce CO2 emissions and advance greener technologies globally. This directly impacts the SMR sector since businesses must reduce their emissions or switch to more environmentally friendly options.
Organizations are under increasing pressure to adopt cleaner practices as consumers and organizations prioritize sustainability more. This includes hydrogen synthesis, a vital part of numerous sustainable technologies, including fuel cells. The operating expenses of SMR facilities rise when carbon pricing mechanisms like carbon taxes or cap-and-trade programs are implemented. Due to the need to account for CO2 emissions and pay for their environmental impact, this puts additional financial strain on businesses that use SMR.
Natural gas, mainly composed of methane (CH4), is the fuel source for SMR. Methane is transformed throughout the process into hydrogen and carbon monoxide (CO), which releases CO2. This results in a significant carbon footprint, especially considering the extensive hydrogen production necessary for sectors including refining, chemicals, and ammonia manufacture.
Opportunity
Emergence of blue hydrogen
Steam methane reforming, which generates blue hydrogen, also collects and stores carbon dioxide emissions. This means that compared to conventional grey hydrogen, which is produced without carbon capture, the creation of blue hydrogen generates much fewer greenhouse gases. Blue hydrogen can be essential in the transition as the world advances towards a low-carbon economy. It serves as a bridge to a future with cleaner energy by replacing fossil fuels in several sectors, including transportation, electricity generation, and industrial activities. The technology of steam methane reforming is well-established and advanced. Because they can adjust their current processes, industries that already use natural gas as a feedstock can switch to blue hydrogen quite smoothly.
The infrastructure now in place for natural gas extraction, storage, and transport can be used to produce blue hydrogen. This reduces the need for significant new infrastructure investments, making it a more affordable choice for producers and consumers. The smaller carbon footprint of blue hydrogen can give enterprises looking to cut their emissions and adhere to regulatory standards a competitive edge in a market where carbon pricing and emissions trading systems are becoming increasingly important.
Technology Insights
The steam methane reforming segment is expected to be dominated in the steam methane reforming market during the predicted period. SMR begins with natural gas, mostly made up of methane (CH4). The usual source of this natural gas is fossil fuel deposits. Natural gas is desulfurized before entering the reformer to eliminate sulfur compounds, which can be bad for catalysts. With an extensive record of industrial uses, SMR is an established and mature technology, giving it a substantial edge in scalability, efficiency, and dependability.
Methane and steam (H2O) react at a high temperature within the reformer with the help of a catalyst. The reforming reactions must be accelerated by catalysts, which are commonly made of nickel. They aid in reducing the activation energy needed for the responses to take place, improving the effectiveness of the process. By capturing and storing the CO2 emissions generated during the reforming process, SMR can be combined with carbon capture and storage (CCS) technologies to produce low-carbon or blue hydrogen. SMR units are already present in many industrial sites, particularly those in the petrochemical and refining industries. Utilizing existing infrastructure eliminates the requirement for significant capital expenditures on new technology.
System Insights
The merchant segment is expected to hold the dominating position during the forecast period. It has made significant progress toward raising the productivity, sustainability, and efficiency of SMR processes. This can entail advancements in the design of reactors, the creation of catalysts, the integration of heat, or other methods. It would probably strongly emphasize environmental sustainability, including carbon capture and storage (CCS) technologies or looking into additional low-carbon energy sources for the reforming process.
It would also adhere to all pertinent safety, environmental, and quality standards and be accredited by trade associations or regulatory bodies, which could enhance its reputation and gain the trust of its clients. A dominant retailer would be skilled at adjusting their tactics and offers to correspond with shifting market conditions because they regularly monitor market trends, client wants, and technological improvements.
Application Insights
The methanol production segment is expected to dominate the global steam methane reforming market during the forecast period. Methanol is a chemical substance with a wide range of applications. It is used as a feedstock to make a variety of compounds, including acetic acid, formaldehyde, and olefins. Additionally, it plays a crucial role in producing fuels like dimethyl ether and biodiesel. This adaptability drives the demand for the manufacturing of methanol. Because it burns more cleanly than conventional hydrocarbons, methanol is a desirable fuel for achieving legal criteria and environmental objectives.
Methanol fits into this transformation as governments and businesses explore more fuel substitutes. The SMR procedure is well-known and has been improved and refined over many years. Due to the process's cost-effectiveness, dependability, and technological maturity, its market dominance is further cemented.
Natural gas is plentiful and available in many parts of the world, with methane serving as the primary feedstock for the manufacture of methanol by SMR, which guarantees a consistent and accessible raw material supply for methanol synthesis. The infrastructure for extracting, moving, and processing natural gas is well-established worldwide. This indicates that the tools and knowledge required to support industrial-scale SMR methanol synthesis are available.
Recent Developments
In September 2022, the outcomes of a field test of the non-combustion balance Steam/CO2 Reforming SR2 unit, developed by the renewable fuels company Raven SR Inc., showed that it could produce transportation-grade hydrogen from methane faster than other commercially available methods. Steam Methane Reformation (SMR), which has a typical first-pass conversion efficiency of about 75-80%, is used to manufacture almost 95% of the hydrogen utilized throughout the United States.
In April 2022, according to a conventional hydrogen production plant, Wood's revolutionary steam methane reforming (SMR) technology can reduce CO2 emissions by 95%. With over half of all greenhouse gas emissions coming from inefficient energy, heat, and industrial operations, the technique tries to reduce these inefficiencies. Wood thinks that lowering the carbon footprint of hydrogen production is the key to lowering these emissions, fostering a more sustainable future, and meeting rising energy demand.
Steam Methane Reforming Market Players
CALORIC
Air Products and Chemicals, Inc.
Linde plc
Plug Power Inc.
Air Liquide
Topsoe
Messer
Segments Covered in the Report:
(Note*: We offer reports based on sub-segments as well. Kindly, let us know if you are interested)
By Technology
Coal gasification
CALORIC
Air Products and Chemicals, Inc.
Linde plc
Plug Power Inc.
Air Liquide
Topsoe
Messer
Steam methane reforming
By System
By Application
Methanol production
Ammonia production
Petroleum refinery
By Geography
North America
Europe
Asia-Pacific
Latin America
Middle East and Africa