The global AR/VR chip market size was valued at USD 3.74 billion in 2022 and it is projected to hit around USD 34.28 billion by 2032, poised to grow at a compound annual growth rate (CAGR) of 24.79% over the forecast period from 2023 to 2032.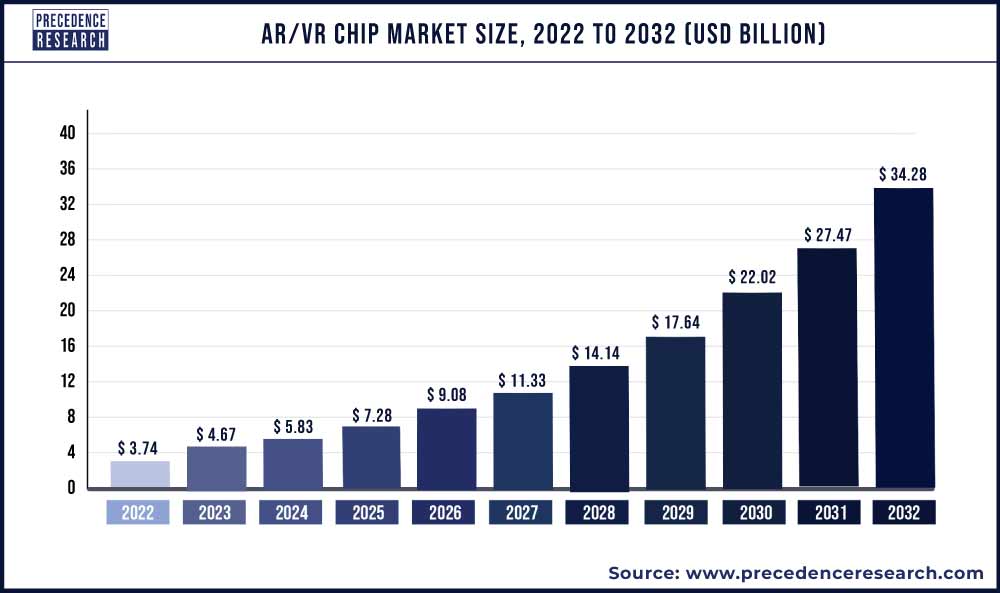 Key Takeaways:
Asia Pacific region dominated the global market in 2022.
By Chip Type, the processor ICs segment generated the largest revenue share in 2022.
By Device Type, the head-up display segment captured the highest revenue share in 2022.
By End User, the entertainment & media segment recorded the biggest revenue share in 2022.
Specialized microprocessors known as AR/VR chips have been developed for the explicit purpose of handling the intricate and demanding processing requirements inherent in augmented reality (AR) and virtual reality (VR) applications. The core function of these chips is to facilitate the rendering of highly realistic 3D environments and provide a low-latency performance level that is indispensable in ensuring an immersive and seamless user experience.
It is noteworthy that AR and VR technologies both entail unique modes of operation. While AR involves the superimposition of digital content into the real world, VR creates an entirely digital environment. In either case, the processing requirements are highly demanding and necessitate a high level of processing power and low latency in order to create an environment that is both realistic and immersive. The AR/VR chips are thus specifically designed to meet these highly specialized and unique demands.
The significance of AR/VR chips cannot be overstated as they form an integral component of AR/VR technology, ensuring that the requisite processing power and low latency are available to create an immersive and seamless user experience. In light of the increasing adoption of AR and VR technology across various industries, the demand for these highly specialized chips is anticipated to continue growing in the foreseeable future.
Growth Factors:
Augmented reality (AR) is a technology that utilizes an existing user's environment by superimposing digital or virtual content over it. The development of AR applications is achieved through the use of specialized 3D programs, which facilitate the integration of contextual or digital content with the real world. Conversely, virtual reality (VR) is a computer-generated, three-dimensional (3D) environment that immerses users in an artificial world, with no visual connection to the real world. This report outlines the revenue generated from the sale of augmented reality and virtual reality enabled hardware and content.
The gaming industry's rising need for AR/VR chips, the advantages of augmented and simulated reality-based solutions in terms of cost-effectiveness, and the rapid uptake of AR/VR technology in many different applications are the main factors driving the development of AR/VR chip market. However, the slow rate of adoption of augmented and virtual reality technology and inadequate investments in research and development serve as constraints to the market's growth.
Technological advancement and the introduction of the industry-specific solution provides lucrative opportunities for further growth of the AR/VR chip market. AR technology facilitates the accurate overlapping of computer-generated data or imagery over physical objects in real time, enhancing the user's perception and providing them with useful information to perform these tasks in a real world. The key components of the AR system are sensors, displays and embedded electronics. It is extensively used in the areas such as the employee training and video conferencing.
VR technology, on the other hand, provides users with a virtual environment using computer hardware and software. It also creates a fully immersive atmosphere where users can relate to objects that resemble those in the real world. The components of VR technology include a gesture detection system, sensors, and embedded electronics.
Augmented and the virtual reality offer cost-effective and most efficient solutions for training and the skill development, replicating real-life scenarios through the use of augmented and the virtual reality-enabled solutions. For example, in civil aviation or military applications, training a pilot using an actual aircraft is costly and potentially dangerous.
In other words, virtual and augmented reality tools provide a digital world that resembles the real one, allowing learners to comprehend and approach problems via tactical mapping. Mentoring medical staff on real patients is immoral and risky in the field of healthcare. As a result, technologies based on virtual and augmented reality offer useful tools for teaching medical personnel without jeopardizing and endangering people's lives.
Report Scope of the AR/VR Chip Market:
| | |
| --- | --- |
| Report Coverage | Details |
| Market Size in 2023 | USD 4.67 Billion |
| Market Size by 2032 | USD 34.28 Billion |
| Growth Rate from 2023 to 2032 | CAGR of 24.79% |
| Largest Market | Asia Pacific |
| Base Year | 2022 |
| Forecast Period | 2023 to 2032 |
| Segments Covered | By Chip Type, By Device Type, and By End User |
| Regions Covered | North America, Europe, Asia-Pacific, Latin America and Middle East & Africa |

Key Market Drivers:
Growing demand in the gaming industry
The requirement for AR/VR processors has increased with the popularity of immersive gaming since these chips are essential for generating real 3D worlds and offering minimal latency performance for a smooth user experience. The market for AR/VR chips has been significantly fueled in part by the gaming sector, and it is anticipated that this trend will continue.
Low-cost benefits
Solutions based on virtual and augmented reality provide affordable and effective options for education and training. Employee training in a variety of industries, including healthcare, the armed forces, and aviation, is made simpler and cheaper by simulating real-world events with AR/VR-enabled systems. With the use of AR/VR technology, instructors may create a virtual setting that is analogous to the actual world so that students can comprehend and approach problems strategically.
Growing adoption in various applications
In a number of sectors, including industry, education, and health care, and entertainment, AR/VR technology adoption is becoming more and more necessary. Because they offer the computational power and low latency necessary for a flawless and immersive experience, AR/VR processors are crucial parts of this type of technology. The need for specialized chips is anticipated to increase as AR and VR are increasingly used in a variety of sectors.
Key Market Challenges:
Resistance to adopting AR/VR technology
In spite of the advantages of AR/VR technology, some sectors of the economy and consumers are reluctant to accept it for a variety of reasons, including a lack of understanding, worries about the expense of execution, and the requirement for specialized gear. The market for AR/VR chips has significant challenges as a result of this reluctance to the adoption process, which restricts the possible user base for VR and AR applications and consequently lowers demand.
Lack of investments in R&D
The paucity of capital in R&D is another major issue facing AR/VR chip business. Corporations must invest in R&D to stay ahead of the competition and create cutting-edge AR/VR chip solutions because of how quickly technology is developing. However, certain businesses' lack of R&D spending may impede the creation of cutting-edge AR/VR chip innovations and restrict the market's potential for expansion.
Key Market Opportunities:
Rising demand for the AR/VR in various applications
A number of sectors, including gaming, education, health care, and the automobile industry, are adopting AR/VR technology. The market for AR/VR chips is presented with substantial potential as a result of the rising need for the specialized software and hardware needed for sustaining these applications.
Technological advancement
Rapid technical development and the development of new, creative solutions characterize the AR/VR chip industry. This offers businesses the chance to spend money on R&D and create innovative AR/VR chip solutions that have greater efficiency, use less power, and have other advantages. Businesses are well-positioned to prosper if they can provide innovative options that address the changing demands of the market.
Industry-specific solutions
Industry-specific solutions are becoming more and more necessary as AR/VR technology is being used by more and more sectors of the economy. Businesses that can provide AR/VR chip systems specialized to particular sectors and use cases, like education, healthcare, or retail, may carve out a market niche and set themselves apart from rivals. Companies may access new markets and increase their client base by creating tailored solutions that cater to the specific requirements of various sectors.
Segments Insight:
Chip Type Insights:
AR/VR chip market is segmented based on the type of chip, which includes processor ICs, User Interface ICs, and Power Management IC. In 2022, the Processor ICs segment captured the highest share of revenue in the AR/VR chip market. A processor, which is a type of logic circuitry present on an integrated circuit, performs the analysis of data and instructions within a computer system. Essentially, a processor is responsible for receiving and processing data and instructions according to predefined algorithms, and then producing an output that is either utilized to control the computer or device or to accomplish a specific task.
Device Type Insights:
Categorized by Device Type, the AR/VR Chip Market is bifurcated into several segments, namely Head Mounted Display, Gesture Tracking devices, Projector & Display Wall, Head-up Display, and Handheld Devices. Among these segments, the head up display category exhibited a promising revenue share in the AR/VR chip market during 2022. A head-up display, which is also commonly known as heads-up display or HUD, is a transparent display that presents information or data to the user without the need for them to alter their natural viewing angles.
End User Insights:
AR/VR Chip Market is categorized by End-user, and is subdivided into Gaming, Entertainment & Media, Aerospace & Defense, Healthcare, and Others. In the AR/VR chip market in 2022, the entertainment & media segment demonstrated a notable revenue share. The integration of AR has been effectively utilized in PR and marketing campaigns for motion pictures, broadcasts, and other media promotional campaigns intended for entertainment purposes. Generally, these campaigns have included printed graphics or object recognition, where computer or smartphone software identifies a specific sign. AR technology is expected to continue to play a crucial role in the entertainment and media sector, due to the engaging and immersive user experience it offers, which can significantly enhance audience engagement and customer loyalty.
Regional Insights: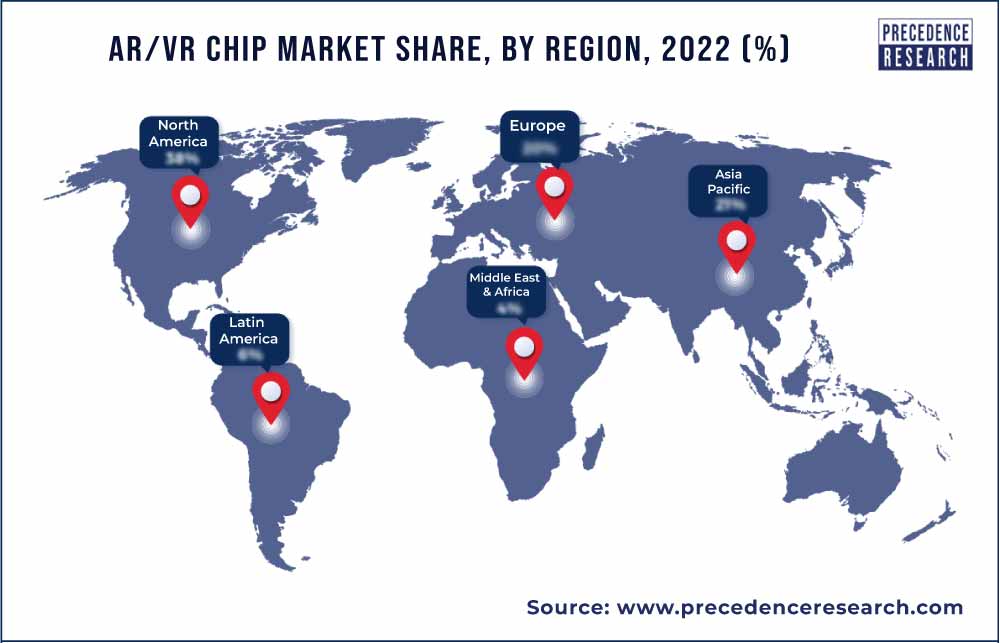 Having been analyzed across North America, Europe, Asia Pacific, and LAMEA, the AR/VR Chip Market has seen the largest revenue share in the Asia Pacific region in 2022. This region's significance is due to its focus on utilizing virtual reality technology for training, medical support, and online learning for consumers. Furthermore, it is noteworthy that countries such as India are on the verge of incorporating new technologies into various industries, indicating that the Asia Pacific region is likely to experience a faster development rate in the virtual reality market over the projection period.
Recent Developments:
In November 2021, a company named Qualcomm Technologies Inc., which operates in the United States and specializes in the development and manufacturing of mobile devices, semiconductors, mobile devices, networking products, Wi-Fi equipment, small cells, wireless power, and augmented reality technologies, introduced a state-of-the-art head-worn Augmented Reality (AR) developer kit known as the Snapdragon SpacesTM XR Developer Platform, which features proven technology. This developer kit incorporates a powerful machine perception technology that has been specifically engineered for the upcoming generation of AR glasses, and has been optimized to provide both exceptional performance and energy efficiency. Furthermore, it possesses the ability to detect users, intelligently interact with them, adapt to their indoor environments, and provide advanced positional tracking and hand tracking features.
Key Market Players:
Qualcomm Technologies, Inc.
NVIDIA Corporation
Intel Corporation
Samsung Electronics Co. Ltd.
Google LLC
Advanced Micro Devices, Inc.
Texas Instruments Incorporated
ARM Holdings plc
Imagination Technologies Limited
MediaTek Inc.
Broadcom Inc.
Magic Leap, Inc.
Oculus VR, LLC
Unity Technologies
Marxent Labs, LLC
Segments Covered in the Report:
(Note*: We offer report based on sub segments as well. Kindly, let us know if you are interested)
By Chip Type
Processor ICs
User Interface ICs
Power Management IC
By Device Type
Head Mounted Display
Gesture Tracking Device
Projector & Display Wall
Head Up Display
Handheld Device
By End User
Gaming
Entertainment & Media
Aerospace & Defense
Healthcare
Others
By Geography
North America
Europe
Asia-Pacific
Latin America
Middle East and Africa