The global automotive foam market size was valued at USD 31.45 billion in 2022 and is expected to hit around USD 70.26 billion by 2032, poised to grow at a CAGR of 8.37% during the forecast period from 2023 to 2032.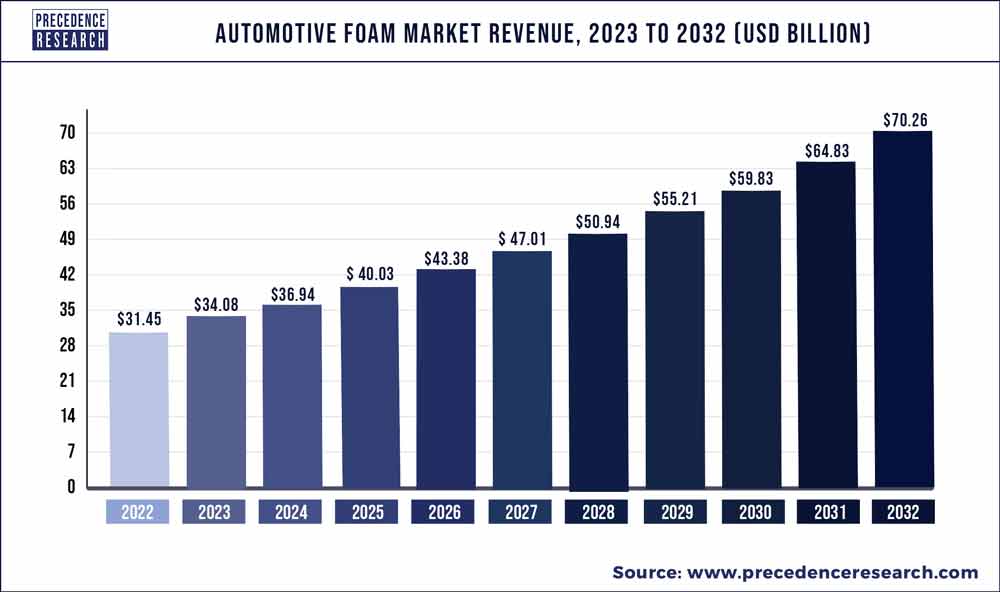 Key Takeaways:
Asia Pacific dominated the global market and generated more than 39% of the revenue share in 2022.
By Type, the polyurethane (PU) foam segment is predicted to record the largest market share between 2023 and 2032.
By Application, the seating segment is expected to generate the maximum market share between 2023 and 2032.
By End-Use, passenger cars contributed the highest market share in 2022.
Market Overview:
Any kind of foam material utilized in the automotive sector is referred to as automotive foam. Many forms of foam materials are utilized in automobiles for a variety of functions, such as insulation, cushioning, and soundproofing.
Polyurethane foam, a typical type of automobile foam, is utilized in seats, headliners, and door panels to support and comfort passengers. Acoustic foam is another form of foam used in automobiles to lessen noise and vibration from the engine, the road, and the wind.
Foam materials are also employed in the production of automobile components like dashboards and bumpers. Foam is a handy material for the automobile sector since it can be moulded into a variety of forms and sizes.
Foam materials are utilised in cars to provide comfort, reduce noise, and also contribute to safety. For instance, foam materials are utilized in the design of crumple zones to absorb the impact of crashes and in airbags to offer cushioning during collisions.
Growth Factors:
The expansion of the global auto sector is predicted to drive the market. The advent of reasonably priced automobiles, the flourishing e-commerce business, and the growing use of mobility & logistics service providers like Uber, Lyft, and ANI Technologies Private Limited have all contributed to the industry's good outlook on a worldwide scale (Ola).
The U.S. government's intentions to switch to all-electric transportation by 2030 and the rising demand for electric vehicles have both made significant contributions to the country's automobile industry's expansion. This may increase demand for automotive foams, resulting in a favorable environment for market growth throughout the course of the forecast period.
Automobile makers have also created seats that offer the necessary comfort due to consumer concerns about comfort. The comfort factor has a big impact on the consumer's decision to buy. Back pain concerns can arise both temporarily and permanently as a result of uncomfortable seating. Automotive foams support the tailbone and aid in relieving stress brought on by extended periods of sitting during lengthy trips.
Report Scope of the Automotive Foam Market:
| | |
| --- | --- |
| Report Coverage | Details |
| Market Size in 2023 | USD 34.08 Billion |
| Market Size by 2032 | USD 70.26 Billion |
| Growth Rate from 2023 to 2032 | CAGR of 8.37% |
| Largest Market | Asia Pacific |
| Base Year | 2022 |
| Forecast Period | 2023 to 2032 |
| Segments Covered | By Type, By Application, and By End-Use |
| Regions Covered | North America, Europe, Asia-Pacific, Latin America and Middle East & Africa |

Market Dynamics:
Driver:
Increasing demand for electric vehicles (EVs)
Concerns about global warming and efforts to achieve net-zero emissions are driving the transition of the entire world to emissions-free mobility. These EV car transitions help the economy by bringing down fuel prices and rerouting consumer spending to more locally-made electric cars. These factors increased the need for automobile foam, which provides the highest level of comfort, security, and safety for passengers while driving. In addition, a variety of models, improved technology, eco-friendliness, lower maintenance costs, rising customer awareness, and the availability of subsidies and tax breaks are some of the key elements fueling the demand for electric vehicles, which will accelerate the growth of the automotive foam market in the years to come.
For instance, customers spent USD 250 billion on electric vehicle purchases in 2021, a 65% increase from 2021, according to recent surveys. Additionally, the market for electric vehicles has continued to grow rapidly in 2022, with 2 million vehicles sold in the first quarter, a 75% increase from the same period in 2021.
Restraint:
Volatility in raw material prices
The price volatility of raw materials is one of the major challenges facing the automobile foam market. In order to produce automotive foam, raw ingredients including polyurethane, polyethylene, and polypropylene are essential. Yet, due to supply and demand, geopolitical unrest, and weather-related occurrences, their prices are susceptible to market changes. Manufacturers may find it difficult to maintain constant pricing as a result of the volatility in raw material costs, which may have an effect on their profitability and restrict their ability to grow or make investments in new technologies.
Furthermore, environmental issues may have an impact on raw material prices. For instance, the price of polyurethane, a petroleum-based raw material used in the creation of vehicle foam, has increased as a result of the recent rise in oil prices caused by the extreme cold in Texas. This kind of abrupt price increase can cause serious supply chain disruptions, which might affect businesses' capacity to deliver goods to customers.
Manufacturing companies must implement efficient supply chain management techniques to lessen the effects of raw material price fluctuation. To lessen reliance on conventional petroleum-based raw materials, this can involve establishing alternative raw material sources, creating alternate raw material sources, and investigating more sustainable materials.
Opportunity:
Light weighting
The topic of lightweighting is one of the biggest potential for the automobile foam market. Lightweighting is the process of lowering a vehicle's weight to increase fuel economy and lower pollutants. Automakers may create more fuel-efficient automobiles that adhere to stricter environmental rules by adopting lightweight materials. As governments throughout the world impose stricter emissions rules in an effort to tackle climate change, this is especially crucial.
Foam is the perfect material for lightweighting since it is both light and robust. Many automobile applications, such as seating, insulation, and soundproofing, can make use of it. Foam, for instance, can be used in place of heavier materials, such as metal and plastic, in seat cushions and backrests, allowing the vehicle to be lighter without compromising comfort or safety. Foam can be used to insulate a car's interior instead of bulky insulation materials, which can make the car heavier.
Moreover, lightweight composites that can be applied in a number of automotive applications can be made using foam. To generate a strong and lightweight material, these composites are made by mixing foam with other lightweight elements like carbon fibre or fibreglass. To reduce weight and boost performance, these composites can be employed in the body panels, chassis parts, and other parts of the vehicle.
Impact of COVID-19:
The worldwide automobile foam market has been significantly impacted by the COVID-19 pandemic. The pandemic has resulted in employment losses and decreased consumer expenditure, which has led to a decline in demand for cars and, consequently, for automotive foam. Supply chains for raw materials and production inputs for the automobile foam sector were also disrupted by COVID-19. Production was delayed as a result, which had an impact on the supply of automobile foam products.
The pandemic also led to a focus shift in the automotive sector towards health and safety. As a result, there was a surge in demand for foam materials with superior insulation, noise reduction, and antibacterial qualities.
Segments Insight:
Type Insights:
According to revenue, polyurethane (PU) foam held the maximum market share for automotive foams globally in 2022. Demand for PU foam is anticipated to be impacted by the growing use of foam-based components for automotive parts and vehicle interiors. It is one of the most crucial materials used in the manufacture of automobiles because of its superior mechanical strength capabilities, capacity to reduce weight, resistance to wear, and resistance to the elements. Many car pieces, such as seats, armrests and headrests, door panels, bumpers, and other sections, employ PU foam. PU foams increase fuel efficiency by lowering the vehicle's overall weight.
Polyolefin foam had a sizable market share and is anticipated to rise steadily over the coming years. The four foam types that makeup polyolefins are polyethylene (PE), polypropylene (PP), ethylene vinyl acetate (EVA), and ethylene propylene diene monomer (EPDM). Regulation agencies have established mandatory standards relating to improving the fuel efficiency of automobiles, forcing businesses to engage in R&D to implement novel modifications in vehicle design and achieve improved engine efficiency.
Application Insights:
In terms of revenue, seating led the application segment and held the maximum market share in 2022. Due to expanding disposable income and purchasing power, there would be an impact on market growth from the rising automotive manufacturing globally. Vibrations near the human spine are transmitted by the moving cars. Chairs have low natural frequencies and can amplify some vibration effects that are transmitted over long distances and can injure the spine. Foam is used in car seats to support the back and tailbone. As a result, the driver of the car can travel for greater distances while sitting for long periods of time.
The market for automotive foam in door panels has a sizable proportion, and it is anticipated to rise steadily over the next years. The demand for noise control solutions in cars has been significantly impacted by rising vehicle demand in emerging economies due to rising disposable incomes, rapid urbanization, and changing lifestyles. Additionally, it is predicted that during the projection period, demand for the automotive foams in the door panels would increase due to the expanding market for replacement vehicle parts and the rising number of post-purchase customizations carried out by customers.
End-Use Insights:
The end-use segment's sub-segment for passenger cars had the biggest market share in 2022. Manufacturers have been compelled to innovate and create new technologies as a result of the rising demand for low-emission automobiles. Throughout the forecast period, these trends are anticipated to fuel automotive manufacturing and have an impact on the market. The demand for all sorts of passenger cars is anticipated to increase due to the expanding working population in nations like China and India. Also, the selling of antique cars is on the rise in nations like the United States. During the forecast period, this increase in demand is anticipated to fuel the expansion of the automotive foam.
During the course of the projected period, light commercial vehicles (LCVs) are anticipated to experience significant increase. Compact vehicles that are made to last, LCVs are used for intra-city mobility. They feature minimal running expenses and strong, fuel-efficient engines. The growth of LCV manufacturing is anticipated to be a major factor in the end-use segment of the automotive foam market.
Regional Insights:
In terms of revenue, Asia Pacific dominated the worldwide automotive foams market in 2022, holding maximum share of the market. The region's vehicle market is anticipated to benefit from an increase in consumer buying power, an increase in demand for personal mobility, and cost-effective models released by automakers.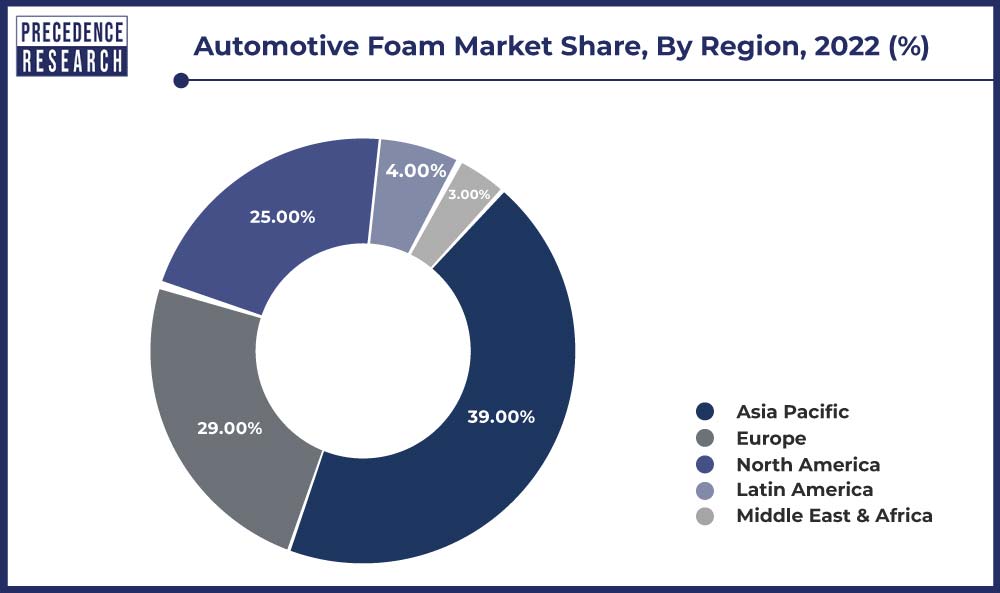 According to production output and yearly sales, China is regarded as the world's largest market for automobiles. The International Trade Administration's research indicates that by 2025, domestic production will have increased to 35 million automobiles. COVID- According to the Chinese Association of Automotive Manufacturers, a 19 spread in China in March 2022 has led to a decreased projection for the 2022 vehicle sales target.
In 2022, Europe accounted for a sizable portion of the market. This proportion can be attributable to Germany's and UK's expanding vehicle markets. The number of automobiles being used in the UK has been steadily increasing. Because of the nation's consistent economic growth, the number has risen throughout time. Throughout the forecast period, demand for the product is anticipated to be impacted by the presence of significant automakers in the area, who are steadily expanding their manufacturing capacity.
Recent Developments:
In May 2022, Elastoflex CE 3651/108 a water-blown polyurethane insulation spray foam was developed by King Long United Automobile (SuZhou) Co., Ltd., a significant bus manufacturer in China, in collaboration with BASF SE.
In October 2021, Huntsman unveiled a new line of low-emission MDI-based foam products for use in automotive interior components.
In November 2019, Evonik Industries announced the construction of a Rohacell (polymethacrylimide) foam production facility at its Albama factory in the US.
Key Market Players:
Armacell
BASF SE
Woodbridge
Dow
DuPont
Recticel NV
Borealis AG
Johnson Controls
Bridgestone Corporation
Saint Gobain
Segments Covered in the Report:
(Note*: We offer report based on sub segments as well. Kindly, let us know if you are interested)
By Type
Polyurethane (PU) Foam
Polyolefin (PO) Foam
Others
By Application
Interior

Seating
Instrument Panels
Headliners
Door Panels &Water Shields
Seals, Gaskets & NVH
Others

Exterior
By End-Use
Passenger Cars
Light Commercial Vehicles (LCV)
Heavy Commercial Vehicles (HCV)
By Geography
North America
Europe
Asia-Pacific
Latin America
Middle East and Africa