The global cardiovascular digital solutions market size was reached at USD 110.26 billion in 2022 and it is expected to hit around USD 183.23 billion by 2032, expanding at a CAGR of 5.21% during the forecast period from 2023 to 2032.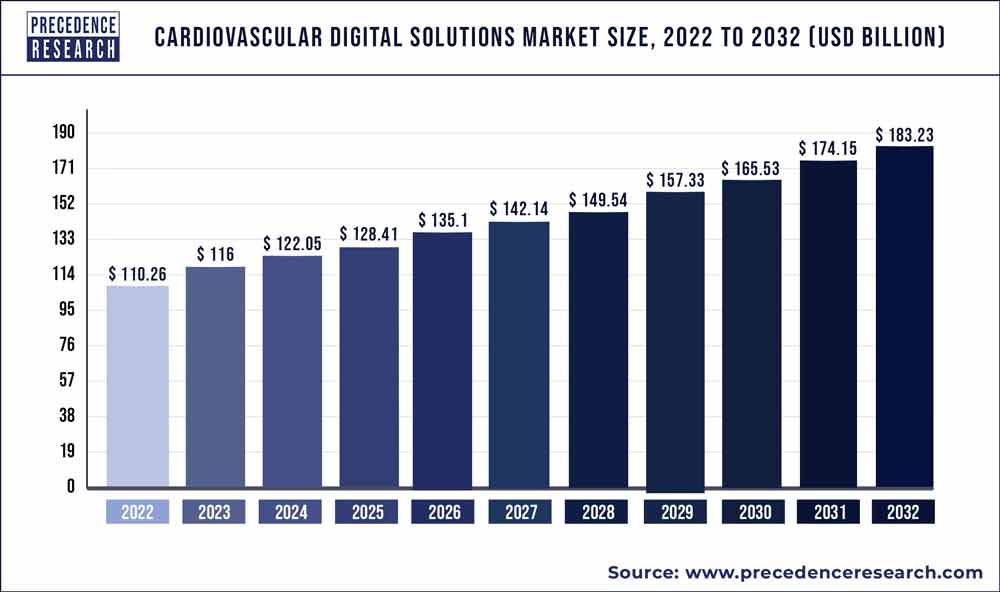 Access our Premium Real Time Data Intelligence Tool, Visit: Precedence Statistics
Key Takeaways:
North America contributed more than 41% of revenue share in 2022.
By end-use, the hospitals and clinics segment captured over 51% of the revenue share in 2022.
By service type, the unobtrusive testing segment dominated the market with the highest market share of 41% in 2022, the segment will continue to grow at a significant rate during the forecast period.
By component, the devices segment dominated the market with the largest market share of 75% in 2022, the region is expected to maintain its dominance throughout the forecast period.
By deployment, the cloud-based segment generated more than 52% of revenue share in 2022.
Market Overview:
The global cardiovascular digital solutions market offers digitized and advanced healthcare solutions that are aimed to enhance the management and treatment of cardiovascular diseases by leveraging digital technologies. The adoption of digital solutions for cardiovascular care is on the rise in emerging economies, driven by increasing awareness, rising healthcare expenditure and improvements in healthcare infrastructure.
The integration of cardiovascular digital solutions aims to enhance patient outcomes, optimize healthcare processes and offer more personalized solutions, especially for heart-related conditions. These technologies can help monitor patients' vital signs, track their physical activity, collect health data and enable healthcare professionals to remotely assess and intervene when necessary.
Growth Factors:
Digital technology is constantly evolving, allowing for the creation of increasingly complex and effective cardiovascular solutions. Large datasets provide improved analysis and patient-specific treatment strategies. The emergence of wearable technology is also promoting the growth of the market. Wearable technology allows for real-time health monitoring, enabling regular monitoring of cardiovascular health. Complex cardiovascular data can be analyzed by AI-powered algorithms, facilitating early identification and individualized therapy suggestions. Thus, the penetration and integration of AI and other advanced technologies are observed to act as a growth factor for the market.
Report Scope of the Cardiovascular Digital Solutions Market:
| | |
| --- | --- |
| Report Coverage | Details |
| Market Size in 2023 | USD 116 Billion |
| Market Size by 2032 | USD 183.23 Billion |
| Growth Rate from 2023 to 2032 | CAGR of 5.21% |
| Largest Market | North America |
| Base Year | 2022 |
| Forecast Period | 2023 To 2032 |
| Segments Covered | By Service Type, By Components, By Deployment, and By End-Use |
| Regions Covered | North America, Europe, Asia-Pacific, Latin America, and Middle East & Africa |

Drivers:
Rising incidence of cardiovascular disease (CVD)
Digital solutions are in high demand due to the rising frequency of cardiovascular diseases worldwide and their need for efficient diagnosis, monitoring, and management. The increasing prevalence of cardiovascular illnesses significantly fuels the market for cardiovascular digital solutions. Demand for creative and effective digital solutions that may help prevent, diagnose, and manage cardiovascular diseases is rising as the number of people with these problems rises. Mobile apps, wearable technology, remote monitoring systems, telemedicine services, and algorithms based on artificial intelligence are some of the options that can help healthcare providers deliver individualized treatment and enhance patient outcomes. As healthcare professionals and individuals look for more convenient and affordable solutions to manage cardiovascular health, the usage of these technologies is anticipated to increase.
Data-driven healthcare
To acquire knowledge about patient health trends and enable individualized care and treatment strategies for people with cardiovascular diseases, healthcare practitioners are embracing data analytics. Healthcare providers can learn important information about the trends in the individual patient's health and the patterns in the population's health by interpreting and analyzing data from digital health records, wearables, and other medical devices. More individualized treatments, early identification of cardiovascular risks, and forecasting to stop cardiac events are all made possible by this data-driven methodology. Because of cardiovascular treatment's improved efficiency and effectiveness, there is an increasing market need for cutting-edge digital solutions.
Restraint:
Inequities in offering solutions
Digital technologies may need to be widely adopted to reach everyone equally, escalating health inequities. Due to poor internet connectivity, a lack of understanding, or challenges with pricing, people from marginalized or underprivileged groups may have difficulty obtaining digital health solutions, including cardiovascular apps or remote monitoring equipment. Such inequities create a major restraint for the market's expansion. Addressing health disparities is essential to guarantee that these digital solutions serve and benefit every person, irrespective of their economic background, and eventually improve cardiovascular health results for the larger population.
Opportunity:
Rising requirement for remote patient monitoring
With the help of digital technology, healthcare professionals can remotely monitor individuals who have cardiovascular disorders, allowing for the quick identification of problems and the implementation of effective interventions. Healthcare practitioners can track changes and take immediate action by remotely monitoring patients' vital parameters such as heart rate, blood pressure, and oxygen levels in real-time. Healthcare practitioners can provide more individualized/ personalized and effective solutions or treatment plans by using the data gathered through remote patient monitoring systems to study patient trends and therapeutic responses. As the demand for remote patient monitoring systems increases, the factor is expected to open a set of opportunities for the cardiovascular digital solutions market.
Segments Insight:
Service Type Insights:
The unobtrusive testing segment held the largest share of the market in 2022, the segment will continue to grow at a significant rate during the forecast period. An unobtrusive testing implies an approach of service or testing that does not disrupt the normal behavior of functioning of the system being tested. The system can effectively collect physiological signals such as blood pressure, blood glucose and heart rate. The unobtrusive testing is observed to be one of the most less-invasive methods, thus promotes the segment's growth.
The CVD health informatics segment is expected to register the fastest rate of growth in the market during the forecast period. These technologies help healthcare professionals gather and understand large amounts of data drawn toward more personalized and efficient patient care. Further, AI-driven solutions and machine learning algorithms are being created to assist in CVD detection, risk prediction, and treatment optimization. This technological advancement will support the segment's growth.
Components Insights:
The devices segment is expected to hold the dominant position in the market throughout the forecast period. These devices allowed patients to monitor their vital signs, such as heart rate, blood pressure, and activity levels, in real-time and share the data with healthcare professionals for remote monitoring and management of cardiovascular conditions. Wearable fitness trackers and smartwatches with heart rate monitoring capabilities had become increasingly popular among consumers for general health monitoring and exercise tracking.
On the other hand, the software segment is expected to grow at a significant rate during the forecast period, the presence of latest software updates and advancements in the same for cardiac monitoring and testing promote the segment's growth.
Deployment Insights:
The cloud-based segment is observed to dominate the market during the forecast period. The healthcare industry must develop efficient ways to improve resources and reduce spending within budgetary restrictions. Furthermore, the adoption of cloud-based solutions has increased as it has emerged as a substitute for the conventional strategy where corporations must buy and own all the technology. Cloud-based deployment for the healthcare industry offer multiple accessible and convenient solutions to monitor and manage the patient's health-related data. Moreover, computing devices connected with cloud-based solutions are often known for offering accurate medical information to patients. The rising demand for home-care settings, especially for the geriatric population will promote the segment's growth.
End-Use Insights:
The hospitals & clinics segment is expected hold the largest share of the market during the forecast period. Hospitals and clinics collaborate with digital health startups specializing in cardiovascular solutions to access innovative technologies and to stay at the forefront of digital healthcare advancement. Hospitals are even more focused on adopting advanced healthcare informatics solutions to stimulate administrative processes, optimize patient flow, and enhance the overall efficiency of cardiovascular care. This element is observed to boost the adoption of digital solutions in the hospitals while supplementing the segment's growth.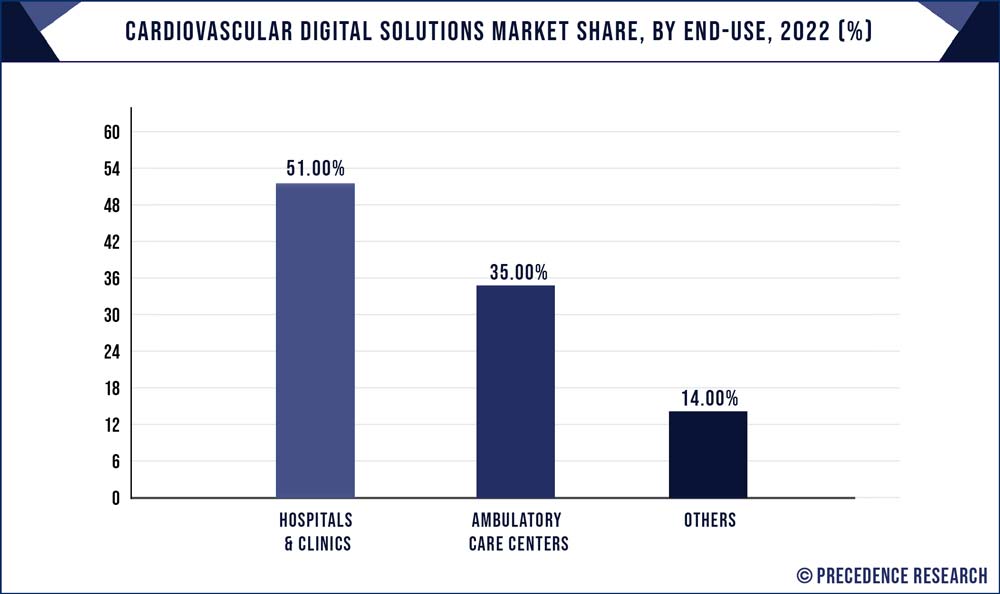 The ambulatory care centers segment is expected to be the fastest-growing segment in the cardiovascular digital solutions market throughout the forecast period. Ambulatory care centers often show a positive approach towards digitized transformation while focusing on patient-centric services. Such centers often offer outpatient services for cardiac patients. Ambulatory care centers require digital solution platforms to monitor patients with implanted devices such as pacemakers or patches. Moreover, the potential of advanced ambulatory care centers to invest in extensive technologies for digitized solutions promotes the segment's growth.
Regional Insights:
North America has its largest revenue share in 2022 and is expected to sustain its dominance throughout the forecast period. The well-established healthcare infrastructure, better management systems for diagnosis of cardiovascular disease and rapid adoption of advanced healthcare solutions have supported the market's growth in North America. The population in North America has shown an active participation in adopting wearable devices for health management along with telemedicine platforms. These systems improve patient outcomes and general community health by enabling early intervention. Moreover, the presence of multiple smartphone-based apps for the health monitoring purposes in the region promotes the market's growth. Along with this, an enormous demand for home-care settings for patients highlights the adoption of cardiovascular digital solutions in the region.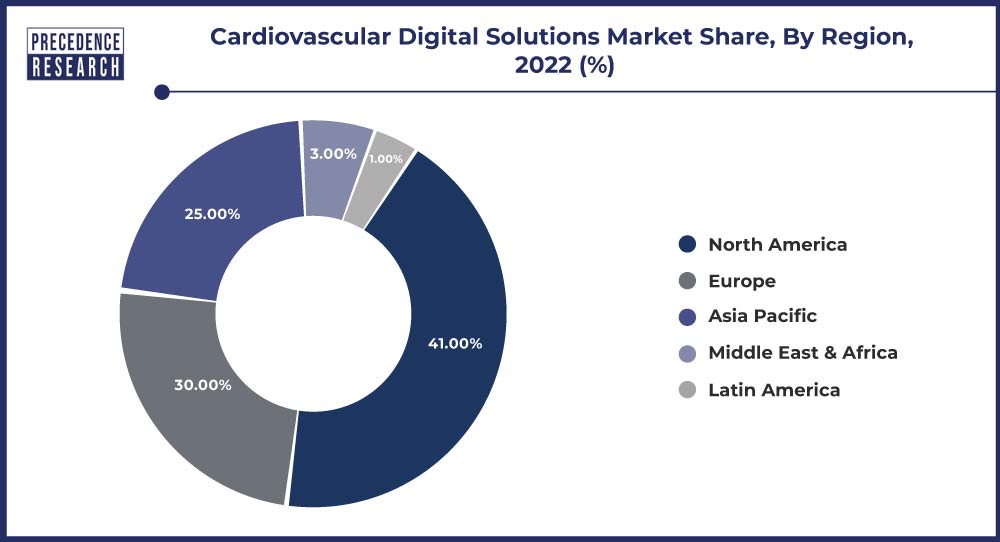 Asia Pacific is expected to expand at a robust pace in the cardiovascular digital solutions market during the forecasted timeframe. To create and execute cardiovascular digital solutions, numerous businesses and healthcare providers are working together and gaining funding, these elements promote the market's expansion. The ongoing development of telemedicine, wearable technology, and remote patient monitoring has created new potential for more effective management of cardiovascular problems in the region. Due to factors such as a large geriatric population, sedentary lifestyles, and shifting dietary practices, the region is experiencing an increasing burden of cardiovascular diseases, which boosted the need for creative solutions for dealing with these health concerns. Certain Asia Pacific governments and healthcare authorities are encouraging the adoption of digital health solutions to improve patient outcomes, lower costs, and improve healthcare services. All these factors supplement the market's development in the region.
Recent Developments:
In November 2022, Viz.ai announced the launch of a full cardiology suite to expedite and enhance patient access to cutting-edge cardiovascular treatments. Viz Cardio Suite, unveiled at the American Heart Association (AHA) Scientific Sessions, uses AI-powered disease identification, workflow optimization, and care team collaboration to deliver cardiovascular treatment more effectively.
In April 2022, a brand-new mobile app upgrade for users of cardiac devices has been released, according to BIOTRONIK, to facilitate communication with medical professionals and enhance patient involvement in their treatment. Patients can use the Patient App with any supported BIOTRONIK CRM device. Clinicians can use the app to decide whether they want patients to use it to record their symptoms. Additionally, it monitors changes in heart rate, the battery life of the device, and the most recent data transmission from the implant to BIOTRONIK's home monitoring service facility. The last component is an electronic patient identification card that can be used to pass through airport security checks.
In March 2022, in the American College of Cardiology's Annual Scientific Session & Expo, Royal Philips announced the introduction of Ultrasound Workspace. A leading the way in vendor-neutral echocardiography image evaluation and presentation tool with remote browser access is Philips Ultrasound Workspace. From the ultrasound exam area to the report room and beyond, clinicians may now take advantage of integrated diagnostic workflows wherever echocardiogram data has to be examined and evaluated.
Key Market Players:
iRythm Technologies, Inc.
Apple Inc.
GENERAL ELECTRIC COMPANY
Uber Diagnostics
AlivCor, Inc.
Verily Life Sciences LLC
HeartFlow, Inc.
Bardy Diagnostics, Inc.
Bio Telemetry, Inc.
Koninkelijke Philips N.V.
eviCore healthcare
Segments Covered in the Report:
(Note*: We offer reports based on sub segments as well. Kindly, let us know if you are interested)
By Service Type
Unobtrusive Testing
CVD Health Informatics
Cardiac Rehab Programs
Others
By Components
By Deployment
By End-Use
Hospitals & Clinics
Ambulatory Care Centers
Others
By Geography
North America
Europe
Asia-Pacific
Latin America
Middle East and Africa