The global cell dissociation market size was reached at USD 0.48 billion in 2022 and is expected to hit around USD 1.8 billion by 2032, poised to grow at a CAGR of 14.1% from 2023 to 2032.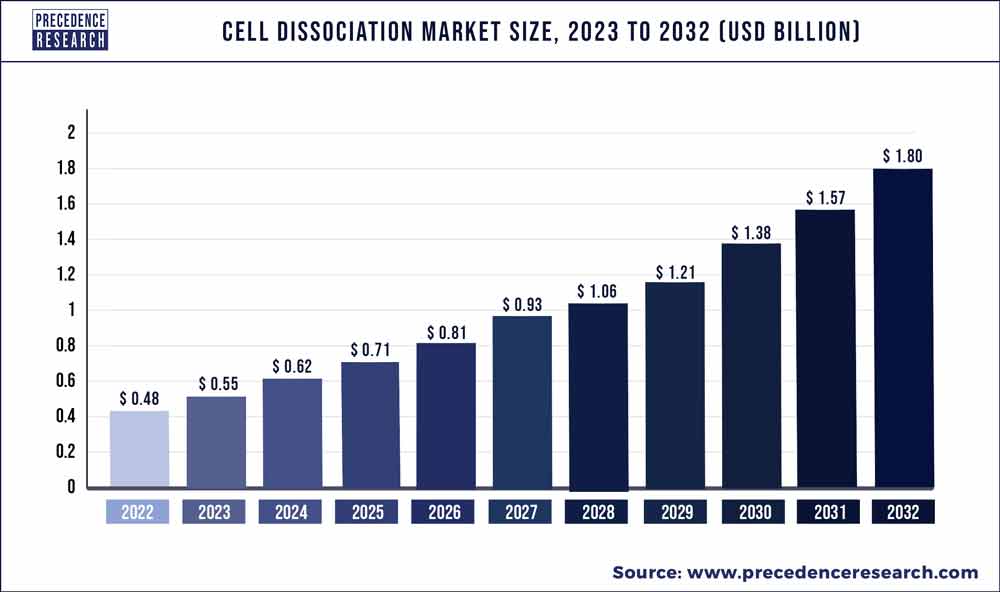 Access our Premium Real Time Data Intelligence Tool, Visit: Precedence Statistics
Key Takeaways:
North America generated more than 38% of the revenue share in 2022.
Asia-Pacific is considered the fastest-growing region in the forecast period.
By Product, the enzymatic dissociation segment had the largest share in the forecast period.
By Tissue, the connective tissue segment will record maximum growth throughout the estimated period.
By Dissociation, the tissue dissociation segment dominates with the highest CAGR during the projected period.
By End-user, the biotechnology and pharmaceutical companies' segment captured more than 72% of revenue share in 2022.
Market Overview:
The global cell dissociation key market players are involved in manufacturing different chemicals, equipment, research and distribution that supplement the growth of overall cell dissociation market. The cell dissociation market includes alternative procedures to enzyme-based dissociation solutions. The global market focuses on maximizing the production of functionally viable cells. This market includes three different methods of dissociation, i.e., mechanical dissociation, enzymatic dissociation, and chemical dissociation. Further, this market aims to grow with rising therapeutic applications.
Growth Factors:
The cell dissociation market is anticipated to grow during the forecast period. The increasing use of cell dissociation products in animal cell culture, the production of pharmaceutical drugs and its screening are fueling the cell dissociation market. In addition, the continuous rise in customized medicine across the globe is observed as another factor to boost the market's growth. Customized medicine is considered for almost every disorder and drug discovery therefore it is a source for growing research and development.
For instance, at American Association for Cancer Research 2023 annual meeting in April 2023, it was declared by Function Oncology about the power of CRISPR-based personalized functional genomics to address patient-specific cancer and its drugs.
Report Scope of the Cell Dissociation Market:
| | |
| --- | --- |
| Report Coverage | Details |
| Market Size in 2023 | USD 0.55 Billion |
| Market Size by 2032 | USD 1.8 Billion |
| Growth Rate from 2023 to 2032 | CAGR of 14.1% |
| Largest Market | North America |
| Fastest Growing Market | Asia-Pacific |
| Base Year | 2022 |
| Forecast Period | 2023 to 2032 |
| Segments Covered | By Product Type, By Tissue, By Dissociation, and By End-User |
| Regions Covered | North America, Europe, Asia-Pacific, Latin America and Middle East & Africa |

Market Dynamics:
Drivers:
Development in drug screening practices
The advancements and developments in drug screening practices are observed to act as a driver for the market's growth. Cell dissociation plays a vital role in drug screening and development to test the cytotoxicity of a novel medication. The pharmaceutical and biotechnology sector relies on these cell-based assays for investigations and action. Even to determine the efficacy and safety of an unknown drug dose, also used to test new drugs.
Drug screening is done to understand the advantage and disadvantages of the drugs. For instance, a new way of testing medicines was introduced during the COVID-19 pandemic, i.e., fingerprint-based drug test, which is reliable, hygienic, and requires no prior preparation. It was even seen that fingerprint-based drug tests would replace ongoing tests like hair, urine test, etc.
Moreover, according to the World Drug Report 2021, it is seen that around 275 million people used drugs whereas 36 million suffered from disorders as per the United Nations Office on Drugs and Crime. The rising demand for advanced drugs are expected to propel the drug screening activities in upcoming years, this support the overall growth of cell dissociation market.
Restraint:
Lack of skilled labor and instrumentation
Cell culture experiments require aseptic conditions, expensive instruments, and skilled labor. Moreover, there is a minimal number of dissociated cells, eventually making very few experiments. The latest research information, accurate and detailed market study about a particular laboratory technique and instruments, and introduction to the new ideas are the skills needed to perform an experiment. The scarcity of skilled labor hampers the market growth. For instance, in neuronal cell culture, handling such cell line requires an expert in this field to avoid contamination and damage to cell line as the neuronal cell line responds to different physiological conditions linked to neurotransmitters.
Opportunities:
Rise in replacement of tissue or organ
Cell dissociation has enormous applications in pharmaceuticals and biotechnology sectors, which include genetic engineering, genetically engineered protein, drug screening, development, etc., propelling the growth of the cell dissociation market. Regeneration of organs and tissues can be achieved by using animal cell culture. Patients with ulcers and burns can benefit from creating skin using the replacement method.
However, research is being conducted on synthetic organ cultures, including the kidney, pancreas, and liver. Several ways are used in developing embryonic and adult stem cells, and numerous organs and cells can develop from these cells. Enormous medical disorders can be treated by managing the formation and differentiation of these cells. Thus, the rising requirements for replacement surgeries, especially for tissues and organs are observed to offer a plethora of opportunities to the market's growth.
Segments Insight:
Product Type Insights:
Enzymatic dissociation dominated the global cell dissociation market
Enzymatic dissociation helps in the single cell's exposure by releasing cells from the tissue, by increasing viability rates and maximizing cell dissociation. It is essential to increase the surface area of the tissue as much as possible by mincing the tissue with pieces of equipment like a scalpel which increased surface area and gives the tissue enriched exposure to the enzyme while minimizing the time required for digestion.
Non-enzymatic dissociation is the steadily expanding segment throughout the projection period
The absence of enzyme dissociation helps to preserve the structural and functional importance of surface proteins. It is beneficiary to fight against the cytotoxic effects linked with chelating agents. Rise in the usage of animal-based elements in most of the products in biopharmaceutical industries. Thereby, there is a demand to raise non-enzymatic products for cell culture that will drive segment growth.
Tissue Insights:
Connective tissue accounted for the largest share of the cell dissociation market
Elastin is an extracellular matrix protein in the elastic fibers of connective tissues. Elastase, a serine protease, is required as the tissue dissociation enzyme (TDE) for cell separation in tissues with extensive intercellular fiber networks, such as lung and kidney tissue. The segment is growing because of increasing research on connective tissue.
For instance, the lifetime prevalence of groin hernias in females is about 3-6%, whereas, in males, it prevails at around 27-43%. There is a connective tissue disorder that inclines to hernias called lathyrism, which is treated by repairing weak connective tissues.
Dissociation Insights:
Tissue dissociation dominated the cell dissociation market worldwide
During tissue injury, inflammatory chemical signs are released, hampering vasodilation, which worsens blood vessels. There is a need for tissue replacement which lately demands tissue dissociation to avoid the redness and heat increasing in the body. Increasing focus on research associated with cell culture drives the growth of tissue dissociation segment, as it is considered the most effective process to obtain the most viable cells during cell culture activity.
Cell detachment is the fastest increasing segment in the cell dissociation market
Cell detachment is quite smoother as compared to trypsinization, simply diluted with saline to detach from the vessels wall. Oxygen mediated stress can cause cells to round up and detach from their substrates.
End-User Insights:
Biotechnology companies & pharmaceutical companies are the dominant end-user segment of the cell dissociation market. The increase in genetically engineered protein, cancer research, gene therapy, production of vaccines, and monoclonal antibodies drive the biotechnology and pharmaceutical companies' segment throughout the forecast period. These industries provide the safety and efficacy of new drugs. As the demand for research and development is growing, there is a rise in the cell dissociation market.
For instance, In September 2022, Thermo Fisher unveiled the Orbitrap Ascend TriBrid at the International Mass Spectrometry Conference hailing in Maastricht, Netherlands, which is intended for proteomic and biopharma applications.
Academic institutes & research institutes is the fastest growing segment throughout the forecast period
The significant focus on research and development activities fuels the market to expand. Moreover, the rising demand for personalized medicine, which requires the manufacturing of smaller batches of drugs, has increased demand for the cell dissociation market
Regional Insights:
North America dominated the global cell dissociation market
The escalating enormous research institutes and organizations and the presence of key players in North America, especially in pharmaceuticals and biotechnology along with government support, is expanding the cell dissociation market. The growing investment in therapeutic areas for better conduct and the ongoing technological advancements in personalized medicine in the United States and Canada are expected to grow the market.
For instance, In April 2023, Turnstone Biologics Corp announced two abstracts accepted for poster presentations at the American Association for Cancer Research annual meeting held in Orlando, Florida. The displays include preclinical data for TIDAL-01, assessed in two-phase trials, i.e., 1b in tumor-reactive T cell selection strategy.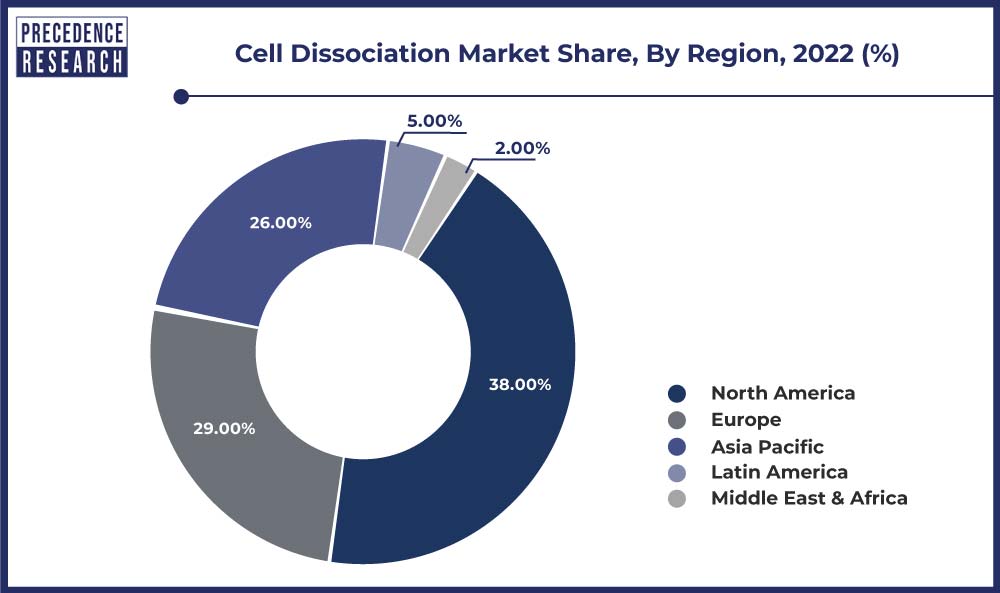 The Asia-Pacific is the fastest growing region during the forecast period
This is due to the increasing number of clinical organizations, increased demand for healthcare facilities, and growing demand for biopharmaceutical products in the region. Improved economic conditions, and increased infrastructure expansion in contract research organizations and research institutes, bolster market growth. Most biopharmaceutical companies fuel the market growth.
Recent Developments:
In March 2023, the breakthrough electron capture dissociation (ECD) technology known as the ExD cell, a small apparatus for mass spectrometers that enables biological researchers to generate biotherapeutic compounds more swiftly to treat disease, was acquired by Agilent Technologies Inc. This is accomplished by more thoroughly and accurately breaking the chemical bonds of complex biomolecules, allowing for extracting more thorough, exact, and detailed structural information from them.
In December 2022, to allow vaccination recipients to receive a certificate of immunization, Bharat Biotech asked the federal government to put their intranasal COVID-19 vaccine, iNCOVACC, in the COWIN portal.
In March 2022, LevitasBio Inc. announced the launch of their LeviPrep™ and LeviSelect™ product lines. Developed to work with the LeviCell™ system, these solutions streamline the processing of human and mouse tissue and cell samples used in advanced biological research.
Key Market Players:
Miltenyi Biotec
STEMCELL Technologies
PAN-Biotech
Danaher Corp.
Sartorius AG
BD
HiMedia Laboratories
Merck KGaA
Thermo Fisher Scientific
S2 Genomics, Inc.
F. Hoffmann-La Roche Ltd.
Segments Covered in the Report:
(Note*: We offer report based on sub segments as well. Kindly, let us know if you are interested)
By Product Type
Enzymatic Dissociation

Trypsin
Hyaluronidase
Elastase
Papain
Collagenase
DNase
Others

Non-enzymatic dissociation
Instruments & Accessories
By Tissue
Epithelial Tissue
Connective Tissue
By Dissociation
Cell Detachment
Tissue Dissociation
By End-User
Academic Institutes & Research Institutes
Biotechnology Companies & Pharmaceutical Companies
By Geography
North America
Europe
Asia-Pacific
Latin America
Middle East and Africa