The global fetal bovine serum market size accounted for USD 1.57 billion in 2022 and is projected to hit around USD 6.11 billion by 2032, growing at a CAGR of 14.6% during the forecast period from 2023 to 2032.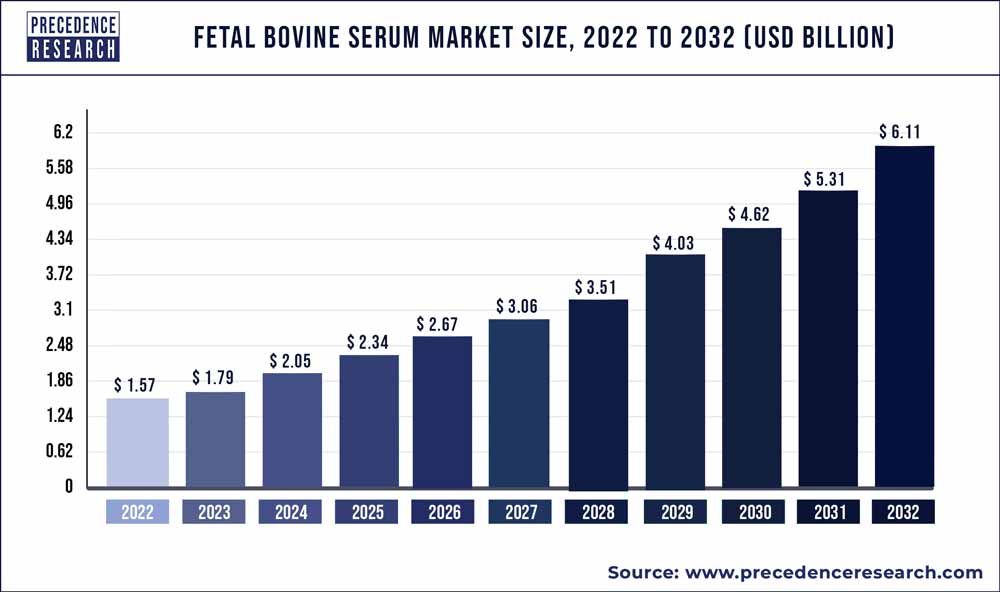 Access our Premium Real Time Data Intelligence Tool, Visit: Precedence Statistics
Key Takeaways:
North America dominated the market in 2022 and is anticipated to sustain its dominance throughout the forecast period.
The Asia- Pacific region is awaited to record a stable CAGR throughout the estimated period.
By Application, the vaccine production segment had the largest share during the projection period.
By Application, the drug discovery segment is assumed to grow a steady CAGR during the predicted period.
By End-User, the pharmaceuticals and biotechnology industries segment anticipated the dominating spot worldwide.
By End-User, the research labs segment is predicted to record a constant CAGR during the forecast period.
Market Overview:
Fetal bovine serum (FBS) is a nutrient-rich mixture derived from the fetal blood of bovine (cattle) fetuses during the processing of pregnant cows. It is a commonly used supplement in cell culture media to support the growth and survival of many types of cells, including primary cells, mammalian cells, and stem cells. FBS aids drug discovery, production, and development as it prevails in growth properties. It is used for cell attachment to buffer against disruptions such as endotoxins and pH changes. The addition of FBS in the freezing media prevents oxidative stress. Gene and cell therapies rely on many of the same manufacturing approaches, creating a looming possibility in the supply chain of raw materials as recombinant vaccine production. It provides hormones, proteins, vitamins, growth factors, limited antibodies, trace elements, attachment factors, and sheer force of protection.
Growth Factors:
Fetal bovine serum is compatible with a wide range of cell types and can support the growth of both adherent and suspension cultures. It is mainly helpful in cell development, multiplication, and survival. It is extensively utilized in the life science industry, mainly for conducting research. The rapid increase in culture media in developing countries, growth in vaccine production, and increasing product approvals by the regulatory authorities, for instance, Gennova Pharmaceutical's mRNA testing for the Omicron variant, is subjected to regulatory approvals.
Further, in-vitro cell culture in healthcare sectors and the rise in stem cell applications, for example, in treating cancer in the early stage, are responsible for the growth of the fetal bovine serum market. Several events, workshops, and annual meet are organized across the globe to spread awareness about the cell- culture-based vaccine.
The cell culture based vaccine is termed as the vaccine produced from a mammalian cell line rather than embryonic eggs due to their potential benefits in terms of safety, efficacy, and scalability, growing adoption of cell-based therapies, including stem cell therapy and gene therapy, which require fetal bovine serum for cell culture, propelling the market demand. Moreover, cell culture aims to diagnose prevailing infections, conduct research and discover and test new drugs. As the focus on animal cell-based vaccines increases, the demand for FBS also rises, and there is rapid in-vitro production. This factor assists as the trending opportunity for expanding the fetal bovine serum market.
Report Scope of the Fetal Bovine Serum Market:
| | |
| --- | --- |
| Report Coverage | Details |
| Market Size in 2023 | USD 1.79 Billion |
| Market Size by 2032 | USD 6.11 Billion |
| Growth Rate from 2023 to 2032 | CAGR of 14.6% |
| Largest Market | North America |
| Base Year | 2022 |
| Forecast Period | 2023 to 2032 |
| Segments Covered | By Application By End-User |
| Regions Covered | North America, Europe, Asia-Pacific, Latin America and Middle East & Africa |

Market Dynamics:
Drivers:
Increasing investments by market players in life science sector
Soaring research and development activities in the life science industry are determined as the driving factor for the fetal bovine serum market. Regenerative medicine, which involves repairing, replacing, or regenerating damaged tissues or organs, is an emerging field in the life science sector. Fetal bovine serum is commonly used in cell-based therapies and tissue engineering, critical areas of regenerative medicine research. As market players invest more in regenerative medicine research and clinical trials, the demand for FBS as a vital
component in these therapies also increases, driving the FBS market and raising venture capital investment, robust workforce, escalating growth of pharmaceutical industries, and government initiatives to bolster the research in life science.
Restraints:
Rise in FBS price while decrease in its production
Change in variation is a significant concern because of different economic factors but is majorly affected by unreliable sources. Firms need a fixed reference to keep varying prices as there is no regular supply. This leads to some cases of contamination of products where adult bovine serum is blended in to cut the expense. Due to the biochemical contrast that can emerge in FBS due to origin, breed, feed, etc., these variances could be better for scientists who rely entirely on consistency for results.
It has been acknowledged that cattle usage for FBS production has raised the price of FBS in the market. A higher number of cattle are being slaughtered for producing FBS, which according to PETA, has been considered a crime, and the manufacturers are imposed with huge fines, which reduces their production in the market. This price increase is attributed to the substantial surge in demand for FBS and decreased production.
Opportunities:
Rising demand for FBS due to the supply gap
FBS is widely available from commercial suppliers and is relatively inexpensive compared to other growth supplements. When the demand for FBS exceeds the available supply, it can lead to an increase in prices. This presents an opportunity for FBS producers and suppliers to capitalize on the price differential and generate higher revenues and profits. Producers may also invest in expanding their production capacity to meet the increased demand and take advantage of favorable market conditions.
The demand and supply gap can stimulate innovation and diversification in the FBS market. Producers may invest in research and development to develop alternative sources of FBS or explore other cell culture media and supplements that can serve as substitutes for FBS. This can create opportunities for new product development and differentiation, leading to a competitive advantage in the market.
Segments Insight:
Application Insights:
The vaccine production segment is the major revenue contributor and is projected to grow significantly; owing to the rising production of the novel vaccine, FBS provides a rich source of nutrients, hormones, and growth factors essential for cell growth and proliferation. FBS is a vital ingredient in the culture medium that aids in manufacturing vaccines. The introduction of proteomics, genetic engineering, and artificial intelligence in vaccine research propels fetal bovine serum market growth. For instance, according to an article published in AAMC, in March 2021, mRNA technology obliges the reorganization of future vaccines and treatments for infectious diseases and cancer. It can be used to build a diversity of vaccines and therapeutics and is more transient and cost-effective than conventional approaches.
The drug discovery segment is expected to register the fastest growth during the forecast period, owing to the discovery of novel drugs for oncology by using technological advancements such as next-generation proteomics and cell-free DNA for drug discovery and development. For instance, FDA accepted cell-based gene therapy to medicate subjects with Beta-thalassemia that require a regular blood transfusion in August 2022. Further, basic research application is anticipated to garner a significant industry share over the predicted period. Cell-based assays act as the core of life sciences research to better understanding of different cellular events in health and disorders.
End-User Insights:
The pharmaceuticals and biotechnology industries segment is the dominant segment in the fetal bovine serum market; the increase in populations across the world dealing with hypertension and diabetes has expanded the growth of a more significant number of pharmaceuticals and biotechnology industries that assign medications for the respective diseases making it to contribute for the highest revenue share in the fetal bovine serum leading to the maximum growth.
The research labs segment held the fastest growing part of the fetal bovine serum market; the growing demand for cell and gene-based research, mainly to oncology and neurodegenerative disorders such as Alzheimer's and Parkinson's disease, aid for the fastest growing segment in the fetal bovine serum market. For instance, the National Institute of Mental Health and Neurosciences (NIMHANS) provides research facilities such as neuro-oncology, cell culture, advanced flow cytometry, etc.
Regional Insights:
North America held the largest share of the fetal bovine serum market in 2022, the region is expected to maintain its dominance in the fetal bovine serum market during the predicted period. The presence of maximum leading vital players and a more significant number of private research labs and universities that conduct extensive research and development activities require fetal bovine serum as a crucial component in North America, influencing it to be the dominating region in the world. The United States has better funding facilities, well-established instrumentations, and skilled laborers. Also, it has strict regulations and standards for fetal bovine serum production, ensuring high quality and safety. This has led to the adoption of premium-priced serum products, propelling market growth worldwide.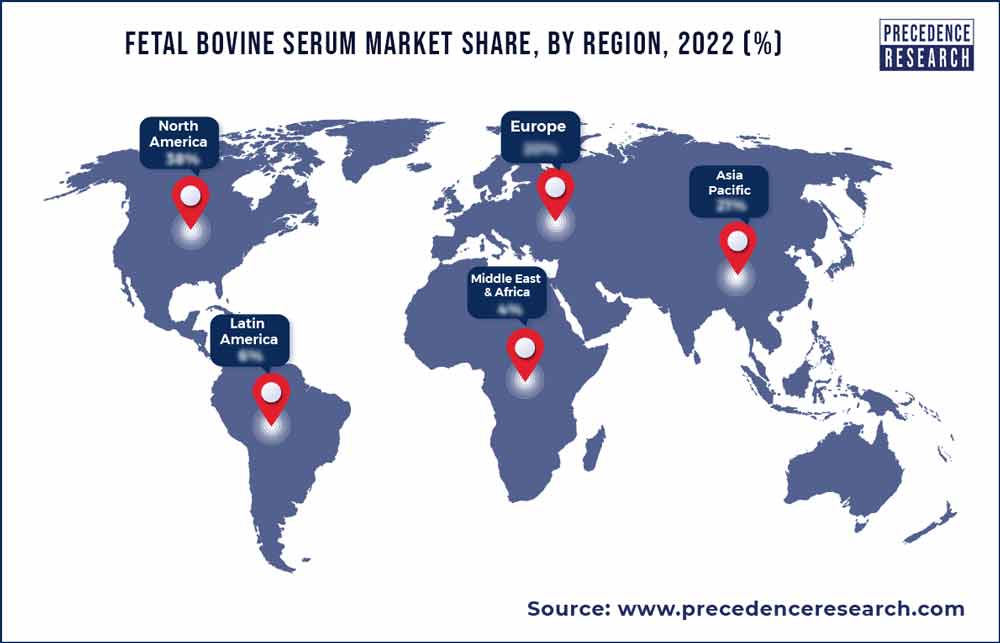 Europe is anticipating lucrative fetal bovine serum market growth during the predicted period. With emerging cell culture technologies and government initiatives in life science, Europe is home to numerous research institutions and academic centers conducting extensive life science research. Increasing focus on regenerative medicine is promoting the Europe market in fetal bovine serum.
The fetal bovine serum market in Asia-Pacific is thriving at a special rate. The increasing usage of fetal bovine serum market in the emerging market is expanding the growth. India is considered the most extensive cattle record after China. With more cattle in the country, the production for FBS margin has increased. Asia-Pacific has a large population, leading to a high demand for vaccines. Fetal bovine serum is extensively used in vaccine production, which is intended to drive the market.
The Latin America- the Middle East & Africa is growing due to increasing demand for vaccines, drugs, and favorable government policies to enhance the industry's development in the fetal bovine serum market. Many countries in Latin America are focusing on improving their healthcare infrastructure, including research and development capabilities, which is expected to boost the demand for fetal bovine serum in the region.
Recent Developments:
In September 2022, scientists developed a new technique for growing meat in-vitro using FBS for cell growth and multiplication by applying a magnetic field which can later be used in regenerative medicine.
In February 2022, CellMEAT, a South Korean startup, scooped $4.5 million to scale its program to reduce cultivated product expense. The results were revealed in December, which states that the company was the first to hit a milestone as it disclosed its FBS-free cell culture media that eventually will be able to support domestically cultivated companies, including its manufacturing branch, alongside global players.
Key Market Players:
TCS Biosciences Ltd
Merck KGaA
Gemini Bio-Products
Thermo Fischer Scientific Inc.
Moregate Biotech
Bovogen Biologicals Pvt Ltd
General Electric
Atlanta Biologicals Inc.
HiMedia Laboratories
PAN-Biotech
R&D Systems Inc.
Segments Covered in the Report:
(Note*: We offer report based on sub segments as well. Kindly, let us know if you are interested)
By Application
Cell-based research
Vaccine production
Diagnostics
Drug discovery
Toxicity testing
In-vitro fertilization
Cell therapy
By End-User
Academic Institutes
Pharmaceuticals and Biotechnology Industries
Research labs
Diagnostic labs
IVF centers
By Geography
North America
Europe
Asia-Pacific
Latin America
Middle East and Africa