The global cell culture media market size was reached at USD 5.48 billion in 2022 and is expected to attain around USD 16.84 billion by 2032, growing at a CAGR of 11.89% between 2023 and 2032.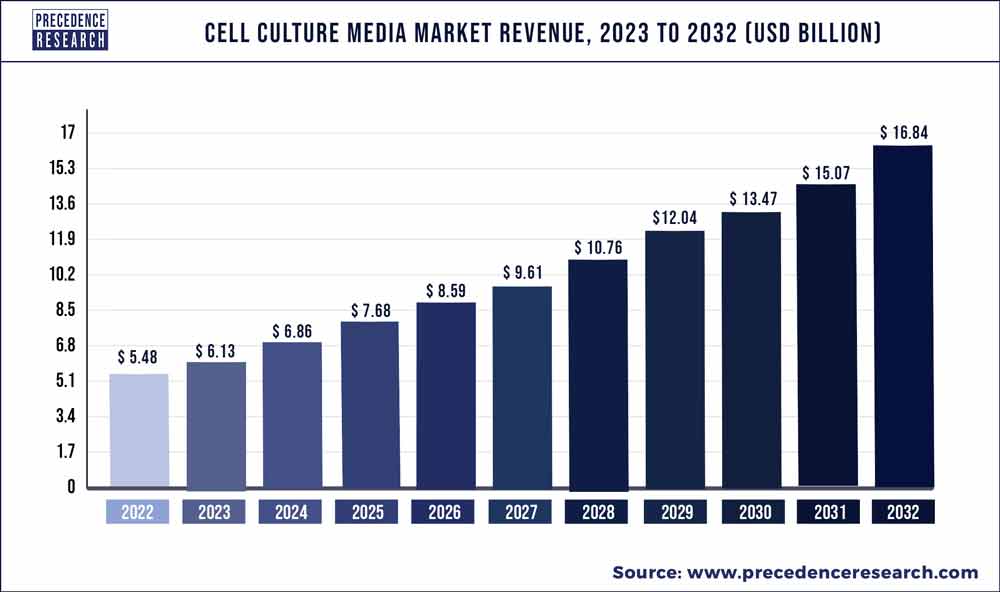 Access our Premium Real Time Data Intelligence Tool, Visit: Precedence Statistics
Key Takeaways:
North America has dominated the cell culture media market with revenue share of 38% in 2022.
By Product, the serum-free media segment has recorded the largest revenue share of 36% in 2022.
By Application, the biopharmaceutical production segment has held highest revenue share 43.7% in 2022.
By Type, the liquid media segment is projected to capture a maximum market share of over 63% in 2022.
By End-user, the pharmaceutical and biotechnology segment has contributed largest revenue share of 34.4% in 2022.
Market Overview:
One of the most significant techniques in the life sciences is cell culture. It is a broad term used to describe the removal of cells, tissues, or organs from an animal or plant and the subsequent transplantation of those tissues or organs into an environment created artificially to support their survival or proliferation. Controlled temperature, a surface on which cells may attach, a growth medium that is suited for the cells, and an incubator that maintains the correct PH and osmolality are the basic environmental needs for cells to develop optimally.
The most fundamental and significant stage in cell culture is choosing the right growth media for in vitro cultivation. A liquid or gel known as a "growth medium" or "culture medium" is used to support the growth of microbes, cells, or small plants. The majority of cell culture mediums contain a substance that controls the cell cycle and is a suitable source of energy. Amino acids, inorganic salts, vitamins, serum and glucose, a source of growth factors, hormones, and attachment factors make up the majority of a standard culture media. The medium aids in maintaining PH and osmolality in addition to providing nutrients.
Report Scope of the Cell Culture Media Market:
| | |
| --- | --- |
| Report Coverage | Details |
| Market Size in 2023 | USD 6.13 Billion |
| Market Size by 2032 | USD 16.84 Billion |
| Growth Rate from 2023 to 2032 | CAGR of 11.89% |
| Largest Market | North America |
| Base Year | 2022 |
| Forecast Period | 2023 to 2032 |
| Segments Covered | By Product, By Application, By Type, and By End-user |
| Regions Covered | North America, Europe, Asia-Pacific, Latin America and Middle East & Africa |

Market Dynamics:
Driver:
Increasing use of regenerative medicine
A new area of medicine called "regenerative medicine" claims to have treatments for replacing organ and tissue system in patients. Regenerative medicine uses cells, biomaterials and chemicals to repair body tissue that have been harmed by disease or injury. Nearly 30 different bodily parts are being studied by the Wake Forest Institute for Regenerative Medicine in the US, including skin, bladder, and liver.
Numerous individuals with chronic disease have a great deal of optimism about an improvement in their health owing to cell therapy and regenerative medicine. The makers are being encouraged to create cutting-edge cell culture systems by the urgent and growing need for breakthrough medicines to treat crippling medical disorders. Thus, this is expected to drive market growth over the forecast period.
Restraints:
Optimization of cell culture media
It can be difficult to adjust individual components because of the complicated composition of cell culture media. The majority of traditional culture media were developed for low-density, small-scale cultures and frequently demand serum a crucial component. However, research and optimization of culture media are essential in the biotechnology sector where there is a requirement to maintain high cell densities and boost cellular productivity. Media used in the biotechnology sector are often serum-free and substantially richer in nutrients than conventional media. Thus, this is expected to be a major restraint for the market growth over the forecast period.
Opportunities:
Increasing pharmaceutical and biotechnology industry
The increasing biotechnology and pharmaceutical industry is expected to provide a lucrative opportunity for market expansion over the forecast period. For instance, according to Invest India, by 2024 and 2030, respectively, the Indian pharmaceutical market is projected to grow to $65 billion and $130 billion. With over 200 nations receiving Indian pharmaceutical exports, India is a significant pharmaceutical exporter. India meets over 50% of Africa's demand for generic drugs, about 40% of the US's demand for generics, and about 25% of the UK's total demand for drugs. India is a major supplier of the DPT, BCG, and measles vaccines and provides for about 60% of the world's vaccine demand.
According to the WHO's recommended vaccination plan, 70% of the organization's vaccines come from India. Thus, the increasing pharmaceutical and biotechnology industry is expected to provide an attractive opportunity for market growth.
Impact of COVID-19:
The COVID-19 pandemic positively impacted the growth of the market. The COVID-19 pandemic has increased the demand for tried-and-true cell-based vaccine manufacturing technologies. Additionally, it has sparked a few scientific breakthroughs, especially in the development and testing of vaccination technologies.
For instance, the VERO cell line, which was derived from the kidney of an African green monkey, has been widely applied to the production of viral vaccines. Furthermore, it has been utilized to create several SARS-CoV subtypes. Lonza Bioscience ProVeroTM1 serum-free medium is a protein-free, non-animal origin medium created to assist the development of Vero cells and MDCK.
Segments Insight:
Product Insights:
Based on the product, the global cell culture media market is segmented into serum-free media, classical media, stem cell culture media, specialty media, chemically defined media and others. The serum-free media is expected to dominate the market over the forecast period. A cell can be cultivated without the need for animal sera using a serum-free medium, which includes the proper nutritional and hormonal compositions. Serum-free mediums have various benefits for cell culture, including improved productivity and consistency, simpler purification, and downstream processing.
Furthermore, a combination of growth factors that are selective for particular cell types can be added to serum-free media to make them more potent. Many primary cultures and cell lines including hybridoma cell lines, Chinese hamster ovary (CHO) lines that produce recombinant proteins, and cell lines that serve as hosts for virus generation, are amenable to serum-free medium formulations such as 293, VERO, MDCK and MDBK. Thereby, driving the market expansion during the forecast period.
Application Insights:
Based on the application, the market is bifurcated into biopharmaceutical production, diagnostics, drug screening and development, tissue engineering and regenerative medicine, and others. Biopharmaceutical production is expected to capture the largest market share during the forecast period owing to the increasing demand for cell culture media in this industry. The demand for cell culture media is growing in the biopharmaceutical industry owing to the need for more consistent and better-defined media to match the escalating production levels by decreasing the risk of contamination in the downstream procedures.
Type Insights:
Based on the type, the market is segmented into liquid media and semi-solid and solid media. The liquid media segment is expected to hold a significant market share over the forecast period. These media don't have any traces of solidifying agents like agar or gelatin and substantial bacterial development of colonies is visible there. When incubated at 37C for 24hrs, liquid media, commonly known as broths, enable bacterial strains to develop uniformly and turbidly. The media is utilized for experiments on fermentation and the voluminous development of microorganisms.
End-User Insights:
Based on the end-user, the market is segmented into pharmaceutical and biotechnology companies, hospitals and diagnostic laboratories, research and academic institutes and others. The pharmaceutical and biotechnology company is expected to dominate the market over the forecast period. The growth in the segment is attributed to the growing biopharmaceutical manufacturing. Moreover, the key players investing heavily to expand their biomanufacturing capabilities are expected to drive segment growth. For instance, in July 2021, to fulfil the rising demand for biotechnology solutions, Cytiva and Pall Corporation announced an investment of USD 1.5 billion over two years. This investment also expands manufacturing capacity for life sciences products at 13 Cytiva and Pall Corporation sites to meet customer demand. Thus, the growing investment by the key players helps to drive the market expansion over the forecast period.
Regional Insights:
North America is expected to dominate the market during the forecast period. The growth in the region is attributed to the robust presence of prominent players including Thermofisher Scientific Inc, Cytiva and Others. These players constantly launch innovative products and draw strategies to remain competitive in the field of life sciences. For instance, in October 2022, the leading provider of high-performance cell line development and viral vector manufacturing technology in Germany and the world, CVEC Pharmaceuticals, was acquired by Cytiva, a pioneer in the life sciences industry. Cytiva's position as the industry leader in biomanufacturing solutions will be strengthened by CEVEC.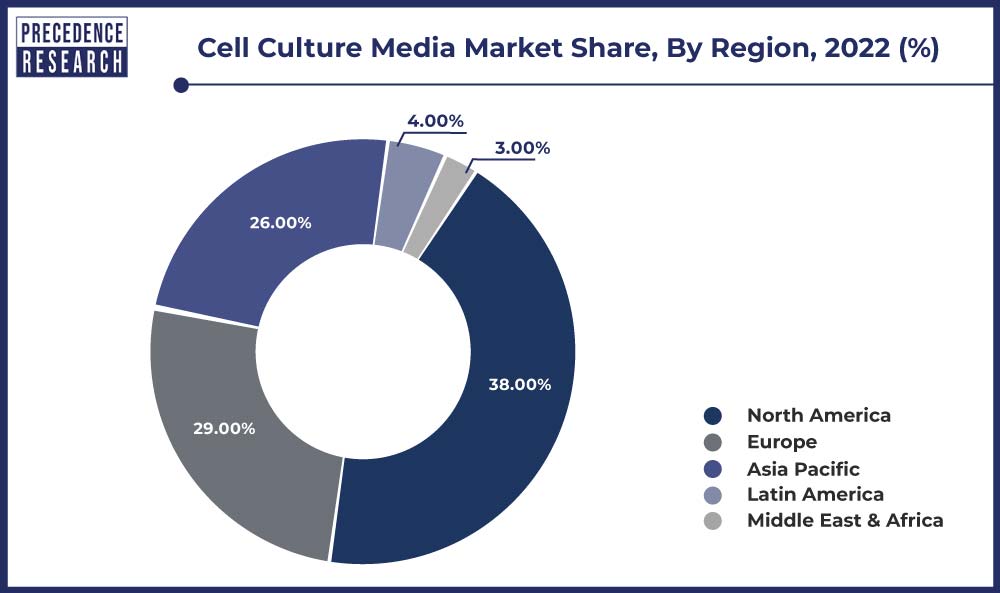 In addition, an increase in drug discovery and laboratories is expected to provide enormous opportunities for the market in the North American region. Moreover, the growth of the market in this region is anticipated to be aided by several factors such as governmental initiatives for biotechnology research, increasing acceptance of personalized medicines, rising academic and governmental investments in diagnostic research and increasing emphasis on drug discovery and development. For instance, in September 2022, the United States declared new investments and resources to progress the national biotechnology and biomanufacturing initiative. The Department of Health and human services will spend USD 40 million on this project to increase its biomanufacturing position in society. Thus, the aforementioned facts support the market growth during the forecast period.
The Asia Pacific is growing at the highest CAGR during the forecast period. The growing prevalence of cancer in countries like India and China is expected to drive market expansion in the region. For instance, as per the US Department of Health and Human Services (HHS), 14,61,427 incident cases of cancer were determined to be the projected total in India for 2022. In India 1 out of 9 people has a lifelong risk of developing cancer. The most common cancer in men and women were lung and breast cancer. According to the estimates, there will be 12.8% more cancer instances in 2025 than there were in 2020. Moreover, the growing investment in healthcare infrastructure is among the key factor that propels the market growth.
Recent Developments:
In June 2022, to increase the output of cell-culture-based biopharmaceuticals, Evonik introduced a novel peptide. It is the most recent addition to the cQrex product line of cell culture components, which boosts productivity and efficiency in bioprocesses for the production of monoclonal antibodies, vaccines, viral vectors, and therapeutic cells.
In September 2022, the Thermofisher Scientific Dynaspin Single-use centrifuge was recently introduced by Thermofisher Scientific Inc. at the Bioprocess International annual conference in Boston, Massachusetts. The technology is especially created to offer the best single-use solution for extensive cell culture collection. By lowering the quantity of depth filtration cartridges needed to finish the harvest process, the DynaSpin technology enhances and streamlines harvesting for cell culture separation in single-use.
In July 2021, through its division, Sartorius Stedim Biotech, the German Company Xell AG, a leader in cell culture, was acquired by the life science companies Sartorius. The company expanding their current media offering particularly by specialized media for producing viral vectors and media analytics.
In January 2022, Thermofisher Scientific acquired PeproTech, a pioneer in recombinant proteins. Through this acquisition, Thermofisher Scientific Inc. added new capabilities to its existing offering to serve the high growth cell and gene therapy market.
Key Market Players:
Merck KGaA
Thermo Fisher Scientific Inc.
CYTIVA
FUJIFILM Irvine Scientific, Inc.
Sartorius AG
Lonza Group AG
STEMCELL Technologies Inc.
InvivoGen
PromoCell GmbH
Cell Biologics, Inc.
Segments Covered in the Report:
(Note*: We offer report based on sub segments as well. Kindly, let us know if you are interested)
By Product
Serum-free Media

CHO Media
BHK Medium
Vero Medium
HEK 293 Media
Others

Classical Media
Stem Cell Culture Media
Specialty Media
Chemically Defined Media
Others
By Application
Biopharmaceutical Production

Monoclonal Antibodies
Vaccines Production
Others Therapeutic Proteins

Diagnostics
Drug Screening and Development
Tissue Engineering and Regenerative Medicine

Cell and Gene Therapy
Others
By Type
Liquid Media
Semi-solid and Solid Media
By End-User
Pharmaceutical and Biotechnology Companies
Hospitals and Diagnostics Laboratories
Research and Academic Institutes
Others
By Geography
North America
Europe
Asia-Pacific
Latin America
Middle East and Africa