The global fluoropolymer films market size was estimated at USD 2.16 billion in 2022 and it is predicted to hit over USD 4.02 billion by 2032 and is growing at a compound annual growth rate (CAGR) of 6.4% over the forecast period 2023 to 2032.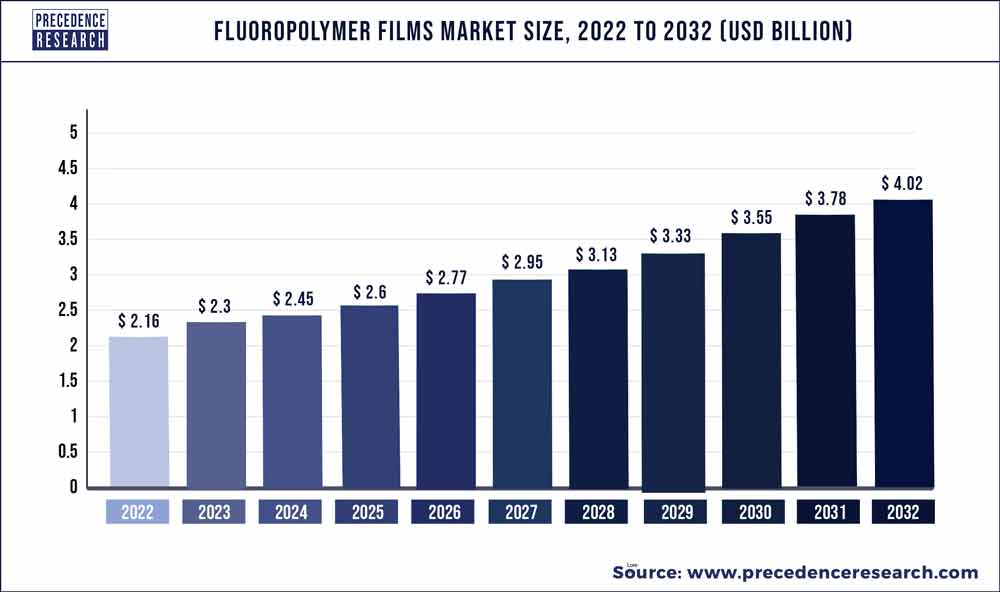 Access our Premium Real Time Data Intelligence Tool, Visit: Precedence Statistics
Key Takeaways:
Asia Pacific generated for the biggest market share in 2022.
By Type, the polytetrafluoroethylene segment is expected to expand at the fastest CAGR from 2023 to 2032.
By Application, the automobile & aerospace segment is predicted to contribute the largest revenue share from 2023 to 2032.
Market Overview:
Fluorine and carbon-based polymers are produced as fluoropolymer films by the cast film extrusion process. They are high-performance polymers that are frequently utilized in applications involving high temperatures and harsh chemical environments. They are extensively utilized in cable insulation, anticorrosive linings, solar cell glazing, and pharmaceutical cap liners. Fluoropolymer compounds and resins, which are made up of monomers including propene, chlorotrifluoroethylene, vinyl fluoride, propene hexafluoro, tetrafluoroethylene, and ethylene, are used to create fluoropolymer films. They have high transparency, weather resistance, water absorption, dielectric, and cryogenic qualities in addition to a low friction coefficient. Fluoropolymer films are consequently widely used in the automotive, medical, building, electrical, and electronics industries.
The construction industry is seeing significant expansion on a global scale, which is generating favorable prospects for the market. For safety and security reasons, fluoropolymer films are frequently utilized as a coating material in textile architecture, windows, and doors. Accordingly, the widespread use of the product due to its exceptional non-adhesive and low friction features as well as the rising consumer preference for aesthetically beautiful designs are encouraging market expansion. Additionally, market growth is being fueled by the deployment of numerous government initiatives encouraging infrastructure development. In addition, the launch of green fluoropolymer films as a result of growing environmental awareness and a quick move toward ecologically friendly products is bolstering market expansion.
The Statista estimates that the size of the construction industry was $8.2 trillion in 2022 and that it would increase to $17 trillion by 2029 at a compound annual growth rate (CAGR) of 7.3%.
As per International Energy Agency, solar PV generation reached 1,000 TWh in 2021 and increased by a record-breaking 179 TWh (up 22%).
Report Scope of the Fluoropolymer Films Market:
| | |
| --- | --- |
| Report Coverage | Details |
| Market Size in 2023 | USD 2.3 Billion |
| Market Size by 2032 | USD 4.02 Billion |
| Growth Rate from 2023 to 2032 | CAGR of 6.4% |
| Largest Market | Asia Pacific |
| Base Year | 2022 |
| Forecast Period | 2023 to 2032 |
| Segments Covered | By Type and By Application |
| Regions Covered | North America, Europe, Asia-Pacific, Latin America, and Middle East & Africa |

Market Dynamics:
Driver:
Increasing adoption in the electrical and electronics industry
The increasing adoption of fluoropolymer films in the electrical and electronics industry is expected to drive market growth over the forecast period. Fluoropolymer films made of FEP, PFA, ETFE, Matte ETFE and cast PTFE combine outstanding dielectric characteristics with chemical and temperature resistance and weldability. Fluoropolymer films are used in a variety of electrical applications, such as circuit board laminates and high-temperature insulation tapes for wrapping wire and cable. Since ETFE films maintain their superior release capabilities and modest cushioning at high temperatures, they are employed as release films for electronics.
In the Film Assisted Molding (FAM) techniques used to manufacture semiconductors and integrated circuits, it is also utilized as a cushioning or releasing media. Fluoropolymer films boost productivity by eliminating the need to clean the mold in between uses, which reduces the release force required to extract the integrated circuit from the mold. Thus, these attributes drive the market growth over the forecast period.
Restraints:
High cost of fluoropolymer films
The price of fluoropolymer films closely correlates with the expense associated with the development of their technology, the complexity of their production process, and the price of the raw materials required to make the films, such as PTFE, PVDF, FEP, and Others. To accommodate consumer demand, the major manufacturers in the market have created expensive technologies to generate fluoropolymer films. Small businesses find it challenging to develop this patented technology. This drives up the production costs and raises the expense of these films. Thus, the high cost of fluoropolymer films is expected to hamper the market expansion during the forecast period.
Opportunities
Growing investment in the solar industry
PVDF, ECTFE, and ETFE films are highly suited for usage in the back sheet and front sheet glazing of PV panels due to their good dielectric performance, fire resistance, and high solar transmittance. They are widely utilized as an outside component for the back sheet, providing the PV module with prolonged environmental protection. Thereby, the rising investment in solar energy is expected to provide enormous opportunities for market growth over the forecast period.
As per Solar Energy Industries Association, in 2021, more than 255,000 Americans were employed by more than 10,000 solar businesses across all 50 states. Nearly USD 33 billion in private investment was brought into the American economy by the solar industry.
Segments Insight:
Type Insights:
Based on the type, the global fluoropolymer films market is segmented into polyvinyl fluoride, polytetrafluoroethylene, polyvinylidene fluoride, fluorinated ethylene propylene and others. The polytetrafluoroethylene segment is expected to grow at the fastest rate over the forecast period because it has high dielectric and chemical resistance qualities and absorbs UV electromagnetic energy. Additionally, it can be utilized in both extremely cold (down to -530 K) and extremely high temperatures. These qualities are used in a wide variety of products, including semiconductors, electrical appliances, auto parts, and non-stick frying pans.
Additionally, as the price of raw materials, which are used to produce resins, pigments, and fillers, has climbed over time, the cost of PTFE has gone up. Gujarat Fluorochemical Limited, for instance, uses INOFLON PTFE Resins, an engineering plastic designed for exceptional performance under some of the most demanding conditions. They are recognized for having a wide operating temperature range, excellent weather ability, low coefficient of friction, dielectric strength, thermal stability, and flame resistance.
Application Insights:
Based on the application, the global fluoropolymer films market is divided into automobile & aerospace, construction, electronics & electrical, packaging, medical & pharmaceutical and others. The automobile & aerospace segment is expected to capture a substantial revenue share over the forecast period. Fluoropolymers are essential for many applications in the aerospace industry because of their distinctive characteristics. These include internal data and power supply systems, wing design and manufacture, engine production, landing gear, fuel systems, helicopters, and fuselage design and assembly/testing.
Fluoropolymers improve aircraft safety and fuel efficiency. They extend the useful life of several components essential for performance, emission control, and safety in the aerospace sector by providing strong and efficient protection against heat, corrosive fluids and fuels, humidity, vibrations, and compressions. Additionally, fluoropolymers products are used in various application in the automotive sector which includes fluid delivery, coatings and sealings, temperature and level detection, and emission testing. Thus, the broad application of fluoropolymer films in the aerospace and automotive industry drives the market growth during the forecast period.
Regional Insights:
The Asia Pacific accounted for the largest market share in 2022. The growth in the region is attributed to the increasing solar industry coupled with the rising government initiatives, the growing chemical sector and the increasing electrical and electronics sector. In the Asia Pacific region, the growth of the fluoropolymer is mainly driven by the countries such as China, India and Japan.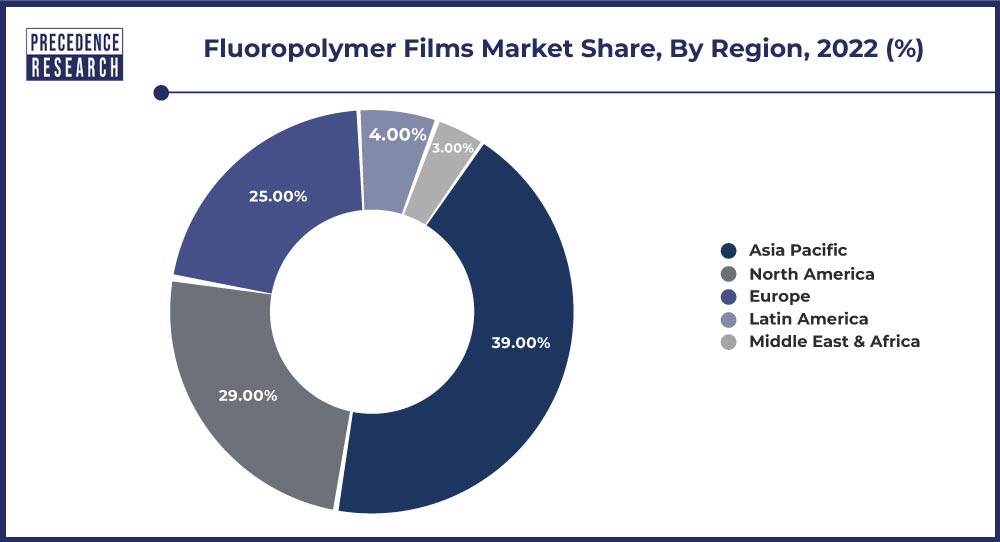 According to the International Energy Agency, as a result of the significant capacity additions in 2020 and 2021, China accounted for nearly 38% of the growth in solar PV generation in 2021. In addition, the ambitious goal of 33% of electricity output coming from renewable sources by 2025, including an 18% target for wind and solar technologies, is part of China 14th Five-Year Plan, which was unveiled in June 2022.
As per India Brand Equity Foundation, the Indian chemicals market was worth US$ 178 billion in 2019 and is projected to grow by 9.3% annually to US$ 304 billion by 2025. The demand for chemicals is predicted to rise 9% yearly by 2025. The market for chemicals and petrochemicals in India is made up 22% specialized chemicals.
Thus, the aforementioned facts are expected to rise the demand for fluoropolymers in the region during the projected timeframe.
North America is expected to grow rapidly over the forecast period owing to the growing pharmaceutical industry and increasing solar industry.
As per secondary analysis, in recent years, the United States has contributed close to half of the global total in pharmaceutical sales revenues. In 2021, five of the top ten pharmaceutical companies worldwide were American. Pfizer has surpassed all other American companies in terms of prescription medicine sales worldwide, mainly to the success of its COVID-19 vaccine Comirnaty. Another American business that has made a significant impact abroad is AbbVie, whose pharmaceutical operations generated a record 55 billion dollars in revenue in 2021, mostly due to the success of its enduring best-seller Humira.
The Solar Energy Industries Association (SEIA) estimates that solar energy accounted for 43% of all new grid-added electricity producing capacity in 2020. In the United States, there were about 2.7 million homes have PV systems.
Thus, the growing pharmaceutical industry and solar sector provide an enormous opportunity for the growth of fluoropolymer film markets over the projected period as these films are used in the packaging of drugs and it is used in the back sheet of the PV module to prevent the environment.
Recent Developments:
In March 2021, Tetrafluoroethylene (ETFE) and ethylene-based Fluon+ EM-20010 compounds were introduced by AGC Chemicals Americas.
In July 2021, The Kashima Integrated Production Center at DAIKIN INDUSTRIES, Ltd.'s Kashima Plant in Kamisu City, Ibaraki Prefecture, Japan, has been finished. On June 10, 2021, the production of fluorochemicals for a variety of applications, including films, and others began there.
In May 2021, Agiplast, a pioneer in the regeneration of high-performance polymers, will be acquired by Arkema. With the acquisition, Arkema is now equipped to fully serve customers' needs for materials circularity and meet the expanding demands of the market. Additionally, this acquisition will assist Arkema in completely integrating producers of high performance polymers that use recycled and biobased resources.
In March 2020, A method to remove perfluoroalkyl substances (PFAS), such as perfluorooctanoic acid (PFOA), from fluoropolymer resins was introduced by Inhance Technologies. PFAS species are being found in common consumer goods and are widely employed in the fluoropolymers industry, although current worries about their effects on human health and the environment are growing.
Key Market Players:
Arkema Group
American Durafilm
3M
DuPont
DAIKIN INDUSTRIES, Ltd.
AGC Chemicals
Solvay
Fluoro-Plastics
Polyflon Technology Limited
Saint-Gobain Performance Plastics
Fluortek AB
The Chemours Company
Segments Covered in the Report:
(Note*: We offer report based on sub segments as well. Kindly, let us know if you are interested)
By Type
Polyvinyl Fluoride
Polytetrafluoroethylene
Polyvinylidene Fluoride
Fluorinated Ethylene Propylene
Others
By Application
Automobile & Aerospace
Construction
Electronics & Electrical
Packaging
Medical & Pharmaceutical
Others
By Geography
North America
Europe
Asia-Pacific
Latin America
Middle East and Africa