The global healthcare bioconvergence market size was accounted for USD 120.89 billion in 2022 and it is expected to hit over USD 259.55 billion by 2032, growing at a CAGR of 7.94% over the forecast period from 2023 to 2032.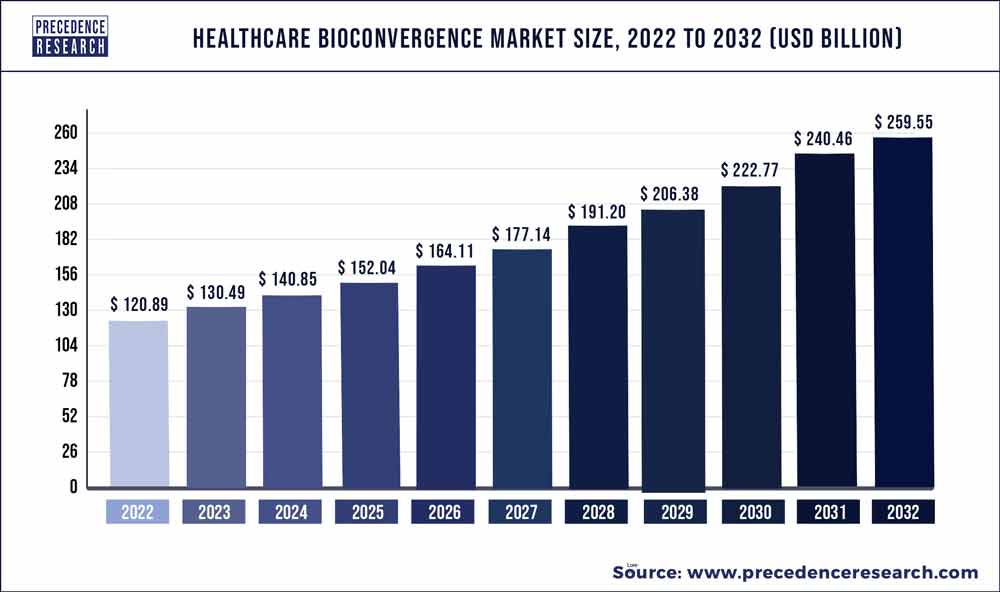 Access our Premium Real Time Data Intelligence Tool, Visit: Precedence Statistics
Key Takeaways:
Europe generated more than 30% of revenue share in 2022.
The drug discovery application segment dominated the market and captured more than 21% of revenue share in 2022.
The regenerative medicine application segment is expected to expand at the fastest CAGR of 9% from 2023 to 2032.
Bio convergence is a widely used approach in Israel and the United States, and it is a valuable tool for advancing life sciences and the healthcare industry. Bio convergence will improve health and a higher quality of life worldwide. Bio convergence is expected to have a transformative impact on personalized medicine and precision medicine. Bio convergence will shift care and patient management standards toward a more efficient way of treating and potentially reversing illnesses, improving healthcare systems, lowering innovation costs, improving patient management, and combating healthcare inequality globally.
The bio convergence market is influenced by the increasing aging population and rising stem cell technology for repairing damaged cells, tissues, and organs. Integrating high-tech technologies and advancements such as robotics, machine learning, intelligent imaging, ergonomics (the relationship between people and their surroundings), and artificial intelligence with life science boosts the growth of the bio convergence industry. In addition to healthcare, Bio convergence is finding applications in agriculture, energy, food, security, climate, and other fields.
Technological advancements such as artificial intelligence, Machine learning, the Internet of Things, digitalization, cloud computing, and data mining boost industry growth. The high reliance on the amalgamation of IT, bioengineering, and biology positively impacts global market growth. Bio convergence is primarily the mass convergence of several fields and technologies, and it is seen as the 21st century's rising technological wave.
In addition, the rapidly increasing number of clinical trials and adoption of advanced bio convergence techniques by both government and private healthcare organizations, primarily in developed countries such as the United States, Canada, France, and Spain, combined with a strong emphasis on practical and rapid diagnosis of chronic disorders, are key factors driving the global market growth. Furthermore, significant R&D expenditures on bio-convergence technology for advancements in the healthcare sector impact healthcare and a variety of other sectors, such as food security, agriculture, and climate.
For instance, in May 2022, Israel announced a five-year plan for bio-convergence advancements worth approximately USD 127 million. It entails the establishment of infrastructure centers for applied industrial research and development, as well as the formation of company consortiums. It aids in integrating biology with other disciplines, such as electronics, physics, computer science, and advanced genetic engineering.
Covid 19 Impact:
The pandemic of COVID-19 has significantly impacted medication research, health technology, and medical technology. They are incorporating high-tech technologies such as AI and ML into the biotechnology research and development sector, aided in understanding the pathogen and developing drugs and vaccines to control the virus's global spread. The combination of advanced engineering, biology, physics, and computational sciences has greatly accelerated drug development. According to the academic journal Frontiers in Medicine, published in 2021, advanced technologies such as AI have aided in the efficient diagnosis, prognosis examination, epidemic prediction, and drug discovery for COVID-19.
Report Scope of the Healthcare Bioconvergence Market:
| | |
| --- | --- |
| Report Coverage | Details |
| Market Size in 2023 | USD 130.49 Billion |
| Market Size by 2032 | USD 259.55 Billion |
| CAGR from 2023 to 2032 | CAGR of 7.94% |
| Largest Market | Europe |
| Base Year | 2022 |
| Forecast Period | 2023 to 2032 |
| Segments Covered | By Application |
| Regions Covered | North America, Europe, Asia-Pacific, Latin America and Middle East & Africa |

Market Dynamics:
Driver: Global development in bio convergence drives the market growth
For many years, multidisciplinary academic research combining engineering and biology has existed in Israel and worldwide. In recent years, there has been an acceleration in this field, as evidenced by the establishment of research institutions and new models in various centers worldwide. The WYSS Institute at Harvard University, then the KOCH Institute at MIT,11 the BIO-X12 and Bio-Design program initiated at Stanford University, and 13 the Weill Neurohub Institute in San Francisco are some American examples of this phenomenon. These institutes bring together biologists from various fields and scholars from mathematics, physics, computer science, and engineering to accelerate the development of novel treatments.
Other countries, in addition to the United States, are investing heavily in multidisciplinary research in this field. For instance, in South Korea, institutes such as KIST15 and KAIST16 combine brain science, materials science, and life sciences with institutes specializing in nanorobotics, nanoelectronics, and diagnostics. Another example of a recently established multidisciplinary academic model is the British CRUK Institute for Cancer Research.
Restrain: High cost of treatments restrains growth
High-cost treatments and regulatory difficulties implied by several government organizations, and ethical and moral frameworks of healthcare bio convergence are key factors expected to hamper global market demand and growth during the forecast period. Furthermore, limited awareness of the availability of various treatment options, particularly in low and medium-sized economies worldwide, is likely to restrain market growth soon.
Prescription drug costs threaten healthcare budgets and limit funding available for other areas where public investment is needed. The high price of prescription drugs poses an additional threat in countries without universal healthcare: unaffordable out-of-pocket costs for individual patients. Due to high out-of-pocket costs, approximately 25% of Americans find it difficult to afford prescription drugs. According to drug companies, high drug prices are critical for sustaining innovation. However, the ability to charge high fees for each new drug may slow the rate of innovation.
Opportunities: Tissue engineering, bioprinting & regenerative medicine provides lucrative opportunities in the bio convergence market
Biomedical engineering is continuing to disrupt health care while improving patient outcomes. 3D bioprinting and regenerative engineering are emerging industries that aim to improve surgical technologies. BICO (formerly CELLINK), a life science and diagnostic solutions company focused on bioprinting, biosciences, and bio automation is one example of a market leader in this space.
Bioprinting uses cells and biomaterials to create human tissue models for clinical drug trials and research labs. The replacement of damaged or diseased organ parts with tissues that are patient-customized, bioengineered, and printed on demand is the field's future. Bioprinter heart tissue patches reduce the risk of transplant rejection in cardiac patients. BICO offers user-friendly, efficient, and automated instrumentation for non-contact liquid handling in molecular biology and cell-based assay monitoring. With a scalable, mechanical, and cost-effective product portfolio, they hope to develop the next generation of diagnostics, cell-line development, drug screening, and anatomical 3D models.
The mission of transforming regenerative medicine is a complex and daunting task that can be aided by a suite of tools that provide technology scouting, project pipeline solutions, creativity, IP management, and seamlessly connecting collaborative partners such as startups, SMEs, and university researchers. Ezassi's Innovation platform can bridge what healthcare is today and future healthy innovation goals.
Bio convergence as a source of funding for startups
Bio convergence is familiar but is becoming more well-known and popular. Most experts in this field are top researchers in academic institutions conducting research and development. The synergy between researchers and professionals in the medical industry (doctors, nurses, and so on) has always existed, but bringing in experts from other disciplines (AI, ML, computer science, and so on) can result in tremendous growth for the industry.
Every industry has its own funding needs and concerns, whether it's about access, available channels, investor types, or investment size. The availability of funds frequently determines the location of these startups. Medical and life science startups are concerned about the availability of funds to conduct research (long-term ROI on larger-than-average investments).
Startups near research universities or institutes can benefit from low-cost lab space, knowledge and technology transfer opportunities, and potential employees and other human resources. Below are examples of ventures utilizing Bio convergence and developing business.
MeMed: Created a platform to differentiate between viral and bacterial infections. This diagnostics innovation combines an intelligent algorithm, machine learning, systems engineering, and molecular biology to decipher the immune system's reaction.
Precise - Bio: This company has made a game-changing breakthrough in regenerative medicine. They created a product capable of printing tissues at the cellular level. They are the first to implant a printed cornea in a pre-clinical trial and demonstrate the engineered organ's full functionality.
Segments Insight:
Application Insights:
Based on the application, the bio-convergence market is categorized into drug discovery, regenerative medicine, and bioelectronics. The drug discovery segment dominated the market with a 21% revenue share in 2022. The rising prevalence of diseases, including CNS-related disorders, cardiovascular disorders, and infectious diseases, influences the drug discovery segment. Researchers are working on research and development activities to develop innovative drugs, boosting the drug discovery segment. For instance, according to a report by Pan American Health Organization, noncommunicable diseases cause more than 41 million deaths each year worldwide, which equals 71% of the total number of global extinction. Cardiovascular diseases account for the highest number of NCD deaths, with 17.9 Mn people annually, followed by cancers, with 9 Mn deaths. And NCDs kill over 5.5 Mn people each year in America only.
The regenerative medicine segment is expected to grow at the fastest CAGR of 9% from 2023 to 2032. due to its exceptional potential to treat chronic diseases such as Parkinson's disease, Alzheimer's disease, and brain injury tissue repair and to treat chronic ailments by target-oriented and site-specific delivery of specific drugs.
Regional Insights:
Europe had the largest healthcare bio convergence market with a 30% market share. The significant presence of leading advanced research institutes, medical centers, and developed hospitals provides innovative scientific and medical treatment. It serves as a solid foundation for critical factors driving market growth in this region.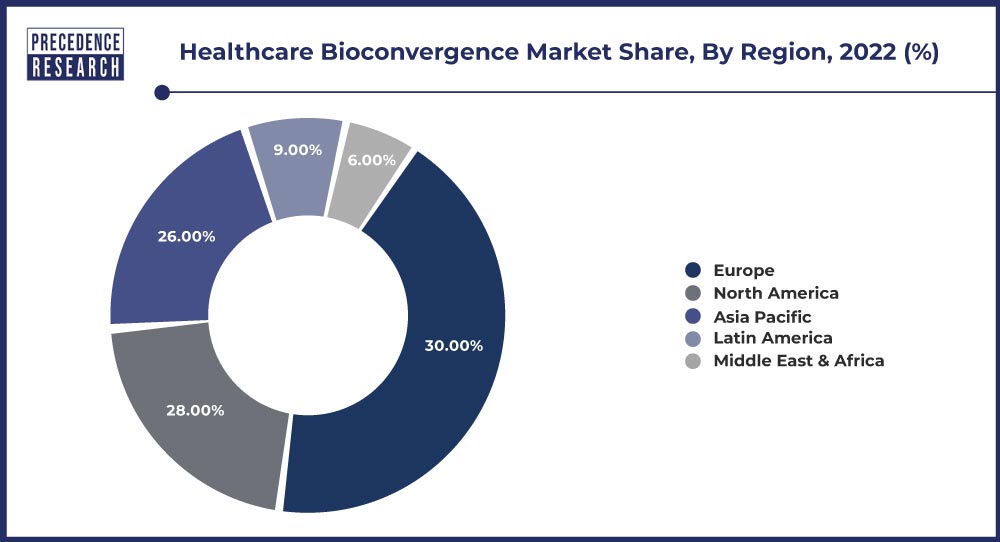 Due to the massive patient population base and consistently growing rate of diseases such as diabetes, cancer, and neurological disorders, particularly in countries such as India and China, the Asia Pacific region is expected to emerge as the fastest-growing region during the projected period. The increasing government funding to accelerate research into bio convergence and related fields to strengthen regional market growth and provide better healthcare to their patients.
Recent Development:
In 2022, Century Therapeutics and Bristol Myers Squibb signed an agreement and collaboration for the commercialization of IPSC-derived allogenic cell-based therapies. Both companies will strengthen their market position and expand their presence in the field of personalized medicine.
In 2022, The Abu Dhabi Department of Health and the Israel Innovation Authority have formed a partnership to work on health innovation projects of critical strategic importance, such as proof of concept projects and clinical trials.
In 2021, Life Arc (a U.K.-based medical research firm) announced a funding of USD 5.74 million, to assist the Gen OMICC COVID-19 project, which also covered the costs of patient enrollment, sample gathering, and sample processing, as well as patient bioinformatics analysis.
Key Market Players:
BiomX
Singota Solutions
Anima Biotech Inc.
Ginkgo Bioworks
SetPoint Medical Corporation
Zymergen Inc.
Galvani Bioelectronics
BICO - The Bio Convergence Company
Segments Covered in the Report:
(Note*: We offer report based on sub segments as well. Kindly, let us know if you are interested)
By Application
Drug Discovery
Nanorobotics for Drug Discovery
Regenerative Medicine
Diagnostic and Biological Sensor
Bioelectronics
Engineered living materials
Optogenetics
Precision Medicine
By Geography
North America
Europe
Asia-Pacific
Latin America
Middle East and Africa