The global medical biomimetics market size was estimated at USD 33.51 billion in 2022 and is expected to hit around USD 65.73 billion by 2032, growing at a CAGR of 6.97% during the forecast period from 2023 to 2032. North America generated more than 40% of the revenue share in 2022.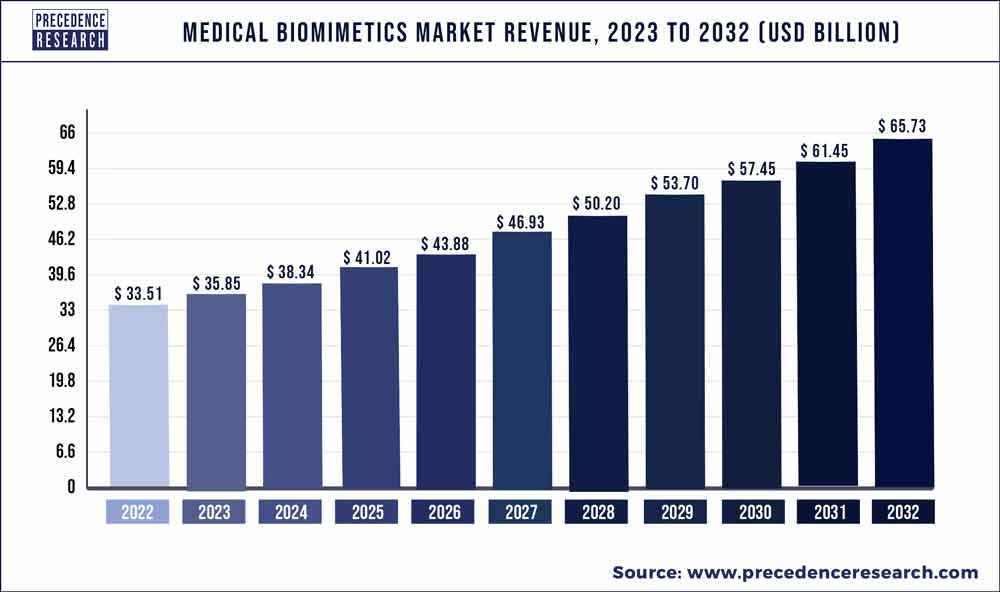 Access our Premium Real Time Data Intelligence Tool, Visit: Precedence Statistics
Key Takeaways:
By Type, the cardiovascular segment has captured maximum market share of 42.4% in 2022.
By Application, the wound healing segment has generated 35% revenue share in 2022.

By Type, the orthopedic segment is predicted to grow at the biggest CAGR between 2023 and 2032.

By Application, the drug delivery segment is expected to expand at a remarkable CAGR between 2023 and 2032.

Asia Pacific is predicted to expand at the largest CAGR from 2023 to 2032.
Market Overview:
Biomimetics is a rapidly expanding area of medical engineering. The term "biomimetics" refers to the study of nature and other natural phenomena to understand fundamental principles to use these ideas that can help sectors like mechanical engineering, technological biology, and mechatronics. Medical biomimetics is more precisely a sort of inventive technology that imitates nature in an endeavor to enhance human life.
Popular examples include the design of strong building structures modelled after turban shells, the invention of swimsuits with fluid-drag reduction features inspired by the form of a shark's skin, and the design of aeroplane wings after bird wings. Medical biomimetics is a field with a long history and many useful applications.
It has seen encouraging developments in the production of surgical equipment over the last few years. These surgical instruments, which were designed with biomimicry in mind, are equipped with features like cutting, stinging, sucking, and gripping that are common to hands, feet, and mouths.
The increased need for implants and prostheses to meet the need for organ transplantation, particularly among elderly populations, is a primary driver of the medical biomimetics market. Medical biomimetics is important since it is widely believed that no design breakthrough is possible without using nature as a potential model. Due to the recent application of biomimetic technology for organ regeneration, the market is predicted to expand over the coming years.
According to the World Cancer Research Fund International, in 2020, there will be 18.1 million new cases of cancer worldwide. 9.3 million of these instances involved men, while 8.8 million involved women.
As per Centers for Disease Control and Prevention, around 523 million population worldwide had some kind of cardiovascular disease in 2020 and 19 million fatalities were directly related to CVD; this amounts to almost 32% of all deaths globally and is an absolute increase of 18.7% from 2010.
According to the Centres for Disease Control and Prevention (CDC), hip replacement surgeries among persons 45 and older went from 138,700 to 310,800 over the first decade of this century, and the rate of these operations jumped from 142 per 100,000 people to 257 per 100,000.
Report Scope of the Medical Biomimetics Market:
| | |
| --- | --- |
| Report Coverage | Details |
| Market Size in 2023 | USD 35.85 Billion |
| Market Size by 2032 | USD 65.73 Billion |
| Growth Rate from 2023 to 2032 | CAGR of 6.97% |
| Largest Market | Asia Pacific |
| Base Year | 2022 |
| Forecast Period | 2023 to 2032 |
| Segments Covered | By Type and By Application |
| Regions Covered | North America, Europe, Asia-Pacific, Latin America and Middle East & Africa |

Market Dynamics:
Driver:
Innovation in nanotechnology
The development of medication delivery systems due to advances in nanotechnology will have a beneficial effect on the growth of medical biomimetics during the forecast period. Nanomaterials are appealing for use in biomedical applications and show tremendous potential in biomimicry medicine based on their biocompatibility, physical, and chemical properties.
The development of biomimetic functionalized nanotechnology has allowed for the functionalization and modification of nanomaterials by components obtained from cell membranes, resulting in biomimetic nanomaterials with improved biocompatibility, stability, targeting, and specificity. Inferring that these biomimetic nanomaterials can be employed for disease detection, the biomimetic functionalized variation of nanomaterials can establish selectivity for tissue disease or biomarkers. Thus, there is an abundance of interest in the application of biomimetic nanomaterials for non-invasive disease diagnosis.
Restraints:
High cost of cell and gene therapy
Researchers claim that high production costs hold back patients from accessing cell and gene therapies and that industry-wide capacity expansion and manufacturing method optimization would be helpful. The cost of cell and gene therapy is high. According to research conducted by the Institute for Clinical and Economic Review (ICER), a single dose of gene therapy typically costs between USD 1 million and USD 2 million. Similarly, the average cost per treatment for cell therapy is USD 1 million, although prices vary considerably depending on the product and the indication. Thus, this is expected to hamper the market expansion during the forecast period.
Opportunities:
Increasing R&D activities
In the diagnostic imaging market arena, which includes ultrasound, electrocardiographs, and computed tomography scans, rising R&D efforts as well as the expanding application potential of medical biomimetics are anticipated to propel market expansion. For instance, Imperial College London is right now creating a flexible steerable probe that is biomimetic. The goal of this research is to precisely place minimally invasive instrumentation (electrodes, catheters for deep brain stimulation), perform clinical analysis and diagnosis (sampling, biopsy), micro neurosurgery, and localized drug delivery in order to access deep brain regions with the least amount of damage.
Segments Insight:
Type Insights:
Based on the type, the global medical biomimetics market is segmented into cardiovascular, orthopedic, ophthalmology, dental and others. The cardiovascular segment is expected to hold the largest market share during the forecast period. The growth in the segment is owing to the growing prevalence and increasing CVD implants. For instance, according to the secondary analysis, with 17.9 million deaths per year, CVD is the leading cause of death worldwide. Every year, more than 2.1 million people have CVD implants to prolong their lives.
Additionally, the market will benefit from attractive opportunities brought on by the introduction of technologically sophisticated products and government funding, driving the market growth during the forecast period. To grow human replacement tissues as next-generation implants for treating CVDs, LifeMatrix has created a unique bioengineering method.
The patented LifeMatrix tissues can be produced as heart valves, blood vessels, and other cardiovascular components. Throughout the patient's lifetime, the biomimetic device aids in avoiding repeated major procedures and the risk they involve.
The orthopedic segment is expected to grow at the highest CAGR during the forecast period. Bones made from biomimetics have been created to help patients with disabilities walk. The design of calcium-phosphate protein templates is the subject of numerous scientific investigations.
The biomineralization process has been used to mimic the shape, chemical composition, and physical characteristics of genuine tissues. Additionally, with the increase in accidents, biomimetics in orthopedics is predicted to grow rapidly. According to estimates from the Association for Safe International Road Travel, between 20 and 50 million non-fatal injuries result in permanent disability. Thus, this is expected to drive segment growth.
Application Insights:
Based on the application, the market is bifurcated into wound healing, tissue engineering, drug delivery and others. The wound healing segment is expected to dominate the market during the forecast period. Due to the rising number of surgical cases and the global rise in the incidence of chronic diseases, there is an increasing demand for products that promote wound healing and wound care.
The market will also keep expanding because of certain demographic trends, including an ageing population, an increase in diabetes and obesity, and an associated increase in sensitivity to chronic wounds that don't heal. In the United States, 6.9 million people—or around 2% of the country's total population—were estimated to have chronic wounds as of 2021.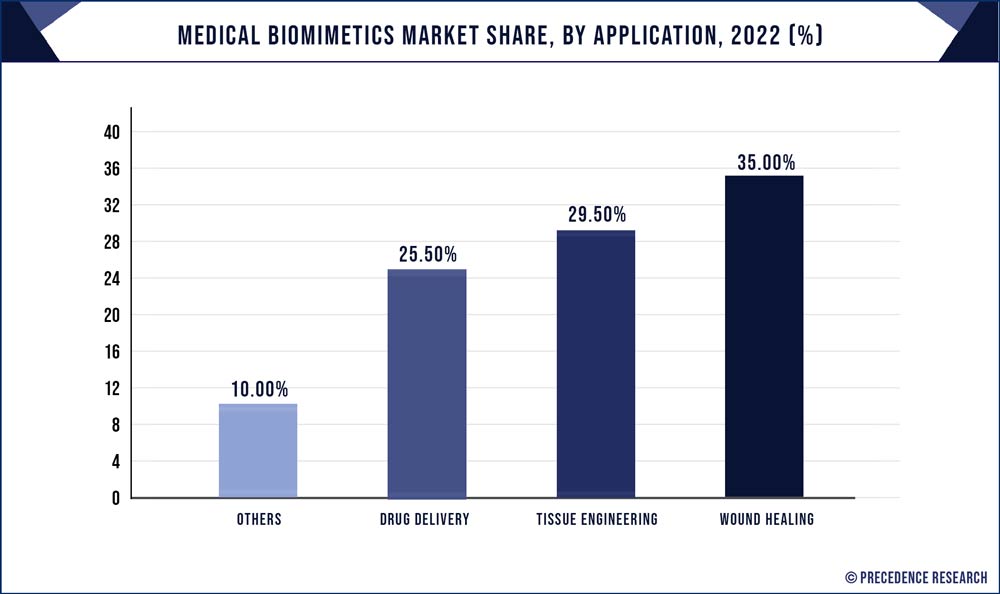 Additionally, the growing population of patients in need of better care places a significant financial strain on the healthcare system. The overall expense of treating chronic wounds is sharply rising, with a recent estimate of the cost in the United States exceeding USD 28 billion annually.
The drug delivery segment is expected to grow at a significant rate over the forecast period. This is due to a shift in patient preferences towards the use of sophisticated drug administration systems and rising research and development. Albumin-based delivery has so far shown to be the most effective method for biomimetics therapies, and medicines containing abraxane, liraglutide, semaglutide, and albiglutide are widely available on the market. Another intriguing application of biomimetics in medicine is cell-based biomimetic delivery.
For instance, RBC have been studied as living cell transporters since the 1970s. Additionally, as biomimetics approaches show potential in enhancing medication efficiency in targeted drug delivery, the adoption of targeted drug delivery systems encourages the expansion of this method of delivery.
Regional Insights:
North America is expected to dominate the market during the forecast period. The growth in the region is attributed to the rising geriatric population coupled with the increasing prevalence of the chronic disease. For instance, according to the Administration on Aging (AoA), in the US, there were 54.1 million people 65 and over as of 2019. More than one in seven Americans or 16% of the population are Americans. Since 2009, there have been 14.4 million more older Americans than there were in 2009, a rise of 36% compared to a 3% rise in the population under 65.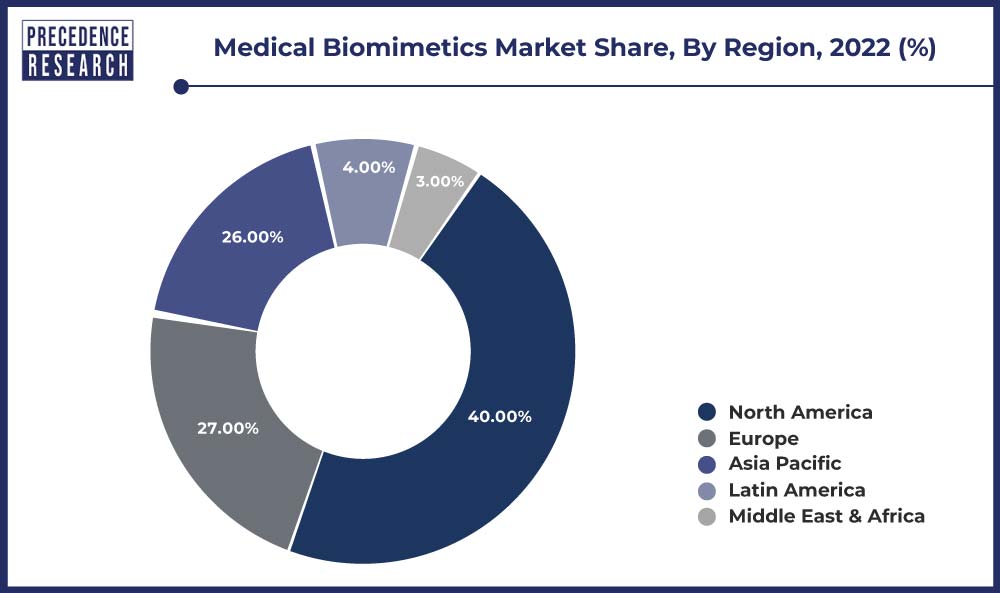 The number of Americans aged 45 to 64 increased by 4% between 2009 and 2019, from 80.3 million to 83.3 million. Americans aged 60 and over climbed from 55.7 million to 74.6 million, a 34% rise. In addition, according to the Journal of the American College of Cardiology, it is expected that cardiovascular risk factors and disease will rise significantly by 2060. Moreover, the growing number of orthopedic patients and related product launches is one of the potential aspects that penetrate the market expansion over the projected period.
The Asia Pacific is growing at the highest CAGR during the forecast period. The growing prevalence of cancer in countries like India and China is expected to drive market expansion in the region. For instance, as per the US Department of Health and Human Services (HHS), 14,61,427 incident cases of cancer were determined to be the projected total in India for 2022. In India 1 out of 9 people has a lifelong risk of developing cancer.
The most common cancer in men and women were lung and breast cancer. According to the estimates, there will be 12.8% more cancer instances in 2025 than there were in 2020. Moreover, the growing heart failure in the countries like India and China is further driving the demand for ACT therapy in the region.
Recent Developments:
In May 2022, a group purchase agreement for peripheral and biliary stents has been granted to Veryan Medical Inc. by Premier, inc. With the new agreement, which goes into effect on May 1, 2022, Premier members will have the option to benefit from exclusive pricing and terms that Premier has pre-negotiated for the BioMimics 3D Vascular Stent System.
In January 2023, Creos Syntogain is a new addition to Nobel Biocare's collection of regenerative products sold under the Creos brand. Creos Syntogain is a biomimetic bone graft alternative intended for effective regeneration, it has been available and well-liked in the Spanish market since 2016 under the name MimetikOss.
In December 2022, Citrefix, a suture anchor system for surgical procedures on the foot and ankle, was introduced by Stryker. The new technology makes use of Citregen, a highly acclaimed bioresorbable substance created to imitate the composition and structure of natural bone.
Key Market Players:
SynTouch Inc
Biomimetics Technologies Inc
Abbott
AVINENT Science and Technology
Otsuka Medical Devices Group
Zimmer Biomet
Vandstrom, Inc.
Stryker
Swedish Biomimetics 3000 ApS
Keystone Dental Group
LifeMatrix
Curasan, Inc. 
CorNeat Vision 
NanoHive Medical LLC
Osteopore International Pte Ltd.
Segments Covered in the Report:
(Note*: We offer report based on sub segments as well. Kindly, let us know if you are interested)
By Type
Cardiovascular
Orthopedic
Ophthalmology
Dental
Others
By Application
Wound Healing
Tissue Engineering
Drug Delivery
Others
By Geography
North America
Europe
Asia-Pacific
Latin America
Middle East and Africa