The global nickel hydrogen batteries market size was estimated at USD 4.02 billion in 2022 and it is expected to surpass around USD 22.13 billion by 2032, growing at a compound annual growth rate (CAGR) of 18.6% during the forecast period 2023 to 2032.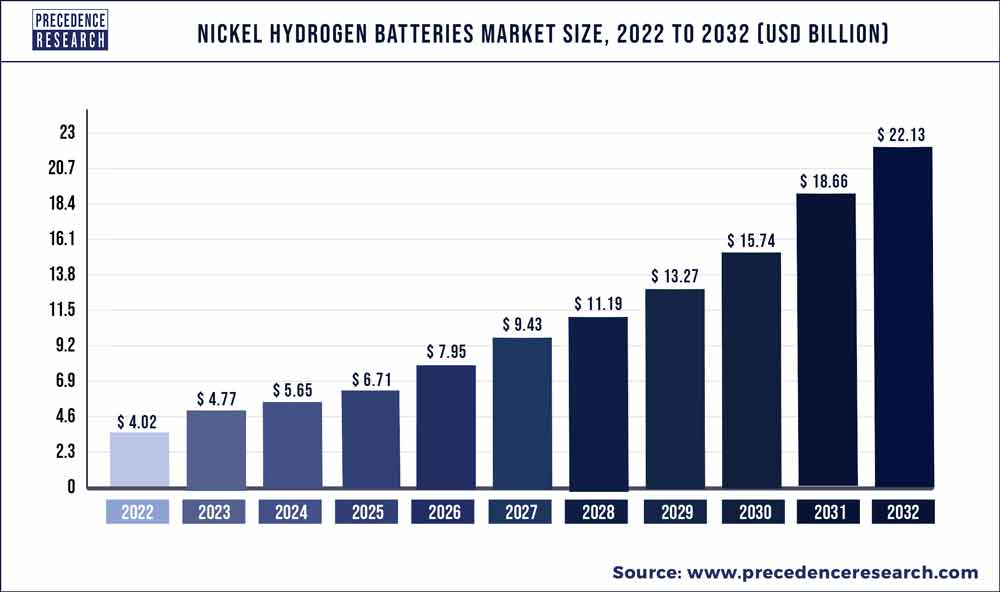 Access our Premium Real Time Data Intelligence Tool, Visit: Precedence Statistics
Key Takeaways:
North America region is predicted to dominate the global market between 2023 and 2032.
By Type, Large-sized segment is predicted to generate the maximum marker share between 2023 and 2032.
By Application, the small-sized segment is expected to expand at the fastest CAGR from 2023 to 2032.
By Application, the automotive segment is projected to contribute a remarkable CAGR between 2023 and 2032.
In hybrid vehicles, nickel metal hydride batteries are increasingly being used. These batteries were ideal for the automotive industry due to their wide temperature range of -30 °C to + 75 °C and rapid charging capacity. NiMH batteries can handle the high-power levels required by electric vehicles. According to a Bloomberg New Energy Finance (BNEF) report, electric vehicle sales will reach 540 million by 2040, accounting for approximately 32% of the world's passenger vehicles. The growing demand for electric cars will benefit the NiMH battery market.
Furthermore, global industrialization and technological advancements have increased the demand for Ni-MH batteries as reliable energy sources. Manufacturers of these batteries focus on improved energy efficiency and battery longevity. Furthermore, these batteries are considered more environmentally friendly than other types because they do not contain the toxic heavy metal cadmium found in nickel-cadmium batteries. Moreover, these batteries are used in various applications, such as medical devices, vehicles, and industrial equipment, propelling the global nickel-metal hydride battery market forward.
Covid 19 Impact:
The global economic system has slowed due to the Covid-19 pandemic lockdown. The pandemic has caused severe economic challenges by closing factories, closing roads, and grounding planes. The pandemic's negative impact during the lockdown has been a blessing in disguise for the environment due to a significant drop in pollution levels as transportation and industrial sectors have been shut down. The transportation and industrial sectors contribute significantly to environmental degradation due to various emissions caused by the use of fossil fuels. Following the Covid-19 pandemic, energy consumption in the transportation and industrial sectors will have to shift to viable, readily available, economically and environmentally friendly sources with no carbon buildup. Hydrogen energy continues to be the best alternative technology for reducing greenhouse gas emissions and pollution in various forms.
Furthermore, the government's strict regulations affected the imports and exports of these batteries, resulting in lower market revenue. On the other hand, as people stayed at home, the demand for electronic devices increased. Several offices and businesses were closed, resulting in work-from-home practices, which increased demand for electronic devices such as laptops and smartphones. As a result, COVID-19 had a minor impact on the Ni-MH battery market.
Report Scope of the Nickel Hydrogen Batteries Market:
| | |
| --- | --- |
| Report Coverage | Details |
| Market Size in 2023 | USD 4.77 Billion |
| Market Size by 2032 | USD 22.13 Billion |
| Growth Rate from 2023 to 2032 | CAGR of 18.6% |
| Largest Market | North America |
| Base Year | 2022 |
| Forecast Period | 2023 to 2032 |
| Segments Covered | By Type, By Application, and By Sales Channel |
| Regions Covered | North America, Europe, Asia-Pacific, Latin America, and Middle East & Africa |

Market Dynamics:
Drivers: The increase in electricity demand fuels the growth of nickel metal hydride batteries
Global electricity demand is a crucial factor in accelerating market growth, and Nickel-metal hydride batteries provide the necessary high-power capacities for electric vehicles. As a result, the global Ni-MH battery market is primarily driven by rising demand for electric cars and vehicles. The nickel-metal hydride battery is also quick to charge and discharge, making it ideal for portable electronic devices. Furthermore, the increasing use of Ni-MH batteries in medical devices and vehicles is propelling the nickel-metal hydride battery market forward. As a result, the nickel-metal hydride (Ni-MH) battery market is expected to grow during the forecast period.
Furthermore, technological advancements have enabled the development of more efficient and powerful NiMH batteries. Due to its high reliability, stability, and durability, the conventional nickel-hydrogen battery exhibits outstanding rechargeability without capacity decay for over 30,000 cycles. It has been widely used in aerospace, such as satellites and aircraft, with a service life of more than three decades.
Restrain: Government regulations hamper the market growth
Regulations imposed by various governments for the manufacture of rechargeable batteries hampered market growth. Cadmium, cobalt, copper, cyanide, iron, lead, manganese, mercury, nickel, and zinc are the pollutants released during battery manufacturing. The United States Environmental Protection Agency (EPA) developed the Battery Manufacturing Effluent Guidelines and Standards to regulate such impurities. Furthermore, the availability of alternatives such as lithium-ion batteries and restrictions imposed by various governments for rechargeable batteries may impede global market growth, as the battery manufacturing process generates wastewater and emits pollutants.
Opportunities: Low-cost, high storage provides lucrative opportunities
Significance Rechargeable batteries provide excellent opportunities for low-cost, high-capacity, and highly reliable large-scale energy storage systems. An aqueous nickel-hydrogen battery with an industrial-level areal capacity of 35 mAh cm 2 and a low-cost, bifunctional nickel-molybdenum-cobalt electrocatalyst as hydrogen anode to effectively catalyze hydrogen evolution and oxidation reactions in alkaline electrolyte. The nickel-hydrogen battery has an energy density of 140 Wh kg 1 in aqueous electrolyte and excellent rechargeability over 1,500 cycles with no capacity decay.
The nickel-hydrogen battery is estimated to cost as little as $83 per kilowatt-hour, demonstrating an appealing potential for practical large-scale energy storage. Additionally, for at least 30 years, nickel-hydrogen battery technology has been widely used in satellite applications. Because of their higher specific energy compared to Ni-Cd batteries, Ni-H2 cells have been used on all communication satellites since the 1990s. However, due to the anticipated benefits of lithium-ion batteries for space applications, Ni-H2 technology is expected to be phased out shortly. Most satellite manufacturers have already adapted their satellite power systems to accommodate lithium-ion batteries.
Segments Insight:
Type Insights:
Small-size batteries are expected to grow in the forecast period
Large-sized batteries make up most of the nickel-metal hydride battery market share. They are safer and last longer than other batteries on the market. They are primarily found in Hybrid Electric Vehicles (HEVs). As a result, the increasing use of large-sized batteries in the automobile sector accounts for this segment's dominance. It has good energy density and capacity in rechargeable battery technology for aerospace energy storage.
On the other hand, the small-sized battery segment is expected to grow during the forecast period. Small batteries are commonly found in toys, laptops, vacuum cleaners, remote controls, and other small appliances. Future spacecraft is expected to have more than 6 kW power levels. Another trend is for small, low-cost spacecraft to have a power level of 1 kW. The goal is to reduce battery mass, volume, and cost. NASA Lewis has an in-house and contracted effort to develop a lightweight battery supporting a light storm. For Instance, Toyota's new Acqua compact HEV features a bipolar nickel-hydrogen battery, which the Japanese automaker claims is a world first for a road vehicle (Peter Donaldson). It contains lower energy density than lithium-ion batteries but a much longer service life. According to Toyota, the new nickel-hydrogen battery delivers 1.5 times the output from each cell and packs 1.4 times as many cells into the same volume, effectively doubling the production of the previous car's battery.
Application Insights:
The automotive segment is expected to grow in the forecast period
Automotive is expected to contribute significantly to the market growth. One of the primary drivers of segment growth is the increasing use of Ni-MH batteries in commercial vehicles, particularly hybrid electric cars. Ni-MH batteries are increasingly used in various electric vehicles because they have several advantages over lithium-ion batteries. Furthermore, improvements in these batteries to improve performance is expected to help the market grow during the forecast period. On the other hand, Ni-MH batteries are used in various consumer electronic devices such as cameras, toothbrushes, camcorders, and many others. These batteries are also used in toys, remote controls, and other appliances.
Furthermore, A reliable battery is a critical technological component in developing practical electric vehicles. The science and technology of a nickel metal hydride battery are described. Which stores hydrogen in the solid hydride phase and has high energy density, high power, long life, abuse tolerance, a wide operating temperature range, quick-charge capability, and wholly sealed maintenance-free operation. For use as the negative electrode in this battery, a diverse range of multi-element metal hydride materials with structural and compositional disorder on multiple length scales has been engineered. The battery is nontoxic and recyclable, and it operates at room temperature. The manufacturing technology demonstration has been completed.
Regional Insights: North America dominated the Nickel hydrogen batteries market
According to regional analysis, North America dominates the global market, and this is due to its growing use in HEVs, telecommunications, and medical devices. Furthermore, the increasing popularity of consumer electronics in this region is expected to fuel market growth. In addition, the Asia-Pacific region is expected to have the highest CAGR in the coming years. This is because most Ni-MH battery manufacturers are from China and India, making it appealing for investors to invest in this market.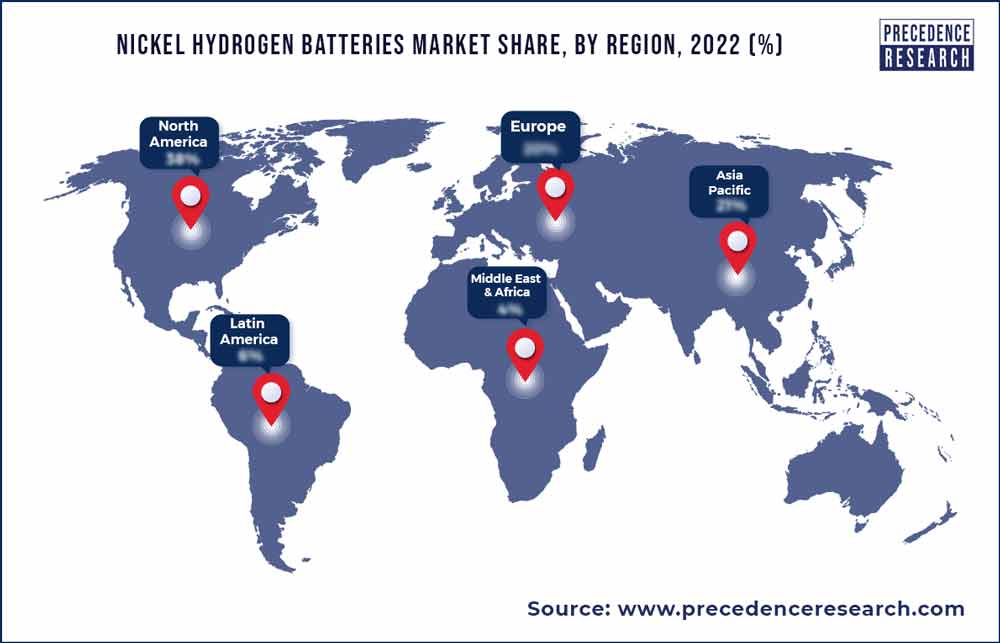 Furthermore, the European region is expected to grow by encouraging people to use electric vehicles for public and personal use. Again, due to strict government regulations regarding environmental concerns, the use of Ni-MH batteries as an alternative to nickel-cadmium batteries in major applications is primarily being adopted in this region. Varta (Ellwangen, Germany) and SAFT (Bagnolet, France) are two large European companies that have manufactured consumer-type Ni/MH batteries and filed patent applications in related fields over the last two decades. Varta micro battery was spun off from Varta and focused on the button cell business. SAFT sold its Small Nickel Battery division to Arts Energy (Nersac, France). Alcatel (later merged into Lucent Technology, Paris, France) manufactured Ni/MH batteries for cell phones and was involved in patent filings. Nilar (Täby, Sweden) has recently begun to offer bi-polar prismatic Ni/MH batteries for transportation applications. Hoppecke (Brilon-Hoppecke, Germany) produced prismatic flooded-type Ni/MH batteries for transportation.
Recent Development:
In 2021, a Storage startup in California Ener Venue raised $100 million to further develop and manufacture its nickel-hydrogen battery technology.
In 2020, Intelli-Connect, a monitoring tool developed by Saft, allows manufacturers to check the condition of nickel-powered batteries.
In 2020, VARTA AG, a battery manufacturer, paid $401 million for Energizer Holdings, Inc.'s subsidiary, VARTA Consumer Batteries. VARTA AG's battery business will most likely benefit from the acquisition, as will its product portfolio. VARTA Consumer Batteries manufactures and sells dry and primary batteries all over the world.
EnerVenue, a US nickel-hydrogen battery startup that launched during the pandemic's peak in the summer of 2020, has signed a master supply agreement with Green Energy Renewable Solutions under which the latter will procure and supply 250 MWh of batteries over the next three years.
Key Market Players:
Primearth EV Energy
FDK
GP Batteries International
Highpower International Inc
Corun
Panasonic
Huanyu battery
GS Yuasa
Spectrum Brands (Rayovac)
Lexel Battery (Coslight)
EPT Battery Co., Ltd
Energizer Holdings
Great Power Energy
Segments Covered in the Report:
(Note*: We offer report based on sub segments as well. Kindly, let us know if you are interested)
By Type
By Application
Automotive
Electrical and Electronics
Consumer Goods
By Sales Channel
By Geography
North America
Europe
Asia-Pacific
Latin America
Middle East and Africa