The global pathology laboratories market size accounted for USD 325.73 billion in 2022 and is projected to hit around USD 714.70 billion by 2032, registering a CAGR of 8.18% from 2023 to 2032.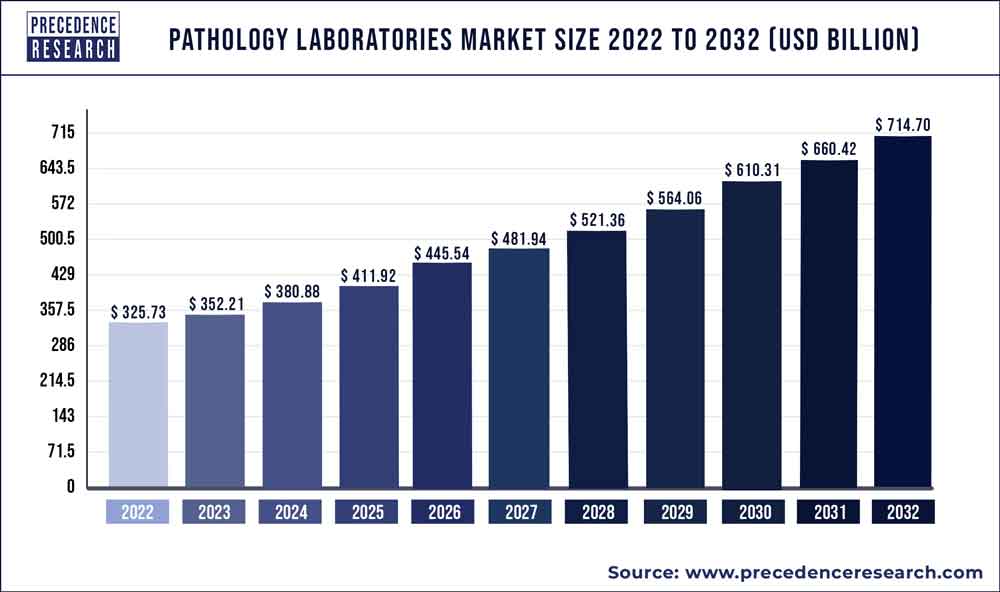 Access our Premium Real Time Data Intelligence Tool, Visit: Precedence Statistics
Key Takeaways
North America has held the maximum revenue share of 36% in 2022.
Asia-Pacific is expected to expand at the fastest CAGR during the forecast period.
By Type, the hospital-based segment has held the largest revenue share in 2022.
By Testing Services, the clinical tests & general physiological segment held the major market share in 2022.
By End-Use, the physician referrals segment had the largest market share in 2022.
Pathology Laboratories Market in the U.S. 2023-2032
The U.S. pathology laboratories market size was valued at USD 69.19 billion in 2022 and is estimated to reach around USD 151.80 billion by 2032, growing at a CAGR of 8.18% from 2023 to 2032.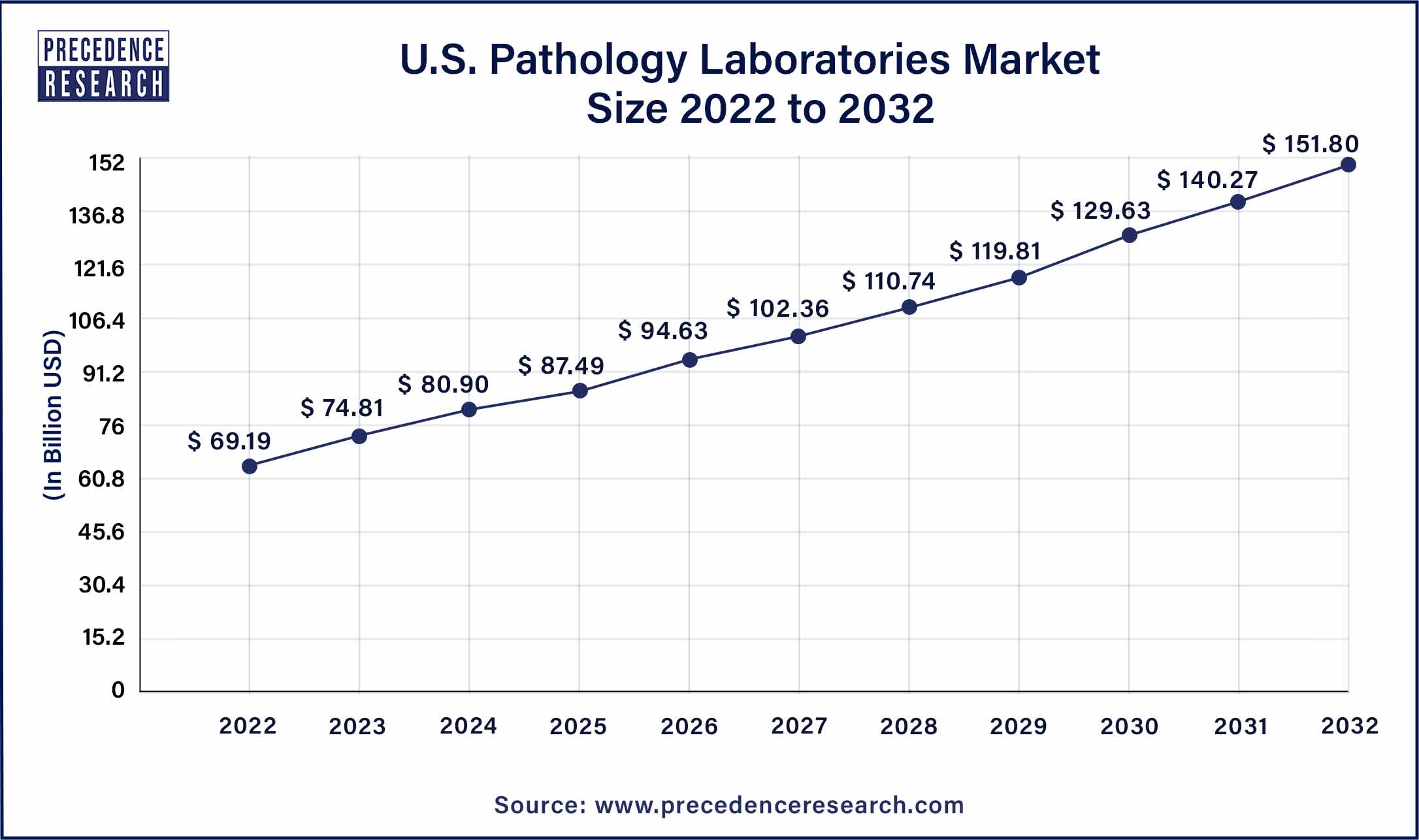 North America has held the largest revenue share in 2022. The pathology laboratories market in North America plays a vital role in the region's thriving healthcare industry. It encompasses both the United States and Canada, benefiting from advanced healthcare infrastructure and widespread adoption of diagnostic technology. These labs are dedicated to delivering cutting-edge medical services with a wide range of diagnostic tests and services available, including clinical pathology, anatomical pathology, molecular diagnostics, and specialized screenings.
The proficient staff comprises skilled pathologists, medical technologists, and laboratory technicians who adhere rigorously to quality control standards. An aging population, an increasing prevalence of chronic diseases, and a rising demand for personalized medicine are the key factors driving the market's growth. In this regard, North America has emerged as a frontrunner in adopting innovative diagnostic technologies. These include digital pathology, next-generation sequencing, and artificial intelligence. Such advancements have significantly improved the accuracy and efficiency of diagnostic processes.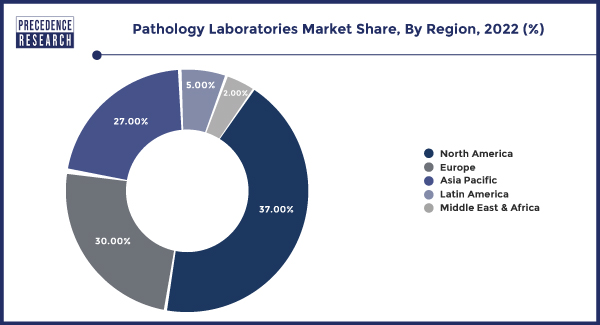 The Asia-Pacific Pathology Laboratories Market is gaining rapid prominence in the global aerospace industry. The region's robust economic progress, surging air travel demand, and focus on aerospace manufacturing and innovation have contributed to this phenomenon. This surge translates into an increased demand for pathology laboratories. Significant investments have been made by countries like China in aerospace infrastructure.
They have established manufacturing facilities and research centers, which have further driven the growth of the pathology laboratories market in the region. Not only that, but Asia-Pacific has also seen remarkable progress in indigenous commercial and military aircraft programs. This advancement has promoted collaboration among international players while increasing the demand for aerostructure components.
Pathology Laboratories Market Overview
The pathology laboratories market represents a crucial segment within the global healthcare industry, playing a pivotal role in disease diagnosis, patient care, and medical research. Pathology laboratories are specialized facilities equipped with cutting-edge technology and staffed by highly trained professionals. Pathologists, medical technologists, and technicians are vital contributors in the field. Their primary objective revolves around examining and analyzing diverse biological specimens like blood, tissue, urine, and body fluids. Their pivotal role lies in detecting, diagnosing, and monitoring diseases and disorders.
Key components of the pathology laboratories market include clinical pathology and anatomical pathology. Clinical pathology focuses on the analysis of bodily fluids and tissues to aid in the diagnosis and management of diseases such as diabetes, cancer, and infectious diseases. Anatomical pathology involves studying tissues and organs extracted during surgeries or biopsies, aiding in disease identification and staging, particularly cancer. In the competitive market of pathology laboratories, both public and private entities operate.
Public laboratories are associated with government healthcare systems and offer essential diagnostic services to the general population. Private laboratories cater to a broader range of diagnostic needs, including specialized tests for specific medical conditions. As the pathology laboratory market adapts to emerging technologies and healthcare trends, it continues to contribute to improved patient outcomes and advancements in medical knowledge.
Growth Factors
The field of pathology has been transformed by technological advancements, bringing forth innovative tools and techniques that enhance the accuracy, efficiency, and precision of diagnosis. For instance, digital pathology enables seamless sharing and analysis of digitized tissue samples. Pathologists can collaborate remotely and access extensive reference databases with ease. Additionally, the integration of artificial intelligence and machine learning algorithms into pathology workflows holds potential for automating routine tasks while streamlining processes and improving diagnostic capabilities. Consequently, there is an increase in demand for pathology services due to the aging global population. As people live longer, the occurrence of chronic and age-related diseases requiring early detection and monitoring rises.
The significance of regular pathology tests for early disease detection and intervention is highlighted by demographic change and increasing awareness of preventive healthcare. Additionally, the higher demand for pathology services can be attributed to the prevalence of non-communicable diseases such as cancer, cardiovascular conditions, and diabetes. These conditions often require thorough diagnostic investigations and continuous monitoring.
Moreover, the field of personalized medicine and genomics has brought about a remarkable transformation in diagnostics and treatment. This advancement has opened unprecedented possibilities for enhancing healthcare. Pathology laboratories play a vital role in driving these breakthroughs by providing essential services like genetic testing, molecular diagnostics, and customized treatment plans tailored to an individual's unique genetic composition. This tailored approach not only enhances patient outcomes but also generates significant demand for specialized pathology tests and services.
Pathology Laboratories Market Scope
| | |
| --- | --- |
| Report Coverage | Details |
| Growth Rate from 2023 to 2032 | CAGR of 8.18% |
| Market Size in 2023 | USD 352.21 Billion |
| Market Size by 2032 | USD 714.7 Billion |
| Largest Market | North America |
| Base Year | 2022 |
| Forecast Period | 2023 to 2032 |
| Segments Covered | By Type, By Testing Service, and By End-Use |
| Regions Covered | North America, Europe, Asia-Pacific, Latin America, and Middle East & Africa |

Pathology Laboratories Market Dynamics
Driver
Rising global air travel demand
There has been a positive shift in the global population owing to higher birth rates couple with longer lifespan of the people. Also, the geriatric population is more prone to heart disease, diabetes, and other diseases. Consequently, this demographic shift has heightened the demand for frequent diagnostic testing, medical screenings, and pathology services. These essential measures aim to enable early disease detection and efficient management of health conditions.
Moreover, changes in lifestyle, including engaging in sedentary behaviors, adopting poor dietary habits, and experiencing heightened stress levels, have significantly contributed to the rise of non-communicable diseases. These medical conditions often require extensive diagnostic evaluations that encompass an array of laboratory examinations, imaging studies, and tissue analyses. These thorough assessments supply healthcare professionals with the vital information necessary for precise diagnoses and personalized treatment plans. Pathology laboratories play a pivotal role in this diagnostic process by providing a comprehensive range of tests and services that support clinical decision-making procedures.
Therefore, the burden of disease is increasing due to changes in demographics, lifestyle factors, and global health crises. This surge in demand for diagnostic services highlights the crucial role played by pathology laboratories in healthcare. They contribute significantly to early disease detection, improved patient outcomes, and advancements in medical knowledge.
Restraints
Cost pressure
The growth of the pathology laboratories market is significantly restrained by cost pressures. These pressures stem from various sources within the healthcare landscape, placing a financial burden on patients and payers alike. Consequently, there is an increased emphasis on cost containment, leading to demands for lower reimbursement rates for diagnostic services. This poses a challenge for pathology laboratories as they strive to maintain profitability while upholding high-quality testing standards. Moreover, the need for investment in advanced diagnostic equipment, cutting-edge technologies, and skilled personnel further amplifies operational costs in this field.
Furthermore, when it comes to the market of pathology laboratories, price competition can have detrimental effects on profit margins. The race for contracts and customers may ignite pricing wars that further squeeze financial stability. These cost pressures can potentially compromise the quality of service and hinder investments in innovative diagnostic solutions.
Opportunities
Telemedicine and remote healthcare
Telemedicine and remote healthcare present a significant opportunity for the growth of the pathology laboratories market. As digital technology transforms healthcare delivery, pathology laboratories play a crucial role in remote diagnostics. Through telemedicine, patients and providers can access medical services from anywhere, breaking geographical barriers and improving patient care.
Pathology laboratories can offer telepathology services that enable skilled pathologists to interpret diagnostic tests remotely. This not only provides faster and more convenient access to pathology expertise but also enhances healthcare delivery in underserved areas with limited specialized services.
The integration of pathology into telemedicine further supports the growing emphasis on patient-centric care. This advancement allows patients to receive prompt and accurate diagnoses, obtain answers to their queries, and actively participate in decision-making alongside healthcare providers, all from the comfort of their homes. As telemedicine continues its evolution, pathology laboratories can explore collaborations with telehealth platforms, healthcare systems, and telemedicine providers to extend their reach and deliver specialized diagnostic services tailored specifically to remote healthcare requirements.
Additionally, remote healthcare allows for the convenience of at-home diagnostic testing. In this approach, patients can collect their own samples and send them to pathology laboratories for analysis. This method proves particularly valuable for routine screenings, managing chronic diseases, and preventive care. As telemedicine and remote healthcare continue to integrate into the healthcare system, pathology laboratories that invest in infrastructure and digital capabilities will benefit from the increasing demand for their services. They play a pivotal role in enhancing accessibility to healthcare and improving patient outcomes.
Impact of COVID-19
The pandemic has led to a significant increase in the use of diagnostic testing worldwide. Pathology laboratories have played a crucial role in testing for COVID-19, conducting numerous tests to detect active infections and track the virus's spread. This heightened demand has not only boosted revenue for these labs but also demonstrated their ability to quickly expand and adapt during a public health crisis. Additionally, the pandemic has driven innovation within pathology labs, resulting in the development and implementation of new diagnostic technologies such as PCR testing, rapid antigen tests, and serological assays. These advancements have been instrumental in identifying and managing COVID-19 cases. The implementation of these technologies has provided valuable experience, serving as a foundation for future advancements in diagnostic testing across various diseases, extending beyond COVID-19.
Moreover, the significance of data-sharing and collaboration among pathology laboratories, healthcare systems, and public health agencies has been underscored by the COVID-19 pandemic. This increased interconnectedness and exchange of information have not only optimized testing efficiency but also opened avenues for joint research endeavors and comprehensive data analysis. These collaborative efforts have deepened our understanding of the virus's behavior and facilitated the development of more effective strategies in safeguarding public health.
Type Insights
According to the type, the hospital-based sector has held the major revenue share in 2022. The hospital-based laboratories function within the confines of hospitals, with the sole purpose of providing an extensive range of diagnostic services to support patient care. Their significance lies in their ability to promptly and accurately diagnose conditions, helping manage diseases and inform treatment decisions. These pathology laboratories within hospitals offer a comprehensive suite of services that encompasses clinical pathology, anatomical pathology, microbiology, hematology, and molecular diagnostics. A team of highly skilled pathologists, medical technologists, and laboratory technicians work collaboratively to analyze diverse specimens like blood samples, tissues, and bodily fluids.
The close proximity between these labs and the clinical departments ensures swift turnaround times for critical tests—an indispensable aspect in emergency situations or for patients requiring immediate medical attention. Hospital-based pathology laboratories play a crucial role in enhancing patient outcomes and serving as important centers for medical research, education, and quality assurance within healthcare institutions. These labs are indispensable contributors to modern healthcare delivery.
Testing Services Insights
Based on the testing services, clinical tests & general physiological segment held the largest market share the market in 2022. The pathology laboratories market comprises a wide range of diagnostic services dedicated to evaluating an individual's overall health. These services, including routine blood tests, urinalysis, lipid profiles, and glucose monitoring, offer crucial insights into a patient's physiological status.
Pathology laboratories within this sector play a vital role in preventive healthcare by facilitating early detection and monitoring of medical conditions like diabetes, cardiovascular disease, kidney disorders, and liver function abnormalities. Primary care physicians and specialists often prescribe these tests to assess baseline health, track chronic diseases' progression, and make informed treatment decisions.
The clinical tests and general physiological segment play a crucial role in pathology laboratory services. With its emphasis on routine screenings, it serves as the bedrock of early disease detection, intervention, health maintenance, and disease prevention efforts. By promoting better health outcomes for individuals and alleviating the strain on healthcare systems, this segment bears immense significance.
End-Use Insights
In 2022, the physician referrals sector had the highest market share on the basis of the end-user. The physician referrals end-use segment of the pathology laboratories market is a crucial component of the healthcare system. It plays a vital role in patient care by ensuring that medical practitioners, including primary care physicians, specialists, and surgeons, can accurately diagnose and manage their patients' health conditions. Whenever there are diagnostic uncertainties or specific testing requirements, these physicians refer their patients to pathology laboratories.
These referrals cover a wide range of tests such as clinical pathology, anatomical pathology, molecular diagnostics, and specialized screenings. Physician referrals are essential for providing timely and accurate diagnoses to patients, enabling effective treatment planning and monitoring. It is particularly important for complex cases such as cancer diagnosis, infectious disease identification and genetic testing where the skills of pathologists are essential.
Recent Developments
Waters Corporation has introduced the Extraction+Connected, a software controlling device designed to enable sample processing with solid phase extraction of proteins in various applications such as biological, forensic food analysis and environmental samples analysis, which enables them to be processed automatically.
In addition, PerkinElmer introduced the GC 2400 Platform which is a state-of-the art solution for combining automated gas chromatography with headspace GSC sampling and GC mass spectrometry capabilities.
Pathology Laboratories Market Players
Unilab
Falco Holdings
Centro de Diagnósticos
BioReference
Healius Limited
Kingmed Diagnostics
Metropolis Healthcare
Dr. Lal Path Labs
Sonic Healthcare Limited
SYNLAB International GmbH
Spectra Laboratories
Exact Sciences Laboratories LLC
Laboratory Corporation of America Holdings
Eurofins Scientific
Quest Diagnostics Incorporated
Segments Covered in the Report
By Type
Diagnostic Chains
Standalone Labs
Hospital-Based
By Testing Service
COVID-19 Tests
Esoteric Tests
Imaging & Radiology Tests
Clinical Tests and General Physiological
By End-Use
Corporate
Walk-ins
Physician Referrals
By Geography
North America
Europe
Asia-Pacific
Latin America
Middle East and Africa