The global pharmaceutical stability and storage services market size was reached at USD 3.01 billion in 2022 and it is expected to hit around USD 5.4 billion by 2032 growing at a CAGR of 6.02% from 2023 to 2032.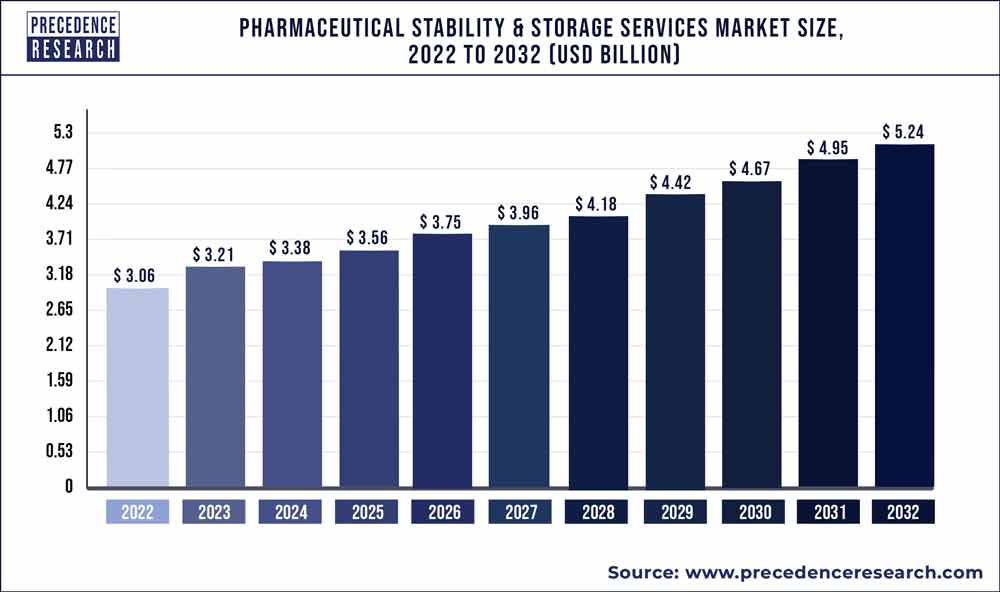 Key Insights:
North America generated more than 54% of the revenue share.
Asia Pacific is expected to expand at the biggest CAGR of around 7% between 2023 and 2032.
The stability services segment captured more than 73% of the revenue share in 2022.
The storage services segment is projected to grow at the fastest rate between 2023 and 2032.
The small molecule segment generated the highest revenue share of around 64% in 2022.
The large molecule segment is predicted to expand at the fastest rate between 2023 and 2032.
The in-house mode segment contributed the highest share of around 61% in 2022.
The outsourcing mode segment is expected to grow at the fastest rate between 2023 and 2032.
Market Overview:
Due to rising R&D spending by pharma firms, the pharmaceutical stability and storage services industry is growing significantly. Pharmaceutical firms are increasingly focusing their R&D efforts in order to remain competitive as well as versatile. An increase in novel approval applications, centralization, and globalization of both large and small molecule industries are driving the market.
Furthermore, with the sustained expansion of biological drugs, the worldwide pharmaceutical stability and storage industry is expected to expand rapidly. Medicinal companies are moving towards decentralized stability testing and centralized management and reporting, whereas pharmaceutical companies are combining stability storage and restricting testing to one service.
Report Scope of the Pharmaceutical Stability and Storage Services Market
| | |
| --- | --- |
| Report Coverage | Details |
| Market Size in 2023 | USD 3.19 Billion |
| Market Size by 2032 | USD 5.4 Billion |
| Growth Rate from 2023 to 2032 | CAGR of 6.02% |
| Largest Market | North America |
| Base Year | 2022 |
| Forecast Period | 2023 to 2032 |
| Segments Covered | By Services, By Molecule and By Mode |
| Regions Covered | North America, Europe, Asia-Pacific, Latin America and Middle East & Africa |

Market Dynamics:
Drivers
Vaccines are in high demand
Demand for COVID-19 vaccines that are stable and able to be stored for an extended period of time is expected to rise as government agencies rapidly increase their vaccination efforts. In recent years, the total expenditure on R&D in the pharmaceutical sector has grown significantly. The increased spending on R&D is expected to increase the number of drugs.
Another factor influencing market growth is the requirement for stability testing before receiving approval for clinical trial phases. Furthermore, biosimilar drugs are identical copies of biological drugs, so their costs are much lower when compared to biological drugs.
Rising biosimilar demand
Biosimilars have grown in popularity in recent years owing to their close similarity to biological drugs as well as their typically lower cost. Biosimilars have gained popularity in the treatment of cancer, autoimmune diseases, and other chronic conditions. Due to the global prevalence of all these diseases, the requirement for biosimilars is anticipated to rise, as well as the need for their stability and storage.
Marketing products across markets is complicated because different regulatory authorities have other data requirements and testing guidelines for determining the stability of a product. Hence, increasing demand for a biosimilar is expected to increase the demand for outsourcing services in the market.
Restraints
Rare highly skilled employees
Pharmaceutical stability and storage service providers face challenges in recruiting and maintaining highly skilled personnel. Pharmaceutical, contract research, medical device, biotechnology, and academic and research institutions compete for qualified and experienced scientists.
The pharmaceutical industry's shift towards innovative molecular structures as well as mechanisms of action makes a significant contribution to a scarcity of skilled professionals in this field. Pharmaceutical companies, CROs, and healthcare analytical testing industries must collaborate to develop training programs tailored to the healthcare sector.
Opportunities
The recent trend in multifunctional pharmaceutical businesses is to define conditions for global marketing stability testing. Companies are developing protocols to cover a single set of extreme environmental conditions for this purpose. The specific changes for global testing include extending the accelerated testing period from 6 to 12 months and conducting additional tests at 500 degrees Celsius/75% relative humidity for three months.
It avoids the repetition of stability testing for the region and makes the most efficient use of resources because all tests are performed in one laboratory. Testing under a combination of three environmental factors, namely temperature, humidity, and light, has been shown to have a more severe impact on drug compounds and products than humidity alone.
Impact of COVID-19:
The COVID-19 pandemic has raised the global demand for COVID-19 vaccines. The government's increasing vaccine push is likely to increase the need for commercial COVID-19 vaccine stability and storage. Pharmaceutical R&D expenditure has increased significantly in recent years. Rising R&D expenditure is predicted to boost the number of drugs undergoing clinical trials. Each stage of a clinical study requires stability testing before it can be approved, and this is accelerating market growth.
Furthermore, biosimilar drugs are remarkably similar copies of biologics and are significantly less expensive than biologics. Several diseases have increased since COVID-19. According to a report published by Children's National Hospital- pediatric research and clinical innovations center, a study was conducted on 737 diabetes-diagnosed youths, and it discovered an increased incidence of pediatric Type 1 Diabetes by 15.2% and Type 2 Diabetes by 182% between March 2018, and March 2021. The increase in incidence rate is anticipated to boost drug production, which will drive market demand.
Segments Insight
Service Insights
In 2022, the stability segment generated more than 73% of the revenue share. Stability testing is an essential parameter that pharmaceutical industries must analyze and report on in order to obtain regulatory approval for marketing. The necessity of stability testing further increases its market demand during each stage of the clinical trials.
During the projected period, the storage sector is anticipated to grow at the fastest rate. Drugs are stored in cold & non-cold conditions in controlled environments compartments to see if the performance of the drug alters over time under humidity, temperature, and light conditions. A large number of small-molecule drugs must be placed in non-cold conditions, and the abundance of commercially accessible small molecules is propelling market demand for non-cold storage.
Molecules Insights
In 2022, the small molecule sector had the highest revenue share of over 64%. Drug development for small molecules has advanced significantly over the past three decades. Small molecules account for roughly 90% of all pharmaceutical medications. It is used to treat fevers, migraines, cancer, diabetes, as well as other common illnesses. The increasing application of small-molecule drugs to treat common disorders and diseases is raising the need for stable testing & storage.
Over the forecast period, the large molecule sector is expected to expand at the fastest pace. Large molecules are commonly used to treat cancer, infectious diseases, and autoimmune diseases. The high prevalence of these illnesses is expected to fuel market growth for large molecules and, as a result, demand for large molecule stability and storage.
Modes Insights
In 2022, the in-house segment had the highest share of around 61%. A large percentage of pharmaceutical manufacturers prefer in-house stability testing because these tests have been necessary for all drugs and at all stages of clinical trials. One of the factors that pharmaceutical industries take into cogitation when considering in-house services for testing is the cost-effectiveness of owning a stability chamber for carrying out stability studies. An in-house unit conducting stability testing is more efficient for pharmaceutical firms that are able to afford the initial development cost; these attributes influence market demand for in-house services.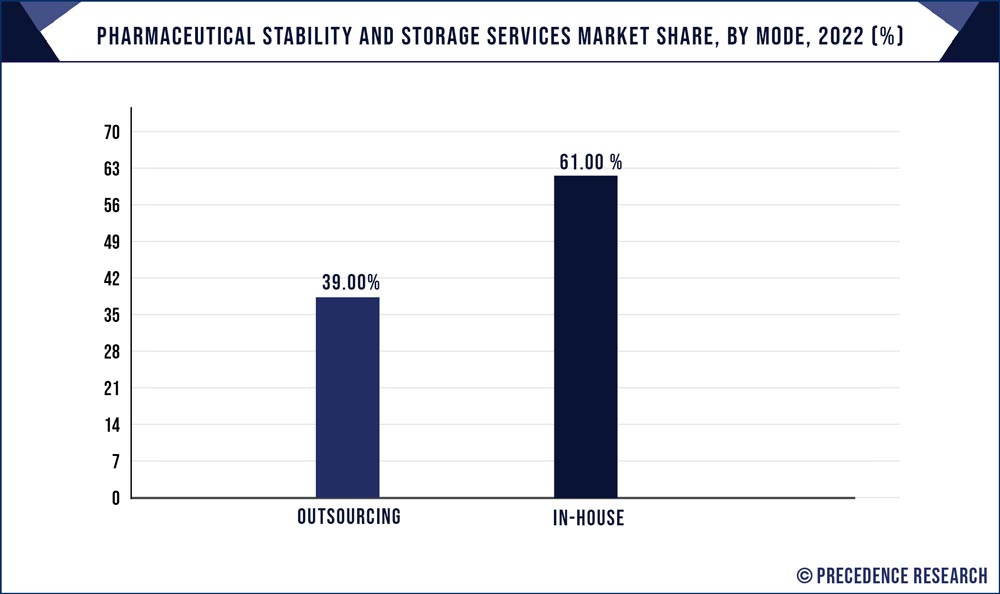 During the projected period, the outsourcing sector is anticipated to grow the fastest. The market's demand for outsourcing is driven by potential complications with stability testing. Various regulatory agencies have different data demands and testing guidelines, which makes marketing products difficult, particularly in different supply chains. Even though the EMA, as well as FDA, follow ICH regulations for stability testing, their microbiological criteria for stability tests differ. Such complicated stability testing increases the need for outsourcing services.
Regional Insights
North America had the highest revenue share of over 54% of the pharmaceutical stability & storage market. This is due to the large number of pharmaceutical businesses located in the United States and Canada. The presence of key market players in the region offering stability & storage services is anticipated to considerably contribute to market expansion.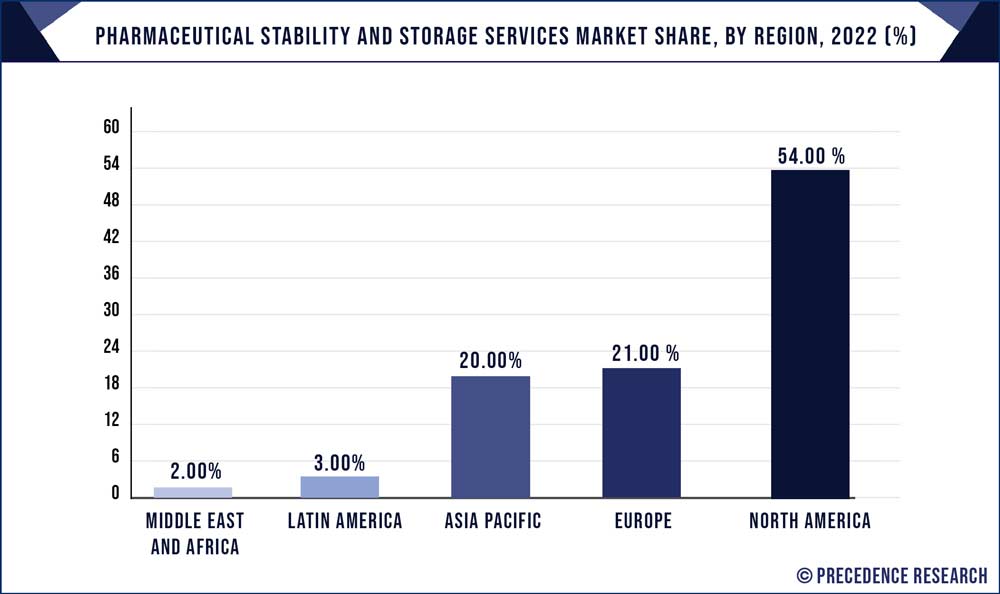 Asia Pacific is predicted to expand at the fastest CAGR of around 7% between 2023 and 2032. Due to the existence of countries such as China, India, and Japan, the region has the fastest-growing pharmaceutical market. Initiatives by public organizations to reduce prices for drugs in order to improve access to high-quality products have aided market growth. Clinical research is also a priority in the region. According to Global data, China will account for 26% of worldwide clinical trials operation in 2021, which will benefit the Asia Pacific market.
Recent Developments:
In December 2022, Almac Group completed the first stage of its GMP API facility expansion.
In 2022, Alcami established a CGMP Bio storage Laboratory in North Carolina.
In June 2022, Cambrex acquired Q1 Scientific, an Irish storage company.
Charles River Laboratories International, Inc. announced the release of its manufacturing capacity in Bruntwood SciTech's Alderley Park in February 2022.
BioLife Solutions acquired a majority stake in Sexton Biotechnologies in September 2021.
Key Market Players:
Catalent, Inc.
Charles River Laboratories International, Inc
Almac Group
Eurofins Scientific
Lucideon Limited
Intertek Group Plc
Alcami Corporation
Element Materials Technology
Q1 Scientific
BioLife Solutions
Masy BioServices
Roylance Stability Storage Limited
Reading Scientific Services Ltd.
Als Ltd.
Auriga Research Private Limited
Q Laboratories
Precision Stability Storage
PD Partners
Segments Covered in the Report:
(Note*: We offer report based on sub segments as well. Kindly, let us know if you are interested)
By Services
Stability

Drug Substance
Stability indicating method validation.
Accelerated stability testing.
Photostability Testing
Other stability testing methods

Storage
Cold
Non-cold
By Molecule
Small Molecule

Research Products
Commercial Products

Large Molecule

Research Products
Commercial Products
By Mode
By Geography
North America
Europe
Asia-Pacific
Latin America
The Middle East and Africa