The global acetic acid market size was exhibited at USD 22.64 billion in 2022 and it is projected to attain around USD 34.2 billion by 2030, poised to grow at a CAGR of 5.29% between 2022 and 2030.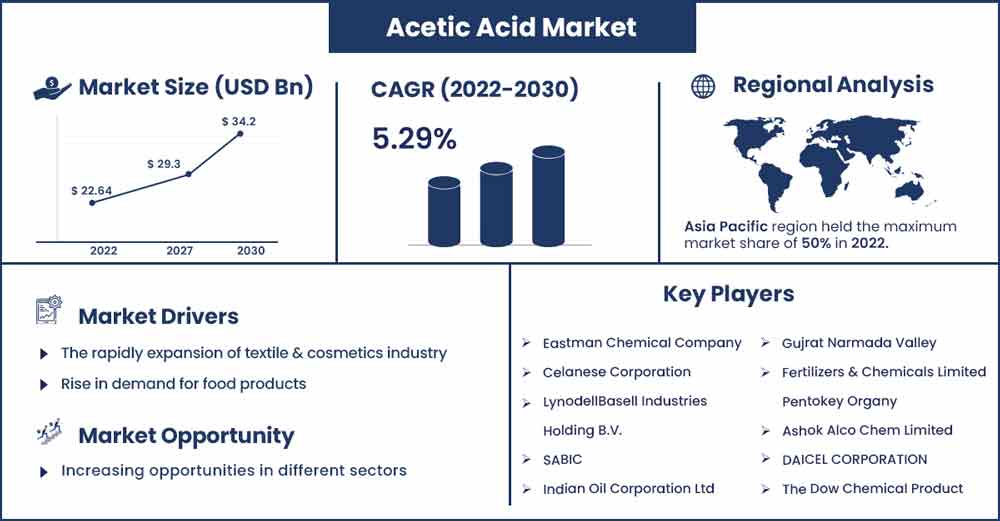 A monocarboxylic acid with two carbons is acetic acid. It has a strong, vinegar-like stench and is a clear, colorless liquid. Methanol may be carbonylated to produce acetic acid, as can acetaldehyde and ethylene when they are oxidized, as well as biological processes like bacterial fermentation. The primary trend in the worldwide acetic acid market is an increase in capital spending to increase acid output. The increasing expenditures made by different companies are also intended to reinforce the product's supply chain, build new facilities, and advance technology. The demand-supply situation for acid is projected to improve in the upcoming years due to increased investments in the end-use sectors.
Report Highlights:
On the basis of type application, the vinyl acetate monomer (VAM) segment will have a larger market share in the coming years period, the amount of revenue generated through the use of this product will grow well in the coming year. This is because the product is in high demand due to the global industrial and cosmetics production industries fast growth. VAM is a colorless, pungent liquid that is often delivered in bulk containers and tank trucks. Due to the increasing demand for vinyl acetate monomer (VAM) for use in a variety of applications in sectors such as paints and coatings, paper adhesive & sealants, and textiles, VAM had a significant market share. In order to make polyvinyl alcohol and polyvinyl acetate, which are also employed in coating applications, VAM is predominantly used as a monomer. Growing demand from industries including the car, paper & pulp, and construction has a big impact on market expansion.
On the basis of end-use, the food & beverages segment has the biggest market share in the acetic acid market during the forecast period. Acetic acid is frequently utilized as cleaning and disinfection agents in food processing facilities. The major element of vinegar, a common culinary ingredient used in sauces and the pickling of vegetables, is acetic acid. The acetic acid market is expanding due to developments in the food and beverage sector.
Regional Snapshots:
The biggest market share was held by the Asia-Pacific in the acetic acid market during the forecast period. Asia Pacific has increased demand for the textile and construction industries, significantly boosting the market's expansion. Additionally, it is anticipated that the fast-expanding pharmaceutical business, particularly in India and Japan, would provide large amounts of income throughout the forecast period. The product is extensively employed in the pharmaceutical industry's production of disintegrants, and as a result, rising demand for pharmaceutical tablets will support market expansion overall. The Department of Pharmaceuticals estimates that the domestic pharmaceutical market in India would produce more than $18.5 billion in sales in 2021 and see growth of more than 9.4% annually.
Acetic Acid Market Market Report Scope:
| | |
| --- | --- |
| Report Coverage | Details |
| Market Revenue in 2023 | USD 23.84 Billion |
| Projected Forecast Revenue in 2030 | USD 34.2 Billion |
| Growth Rate from 2022 to 2030 | CAGR of 5.29% |
| Largest Market | Asia Pacific |
| Base Year | 2022 |
| Forecast Period | 2022 To 2030 |
| Regions Covered | North America, Europe, Asia-Pacific, Latin America, and Middle East & Africa |

Market Dynamics:
Drivers:
The rapidly growing textile sector has been highlighted as the primary market driver for acetic acid. The textile business continues to expand quickly on a global scale as a result of improving standards of living, rising income levels in developing nations, shifting fashion trends, and shifting consumer preferences. Due to the enormous markets for textiles in China and India, the Asia-Pacific region is one of the main areas where the textile industry is expanding quickly. The rising demand for clothing in the Asia Pacific area has prompted textile manufacturers to use cutting-edge technology to boost output and profit margins. In addition, vinyl acetate monomer is used in the textile sector to create synthetic fibers. The increase is being driven by the rising demand for textiles internationally, which is expected to contribute significantly to the market growth for acetic acid. Various chemicals, mostly consisting of acetic acid, are used in the textile business. Consequently, the acetic acid market is anticipated to grow as textile manufacturing increases.
The demand for vinyl acetate monomer, which accounts for the bulk of acetic acid use, is rising in the creation of cosmetics and industrial products. As a result, the rapidly expanding cosmetics industry is fueling an increase in the need for acetic acid. Additionally, acetic acid is frequently employed as a descaling agent in the domestic sector when diluted, and it is widely utilized as a vital component in the production of cellulose acetate in the industrial sector. In addition, acetic acid is utilized in the food business as a condiment and an acidity regulator. The chemical is appropriate for a variety of applications since it behaves as a hydrophilic material in liquid form. These elements have a big impact on the market's expansion. The main market players, including Celanese Corporation, are anticipated to adopt new technology in the projected year to increase their production capacity and develop new product lines to broaden their consumer base. This is anticipated to support market growth.
Restraints:
It is very corrosive to human skin and eyes and needs to be treated carefully if it is not used properly and responsibly. If swallowed or breathed, it can harm internal organs as well. Additionally, customers' growing understanding of the harmful consequences of chemicals may discourage their use, which would hurt the market's expansion. In addition, vinyl acetate monomer (VAM) is a mature market that will gradually expand or contract and is one of the main uses for acetic acid. A decrease in VAM usage might hinder market expansion by serving as a restraint.
Opportunities:
In emerging nations, the acetic acid industry is anticipated to expand significantly. These nations' economies are expanding quickly, and production facilities for chemicals, textiles, and coatings have expanded significantly. Therefore, the demand for acetic acid has very bright future thanks to the expansion of these initiatives.
Challenges:
The market for acetic acid has highlighted variable costs for the raw materials required to produce the acid as a major obstacle. Due to this, alumina manufacturing businesses are seeing changes in their profit margins, which makes it difficult for them to plan for expansion. The unpredictable nature of development plans will probably impede market expansion.
Recent Developments:
In March 2021- Across order to increase manufacturing capacity for the company's acetyl chain and its derivatives in Europe and Asia, Celanese Corporation announced the investment.
Major Key Players:
Eastman Chemical Company
Celanese Corporation
LynodellBasell Industries Holding B.V.
SABIC
Indian Oil Corporation Ltd
Gujrat Narmada Valley Fertilizers & Chemicals Limited
Pentokey Organy
Ashok Alco Chem Limited
DAICEL CORPORATION
The Dow Chemical Product
HELM AG
Airedale Chemical Company Limited
DubiChem
INEOS
Market Segmentation:
By Application
Vinyl Acetate Monomer
Acetic Anhydride
Acetate Esters
Purified Terephthalic Acid
Ethanol
Others
By End-Use
Food and beverages
Paints and coating
Plastics & Polymers
Pharmaceutical
Chemicals
Others
Buy this Research Report@ https://www.precedenceresearch.com/checkout/2295
You can place an order or ask any questions, please feel free to contact at sales@precedenceresearch.com | +1 9197 992 333