The global ethylene market size surpassed USD 185.83 billion in 2022 and is projected to rise to USD 287 billion by 2030, anticipated to grow at a CAGR of 5.58 percent during the projection period from 2022 to 2030.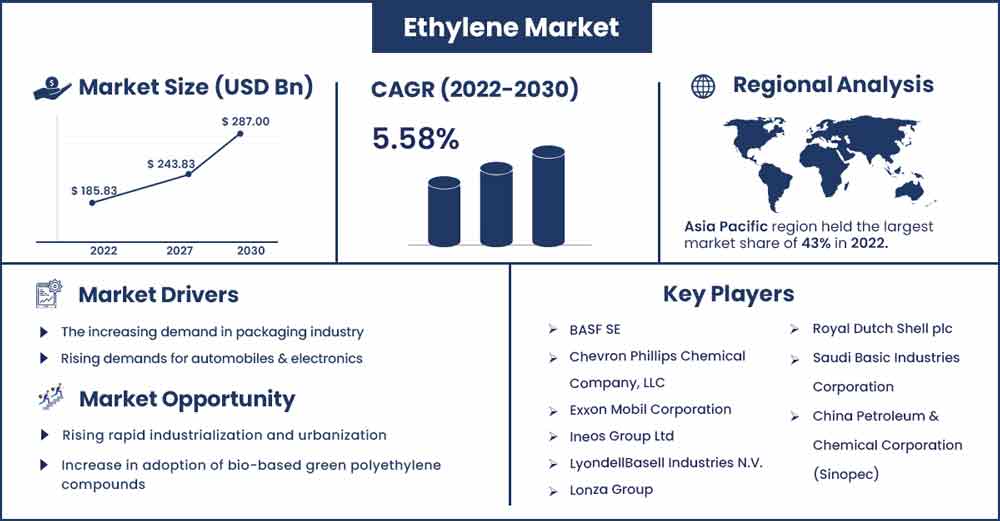 Rising demand for polyethylene used in packaging, an increase in the need for cars as well as electronics are some of the main reasons influencing revenue growth. In the upcoming years, product demand is anticipated to increase as a result of changing consumer lifestyles and rising need for packaged products. The product is also used to create solvents, polyurethanes, antifreeze, and rest items, as well as to sterilize medical and surgical equipment and supplies.
Ethylene is a flammable, colorless gas that is produced by petrochemicals and is frequently utilized as a raw material for the production of plastics, textiles, and organic compounds. It is a diversified portfolio of commonly used petrochemicals, and consumer demand is affected by energy as well as economic cycles. This is transformed into more chemicals, which are transformed into further home goods and other things. Polyethylene, styrene, ethylene dichloride, and ethylene oxide are a few examples of ethylene derivatives and their uses for them. The largest proportion of ethylene used will be used in the synthesis of polyethylene, trailed by ethylene dichloride and ethylene oxide.
During the historical period, rising polythene product demand fueled the expansion of the ethylene market. Low-density polyethylene, high-density polyethylene, and linear low-density polyethylene are among the polyethylene products that primarily utilize ethylene. Due to the rising need for plastic on a global scale, the polyethylene industry has experienced significant growth. Plastic usage has grown as a result of plastic's high level of use in lightweight products and technological goods. The output of plastic resins, which form the basis for all plastic products, increased by 0.9 percent in the United States in 2020 as opposed to 1.2 percent in 2019, claims the American Chemistry Council. These variables, which propelled the use of polyethylene, had an effect on the expansion of the ethylene market.
Report Highlights:
Rising costs intended to improve the production capacity for gas will result in a rise in the size of the ethylene market through 2022.
The natural gas category is forecast to have a much higher revenue CAGR over the course of the projected timeframe.
During the expected period, it is anticipated that the naphtha segment would record a much higher revenue CAGR. Its composition might vary depending on the source and refining conditions.
In 2022, the packaging category had the most revenue share globally and the market category for ethylene oxide had the highest CAGR growth share.
The need for polyvinyl chloride (PVC), which is used in pipes and building applications, as well as growing demand for PET fiber, bottles, and packaging, will all contribute to growth in the market for the packaging product.
Asia-Pacific is expected to have significant revenue growth for the ethylene market during the projected period.
Ethylene Market Report Scope:
| | |
| --- | --- |
| Report Coverage | Details |
| Market Revenue in 2023 | USD 196.2 Billion |
| Projected Forecast Revenue in 2030 | USD 287 Billion |
| Growth Rate from 2022 to 2030 | CAGR of 5.58% |
| Largest Market | Asia Pacific |
| Base Year | 2022 |
| Forecast Period | 2022 To 2030 |
| Regions Covered | North America, Europe, Asia-Pacific, Latin America, and Middle East & Africa |

Regional Snapshots:
Due to the increased demand for polyethylene from the plastics industry and compounds as from the chemical sector from developing nations like India, China, and Japan, Asia Pacific is predicted to expand at a CAGR of 6.3% over the forecast period and take the lead in the market in 2022. These countries' enhanced consumer lifestyles as a result of their industrial development have raised the need for performance-based plastic for everyday essentials. In addition, the growing middle-class population is increasing demand for homes and automobiles.
Market Dynamics:
Drivers:
Increasing consumer acceptance of packaged products as a result of shifting consumer lifestyles is anticipated to increase product demand throughout the projected period. Polyethylene is used in a variety of products, such as sheets, bottles used for packing, and tubing. The expanding usage of containers made from plastic across a range of end-use sectors is anticipated to dramatically enhance product demand.
Growing polyethylene consumption and demand in the food and beverage sector will fuel global revenue growth. The reason why food and drinks are preserved from both internal and exterior surroundings is because of its excellent moisture barrier characteristic. The manufacturers' increased emphasis on the packaging that prevents quality loss and food contamination, which is anticipated to create sizable development prospects for the polyethylene market.
Restraints:
Implementation of strict government rules relating to ethylene production and consumption is the main factor limiting market growth. Strict limitations on ethylene consumption are anticipated to have a negative influence on the growth of the market since it is flammable and carcinogenic. Additionally, a number of nations are putting environmental protection laws into effect, which will probably pressurize the businesses producing hydrocarbon-based gas. For example, ethylene oxide which is a derivative of ethylene is a contemporary example of strict restriction. A colorless, combustible gas with a slight ether-like smell is called ethylene oxide (EtO). The principal application for gas is utilized as a chemical intermediary in the production of ethylene glycol, detergents, textiles, solvents, polyurethane foam, adhesives, medicines, and some other goods. ETO is governed by the US EPA as a dangerous air pollutant.
Plastic pollution is on the rise as a result of increased plastic manufacture and use, particularly of single-use plastic items. Countries and businesses are taking steps to reduce their usage of single time use plastics and focus on recycled and bioplastics, which might stifle ethylene's market revenue growth, in an effort to reduce the worldwide output of plastic waste and pollution. Additionally, the market's ability to expand its revenue is being somewhat hampered by the unpredictability of feedstock prices.
Opportunities:
As consumers' awareness of the need for products to be packed properly has grown, the demand for plastic products has risen. Demand for plastic packaging has skyrocketed due to its many applications in industries including transportation, e-commerce, healthcare, and retail. The market is also projected to grow and be fueled by the need for high-end industrial applications. The market is driven by consumer demand for high-quality foods in appropriate packaging. Growth in the automotive and construction sectors is also aiding market expansion because plastic is used in the aforementioned industries for wiring, pipelines, vehicle components, and other goods. Expanding applications in the agricultural, medical, and other sectors are another factor driving the market size.
Challenges:
The adoption of strict government rules relating to the production and use of ethylene is the main factor hindering the growth of the ethylene industry. The expansion of the ethylene market is hampered by strict laws regarding its use since it is flammable and carcinogenic by nature. Additionally, a number of nations are putting environmental protection laws into effect, which will probably put pressure on the businesses producing hydrocarbon-based gas. Additionally, part of the market's expansion is being hampered by the fluctuation in feedstock costs.
Recent Developments:
Exon Mobil Corporation and SABIC founded a joint venture named Gulf Coast Growth Ventures in June 2019, and they revealed intentions to build a chemical complex and an ethane steam cracker in Texas. The facility's objective is to manufacture raw materials that will be used to create a range of products, including packaging, automobile coolants, and construction materials. The plant will also have two polyethylene units and a mono-ethylene glycol unit operational during the assessment.
SABIC announced a merger with the Saudi petrochemical company SADAF and the Arabian petrochemical firm PETROKEMYA in October 2019. (Saudi basic industries corporation). The combination was intended to increase SABIC's operational efficiency and competitiveness.
Major Key Players:
BASF SE
Chevron Phillips Chemical Company, LLC
Exxon Mobil Corporation
Ineos Group Ltd
LyondellBasell Industries N.V.
Royal Dutch Shell plc
Saudi Basic Industries Corporation
China Petroleum & Chemical Corporation (Sinopec)
The Dow Chemical Company
Lonza Group
Market Segmentation:
By Source
Coal
Natural Gas
Hydrocarbon Steam Cracking
By Feedstock
Naphtha
Ethane
Propane
Butane
Others
By Application
Polyethylene
High-density Polyethylene (HDPE)
Linear Low-density Polyethylene (LLDPE)
Low Density Polyethylene (LDPE)
Ethylene Oxide
Ethyl Benzene
Ethylene Dichloride
Others
By End-Use
Building & Construction
Automotive
Textiles
Packaging
Agrochemicals
Others
By Sales Channel
Direct Company Sale
Direct Import
Distributors & Traders
Buy this Research Report@ https://www.precedenceresearch.com/checkout/2300
You can place an order or ask any questions, please feel free to contact at sales@precedenceresearch.com | +1 9197 992 333