The global industrial plastic market size surpassed USD 82.78 billion in 2022 and is projected to rise to USD 132.8 billion by 2032, anticipated to grow at a CAGR of 5.1 percent during the projection period from 2023 to 2032.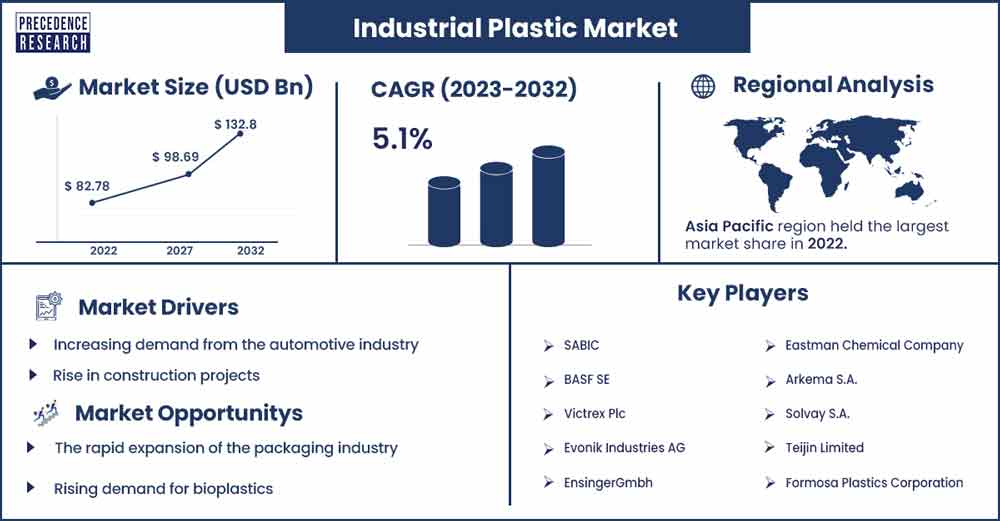 Market Overview
Plastics are organic polymers of high molecular mass and other substances. They are generally synthetic and derived from petrochemicals. Plastic is widely used in almost all sectors such as packaging, consumer products, building and construction, automobiles, textiles, healthcare, mechanical engineering, agriculture, transportation, industrial machinery, electrical and electronics, and others. Industrial plastic is used in a variety of applications across various industries. Industrial plastics are materials that have industrial applications including bearings, rollers, seals, valves, slider pads, and others. The sales and consumption of industrial plastic depend on multiple factors including the demand for the products which is manufactured by using this plastic.
In March 2023, SLSWCA of the Odisha government in India approved 25 industrial projects worth Rs 5,827 crore, which is projected to provide employment for 25,000+ people. It also includes 3 projects in the plastic sector with a total investment of Rs 392.10cr and is jointly anticipated to generate employment opportunities for 664 people in the state. Chemco Plastic Industries Pvt. Ltd., Shri Maa Packaging Ltd, and Cool Caps Industries Ltd. are set to come up with their respective units at Malipada, Khordha.
Increasing use of industrial plastic in various end-use sectors such as packaging, construction, medical and healthcare, aerospace, defense, automotive, electrical and electronic, and others are expected to boost the market's growth. In addition, the vital reasons for ramping up the consumption of industrial plastic due to their durability versatility, lightweight, and cost-effectiveness are also projected to propel the market's growth. The research & development activities for nanotechnology-based plastics for industrial applications are another primary factor driving market revenue growth. Industrial plastic manufacturers are continuously expanding their product portfolio and production capacity with an aim to serve the growing market demand.
In October 2023, IPEX announced the opening of its new flagship injection moulding plant in North Carolina with a total investment of USD 200 million. The new 200,000-square-foot facility is one of the most advanced plastics manufacturing facilities in the industry. The plant is also expected to increase the production capability to manufacture fittings for plumbing, industrial, electrical, and municipal applications. It is anticipated to generate over 150 new jobs in the region. The facility also features fully electric moulding machines, energy-efficient lighting, high-efficiency machines, cloud connectivity, and best safety health practices.
In November 2022, Chevron Phillips Chemical announced the partnership with QatarEnergy to build a polymers facility at Orange in Texas with an investment of USD 8.5 billion. This strategic partnership is part of an important move by oil firms preparing for a future in which oil is used less to generate energy but yet crucial for making non-energy goods such as plastics, a type of polymer. The facility is projected to generate over 500 full-time jobs and nearly 4,500 construction jobs and will also generate approximately USD 50 billion for the community in residual economic impacts.
Regional Insights
Asia Pacific accounted for the largest share of the Industrial plastic market in 2022; the region is anticipated to continue its growth during the forecast period. The Asia Pacific industrial plastic market is characterized by the presence of prominent market players, rising industrialization, rapid urbanization, improving economic conditions, and a strong industrial base for the chemical sector in developing countries such as India and China.
The significantly increasing need for industrial plastics across various industries, including construction, automotive, packaging, and electrical & electronics are the major drivers accelerating the regional market growth during the forecast period. Moreover, the availability of cheap labor and raw materials in countries such as China and India is expected to positively impact the market's expansion in the coming years.
China is witnessing a significant number of petrochemical projects to meet increasing domestic industrial and consumer demand as well as to reduce imports. For instance, In March 2023, Saudi Aramco and its Chinese joint venture partners NORINCO Group and Panjin Xincheng Industrial Group signed an agreement to construct an oil refinery and petrochemical plant in northeastern China with an investment of USD 12.2 billion. The Indian plastics market is well-developed throughout the plastics value chain and caters to both local demand and export markets. India is one of the largest producers and manufacturers of plastics.
India exports plastic to more than 200 countries in the world. India largely exports plastic and related products to the UAE, USA, Germany, Italy, France, the UK, Bangladesh, Turkey, Nepal, and others. Several government initiatives such as Digital India, Make in India, and Skill India are likely to boost India's Plastic industry. Several investments in the region are expected to fuel the market's growth. For instance, In October 2023, Gunze Limited announced its investment of 5.7 billion JPY to expand the Konan Plant in Japan for the growth of the engineering plastics business which is projected to be complete by March 2025.
This investment is made to meet the increasing demand in the medical device and semiconductor markets. In May 2022, Micro Plastics India announced to set up of a toy manufacturing facility with a total investment of Rs 500 crore in Tamil Nadu, India. Micro Plastics India Ltd has leased a 7,00,000 sq ft industrial space in Hosur for setting up the manufacturing plant and this investment will generate employment for over 6000 people. Thus, this is expected to propel the market growth in the region during the forecast period.
Industrial Plastic Market Report Scope
| | |
| --- | --- |
| Report Coverage | Details |
| Market Revenue in 2023 | USD 84.85 Billion |
| Projected Forecast Revenue by 2032 | USD 132.8 Billion |
| Growth Rate from 2023 to 2032 | CAGR of 5.1% |
| Largest Market | Asia Pacific |
| Base Year | 2022 |
| Forecast Period | 2023 to 2032 |
| Regions Covered | North America, Europe, Asia-Pacific, Latin America, and Middle East & Africa |

Market Dynamics
Drivers
Increasing demand from the automotive industry
The significantly rising demand from the automotive industry investment is projected to fuel the growth of the industrial plastic market. Industrial plastic is commonly used in the manufacturing of vehicles such as buses, cars, and others. The rising need for lightweight, high-durability, and fuel-efficient vehicles has led to an increased demand for industrial plastics in the automotive industry.
Technological improvements in the plastic industry have brought environment-friendly and lightweight plastics and increasing production of electric cars as well as heavy-duty vehicles is further projected to offer lucrative opportunities for industrial plastics in the automotive sector. ABS is widely used plastic in automotive applications. Steering, wheel covers, and dashboards are often made of Acrylonitrile Butadiene Styrene (ABS) plastic.
Rise in construction projects
The increasing infrastructural activities and construction projects are expected to fuel the demand for industrial plastics during the forecast period. Industrial plastics have a wide range of applications in the construction industry such as insulation materials, pipes, flooring, roofing, and others. Thus, rapid urbanization and increasing infrastructural projects around the world are expected to drive market growth during the forecast period.
Restraints
Fluctuation in the price of raw materials
The fluctuation in the price of raw materials is projected to hamper the market's growth. The raw material prices depend on petrochemical feedstocks, such as crude oil and natural gas, which are highly subjected to fluctuations. Such fluctuation in the prices of raw materials can adversely impact the profitability of manufacturers and is projected to impede the market's growth rate.
Stringent government regulations
Stringent government regulations are projected to hamper the market's growth. The increasing pressure of the government on private firms to reduce plastic waste which includes bans on the use of one-time-use plastic as plastics are harmful to the environment. Such stringent regulations created by government and other bodies may pose a key challenge for the industrial plastics market during the forecast period.
Opportunities
The rapid expansion of the packaging industry
The significant expansion of the packaging industry is observed to offer multiple growth opportunities for the industrial plastic market. Industrial plastic is extensively used for packaging several food products due to lightweight, durability, design freedom, hygiene, and its ability to retain freshness. Furthermore, the increasing investment in the packaging sector is expected to boost the growth rate of the market. For instance, In September 2023, ITC announced an investment worth Rs 1,500 crore to set up food manufacturing and packaging facilities at Madhya Pradesh in India. The manufacturing facility is to be set up at Sehore in Madhya Pradesh. The two projects will spread over an area of nearly 57 acres and it is also expected to support livelihoods across sustainable value chains.
Rising demand for bioplastics
The ever-increasing demand for bioplastics is expected to promote the market's expansion. Bio-based PE plastic is made from plants. The rising awareness regarding environmental sustainability has significantly increased the demand for eco-friendly plastics. For instance, In February 2023, Brazil-based Braskem, a biopolymer producer collaborated with SCG Chemicals Plc (SCGC) to set up a new plant in Thailand for the production of bio-based polyethylene, an environmentally friendly plastic to reduce carbon footprint. The factory is estimated to have a production capacity of 200,000 tonnes a year. The partnership aims to meet the growing global demand for biopolymers, particularly the ever-increasing demand for sustainable products in Asia and Europe region.
Recent Developments
In April 2023, Kuraray partnered with GC and Sumitomo Corporation to build a highly engineered plastic manufacturing plant to develop Thailand's industrial capabilities in the Eastern Economic Corridor region under the name of Kuraray GC Advanced Materials Co., Ltd. and Kuraray Advanced Chemicals (Thailand) Limited. This facility is likely to support the government's policy of promoting the development of the ECC region to support industrial progress.
Major Key Players
SABIC
BASF SE
Victrex Plc
Evonik Industries AG
EnsingerGmbh
Lyondellbasell Industries Holdings B.V.
Eastman Chemical Company
Arkema S.A.
Solvay S.A.
Teijin Limited
Formosa Plastics Corporation
Mitsubishi Engineering-Plastics Corporation
Toray Industries, Inc.
Covestro AG
Mitsui & Co., Ltd.
Market Segmentation
By Product
Acrylonitrile Butadiene Styrene (ABS)
Polyphenylene Ether
Polybutylene Terephthalate (PBT)
Polyamide
PEEK
Polysulfone (PSU)
Liquid Crystal Polymers
Polyphenylsulfone (PPSU)
Polytetrafluoroethylene (PTFE)
Polyetherimide
Polycarbonate
Others
By Application
Building & Construction
Packaging
Electrical & Electronics
Healthcare
Automotive & Transportation
Aerospace
Others
Buy this Research Report@ https://www.precedenceresearch.com/industrial-plastic-market
You can place an order or ask any questions, please feel free to contact at sales@precedenceresearch.com | +1 9197 992 333