The global pharmaceutical water market size was evaluated at USD 34.69 billion in 2022 and is expected to touch around USD 74.73 billion by 2030, growing at a noteworthy CAGR of 10.1% from 2022 to 2030.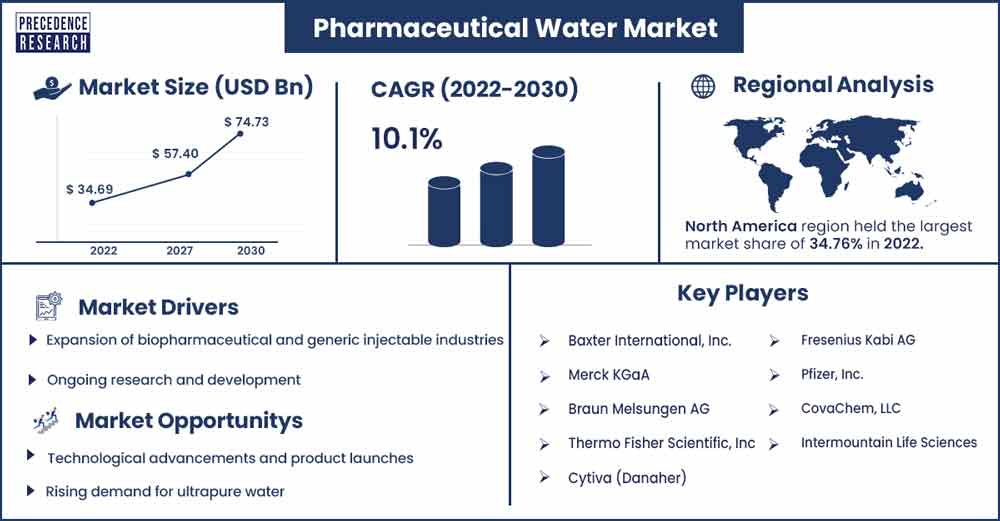 Market Overview
Water plays a critical role in pharmaceutical manufacturing processes, high-quality, and purified water is required in pharmaceutical manufacturing. Water is extensively used as a raw material, ingredient, and solvent in the processing, formulating, and manufacturing of pharmaceutical products, active pharmaceutical ingredients (APIs), and intermediates. Pharmaceutical water is used for various purposes including water for hemodialysis, bacteriostatic water for injection, sterile water for injection, sterile water for inhalation, sterile water for irrigation, pure steam, and others. High-purity water is an indispensable component in the manufacturing process of several lifesaving drugs. Therefore, pharmaceutical firms, adopt several devoted efforts for the maintenance of water purification systems and the control of water purity.
Gland Pharma aimed at investing ₹400 Cr in 2023 to expand its existing facility at Genome Valley in Telangana. The investment will add capabilities at its existing facility to manufacture biologicals, biosimilars, antibodies, and recombinant insulin. The expanded facility is likely to create employment opportunities for more than 500 numbers of people.
In June 2023, Novo Nordisk unveiled its plans to invest $2.3bn to expand its manufacturing facilities in Denmark. The company also stated that the investment will expand its existing Active Pharmaceutical Ingredient (API) production facility in Denmark for the future portfolio within serious chronic disorders.
In November 2022, Teva Malta continues to strengthen its presence in Malta's pharmaceutical production industry with an investment of around €30 million. With an investment of more than €30 million, the company expanded its capabilities to produce high-quality medicines for over 70 markets around the world.
In April 2023, Epygen Biotech Pvt Limited, a biopharmaceutical company planned to invest Rs.100 crore to create facilities for Biotech companies, including manufacturing units of industrial and pharmaceutical products in Tripura.
The growth of the pharmaceutical water market is driven by several factors including rising healthcare investment, development of life-saving drugs, technological advancements, increasing prevalence of chronic disorders, demand for high-quality water, and rapid growth of biopharmaceutical and generic injectable industries.
Regional Insights
North America holds the largest share of the global pharmaceutical water market. The North American pharmaceutical water market has experienced significant growth in recent years, driven by factors such as sophisticated healthcare infrastructure, rapid advancement in technology, increasing investment by pharmaceutical and biopharmaceutical companies, increasing prevalence of infectious diseases, and increasing demand for life-saving treatment. The developed countries in the region such as the United States, a larger contributor to the market due to the new product launches, strategic collaboration among prominent market players, increasing investment by key players, and increasing FDA approvals.
In August 2023, Nexus Pharmaceuticals LLC, a US-based healthcare company announced the approval received from the U.S. Food and Drug Administration (FDA) for 0.9% Sodium Chloride Injection, USP in 10mL and 20mL Single-Dose Vials.
In April 2023, Eli Lilly and Company announced to invest an additional $1.6 billion which is likely to add new jobs to another 200 people at its two new manufacturing sites within LEAP Innovation Park in Boone County, United States. This brings the company's total investment to USD 3.7 billion and up to 700 new jobs. It is the company's largest manufacturing investment at a single location in its history. The company also stated that these new plants will expand the company's manufacturing network for active pharmaceutical ingredients (APIs) and are vital for advancing next-generation therapeutic modalities such as genetic medicines.
The Canadian market is also experiencing significant growth due to the increasing prevalence of chronic disorders and new product launches. For instance, In March 2023, Hikma Pharmaceuticals PLC launched four new sterile injectable medicines in Canada, offering new treatment options for patients and healthcare providers as well as increasing presence in the Canadian market.
In September 2023, Actylis, announced the launch of Water for Injection (WfI) and additional ISO Class 7 manufacturing space at its Baie d'Urfé site in Montreal, Canada. This launch is part of its continuous commitment to supporting biopharmaceutical manufacturing.
Pharmaceutical Water Market Report Scope
| | |
| --- | --- |
| Report Coverage | Details |
| Market Revenue in 2023 | USD 38.69 Billion |
| Projected Forecast Revenue by 2030 | USD 74.73 Billion |
| Growth Rate from 2022 to 2030 | CAGR of 10.1% |
| Largest Market | North America |
| Base Year | 2022 |
| Forecast Period | 2022 to 2030 |
| Regions Covered | North America, Europe, Asia-Pacific, Latin America, and Middle East & Africa |

Market Dynamics
Drivers
Expansion of biopharmaceutical and generic injectable industries
Pharmaceutical water is a critical part of the biopharmaceutical and generic injectable industries. The robust growth of the biopharmaceutical and generic injectable industries has led to an increasing demand for pharmaceutical water. Demand for biopharmaceuticals such as vaccines, proteins, monoclonal antibodies, and plasma are widely used for manufacturing life-saving drugs.
The rapid expansion of the biopharmaceutical sector is due to the increasing unmet medical demand for the treatment of chronic disorders. In addition, the rising number of launches of Water for Injection (WFI) is also contributing to market growth. For instance, ILC Dover, a pioneer in innovative single-use solutions for biotherapeutics and pharmaceutical processing announced the launch of Water for Injection (WFI) for the biotherapeutics market.
Ongoing research and development
Pharmaceutical research and development often leads to the development of new, more advanced manufacturing processes. These processes may require specific water quality standards, creating a demand for customized water treatment solutions. Research in biopharmaceuticals and cell culture techniques continues to grow. These processes are highly sensitive to water quality, necessitating the use of high-purity water, which boosts the need for advanced water treatment technologies. Thereby, ongoing research and development acts as a driver for the global pharmaceutical water market.
Restraints
High initial capital investment
The high initial capital investment is anticipated to hamper the market's growth during the forecast period. Pharmaceutical water purification systems require high initial capital investments and maintenance costs. Several times small and middle-sized firms are unable to adopt these technologies due to the budget constraint, which is likely to restrain the market's expansion.
Maintenance issues
Regular maintenance and validation of the water purification systems are essential, and this adds to the operational costs and complexity. Access to a reliable source of high-quality feed water can be a challenge in some regions, affecting the supply of pharmaceutical-grade water.
Opportunities
Technological advancements and product launches
The key market players in the pharmaceutical water market are focusing on strengthening technological aspect. For instance, in May 2023, 3M planned to invest $146 million to expand Biopharma filtration technology, which is likely to offer job opportunities for 60 full-time manufacturing employees in Europe. The investment is aimed at offering facility and equipment improvements.
In addition, new product launches are expected to offer a lucrative opportunity for market growth during the forecast period. For instance, in July 2023, Endo International plc announced that its Par Sterile Products business has begun shipping bivalirudin injection in a ready-to-use 250 mg/50 mL single-use vial. It is the ready-to-use liquid format of bivalirudin in the U.S. market.
Rising demand for ultrapure water
The ongoing demand for ultrapure water which complies with pharmaceutical-grade water is projected to offer a positive impact on the pharmaceutical water market. For instance, in September 2023, Veolia Water Technologies launched its PURELAB Pharma Compliance package for those who require a reliable supply of ultrapure water for quality control laboratories. PURELAB Pharma Compliance provides ultrapure water for pharmaceutical quality control laboratories to meet Good Manufacturing Practices (GMP) requirements. Such active integration by market players in offering ultrapure water supply for the industry is observed to act as an opportunity in the upcoming period.
Recent Developments
In April 2023, MECO, a pioneer in the engineering and manufacturing water purification solutions for multiple industries increased its manufacturing capacity and operations by 40 percent in order to meet the growing demand for MECO high-purity water and steam systems.
Major Key Players
Baxter International, Inc.
Merck KGaA
Braun Melsungen AG
Thermo Fisher Scientific, Inc
Cytiva (Danaher)
Fresenius Kabi AG
Pfizer, Inc.
CovaChem, LLC
Intermountain Life Sciences
Market Segmentation
By Type
HPLC Grade Water
Water for Injection
By Application
Pharmaceutical & Biotechnology Companies
Academics & Research Laboratories
Buy this Research Report@ https://www.precedenceresearch.com/checkout/1179
You can place an order or ask any questions, please feel free to contact at sales@precedenceresearch.com | +1 9197 992 333