The global automotive engines market size was estimated at USD 102.89 billion in 2022 and is projected to hit around USD 136.81 billion by 2032, growing at a CAGR of 2.89% during the forecast period from 2023 to 2032.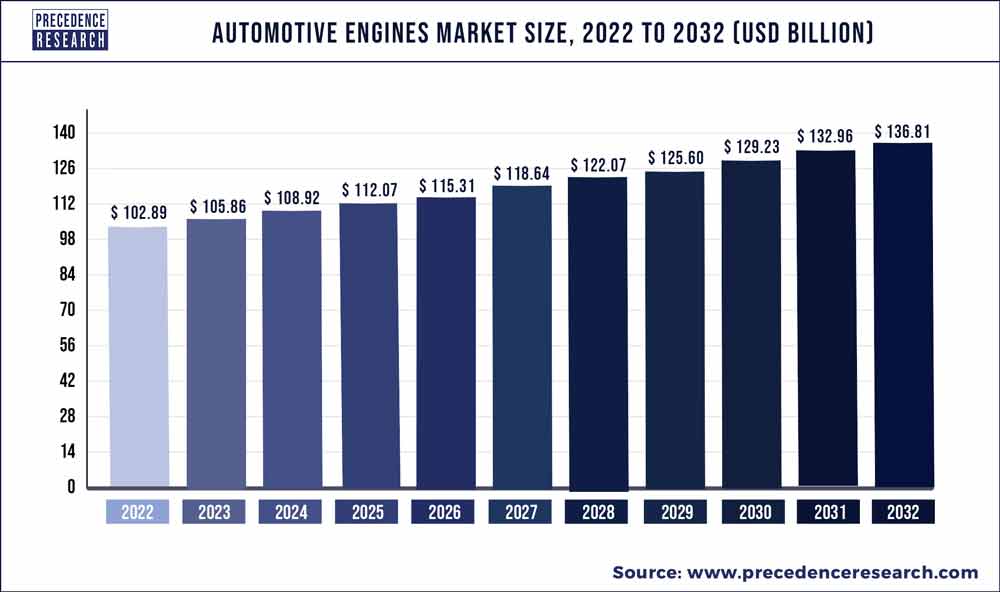 Automobile engines are designed to better the cycle processes and power curve form of real-world vehicle operations. It also aims to reduce gasoline usage and parasitic losses.
Key Takeaways:
North America has generated more than 31% of revenue share in 2022.
Asia Pacific is expected to expand at the fastest CAGR of 3.5% from 2023 to 2032.
By Placement Type, the in-line market segment had the maximum market share of 46% in 2022.
By Fuel Type, the gasoline segment has recorded more than 36% of revenue share in 2022.
By Vehicle Type, the passenger cars segment has generated more than 66% of revenue share in 2022.
Growth Factor:
Production of automobiles immediately affects the desire for automotive engines. As a result, rising sales of passenger and commercial vehicles sales as well as developing countries are fueling market demand. The market is expanding as a result of factors like the strict regulatory requirements for fuel economy and the rising demand for technologically sophisticated powered engines for better car performance. The preference of consumers for high-performance and fuel-efficient cars as well as intensive research and prototypes from leading OEMs and automakers are also contributing to the rise.
The COVID pandemic decreased businesses' capability for production, and the lack of semiconductors was impeding the creation of automobile motors and other machinery. However, there was a marked increase in desire for cars in the post-pandemic automotive sector. Manufacturers are concentrating on cutting-edge technologies like engine control unit repair to increase the lifespan of cars on the road and boost the demand for vehicle engines.
New engine technologies like VDEs, hydrogen, and hybrids are fueling the growth of the automotive engine business. Excellent speed and fuel efficiency are offered by VDE and hybrid motors. In the near future, the automotive engine market is anticipated to expand as a result of factors like the use of powerful engines in motorsports and rising luxury vehicle demand.
Many businesses are presently evaluating the emissions levels that their smaller, more compact cars generate. The increasing need for improved engine performance and greater fuel economy to meet governmental regulations to decrease vehicle emissions has given rise to the creation of pollution-free engines. The price competition among automakers has increased demand for private cars in emerging nations.
In addition, a lot of OEMs are becoming interested in the development of hydrogen motors and hydrogen fuel cells. Hydrogen engines are fuel-efficient and emit fewer pollutants because they use hydrogen as a power source. making space for improved efficiency. Toyota Motor Corporation revealed the creation of the hydrogen motor in 2021. For the most part, the Toyota Corolla Sport received the powertrain.
The industry is expected to grow as demand for engines with improved performance increases.
The main driver of the market is the rise in building emission control technology expenditure.
Report Scope of the Automotive Engines Market:
| | |
| --- | --- |
| Report Coverage | Details |
| Market Size in 2023 | USD 105.86 Billion |
| Market Size by 2032 | USD 136.81 Billion |
| Growth Rate from 2023 to 2032 | CAGR of 2.89% |
| Largest Market | North America |
| Fastest Growing Market | Asia Pacific |
| Base Year | 2022 |
| Forecast Period | 2023 to 2032 |
| Segments Covered | By Placement Type, By Fuel Type, and By Vehicle Type |
| Regions Covered | North America, Europe, Asia-Pacific, Latin America and Middle East & Africa |

Key Market Drivers:
Strict requirements for emissions and fuel efficiency
Legislative organizations in various nations have been compelled to enact pollution and fuel economy standards due to rising levels of greenhouse gases and declining global reserves of conventional fuel. Environmental air pollution is a result of vehicle pollutants. A Massachusetts Institute of Technology research found that harmful automobile emissions are to blame for about 53,000 of the country's early fatalities each year. Vehicles are responsible for 56% (up to 95% in cities) of the nation's carbon monoxide pollution, according to the US EPA. Governments all over the world have enacted strict fuel economy and pollution regulations, and duty-bound OEMs are required to adhere to them.
OEMs have been trying to create a better, more effective car engine control system in order to comply with these standards. By regulating fuel flow to ensure correct combustion, the EMS keeps track of the engine's health. As a result, pollutants are decreased and gasoline consumption is decreased. In order for a car to operate with the least amount of gasoline consumption and exhaust pollution possible, major OEMs are engaged in the research and development of sophisticated vehicular engine control systems. Global demand for automotive engine control systems is rising as consumers are increasingly prone to buy fuel-efficient, environmentally friendly vehicles.
Key Market Challenges:
Decreasing diesel passenger car sales
The decline in sales of diesel cars across the world has been largely attributed to rising pollution. Sales of diesel vehicles have significantly decreased due to taxation changes and worries about air pollution, which has resulted in a 7% decrease in new car registrations in the UK alone in 2018. Additionally, if their fleet violates stricter emission regulations in the European area, carmakers will be subject to higher penalties. Additionally, OEMs have begun to stop producing their passenger vehicles in diesel form. For instance, OEMs like Maruti Suzuki, Hyundai, and Nissan have halted or are planning to halt the production of diesel cars in India due to Bharat VI requirements.
Countries like China, South Korea, and India have begun the widespread acceptance of electric buses to decrease the emissions caused by public transportation. Additionally, the decline in sales of gasoline vehicles has increased demand for alternative fuel vehicles. Sales of BEVs and FCEVs have grown as a result of emission concerns and rising environmental consciousness. In the upcoming years, this development is anticipated to accelerate even more. Increased sales of electric cars, which don't need EMS, will have a direct effect on the EMS industry.
The market will therefore experience a slowdown in the future years due to consumers' low preference for diesel-powered cars and rising sales of electric vehicles.
Key Market Opportunities:
Manufacturers prioritize advanced technologies
During the forecast period, it is expected that the car engine market's value will rise considerably. This is due to the fact that makers are focusing on creating cutting-edge technologies to extend the lifetime and engine lifecycle of typical vehicles, like engine control unit replacement. Due to the rising demand for lighter, fuel-efficient cars, it is expected that market participants will have chances to profit throughout the period in question.
Segments Insight:
Placement Type Insights:
In 2022, the in-line market category had the largest market share 46%. The most typical form of engine used in passenger vehicles is an in-line engine. Due to their straightforward and affordable production processes as well as their simple installation procedures, these engines can be found in everything from entry-level hatchbacks to premium vehicles like BMW and Mercedes. It is a favored option for OEM as a result.
From 2022 to 2030, the W-engine market is anticipated to grow at a CAGR of 3.5%. Three or four pairs of cylinders can be connected to one or two crankshafts in a W-engine. W-engines are used in heavy-duty tractors and high-end vehicles because they are smaller and more powerful than conventional engines. All high-performance cars most frequently use the V-type motor. The V-engine configuration is chosen by almost all producers of high-performance vehicles, including Ferrari, Alfa Romeo, and Mercedes-Benz.
Due to their straightforward and affordable production processes as well as their simple fitting procedures, in-line engines are the most widely used engines in passenger vehicles. They can be found in everything from entry-level hatchbacks to luxury automobiles like BMW and Mercedes. They are therefore a favored option for OEM.
Fuel Type Insights:
In 2022, gasoline had a market share of over 36%, which can be ascribed to the advantages that gasoline engines provide, such as reduced noise and vibration as well as cheap fuel costs. Due to their benefits, such as efficiency, cost efficacy, and lightweight, gasoline engines are most frequently used in passenger cars. Gasoline motors are less loud and have a high acceleration. These are therefore the main factors spurring the acceptance of gasoline vehicles.
Over the projection timeframe, diesel is anticipated to grow at a CAGR of 3.4%. From power plants to medium-duty trucks, international cruise ships, and other machinery and vehicles, diesel engines are used in a variety of applications. Diesel engines are now a popular choice because of characteristics like dependability and high fuel economy, which results in cheap running costs. Diesel engines have extended life cycles because of less wear and strain due to their much slower Revolutions Per Minute (RPM) rate. Diesel engines are now a popular option among makers as a result of their technical benefits, which is fueling the segment's expansion.
Vehicle Type Insights:
In 2022, passenger cars accounted for more than 66% of the industry. OEMs are creating various engines based on various types of private car sectors as vehicle ownership rises globally. Automobile engine innovations that provide the high power and torque required for prestige category cars include multi-fuel engines, Variable Valve Technology (VVT), turbocharger technology, and Common Rail Direct Injection (CRDI).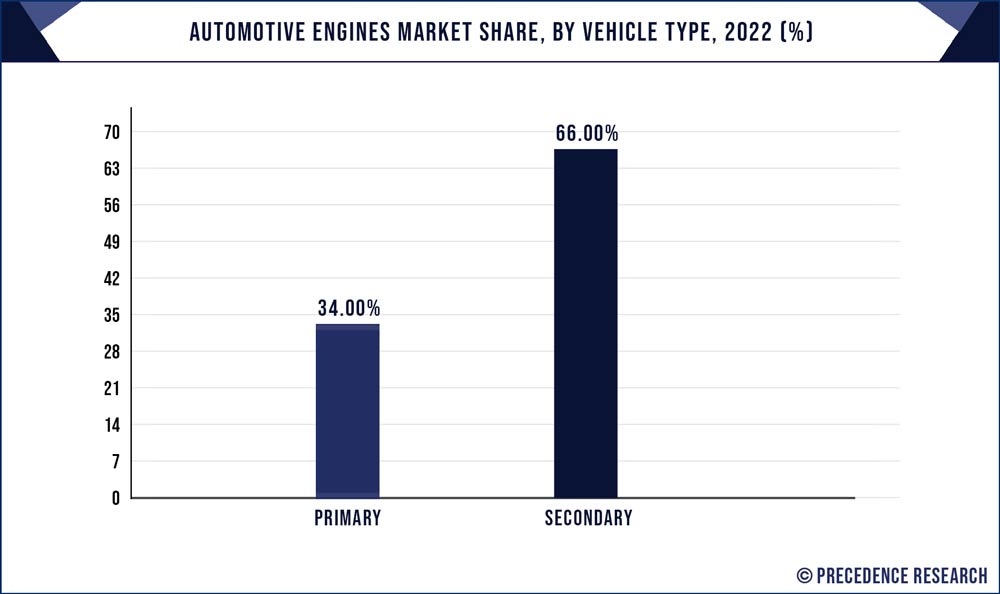 Engine manufacturers are working to create lightweight, powerful motors. Among the reasons boosting the market development of the vehicle type sector are the use of cutting-edge engines in passenger cars and the rising demand for passenger car sales.
Regional Insights:
In 2022, North America's income portion was greater than 31%. North America is home to nations with advanced industries, like the United States and Canada. The presence of long-standing original equipment makers, which serve as a solid foundation for the region's robust development and market expansion, is a significant factor driving the market's growth. The market for commercial vehicles in North America is expected to be driven by rising infrastructure expenditure, advancements in drive technologies, and the ongoing transition from local to worldwide supply chain networks.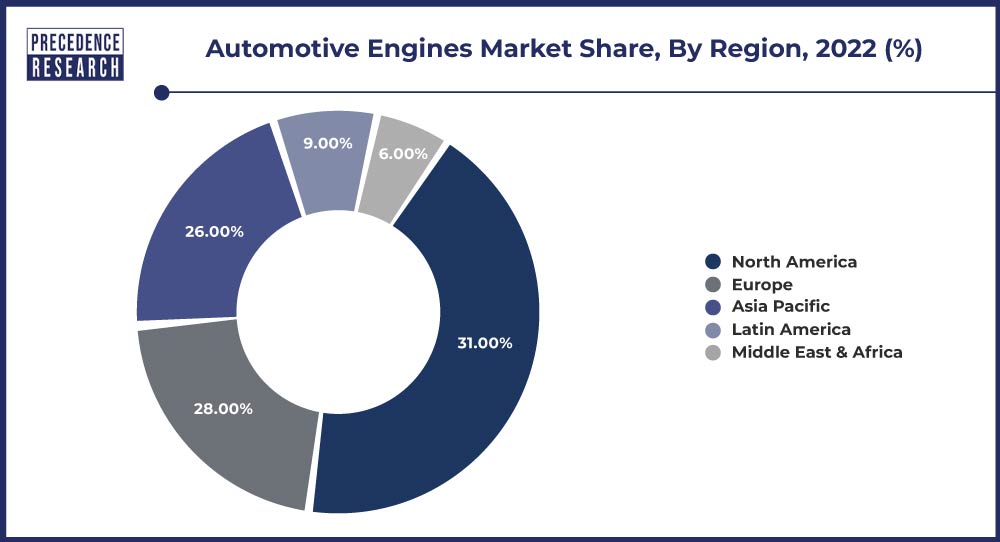 Over the projection period, Asia Pacific is anticipated to expand at a CAGR of 3.5%. Market expansion will be fueled by the developing automobile sector in developing nations like China and India. Given that India has a number of advantages over other countries, including cheaper labor and raw materials, the Make In India effort is anticipated to attract significant investment in the car industry. In addition, China and India, two of the world's fastest-growing nations, have extensive supply lines and logistics networks. All of these things will increase demand for automobile engines.
Recent Developments:
The most effective 2-liter engine on the market, the TFSI 4-cylinder turbocharged direct-injection engine was developed by Audi in 2020. Active noise control and engine mounts help this engine respond more quickly and minimize tremors and commotion.
The next-generation 6.7L turbo diesel engine from Cummins Inc. was revealed in 2019, and it has the highest power in its class of 1,000 pound-feet. Additionally, it provides a higher horsepower production, which improves the RAM 2500 and 3500 heavy-duty pickup trucks' efficiency.
Key Market Players:
AB Volvo
Cummins Inc.
Fiat Automobiles S.p.A
Volkswagen AG
Ford Motor Company
Mitsubishi Heavy Industries, Ltd.
General Motors
Honda Motor Co., Ltd.
Mercedes-Benz
Renault Group
Segments Covered in the Report:
(Note*: We offer report based on sub segments as well. Kindly, let us know if you are interested)
By Placement Type
In-line Engine
V-type Engine
W Engine
By Fuel Type
Gasoline
Diesel
Other Fuel
By Vehicle Type
Passengers Car
Commercial Vehicle
By Geography
North America
Europe
Asia-Pacific
Latin America
Middle East and Africa