The global bioanalytical testing services market size was evaluated at USD 4.38 billion in 2022 and it is projected to surpass around USD 10.39 billion by 2032, poised to grow at a CAGR of 9.02% during the forecast period from 2023 to 2032.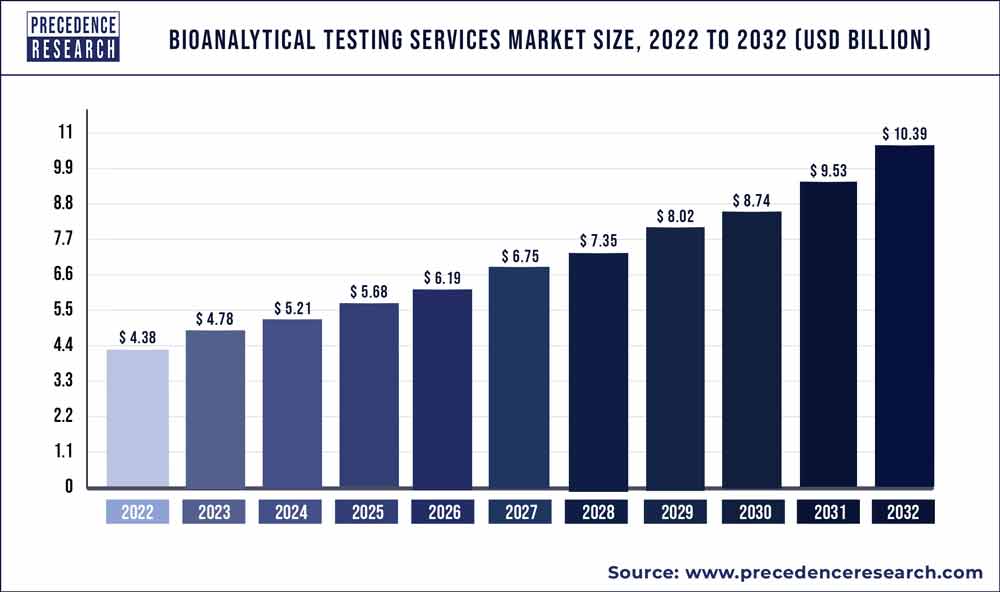 Access our Premium Real Time Data Intelligence Tool, Visit: Precedence Statistics
Key Takeaways:
North America generated more than 47% of revenue share in 2022.
By Test Type, the bioavailability segment contributed to the largest revenue share in 2022.
By Application, the oncology segment is expected to expand at the fastest CAGR between 2023 and 2032.
Market Overview:
Analytical chemistry's branch of bioanalysis is the study of biological samples for the measurement of large molecules, DNA, and biological molecules. The words "analytical services" and "bioanalytical services" are frequently used synonymously in the healthcare sector. Toxicology, pharmacology, bioequivalence, pharmacokinetics, and bioavailability research in animal models of humans are just a few of the studies that particularly use bioanalytical services. Bioanalytical services are helpful at all stages of drug development, from the discovery phase to clinical development.
Analytical services are used to evaluate the qualitative properties of drug molecules, whereas bioanalytical services are used to quantify the amount of drug present in a specific biological sample under investigation. The primary drivers anticipated to propel the global market are the rise in demand for biopharmaceutical products and the expansion of the use of biosimilars for a variety of diseases, particularly diabetes, and cancer. The majority of pharmaceutical firms, bioanalytical businesses, and CROs are expanding their bioanalytical offerings and putting money into bioanalytical testing facilities.
Report Scope of the Bioanalytical Testing Services Market:
| | |
| --- | --- |
| Report Coverage | Details |
| Market Size in 2023 | USD 4.78 Billion |
| Market Size by 2032 | USD 10.39 Billion |
| Growth Rate from 2023 to 2032 | CAGR of 9.02% |
| Largest Market | North America |
| Base Year | 2022 |
| Forecast Period | 2023 to 2032 |
| Segments Covered | By Test Type, By Molecules, By Application, and By End User |
| Regions Covered | North America, Europe, Asia-Pacific, Latin America, and Middle East & Africa |

Market Dynamics:
Driver:
The mass spectroscopy segment raises the investment in R&D
By 2032, a significant portion of the market for bioanalytical testing services is anticipated to be accounted for by the mass spectrometry segment. In the previous two decades, pharmaceutical corporations have dramatically expanded their R&D spending. Investments in fields like biopharma and precision medicine promote biopharmaceutical research. Currently, the bioanalytical community is having a lot of conversations around the study of big molecules. The increasing significance of peptides and proteins as therapeutic agents and the tremendous opportunities supplied by way of means of new MS-primarily based totally generation has unfolded an entire new global for bioanalytical scientist. A rise in the use of mass spectrometers in the pharmaceutical and biopharmaceutical industries, as well as the adoption of new applications in the market for bioanalytical testing services, are the main factors affecting the mass spectroscopy segment.
Restraints:
The regulatory framework is highly complicated for maintaining laboratories
A complicated regulatory framework is a collection of regulations that control the performance and quality of laboratory services. A constraint that affects the efficiency or output of laboratory services. In several instances, there is a lack of funding and resources for workers, materials, and equipment in laboratories. There is an abundance of coordination and harmonization between the many regulatory authorities and stakeholders. Lack of systems for laboratory quality control and safety certification and accreditation Staff in laboratories receive insufficient training and lack ongoing advancement in their careers. Public misunderstanding and lack of awareness about laboratory services These restrictions may have a detrimental effect on the validity, timeliness, accuracy, and reproducibility of laboratory findings, which may influence the provision of healthcare, the preservation of public health and safety, and the development of science.
Opportunities:
Rising prevalence of cardiovascular disease and medical errors
The bioanalytical testing method is used to quantitatively evaluate drugs and their associated metabolites. All stages of drug development, including those for treatments for cardiovascular disorders, heavily rely on bioanalytical testing. Unhealthy food, inactivity, and excessive alcohol use rank as the three main behavioral risk factors for cardiovascular illnesses. Between 2015 and 2019, it was shown that excessive alcohol consumption resulted in more than 140,000 fatalities annually in the US. These deaths were mostly due to the long-term health effects of excessive drinking, such as liver problems and heart disorders. This is expected to significantly accelerate the growth of the global market for services related to bioanalytical testing. Additionally, it is anticipated that the prevalence of medication errors will significantly fuel market expansion during the period of the forecast. More than 100,000 medication errors are reported to the U.S. Food and Drug Administration each year.
Additionally, drug errors are a severe problem that affects the medical industry and is thought to be responsible for certain fatalities. Therefore, adequate study and testing are needed before any new medical technique, treatment, therapy, or medicine is made available to any living thing. It is anticipated that such testing service demand will spur global bioanalytical testing service market growth throughout the projection period. Additionally, the market is anticipated to be driven by the sharp increase in blood donation, the rise in urinary tract infection (UTI) rates, and rising healthcare costs globally.
Segments Insight:
Test Type Insights:
The type of test, the market is segmented into pharmacodynamics, bioavailability, pharmacokinetics, and bioequivalence Pharmacokinetics is the study of how medications affect the body after administration but before distribution, metabolization, and excretion. The capacity to comprehend a drug's bioavailability, exposure, half-life, clearance, and metabolism could mean the difference between clinical success and failure. Drug development must include pharmacokinetic assays, and the information they produce is utilized to help choose the dosage for clinical investigations. We strictly adhere to GCP norms and international regulatory standards (FDA, EMEA, ICH) when providing our premium pharmacokinetics services. We additionally measure drug concentration levels in healthy volunteers and patients as part of pharmacokinetic (PK) studies for biologics and biosimilars in clinical phases.
The ELISA or Mesoscale Discovery (MSD) platforms are used for this service. Pharmacodynamics studies examine the patient's biochemical and physiological responses to the medication. The mechanism of action and the drug's biochemical operation are clarified by large-molecule PD bioanalysis. For a thorough understanding of the medicinal product, these investigations are essential. It is possible to employ PD bioanalytical research to look into the molecules that bind, how the targets are blocked, what signaling pathway is impacted, and any aftereffects. We use ELISA or Mesoscale Discovery (MSD) to evaluate drug concentration levels in healthy volunteers and patients as part of pharmacodynamics (PD) investigations for biologics and biosimilars in clinical phases.
Molecules Insights:
The market is divided into large molecules and tiny molecules based on their size. Due to a rise in demand for these testing services, the market for large-molecule bioanalytical testing services is expanding quickly. The market for large-molecule bioanalytical testing services will expand as a result of the technologically sophisticated and high-quality services offered by the market. The pace of technological development in the healthcare sector is accelerating. This aspect is a major engine for market expansion for large-molecule bioanalytical testing services. Analytical chemistry includes the category of large-molecule bioanalysis. It describes a group of analyses, methods, and procedures that academics and researchers frequently use to find and study different proteins in a living microbe. Large-molecule bioanalytical testing services are providing some significant advantages to the research sector.
The market for large-molecule bioanalytical testing services is expected to experience tremendous development prospects as a result of these merits. While the development of generic copies of branded medications plays a crucial role in the small molecule testing services sub-segment, which is expected to rise, the effectiveness of simulating generic medication release profiles with those of branded drugs has been demonstrated through bioanalytical testing, which has contributed to the segments.
Application Insights:
The application, market is segmented into sections for cardiology, gastroenterology, neurology, oncology, and other medical specialties. The market leader with the highest CAGR during the anticipated timeframe is the oncology category. The rise in cancer cases is the main factor dominating this market. The increasing number of cancer cases worldwide, the growing demand for personalized medicine, and the accessibility of funding for cancer research serve as the main drivers of market expansion for the oncology segment.
The World Health Organization (WHO) reports that the burden of cancer is increasing, with new cases expected to increase from 18.1 million in 2018 to 29.4 million by 2040.
However, due to the rising prevalence of cardiovascular illnesses and the development of novel medications and therapies for their treatment, it is anticipated that the cardiology segment will have the greatest share of the market over the projection period.
End User Insights:
The market is divided into three groups based on the end-user: contract development and manufacturing organizations, contract research organizations, and pharmaceutical and biopharmaceutical companies. Among these, the market for contract research companies is anticipated to increase significantly over the forecast period. Increased spending on healthcare-related R&D initiatives by public or private organizations globally to continuously produce more practical solutions for therapeutic operations may be attributed to the market's growth. Research sources claim that between 2000 and 2019, the amount spent globally on research and development more than quadrupled in actual terms, from about USD 680 billion to USD 2.5 trillion. Leading contract research company BioAgilytix provides specialist bioanalytical testing services for the development of small and large-molecule drugs. Cell-based assays, biomarkers, immunogenicity, and pharmacokinetics (PK) are all areas of expertise for the business. Additionally, it offers assistance with the creation, verification, and execution of LDTs, as well as FDA-approved assays.
Due to the rising demand for bioanalytical testing services for drug research and development, the biopharmaceutical and pharmaceutical firms sector held the highest share of the market in 2022. The major end consumers of bioanalytical testing services are pharmaceutical and biopharmaceutical businesses. Preclinical research, clinical trials, pharmacokinetic and pharmacodynamics analyses, bioequivalence studies, and biosimilarity evaluations are just a few of the services they use to support their own research and development (R&D) initiatives.
Regional Insights:
North America is the industry leader in bioanalytical services. The increased prevalence of diseases brought on by unhealthy lifestyle choices is the cause of the increased demand for bioanalytical services in the United States. As a result, more biotechnology businesses are concentrating their efforts on R&D and the creation of novel medications requiring bioanalytical services. The US currently holds the largest market share in North America as a result of an expanding patient population suffering from various chronic conditions and a rise in the use of peptides and other large molecules as treatments rather than small compounds, which have more negative side effects.
According to the Centers for Disease Control and Prevention, about 3.5 trillion US dollars are spent on chronic diseases each year.
As a result, businesses have been making efforts to fulfill the rising demand, which is anticipated to fuel the market under investigation. Furthermore, the International Diabetes Federation estimates that 48 million adults in North America will have diabetes by 2020, and this trend is projected to continue. This will increase the need for bioanalysis of novel therapies to halt the rising number of diabetes patients. Thus, the numerous ongoing clinical trials, the high demand for bioanalytical services, and the sizable expenditures made by numerous multinational pharmaceutical companies are the primary drivers of the market's expansion in the nation.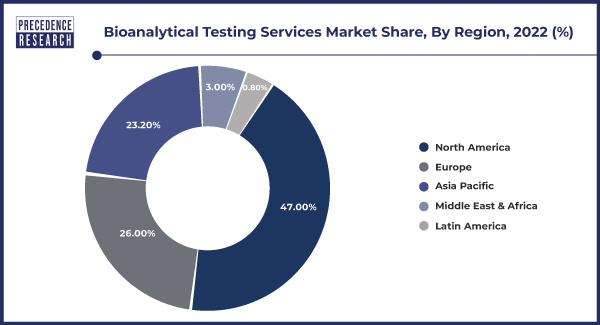 On the other hand, Asia Pacific is expected to experience the fastest growth in the bioanalytical testing services sector between 2022 and 2032. The presence of numerous CROs and pharmaceutical firms in the Chinese and Indian markets will be key drivers for the expansion of the services business in these countries.
Nearly 50% of the CROs in this region are in India, with 18% of them in China.
They provide drug discovery and development services at a significantly lower cost than their Western equivalents, which draws international pharmaceutical corporations to this market. The Asia-Pacific market's revenue growth is primarily driven by increased investment in biotechnology and pharmaceutical research and development activities, rising demand for biologic pipeline development, and the expanding use of innovative technologies in bioanalytical testing services. The rise in clinical trial activity in emerging economies is mostly attributed to cost reductions, a sizable population that is treatment-naive, participant retention, and continually evolving regulatory procedures. Furthermore, the expansion of drug invention and development activities over the past ten years has led to an increase in China's bioanalytical testing services. Throughout the forecast years, this is anticipated to propel the market in the nation.
Recent Developments:
October 2021, The SGS clinical bioanalysis laboratory in France has finished growing. A new 800-m2 structure that houses office space and additional drug research machinery is part of the expansion. The addition comprises bioanalytical testing services, chromatography, and immunoassay labs and is anticipated to improve manufacturing capacity. The site would add additional capabilities like mass spectrometry, immunoanalytical, clinical bioanalysis, and cell-based bioassays to its existing ones.
May 2019, To diversify its product offering, Thermo Fisher Scientific introduced "Applied Biosystems PureQuant Assays," an assay for immune cells.
Key Market Players:
PPD, Inc.
ICON Plc
Charles River Laboratories International
Covance, Inc.
IQVIA
Syneos Health
SGS SA
Toxikon
Intertek Group Plc
Pace Analytical Services LLC
Segments Covered in the Report:
(Note*: We offer reports based on sub segments as well. Kindly, let us know if you are interested)
By Test Type
Pharmacokinetic
Pharmacodynamics
Bioavailability
Bioequivalence
By Molecules
Small Molecules
Large Molecules
By Application
Cardiology
Gastroenterology
Neurology
Oncology
Others
By End User
Pharmaceutical and Biopharmaceutical Companies
Contract Development and Manufacturing Organizations
Contract Research Organizations
By Geography
North America
Europe
Asia-Pacific
Latin America
Middle East and Africa