The global pharmaceutical excipients market size was valued at US$ 7.97 billion in 2022 and it is expected to surpass around US$ 12.61 billion by 2030, registering a CAGR of 5.9% from 2023 to 2030.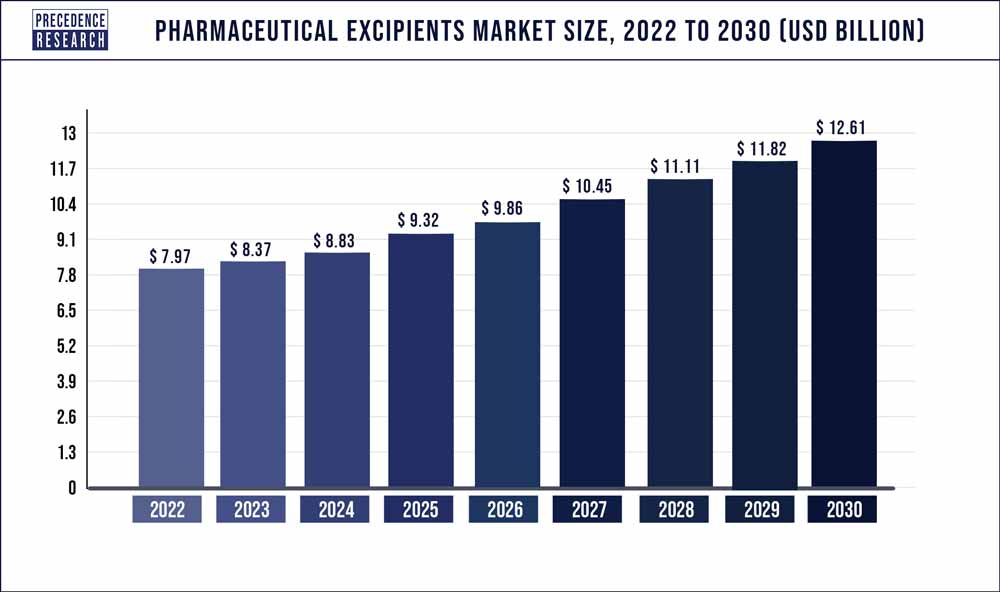 Access our Premium Real Time Data Intelligence Tool, Visit: Precedence Statistics
Region Insights
North America accounted for the maximum share in the pharmaceutical excipients market in the year 2022 and is expected to retain its dominance throughout the forecast period, owing to growing demand for solid oral drugs for the treatment of chronic diseases.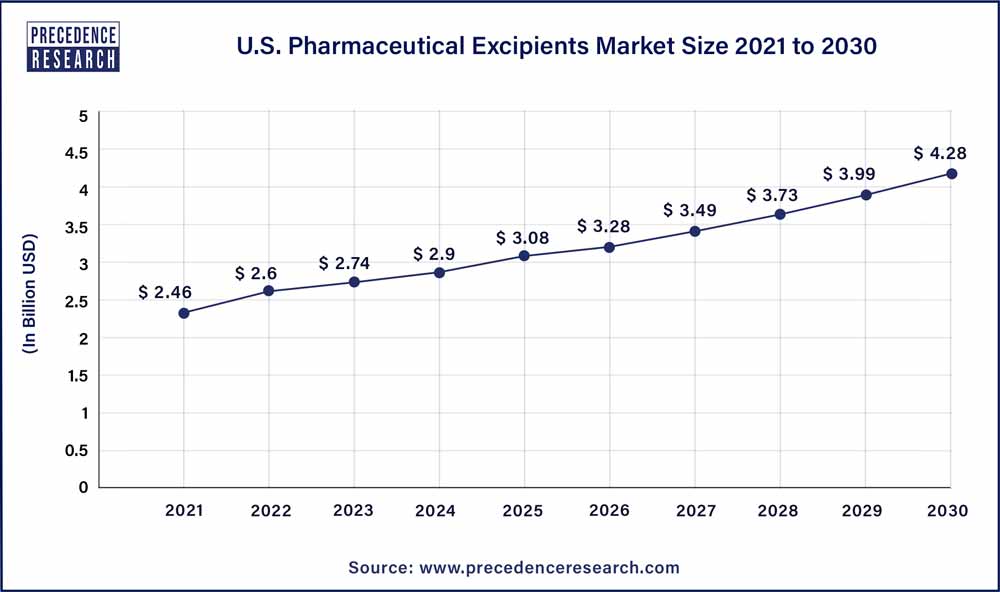 Europe is also expected to witness a significant growth rate during the forecast period. Many European countries are focusing on the generics market owing to the expiration of the medicines patents in the upcoming years. Thus, due to this, the European countries such as Germany, UK, France and others are expected to witness significant growth rate during the forecast period which in turn is likely to drive the demand for pharmaceutical excipients in this region. Additionally, the growing government initiatives for reducing the prices of the drugs in the market are anticipated to drive the market for generic drugs in these countries. The aforementioned factors, along with the rising investments for the development of biologics as well as advanced dosage forms, are likely to increase the demand for new excipients and thereby contributing in the growth of the pharmaceutical excipients market in Europe. However, the Asia-Pacific region is expected to register the highest CAGR, owing to low cost of raw materials and availability of cost-effective workforce.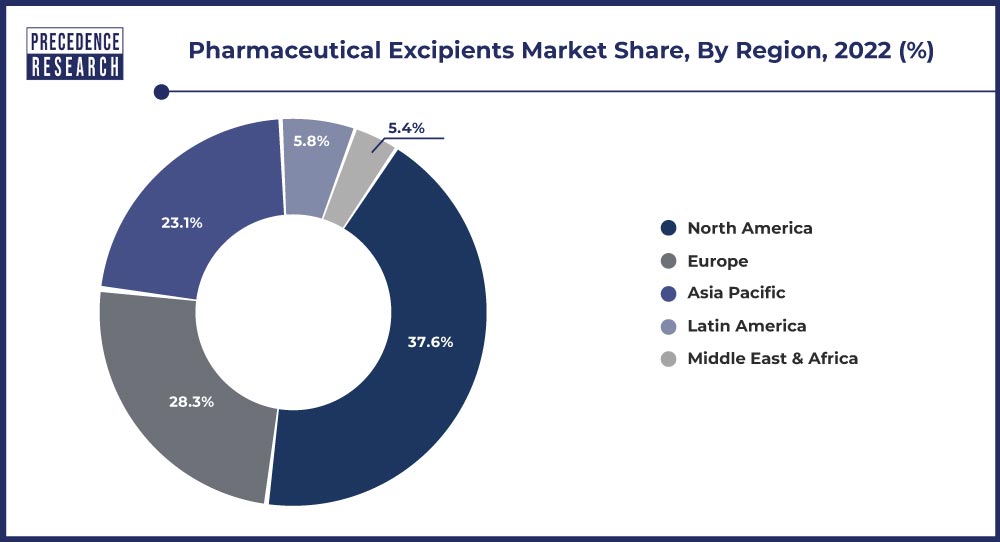 Growth Factors
Pharmaceutical excipients are inert substances, other than pharmacologically active medicines that are included in the production process or are present in pharmaceutical product dosage format. Excipients are extensively used in the formulation of drugin order to add bulkiness to solid formulations, provide long-term stability, and facilitate drugs absorption. Additionally, it also improves the overall safety or functional attributes of the product during usage or storage.
The global pharmaceutical excipients market is propelled by the growing demand for oral pharmaceutical medicines and the augment of novel therapeutics owing to the proliferation in the number of pharmaceutical industries across the globe. Additionally, the amalgamation of medicine formulation as well as nanotechnology in excipients has led to the formulation of nano-derived liposomes, nano-coated tablets, and vaccines. Moreover, many key players are targeting the developing economies for the growth of their manufacturing plants for pharmaceutical excipients, glycerin, preservatives, and Fatty Acids owing to low cost labor availability. However, high production cost and stringent government regulations are expected to restrain the overall market growth in terms of value sales. Applications such as topical formulation, parenteral formulation, and oral formulation are driving in huge investments in the market. Moreover, the target consumers such as drug manufacturers, consulting firms, and pharmaceutical excipients manufacturers, research & development companies and others are likely to offer immense opportunities for the growth of market during the forecast period in terms of value sales. Furthermore, the market growth is majorly driven by the growing demand from the pharmaceutical sectors due to the outbreak of Covid19 pandemic. Additionally, the rising use of generic drugs coupled with the development in the field of biopharmaceuticals is other factors which are supporting the market growth in terms of value sales.
However, the rising pressure owing tothe strict guidelines set by the regulatory authorities about the approval of drugs and excipients is likely to hamper the market growth. The easy availability of low-quality excipients has adversely affected the effectiveness of the medicines that creates a requirement for quality control.
Moreover, according to the key market players in the industry, over the last three years there has been a continuous rise in the demand for cheaper quality excipients from the developing economies such as Asia Pacific and East Africa regions. This is attributable to the rise in the requirement in the local drug manufacturing industry. However, the trend is the opposite of the situation currently in developed countries with sophisticated manufacturing practices, where demand for superior quality excipients is increasing, but at a lower rate than that in emerging economies.
Report Scope of the Pharmaceutical Excipients Market
| | |
| --- | --- |
| Report Coverage | Details |
| Market Size in 2023 | USD 8.37 Billion |
| Market Size by 2030 | USD 12.61 Billion |
| Growth Rate from 2023 to 2030 | CAGR of 5.9% |
| Largest Market | North America |
| Fastest Growing Market | Europe |
| Base Year | 2022 |
| Forecast Period | 2023 to 2030 |
| Segments Covered | Product, Functionality, Formulations, End-Users, Distribution Channel, Geography |
| Companies Mentioned | Ashland Global Holdings, BASF SE, DuPont, Roquette Feres, Evonik Industries AG, Associated British Foods, Archer Daniels Midland Company, Lubrizol Corporation, Croda International, Kerry Group |

Product Insights
By product, the market is segregated into organic chemicals, inorganic chemicals and others. In 2021, the organic chemicals segment accounted for the lion share in the market and is also expected to be the fastest growing segment during the forecast period. This is attributable to increasing usage of these chemicals in a majority of pharmaceutical formulations which in turn the driving the market growth in terms of value sales.
Functionality Insights
Based on the functionality, the pharmaceutical excipients market is divided into fillers & diluents, binders, suspending& viscosity agents, flavoring agents & sweeteners, coating agents, colorants, disintegrates, lubricants & glidants, preservatives, emulsifying agents, and other functionalities. In 2021, fillers & diluents hold the largest market share. This is because the demand for fillers and diluents is high among the end user industries as they are used in the formulation of capsules and tablets which are the most common type of formulations presently.
Pharmaceutical Excipients Market Value (US$ Mn), By Functionality, 2022-2030​
| | | | | |
| --- | --- | --- | --- | --- |
| Functionality | 2022 | 2023 | 2027 | 2030 |
| Binders & Fillers​ | 3,939.2 | 4,162.1 | 5,325.3 | 6,547.5 |
| Coating Agents​ | 1,399.6 | 1,475.3 | 1,867.7 | 2,276.0 |
| Disintegrants​ | 878.1 | 921.0 | 1,140.4 | 1,364.1 |
| Flavoring Agents and Colorants​ | 544.5 | 568.8 | 691.8 | 815.1 |
| Lubricants & Glidants | 288.9 | 300.1 | 356.4 | 411.6 |
| Sweeteners​ | 279.0 | 287.4 | 328.4 | 367.3 |
| Preservatives & Antioxidants​ | 235.7 | 243.9 | 284.4 | 323.5 |
| Others​ | 400.8 | 411.6 | 459.8 | 506.2 |
Formulation Insights
Depending on formulation, the pharmaceutical excipients market is segregated into topical, smart oral, parenteral, and other formulations. In the year 2021, the Oral formulations segment dominates the market due to their extensive usage and efficacy against much disease. During the Covid-19 health crisis, the healthcare professionals suggested antiviral drugs as the prime line of defense. The demand for these medicines was high during the pandemic owing to their efficacy to fight against disease such as the pneumonia and respiratory infections. Thus, as they are developed in tablet format for oral consumption, the demand for oral formulations is increasing which in turn is contributing towards the overall growth of the market in terms of value sales.
Excipient Type​ Insights
The lactose-based excipients segment dominated the market with the largest market share in 2022. In order to create tablets with a suitable level of hardness while keeping appropriate disintegration qualities, lactose is frequently employed as a diluent or binder. Increasing launches of lactose-based products is expected to drive the lactose-based excipients segment growth.
A cellulose-based segment is estimated to be valued at US$ 1,217.0 million in 2022 and is expected to reach US$ 1,956.9 million by 2030 at a CAGR of 6.1%. This segment is estimated to account for a 15.3% market share in 2022 and is expected to account for a 15.5% market share by 2030. Cellulose-based excipient products include microcrystalline cellulose (MCC), cellulose ethers, and cellulose esters. They are used as pharmaceutical excipients because of their porosity enhancer property which helps in liquid uptake, thus making swelling of the drug product faster and easier. The increasing launch of new products is expected to drive segment growth over the forecast period.
Pharmaceutical Excipients Market Value (US$ Mn), By Excipient Type, 2022-2030​
| | | | | |
| --- | --- | --- | --- | --- |
| By Excipient Type | 2022 | 2023 | 2027 | 2030 |
| Lactose-based Excipients | 3,258.3 | 3,453.9 | 4,487.8 | 5,599.9 |
| Cellulose-based​ | 1,217.0 | 1,280.9 | 1,611.7 | 1,956.9 |
| Starches​ | 824.2 | 864.9 | 1,072.7 | 1,282.4 |
| Carboxymethylcellulose Sodium (CCS)​ | 491.2 | 508.7 | 594.7 | 677.0 |
| Sodium Starch Glycolate (SSG)​ | 172.7 | 178.5 | 206.7 | 233.4 |
| Fine Chemicals​ | 690.4 | 717.8 | 854.1 | 986.5 |
| Mannitol | 232.3 | 239.1 | 272.0 | 302.8 |
| Biopharma Excipients​ | 636.8 | 664.9 | 806.3 | 946.0 |
| Others​ | 442.9 | 461.7 | 548.1 | 626.4 |
Key Market Developments
In 2020, Colorcon has launches the Acryl-EZE II film coating line which extends the pH range covered by its enteric coatings.

In 2019, Ashland has introduced Aquarius Nutra TF that provides titanium oxide-based coating to tablets in the European market.

In 2018, Roquette has signed an agreement with Thermo Fisher that provides Thermo the right to distribute Roquette's products in the US and Canada. This will offer further market access to Roquette.
Key Market Players:
Market Segmentation:
(Note*: We offer report based on sub segments as well. Kindly, let us know if you are interested)
By Product
Organic Chemicals

Inorganic Chemicals

Others
By Functionality
Fillers and Diluents

Suspending and Viscosity Agents

Coating Agents

Binders

Disintegrants

Colorants

Lubricants and Glidants

Preservatives

Emulsifying Agents

Flavoring Agents and Sweeteners

Other Functionalities
By Formulations
Topical Formulations

Oral Formulations

Parenteral Formulations

Other Formulations
By End-Users
By Distribution Channel
Online Pharmacy

Retail

Mail-Order
By Excipient Type​
Lactose-based Excipients

α-lactose monohydrate
Anhydrous α-lactose
Anhydrous β-lactose​
Amorphous Lactose​

Cellulose-based​

Microcrystalline Cellulose (MCC)​
Cellulose Ethers​
Others​

Starches​
Carboxymethylcellulose Sodium (CCS)​
Sodium Starch Glycolate (SSG)​
Fine Chemicals​
Mannitol
Biopharma Excipients​
Others​
By Geography
North America
Europe
Asia-Pacific

China
India
Japan
South Korea
Malaysia
Philippines

Latin America

Brazil
Rest of Latin America

Middle East & Africa (MEA)

GCC
North Africa
South Africa
Rest of the Middle East & Africa