The global dermatology CRO market size was evaluated at USD 4 billion in 2022 and is expected to attain around USD 7.2 billion by 2032, growing at a CAGR of 6.1% from 2023 to 2032.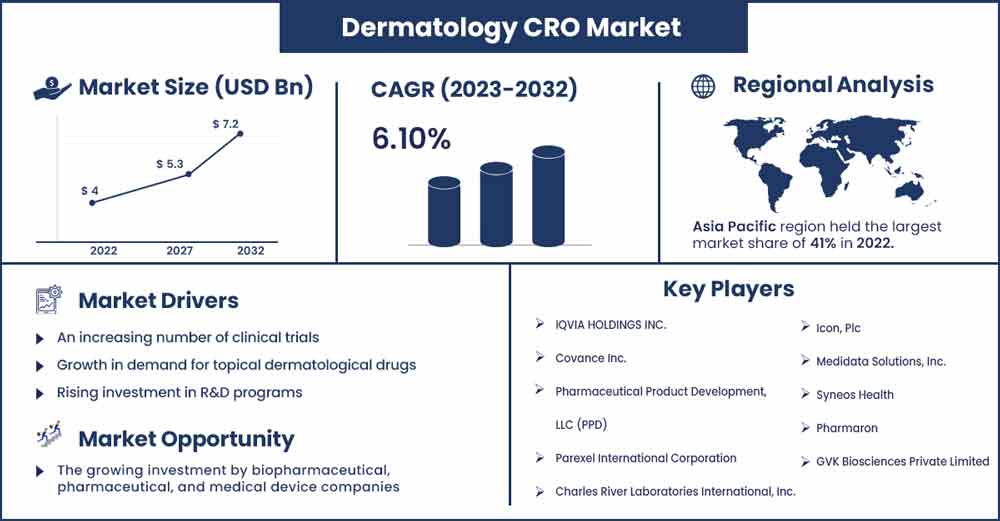 One of the main factors propelling the market is the growth in demand for topical dermatological drugs, such as anti-infective, anti-inflammatory, cleansers, local anesthetics, and emollients, to treat acne. Additionally, the business is being advanced by a rise in skin illness awareness, a high need for rapid diagnoses, and a rise in the occurrence of skin cancer and another skin issues.
The COVID-19 pandemic rocked the economy in 2020 and continues to have effect on a number of global businesses. Due to the development of online clinical trials and government programs to maintain the healthcare industry's broken supply chains, the market for dermatological contract research organizations was nearly unscathed by the COVID's effects. Additionally, the clinical trial bottleneck is lessening as a result of ongoing immunization campaigns and the removal of the shelter in place regulations. Therefore, the market's future appears bright.
The market is expected to be driven by factors including increasing R&D program investment, a desire for outsourcing tasks due to time and cost constraints, and the dermatological industry's patent expiration, among others, during the course of the forecast period. Due to their ability to provide innovative services that foster market expansion, dermatological CROs are popular among pharmaceutical corporations and governmental bodies for taking on initiatives.
Report Highlights:
Due to technology improvements, the globalization of clinical trials, and the requirement for dermatological CROs to perform clinical trials, the clinical segment earned the biggest revenue share of nearly 75.0% in 2020.
The phase III segment accounted for the biggest revenue share of more than 50.0% in the clinical type sector in 2020 because phase III clinical trials are the most costly and entail a large patient pool.
Due to a rise in clinical trials and the requirement to effectively monitor them, clinical monitoring had the highest revenue share by service in 2022
In 2022, Asia Pacific will have the highest revenue share—more than 40%. This is a result of the high frequency of skin conditions, demographic variety, the ease with which patients may be attracted and kept, and the development of the regulatory framework.
Regional Snapshots:
With a market share of about 41.0% in terms of sales, Asia Pacific is predicted to expand quickly in the years to come. The prevalence of chronic illnesses, the accessibility of different populations, the ease with which patients may be recruited and retained, and the passage of legislation that passes muster all contribute to this.
Due to the region's highest rate of conducted and outsourced trials, North America will have a sizable revenue share in the market for dermatological CROs in 2020. The government's increasing support of R&D activities through grants and loans to firms and research institutes has also contributed to the growth of this regional market.
Dermatology CRO Market Report Scope:
| | |
| --- | --- |
| Report Coverage | Details |
| Market Revenue in 2023 | USD 4.22 Billion |
| Projected Forecast Revenue in 2032 | USD 7.2 Billion |
| Growth Rate from 2023 to 2032 | CAGR of 6.1% |
| Largest Market | North America |
| Base Year | 2022 |
| Forecast Period | 2023 To 2032 |
| Regions Covered | North America, Europe, Asia-Pacific, Latin America, and Middle East & Africa |

Market Dynamics:
Drivers:
One of the main factors propelling the market is the growth in demand for topical dermatological drugs, such as anti-inflammatory, anti-infective, local anesthetics, cleansers, and emollients, to treat acne. Additionally, the business is being advanced by a rise in skin illness awareness, a high need for quick diagnoses, and a growth in the occurrence of skin cancer and other skin issues.
Some of the main drivers anticipated to propel the market throughout the forecast period include elements like rising investment in R&D programs, a preference for outsourcing activities owing to time and cost limitations, and patent expiration in the dermatology industry. Pharmaceutical companies and governmental organizations like to assign projects to dermatological CROs because they offer cutting-edge services, which promotes market growth.
Restraints:
The contract market's services are pricey. In the predicted period, the cost of labor on the market is a constraint. It takes skill to establish contracts and patents for the market. The market's labor costs are high as a result. Cost is a problem since it reduces demand in a few markets. Cost-effective contract services are needed in most sectors. However, the high price drives up the industry's total operational costs. Other market limitations include changes in the industry. Contracts always change. The market's operations are impacted by these industrial trends. The demand and supply trends in the market for contract research organizations (CRO) might be disrupted by several market restrictions. Additionally, it hinders the expansion of the market for contract research organizations (CRO).
Few obstacles to overall expansion exist in the CRO sector. A market restriction is the difficulty of maintaining demand. To handle demand from numerous areas, the market is lacking in professionals. Various end-users, including the biopharmaceutical, biotechnology, and medical device industries, have made demands on the CRO industry.
Opportunities:
During the projection period, a number of factors will contribute to the market's expansion, including the rising need for efficient medications and healthcare equipment, as well as an increase in patient volume and rising product development costs. A tighter medication approval procedure and increased strategic collaboration are two other factors promoting market expansion.
Early phase clinical trial initiatives are increasingly being outsourced in order to reduce costs, utilize less expensive labor, and boost revenue and profits. Companies try to cut costs by speeding up the process and product certification. To accelerate market expansion, these variables are examined. Other trends that are anticipated to support market growth over the projected period include increased efficiency, quicker drug development, decreased operating expenses, and simplified management of R&D costs.
Challenge:
The rate of innovation and technology in skin care treatments is increasing as a result of the spike in globalization. In terms of employment, new opportunities are continually being added. The need for new talents has grown as a result of growing industrialization and new services. The availability of jobs has also expanded due to this tendency. As they compete for experienced and qualified scientists with pharma and skin medical device enterprises, academic as well as research organizations, dermatology CROs have trouble attracting and retaining highly component professionals. To effectively compete, businesses must give better pay and other incentives, which has an influence on participants' finances and operational performance, particularly small-scale analytical testing providers.
The market's growth is constrained by the lack of competent professionals, which makes it difficult to implement new techniques and technologies. The market has been facing a scarcity of competent laborers despite the increased need for new product development in the pharmaceutical and biotechnology industries. Many nations throughout the world have yet to properly offer skill development. There exist discrepancies between basic literacy and the population of working age.
Recent Developments:
In October 2019, Parexel strengthened its partnership with the Society for Clinical Research Sites (SCRS), the first and only international organization devoted exclusively to defending the interests of clinical research sites. The company started a number of significant projects as a Site Engagement Partner with the goal of enhancing the patient experience in clinical trials.
In February 2021, Icon plc. and PRA Health Sciences entered into a legally binding agreement for the former to be purchased by the former for little under US$12 billion. Due to several benefits and advancements presented on a regional, functional, and therapeutic scale, this merger will benefit the customers.
Major Key Players:
IQVIA HOLDINGS INC.
Covance Inc.
Pharmaceutical Product Development, LLC (PPD)
Parexel International Corporation
Charles River Laboratories International, Inc.
Icon, Plc
Medidata Solutions, Inc.
Syneos Health
Pharmaron
GVK Biosciences Private Limited
Wuxi AppTec
MEDPACE HOLDINGS, INC.
PRA Health Sciences
CTI Clinical Trial & Consulting
Bioskin
Proinnovera
Biorasi
Javara
TFS
Market Segmentation:
By Service
Project Management/Clinical Supply Management
Data Management
Regulatory/Medical Affairs
Medical Writing
Clinical Monitoring
Quality Management/Assurance
Bio-statistics
Investigator Payments
Laboratory
Patient and Site Recruitment
Technology
Others
By Type
Drug Discovery

Target Validation
Lead Identification
Lead optimization

Preclinical
Clinical
By Phase Type
Phase I
Phase II
Phase III
Phase IV
Buy this Research Report@ https://www.precedenceresearch.com/checkout/2403
You can place an order or ask any questions, please feel free to contact at sales@precedenceresearch.com | +1 9197 992 333