The global cell expansion market size is projected to grow to USD 50.82 billion by 2032 from USD 15.72 billion in 2022, representing a CAGR of 12.5% over the forecast period 2023 to 2032.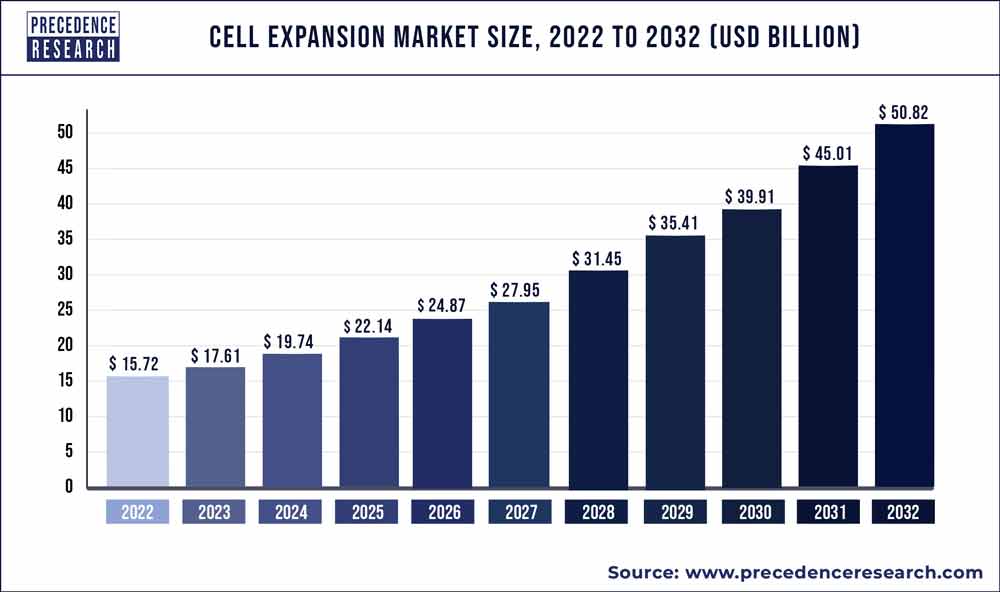 Access our Premium Real Time Data Intelligence Tool, Visit: Precedence Statistics
Key Takeaways:
North America region generated to the largest market share of around 45% in 2022.
By Product, the consumables segment dominated the market in 2022 and captured the largest revenue share in 2022.
By Product, the mammalian cells type segment contributed to the maximum revenue share in 2022.
By Application, the biopharmaceutical segment recorded to the greatest revenue share in 2022.
By End-use, the biopharmaceutical and biotechnology companies segment generated to the biggest share of around 50% in 2022.
Market Overview:
For stem cells or fully differentiated cell populations to be truly favourable or effective as drug screening tools or even for fundamental research reasons, cell expansion is a requirement. In order for the cell wall to expand and develop in the region, cell expansion requires the incorporation of new cell wall material and regulated loosening of the wall. The expansion family of cell-wall-associated protein plays a crucial role in this process. Cell culturing in bioreactors is a controlled method that necessitates the regulation of environmental parameters, such as pH, ambient temperature, regulated gas concentration for the cells' elongation, and controlled flow of cells.
A range of tasks, such as process development, clinical research, and translational research, can be accomplished using cell expansion bioreactors. Cell expansion bioreactors function well and do not need much sanitizing or cleaning. At pharmaceutical, biotechnology, or research institutes, cell expansion systems have the advantage of being extremely safe and guaranteeing that the mixing and aeration of cell culture are proper.
Growth Factors:
The prevalence of chronic diseases is rising, along with government and private sector funding for R&D programmes, which are the main factors driving the global cell expansion market. Antibiotics, medicines, treatments, and vaccines are all made with it. Comprehensive research is necessary to develop new treatment options due to the rising prevalence of diseases like cancer and diabetes.
Also, the typical move towards Single-Use Systems (SUS) offers numerous production benefits in the production of cell therapy Products (CTP). Cross-contamination and culture infection brought on by insufficient sterilization are dismissed by SUS. SUS also makes it possible to produce CTP with large cell bodies and provides long-term cost reductions. As a result, a rise in SUS usage accelerates the development of CTP, which fosters market expansion.
Report Scope of the Cell Expansion Market:
| | |
| --- | --- |
| Report Coverage | Details |
| Market Size in 2023 | USD 17.61 Billion |
| Market Size by 2032 | USD 50.82 Billion |
| Growth Rate from 2023 to 2032 | CAGR of 12.5% |
| Largest Market | North America |
| Fastest Growing Market | Asia Pacific |
| Base Year | 2022 |
| Forecast Period | 2023 to 2032 |
| Segments Covered | By Product, By Cell Type, By Application, and By End-Use |
| Regions Covered | North America, Europe, Asia-Pacific, Latin America and Middle East & Africa |

Market Dynamics:
Driver:
Increasing incidence of chronic diseases
Cell expansion is used to create novel drugs to treat illnesses. It is used to make vaccinations, medications, therapies, and antibiotics. Due to the rising incidence of diseases like cancer and diabetes, there is an urgent need for in-depth research to produce novel treatment options. By 2045, the number of individuals with diabetes is expected to increase from an estimated 425 million in 2017 to 629 million, according to the International Diabetes Federation (IDF).
In 2018, there were 9.6 million cancer-related deaths worldwide, surpassing all other causes of death. According to GLOBOCAN, there will be over 30 million additional cases of cancer by 2040, up from 18 million in 2018. Cell expansion is a crucial component of this research because the prevalence of these diseases is on the rise, necessitating the performance of large studies for their diagnosis and treatment.
Restraint:
Ethical concerns regarding research in cell biology
Since human and animal cells are employed in gene therapy trials involving gene recombination and stem cell therapies, both species must be used in cell biology research. These cells are also used to test the toxicity and pharmacokinetics of medicines that might be harmful to people and animals when administered in vivo. Human embryos are regularly murdered in stem cell research projects that employ them for medical purposes. Strict restrictions have been established by ethical authorities worldwide to control these activities.
The Human Tissue Authority (HTA), Human Fertilization and Embryology Authority (HFEA), Medicines and Healthcare Products Regulatory Agency (MHRA), and Central Ethics Committee for Stem Cell Research (ZES), among other organizations, have put strict regulations into place that apply to cell biology research. Because of these ethical concerns and restrictions on the use of cells for research, cell biology research is severely hampered in many countries throughout the world. It is anticipated that this will have the effect of restricting the growth of the cell expansion market.
Opportunity:
Emerging markets
Most emerging markets are predicted to have growth in the cell expansion industry. In recent years, countries like India, Brazil, and China have experienced significant expansion in the biotechnology and pharmaceutical industries. This pattern is anticipated to persist within the forecasted time frame. According to the India Brand Equity Foundation, the biotechnology industry in India is predicted to increase from USD 11 billion in 2016 to USD 100 billion by 2025, at a rate of 30.46 percent (IBEF).
The same source projects a USD 55 billion pharmaceutical market in India by 2020, up from USD 36.7 billion in 2016. Brazil's pharmaceutical market is predicted to grow from USD 25.3 billion in 2016 to USD 29.9 billion in 2021. As the biotechnology and pharmaceutical industries in these countries develop, it is predicted that there will be an increase in the need for cell expansion products for R&D and pharmaceutical product manufacture.
Impact of COVID-19:
Mesenchymal stromal cells (MSCs) offer an effective way to lessen the harmful effects of the COVID-19 infection. This therapy has been shown to enhance tissue repair and reduce the release of pro-inflammatory cytokines in COVID-19 patients. According to the WHO ICTRP and the NIH ClinicalTrials databases, 27 clinical investigations of MSC-based cell treatment methods have begun since the beginning of the COVID-19 epidemic in China, along with an expanding number of university and industrial trials abroad.
Cell expansion is frequently employed in stem cell and regenerative medicine research. This is a crucial indicator of market growth because the COVID-19 study shows that stem cell-based medications have a wide range of potential applications. The COVID-19 research also makes use of a wide range of cell growth apparatus (such as bioreactors) and materials (such as cell culture media). As a result, the COVID-19 pandemic has been beneficial for the cell growth industry.
Segments Insight:
Product Insights:
Based on product insights, consumables led the product segment in 2022 and accounted for the largest revenue share. Throughout the forecast years, it is expected to continue to hold a strong position. The substantial revenue share of this category is attributed to the availability of a broad selection of commercial media and reagent items that are tailored to particular types of cells. These goods are also readily available, ready to use, and come in formulas without serum.
Due to automation in bioreactors and other expansion platforms to increase the efficiency of culturing activities, the instruments segment is anticipated to experience the quickest growth throughout the projection period. The introduction of automated platforms standardizes the procedure, makes process tracking easier, and cuts down on hands-on time, allowing trained workers to use their time more efficiently. Revenue generation in the instruments area is also fueled by ongoing commercialization and the introduction of automated culturing equipment.
For instance, Hitachi, Ltd. began selling its automated cell mass culture equipment in Japan in March 2019. Its commercialization made it possible to produce induced pluripotent stem cells for use in regenerative medicine. These initiatives should hasten the revenue generation for instruments.
Cell Type Insights:
Based on cell type insights, the mammalian cells segment, which had the biggest revenue share in 2022, will continue to dominate during the projected period. This is because post-translational alterations in humans are relevant to these systems both pharmacokinetically and functionally. As a result, these culture systems are used to create the majority of biopharmaceuticals, such as monoclonal antibodies, certain interferons, thrombolytics, and other therapeutic enzymes.
As differentiated human cells serve a specific purpose in the body, they contributed significantly to revenue share. Differentiated cells, like fibroblasts, have become extremely important in the healing of cutaneous wounds and in skin bioengineering, which supports segment growth. Evaluation of 3D Gingival Fibroblast (GF) toroids as a workable and basic in vitro assay is also important.
Application Insights:
Based on application, the biopharmaceutical segment had the greatest revenue share in 2022 due to an increase in the number of biopharmaceutical medicines being approved over the past few years. The development of biopharmaceuticals is further fueled by the entry of new biopharmaceutical businesses and the spread of bioprocessing technology, which in turn stimulates the methods used during bioproduction to expand. Moreover, single-use technologies are quickly taking over the commercial manufacture of cellular therapies.
Various methods of planar cell expansion, such as tiny multi-layer bioreactors, have been developed over time. This satisfied the requirements for closed systems, which limit contamination risks while maintaining control over a significant upstream production and unit production. Due to the development of cell-based vaccine production in recent years, the vaccine production segment is estimated to see the quickest growth rate during the forecast period. The development of these vaccines offers a workable production alternative while shortening the development period.
End-Use Insights:
Based on end-use insights, the segment for companies that produce biotechnology and biopharmaceuticals had the biggest share in 2022 and it will keep growing significantly. The expanding potential of cell-based medications in the healthcare industry is one of the primary reasons for the large proportion of biopharmaceutical enterprises. For instance, cellular-based therapies have seen a significant rise in popularity in regenerative medicine due to continuous developments in injectable cell delivery systems for a number of therapeutic applications.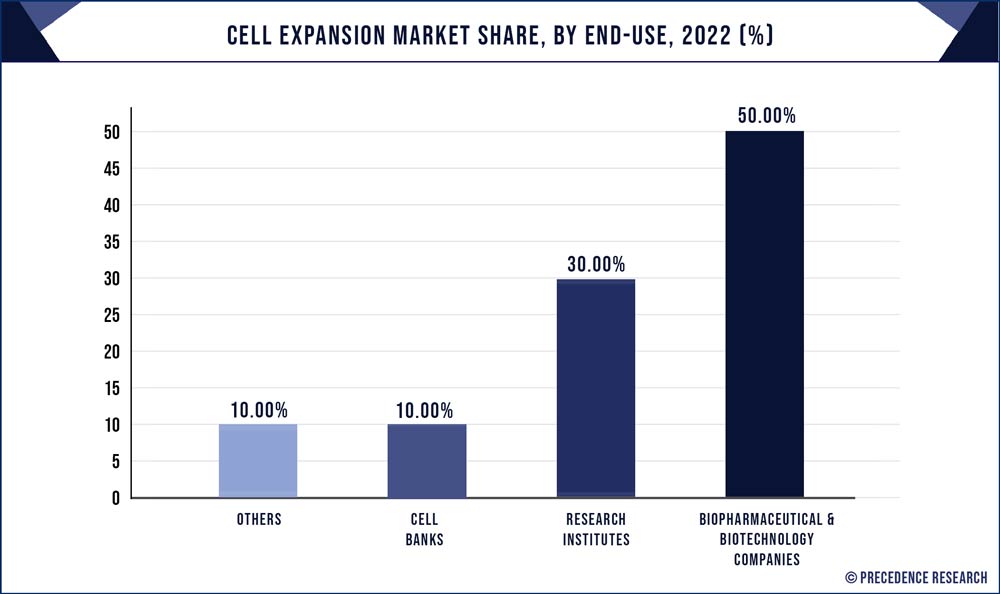 In order to diversify their product offers, businesses in the pharmaceutical and biopharmaceutical sectors are increasingly buying other businesses. For instance, Sartorius AG and Biological Industries, an Israeli manufacturer of cell culture media, agreed to split 50% of the company's equity in December 2019. Sartorius' collection of cell culture media was widened by this acquisition, improving it particularly for cellular and gene therapies and regenerative medicine.
Regional Insights:
North America had the largest share in 2022 due to increased government funding initiatives that have accelerated the production of stem cells and the development of regenerative medicine and cellular therapy products, the region will continue to hold the top spot in the coming years. This drives up demand for cell expansion platforms even more in this region. For instance, the FDA and the Medical Technologies Enterprise Consortium (MTEC) provided USD 5.3 million in funding to the Southwest Research Institute (SwRI) in October 2019. (U.S.). The SwRI used these funds to spread cells for the development of personalised regenerative medicine.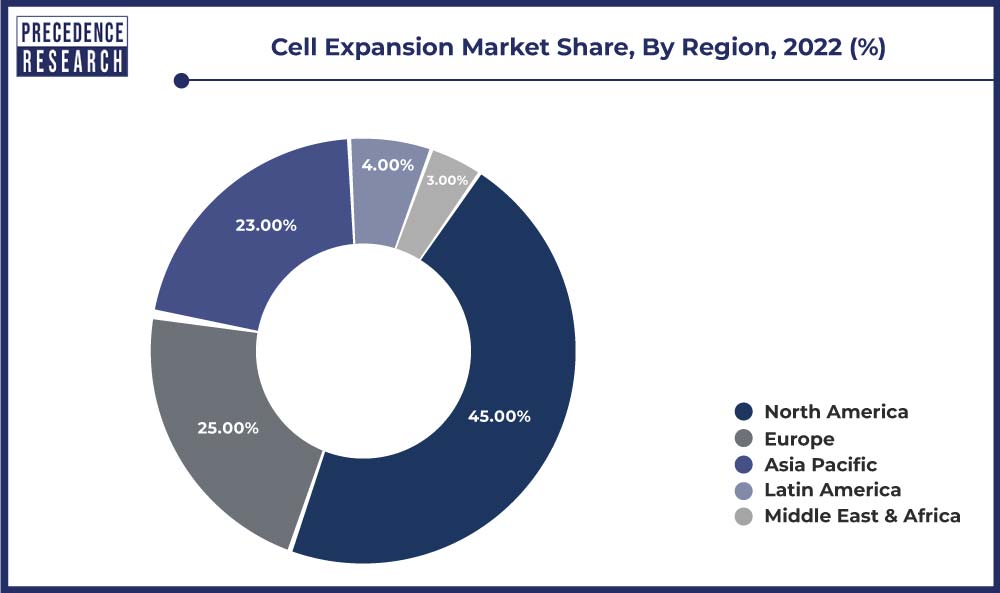 Asia Pacific is predicted to see the fastest growth over the course of the forecast period as a result of increased efforts made by various local pharmaceutical and biotechnology companies to develop and promote their cellular therapies. In July 2019, the Indian company Stempeutics Research Pvt. Ltd. partnered with the British pharmaceutical company Kemwell Biopharma to market the stem cell-based drug Stempeucel. These relationships may result in higher product sales for small and midsized firms.
Recent Developments:
In March 2020, Danaher Corp. successfully completed the purchase of General Electric Co.'s biopharma division for USD 21.4 billion. The company, which will go by the name Cytiva, will function autonomously within Danaher's bio sciences division.
In order to expand its manufacturing capabilities, Eppendorf Group announced in May 2020 that it will be building two additional production halls at its Oldenburg in Holstein site in Germany.
Key Market Players:
Thermo Fisher Scientific, Inc.
GE Healthcare
Corning, Inc.
STEMCELL Technologies, Inc.
Merck KGaA
Miltenyi Biotec
Becton, Dickinson and Company
Terumo Bct, Inc.
Sartorius AG
Takara Bio, Inc.
Segments Covered in the Report:
(Note*: We offer report based on sub segments as well. Kindly, let us know if you are interested)
By Product
Consumables

Reagents, Media, & Serum
Other Consumables

Culture Flasks and Accessories

Tissue Culture Flasks
Other Culture Flasks and Accessories

Instruments

Automated Cell Expansion Systems
Bioreactors
Other Instruments
By Cell Type
By Application
Biopharmaceuticals
Tissue Culture & Engineering
Vaccine Production
Drug Development
Gene Therapy
Cancer Research
Stem Cell Research
Others
By End-Use
Biopharmaceutical & Biotechnology Companies
Research Institutes
Cell Banks
Others
By Geography
North America
Europe
Asia-Pacific
Latin America
The Middle East and Africa