The global EV solar modules market is surging with an overall revenue growth expectation of hundreds of millions of dollars during the forecast period from 2022 to 2030.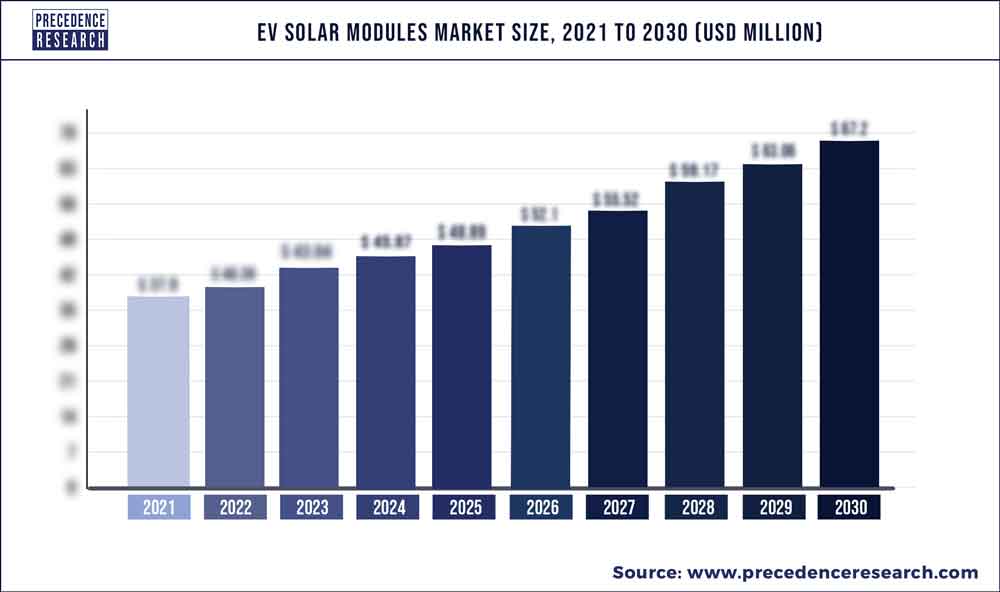 Key Points:
By solar panel type, the monocrystalline segment has previously led the market with the highest revenue share.
By battery type, the lithium-ion segment is projected to hold the largest market share from 2022 to 2030.
By end user, the passenger vehicles segment is expected to hold the biggest market share from 2022 to 2030.
The Asia-Pacific region is projected to remain one of the most enticing markets.
The Dutch government decreased registration prices for plug-in hybrid electric vehicles of around 7% by 2030
An electric vehicle's solar module is an assemblage of various individual photovoltaic or solar cells joined together in sealed and waterproof packaging. The photovoltaic effect is used by solar or photovoltaic cells to convert solar light energy into direct current, which helps to power the vehicle. Battery-powered batteries are used to power the motor, which in turn propels the moving vehicle. Energy generated by the solar module is stored in the batteries. The importance of using renewable energy in the automobile sector will likely be highlighted by solar modules for electric vehicles.
Growth Factors
The market for solar modules for electric vehicles is expected to grow over the forecast period as a result of regulatory authorities throughout the world's growing worries about transportation emissions. The solar module for electric vehicles has undergone several advancements as a result of increased competition between automakers and OEMs to create cutting-edge, high-performance, and efficient machinery.
The growing demand for energy efficient alternative.
Growing environmental consciousness.
Report Scope of the EV Solar Modules Market
Report Coverage
Details
Base Year
2021
Forecast Period
2022 to 2030
By Solar Panel Type

Monocrystalline
Polycrystalline

By Battery Type

Lithium-ion
Lead-Acid
Lead carbon

By End User

Passenger Vehicles
Commercial Vehicles

Regions Covered

North America
Europe
Asia-Pacific
Latin America
Middle East & Africa

Key Market Drivers
Growing need for energy-efficient fossil-fuel alternatives to support growth - Most automobiles across the world get their ignition from fossil fuels like diesel and gasoline. Nevertheless, fuel supplies have drastically dropped in recent years, and the rise in demand for personal mobility, notably in China and India, has driven up energy use even more. Additionally, rising fuel costs have forced consumers to switch to energy-efficient options like solar cars, which have a far lower average cost per mile than traditional fuel-powered automobiles. The expansion of the solar vehicle market is therefore ascribed to an increase in demand for energy-efficient sources for vehicle operation.
Increasing environmental awareness - One of the key elements fuelling the market's expansion is the rise in environmental consciousness around the world. The focus and actions of governments in both developed and developing economies are increasingly on reducing vehicle pollution. As a result, automakers are placing a strong emphasis on creating sustainable automobiles that can run on clean, renewable energy sources and minimize their overall reliance on fossil fuels. Vehicles using internal combustion engines (ICEs) emit a lot of CO2 and other dangerous gases. The extent to which these cars contribute to environmental deterioration is significantly greater. By reducing or eliminating gasoline use, solar vehicles significantly lessen their influence on the environment (depending on the fully electric or hybrid operation). In addition, they operate quietly and require less maintenance than vehicles powered by ICE. The market is expanding as a result of rising worries about car emissions and the eco-friendly functioning of these vehicles.
Durability and flexibility of vehicles - Newly developed solar modules are ideal for electric vehicles because they need electricity for a variety of services, including auxiliary functions like refrigeration. The newly created solar modules for electric cars are also more flexible, lighter, more cost-effective, cost-effective, portable, and highly efficient, which makes them appropriate for use in electric transportation. During the forecast period, these factors are expected to fuel demand for solar modules for electric vehicles.
Key Market Challenges
Design issue - Design issues including the need for a big surface area on the roof for solar panels, poor design functionality such as the omission of safety elements, and low energy storage capacity are some major problems that can restrain market growth in the future. Other obstacles that may impede the adoption of solar module electrical vehicles and significantly slow market revenue growth in the future include a lack of knowledge and a low acceptance rate brought on by some of their shortcomings.
Key Market Opportunities
Advancement and new launches - Technological advancements and a rise in disposable income will be a market opportunity for the solar module electrical vehicle. The vehicle is becoming inexpensive owing to several changes and upgradation. Hence, it is predicted that the market will offer many opportunities in the projected period. It is projected that their various development strategies, including the launch of new goods, acquisitions, and joint ventures, would significantly drive market expansion in the future years.
Segmental Insights
Solar Panel Type Insights
The monocrystalline category, which has previously led the market with the highest revenue share, is anticipated to have the largest market share in the near years. This segment will also continue to expand strongly in the years to come. Monocrystalline can provide commercial efficiencies ranging from 20% to 24% and is generated with wafers produced utilizing a single crystal growth process. Additionally, this technology has been among the oldest, most reliable, and most efficient forms of producing power. In the upcoming years, demand for monocrystalline solar PV modules will be driven by a few essential factors, including longevity, efficiency, operational cost, and integrated energy per panel.
Battery Type Insights
According to battery type, the lithium-ion sector is anticipated to hold the greatest market share in the upcoming years because it now dominates the industry and will continue to experience strong revenue growth. Due to their ability to give EVs a greater range, lithium-ion batteries have recently gained popularity in EVs and are predicted to have the greatest rate of growth. Batteries made of lithium-ion (Li-Ion) are lightweight and have a higher energy density, which results in a vehicle with greater efficiency and range. The Li-ion battery pack weighs one-third less than a lead-acid battery, which is another benefit. In addition, the charging time is much shorter—about 3 hours or less—than what lead-acid batteries need—to charge. The increasing share of this segment can be due to a number of variables, including these.
End User Insights
According to the end user, the passenger vehicles sector is anticipated to hold the greatest market share in the upcoming years. Due to the modest propulsive force needed by passenger automobiles, battery requirements and solar panel integration are relatively easy. Additionally, it is anticipated that the increasing investment in R&D activities will support segment expansion.
Regional Insights
Geographically, Asia-Pacific is anticipated to remain one of the most enticing markets, accounting for the bulk of the market's revenue share throughout the course of the projection decade. There has been a significant increase in the manufacture of solar modules for electric vehicles as a result of growing environmental concerns, the need for affordable solutions, increasing demand for electric vehicles, and the presence of a well-established automotive industry. In Asia Pacific, the majority of automobile sales—including those of electric vehicles—take place. The APAC area is anticipated to have an increase in the installation of electric vehicle charging stations due to countries like China and Japan. Solar module sales will increase as a result of India and South Korea enacting measures to reduce greenhouse gas emissions, which will speed up the development of electric vehicles. Solar panels reduce the amount of power lost during the transmission of electricity from the grid to the automobile, reducing the reliance of an electric vehicle on the power grid.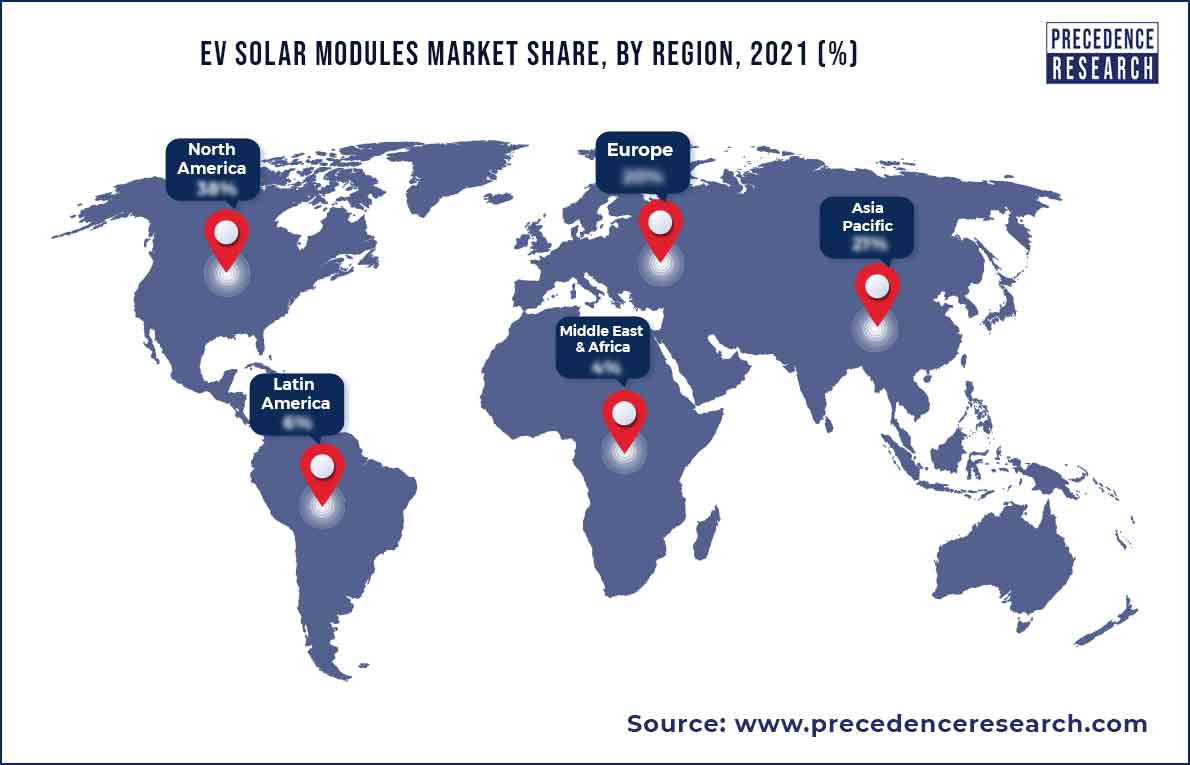 The high percentage of electric cars (EVs) in the Europe region is due to favorable government support in the form of subsidies and strict emission standards. For instance, the Dutch government decreased registration prices for plug-in hybrid vehicles by over 7%, and by 2030, only zero-emission vehicles would be sold in the nation. People are choosing alternative fuel vehicles to reduce vehicle emissions as a result of rising consumer income levels and increased awareness of the damaging impacts of rising pollution levels on the environment. Furthermore, the government has been forced to take the required actions to reduce carbon emissions as a result of the rising pollution levels brought on by the fast industrialization of countries like Germany, Italy, and France. Therefore, the government's restrictions on car emissions are significantly contributing to the expansion of the market for solar vehicles. Electric vehicles are more efficient when solar panels are integrated into them, which could result in a large adoption of these vehicles in Europe throughout the projection period.
Recent Developments
In July 2021– To create its solar-powered electric vehicle, Lightyear finds a factory. A statement of intent between Valmet Automotive, a Finnish contract manufacturer, and Lightyear was signed. The two businesses intend to begin working together on prototypes in early 2022 before starting production on about 1,000 vehicles by the middle of the following year.
Key Market Players
Volkswagen
Toyota
GM
Sono Motors
Cruise Car
Ford
Mahindra
Nissan
Hanergy
Solar Electric Vehicle Company
Segments Covered in the Report
(Note*: We offer reports based on sub-segments as well. Kindly, let us know if you are interested)
By Solar Panel Type
Monocrystalline
Polycrystalline
By Battery Type
Lithium-ion
Lead-Acid
Lead carbon
By End User
Passenger Vehicles
Commercial Vehicles
By Geography
North America
Europe
Asia-Pacific
Latin America
Middle East & Africa (MEA)