The India electric vehicle market size was estimated at USD 4.15 billion in 2022 and it is expected to hit around USD 637.85 billion by 2032, growing at a CAGR of 65.44% during the forecast period from 2023 to 2032.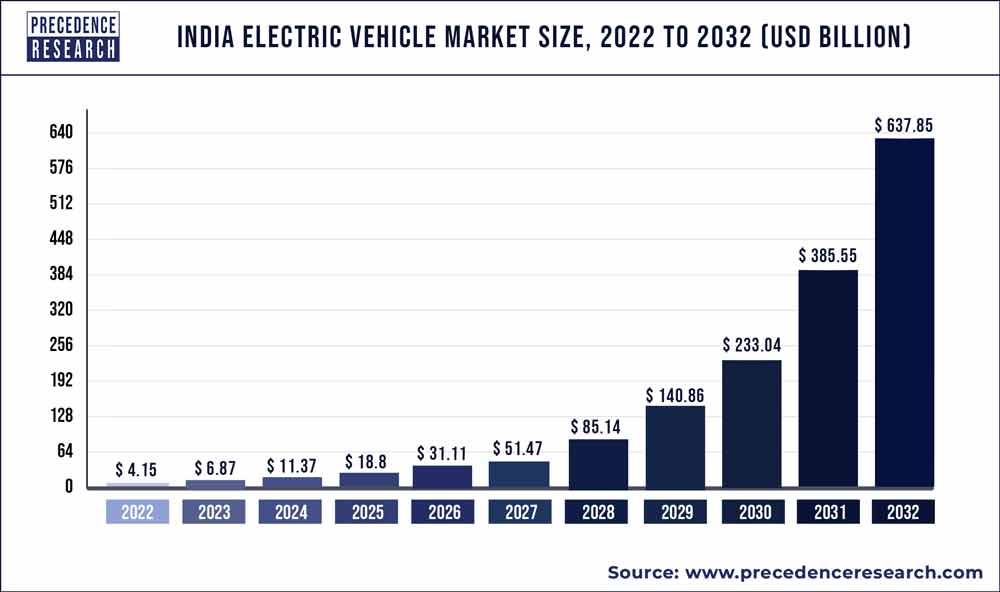 Access our Premium Real Time Data Intelligence Tool, Visit: Precedence Statistics
Key Takeaways:
By Propulsion, the battery-electric vehicle segment is expected to acquire the largest share of the market during the forecast period.
By Platform, the four-wheeler segment contributed more than 58% of revenue share in 2022.
By Platform, the two-wheeler is the fastest growing segment of the India electric vehicle market.
By vehicle type, the passenger vehicle segment held the largest share of the market in 2022, the segment is expected to sustain the growth during the forecast period.
Market Overview:
The electric vehicle market refers to the segment of the automotive industry that focuses on the production, sale, and adoption of electric vehicles. Electric vehicles are automobiles that are powered, either fully or partially, by electricity, as opposed to traditional internal combustion engines that run on fossil fuels like gasoline or diesel. India's electric vehicle (EV) market is experiencing significant growth and grasping increasing attention from manufacturers, investors, and the government. The Indian government has already set ambitious targets to promote electric mobility and reduce pollution, making it one of the world's most promising markets for electric vehicles. Several states had also introduced additional policies to encourage the use of electric vehicles, such as waiving road tax and providing additional financial incentives.
Both domestic and international automobile manufacturers had shown interest in the Indian EV market. Major players like Tata Motors, Mahindra & Mahindra, and Hero Electric had introduced electric vehicles, and global companies like Tesla aims to test its potential in the nation's rapidly growing electric vehicle market.
Data and Statistics:
The Ministry of Heavy Industries, India sanctioned a total of 2,877 electric vehicle charging stations in 2022, among which 50 charging stations were successfully installed on 1st July 2022.
In June 2023, Tata Group, India invested $1.6 billion in an electric vehicle rechargeable battery production plant in Gujrat. The plan for the new plant is done in collaboration with Gujrat state government that aims to boost the production of electric vehicles to achieve sustainability.
In India, the total sales of electric two-wheelers reached 7,20,733 in the fiscal year 2023, Ola being the leader of the market held approximately 21% share of the electric vehicle market in the nation.
In India, the electric three-wheeler is experiencing a surge, the sales for electric 3-wheeler passenger vehicles rose by 23% and sales for 3-wheeler cargo-type rose by 56% in the month of March 2023. Mahindra and Mahindra alone sold 3,538 three-wheeler passenger vehicles in March 2023.
In 2022, Uttar Pradesh (state) held the highest electric vehicle sales while holding 20.64% share of the nation's market. The state was followed by Maharashtra which held a 10.15% share of the market.
India has recently discovered a significant reserve of lithium in the states of Rajasthan and Jammu & Kashmir; the discovery is observed as a game changer for electric vehicle production in the country. These reserves are claimed to fulfill almost 80% of the country's lithium requirement. The discovery is expected to boost the production of electric vehicles with lithium batteries by declining the country's dependency on lithium imports.
Indian origin electric vehicle companies and their sales (Fiscal Year 2023: 1st April 2022- 31st March 2023)
| | | |
| --- | --- | --- |
| Company | Electric Vehicle Type | Sales by Units (FY2023) |
| Bajaj | Two-wheeler | 36,260 |
| Tata | Four-wheeler | 5,38,640 (+45%) |
| Ola | Two-wheeler | 1,29,866 |
| Mahindra and Mahindra | Three-wheeler | 36,816 |
| TVS | Two-wheeler | 81,290 (excluding March 2023) |

Growth Factors:
The Government of India has set multiple targets to reduce the carbon intensity by 45% by 2030 while the nation also aims to active zero carbon emission by 2070. Increasing awareness about environmental issues and the need to reduce air pollution and greenhouse gas emissions had led to a growing interest in electric vehicles as a cleaner and more sustainable mode of transportation. The expansion of charging infrastructure was a key factor in boosting electric vehicle sales. As the charging network improved, consumers felt more confident about the convenience of charging their EVs, mitigating range anxiety.
Along with this there are even more potential growth factors that promote the growth of the market such as advancements in battery technology, lower operational costs, urbanization in the country, and a favorable regulatory environment by the government. Additionally, the potential in the Indian automotive industry that actively participates in developmental activities to sustain in the global market also promotes the market's growth.
Report Scope of the India Electric Vehicle Market:
| | |
| --- | --- |
| Report Coverage | Details |
| Market Size in 2023 | USD 6.87 Billion |
| Market Size by 2032 | USD 637.85 Billion |
| Growth Rate from 2023 to 2032 | CAGR of 65.44% |
| Base Year | 2022 |
| Forecast Period | 2023 To 2032 |
| Segments Covered | By Propulsion Type, By Platform, and By Vehicle Type |

Market Dynamics:
Driver:
Demand for an extensive public transportation network
However, the sales of electric buses for public transportation held the lowest share of the market (0.2%) in 2022, the government's initiative to achieve net zero emission by 2070 along with multiple schemes on electric vehicles has started supporting the adoption of EVs as a public transport. Thus, the sales of e-buses have boosted since the first quarter (Q1) of 2023 while showing a sequential growth of 39%.
India has one of the world's largest bus fleets, and the majority of these buses are powered by fossil fuels. Transitioning to electric buses can have a massive impact on reducing emissions and air pollution in urban areas. EV buses can serve as clean and sustainable solutions for public transportation, helping cities meet their climate and environmental goals. Thus, the demand for extensive public transportation networks acts as a driver for the market's growth.
Multiple state governments have set individual targets to achieve zero emissions and carbon reduction while promoting the adoption of e-vehicles as public transport. Following are a few of those initiatives:
| | |
| --- | --- |
| State Government | Action Plan |
| Maharashtra | State Transport Corporation aims to replace 15% of its buses in electric buses |
| Uttar Pradesh | Launched 10,000 electric buses and opened green routes in 10 cities |
| Andhra Pradesh | Aims to covert 11,000 state transport buses in the electric fleet |
| Delhi | Placed order for 2,026 electric buses |
Restraint:
High capital investment
Setting up a manufacturing facility for electric vehicles, especially battery production units, requires significant capital investment. Battery manufacturing is a crucial component of EV production, and its high capital intensity can deter new entrants and limit the scale of operations. Establishing a comprehensive charging infrastructure network is a capital-intensive endeavor. Building charging stations at various locations, including public places, highways, and residential areas, demands significant investment. One of the most significant contributors to the high upfront cost of electric vehicles is the battery. Despite advancements, batteries can still be expensive, making electric vehicles costlier than conventional vehicles. Thus, high capital investment hinders the market's growth.
Opportunity:
Subsidies from Indian government
The Government of India has started offering 'FAME (Faster Adoption and Manufacturing of Electric Vehicles) Subsidy scheme' to encourage the adoption of electric vehicles in the country. The subsidy allows buyers to get electric (hybrid and battery) vehicles at cheaper prices. The period of subsidy is extended till March 2024 by naming the scheme FAME II (second phase). The subsidy scheme was exclusively made to promote the sales of commercial and public vehicles.
In total, a total of 8.59 (as of February 2023) electric vehicles are sold out under the FAME subsidy scheme, government subsidies also act as an incentive for automobile manufacturers to invest in electric vehicle production. Manufacturers are more likely to allocate resources and focus on EV development when they see a growing market demand supported by government subsidies. This, in turn, leads to a more diverse and competitive range of electric vehicle models available to consumers. Subsidies for electric vehicles align with the government's goals to reduce air pollution and combat climate change. All these factors collectively open an opportunity for the market to grow during the forecast period.
Segments Insight:
Propulsion Insights:
The battery electric vehicle segment dominated the market in 2022, the segment is expected to sustain its dominance throughout the forecast period. Over the years, there have been significant advancements in battery technology in India, leading to improvements in energy density, driving range, and charging speed. These advancements have addressed concerns about range anxiety and made battery electric vehicles more practical and convenient for everyday use.
Electric vehicles often use standardized battery cells, which are modular and easier to assemble. This modularity also allows for scalability, depending on the vehicle's size and range requirements. Moreover, the investments and potential interest by automakers in the production of battery cells for electric vehicles in the country promote the segment's growth.
The Government of India reduced the customs duty on lithium-ion batteries from 21% to 13% under the Union Budget 2023. This step promotes the adoption of electric vehicles battery in the country by boosting its production capacity.
In June 2023, Tata Group of India signed a deal to build a lithium cell battery production plant in Gujrat state with an investment of $1.58 billion. This plant will promote the nation's plan to create its own battery supply chain for electric vehicles.
Platform Insights:
The four-wheeler segment held the largest share of the market in 2022, the segment will continue to sustain the position during the forecast period. Four-wheelers typically offer longer driving ranges compared to two-wheelers and three-wheelers. This longer range makes electric cars more practical for longer commutes and travel, appealing to a broader consumer base. The Government of India has focused on promoting electric cars to reduce greenhouse gas emissions and air pollution. Incentives and policies, such as subsidies, tax benefits, and reduced registration fees, often target electric cars to encourage their adoption.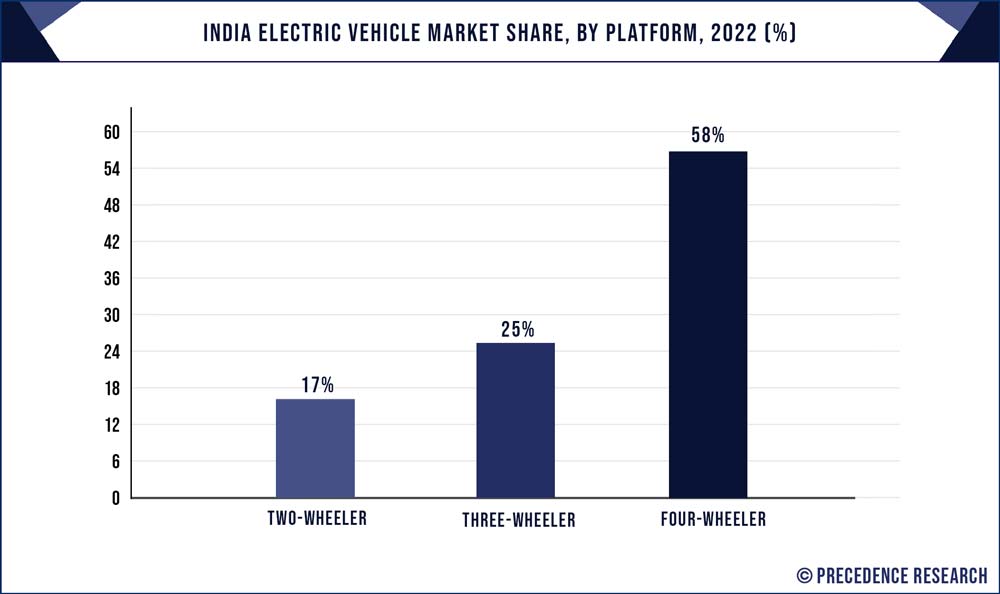 On the other hand, the two-wheeler segment is observed to be the fastest-growing segment of the market. The rising adoption of electric two-wheelers from logistics companies in India is expected to supplement the segment's growth. In addition, the affordability of electric scooters in India promotes the segment's growth. Additionally, charging infrastructure for electric two-wheelers is relatively easier to set up compared to charging stations for electric cars. Simple charging solutions like home charging or charging at workplaces are sufficient for meeting the needs of most electric two-wheeler users.
According to the Society of Manufacturing Electric Vehicles, India recorded 86,067 electric two-wheeler (E2W) sales in March 2023. The sales of electric two wheelers in India might surpass by a whopping rate of 80% by 2030.
Vehicle Type Insights:
The passenger vehicle segment held the largest share of the market, the segment is expected to grow at a significant share during the forecast period. Passenger vehicles, including electric cars, are the most common form of personal transportation. The demand for passenger vehicles is generally higher than other types of electric vehicles like commercial vehicles or industrial machinery. Charging infrastructure has been more focused on supporting passenger electric vehicles. Charging stations have been installed in urban areas, residential complexes, and public spaces, making it more convenient for consumers to charge their electric cars.
As urban population grows in India, the demand for efficient and eco-friendly transportation solutions for daily commuting has increased. Passenger EVs offer a convenient and practical solution for urban mobility.
The commercial vehicle segment is observed to witness a significant growth during the forecast period. As businesses and industries become more environmentally conscious, there is a growing demand for sustainable and eco-friendly transportation solutions. Electric commercial vehicles produce zero tailpipe emissions, contributing to improved air quality and reduced greenhouse gas emissions. Thereby, promotes the segment's growth.
Recent Developments:
In July 2023, Tesla representatives stepped up for its new manufacturing plant for electric vehicles in India, while having a conversation with the commerce minister this month. The world's leading automotive company aims to create a manufacturing plant to offer electric vehicles at 25% cheaper rate than its current offering. In May 2023, Tesla executives visited India to establish the manufacturing base for cars and batteries in India.
In July 2023, Maruti Suzuki announced to launch its Maruti Suzuki Brezza EV in Indian market. The electric car is observed to challenge many other manufacturers as it can have an extensive range of 550 kilometers with a 60 kilowatts battery pack. The electric car also aims to have Apple CarPlay and Android Auto touchscreen infotainment system.
In July 2023, based in Madhya Pradesh, Enigma Automobiles announced the launch of its new Ambier N8 electric scooter at the price of Rs.1,08 Lakh. According to the company, the scooter offers 200 kms of range with a single charge and gets fully charged within 2-4 hours.
Market Key Players:
The electric vehicle market in India is fragmented with multiple potential manufacturers/companies that are actively participated in the development, innovation, manufacturing and distribution of electric vehicles. Major key players in the India electric vehicle market are-
Ather Energy Pvt Limited
JBM Auto Limited
Bajaj
Mahindra Electric Mobility Limited
Ola
TVS
Electrotherm
Segments Covered in the Report:
(Note*: We offer reports based on sub segments as well. Kindly, let us know if you are interested)
By Propulsion Type
Battery electric vehicle
Hybrid electric vehicle
By Platform
Two-wheeler
Three-wheeler
Four-wheeler
By Vehicle Type
Passenger Vehicles
Commercial Vehicles