The global internet of things (IoT) in healthcare market size was valued at USD 180 billion in 2022 and it is expected to reach around USD 962.21 billion by 2032 with a compound annual growth rate (CAGR) of 18.3% during the forecast period 2023 to 2032.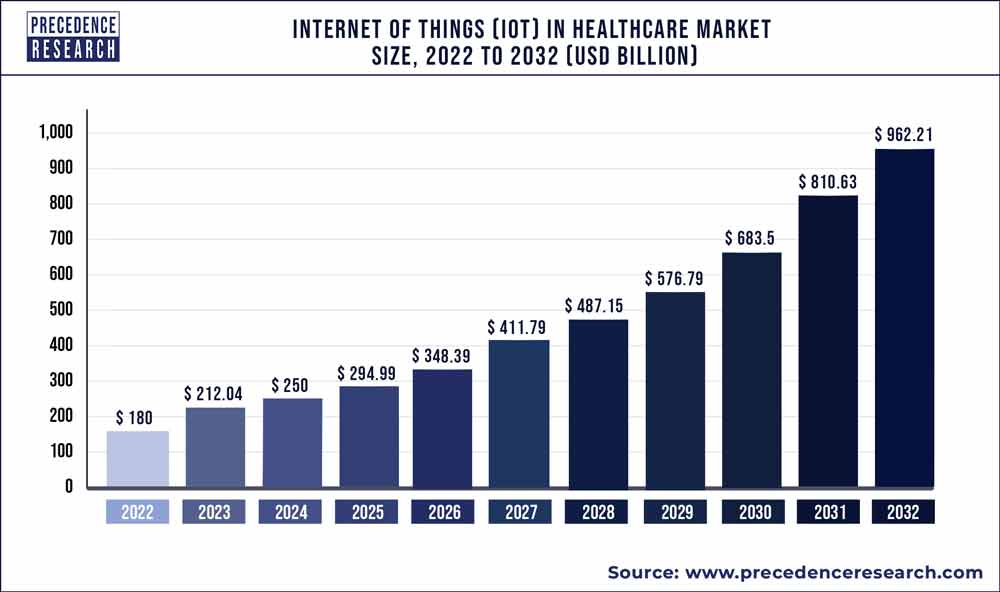 Access our Premium Real Time Data Intelligence Tool, Visit: Precedence Statistics
Key Takeaways:
By component, the services segment held a 59% revenue share in 2022.
By end user, the hospital segment has garnered 35% revenue share in 2022.
North America has had the highest revenue share of over 40.3% in 2022.
Asia Pacific region is projected to grow at a CAGR of 18.50% from 2023 to 2032.
Internet involves the collecting of the data, analyzing the data, monitoring and research process. IoT in healthcare market basically includes sensors, software's, information processing systems and many more. The increase of the IoT in healthcare have shown maximum growth due to increased demands of medical devices in health care center and increasing number of active patients day by day and increased focus on medical devices with high efficiency and good results in a short period of time.
Improved digitalization across the different regions with developing countries with new technologies and innovations produced. Government also integrated and promoted for the development and facilities to increase the medical devices in healthcare market drives the market to grow.
IoT includes sharing of the data from one machine to another machine, smart phones to the machines and on smart watches with developed technologies over wireless connections, embedded system. Advanced software's developed in medical devices advanced sensors and increased research and development of IoT in healthcare increased the market rate during the forecast period.
Growth Factors
The advanced developed technologies of medical devices in IoT with wide utilization of medical devices in healthcare center due to increased number of active patients with chronic disorders which involves respiratory disease, COPD, genetic disorders and many more have helped to boost the market growth rate.
Rapid development of new innovative technology with various facilities integrated by the government is driving the market growth. Government support from various countries for development and availability of medical devices in health care center. Medical devices based on IoT are such a drug affectivity tracker, transferring tools, air quality sensors, remote care biometric scanners, monitoring of blood pressure, determining blood glucose levels, oxygen monitoring, temperature monitor, developed surgical equipment, connected contact lenses, sleep monitors, inhalers, wearable devices. Machine learning and artificial intelligence are integrated in the devices. Availability of the devices with easy usage, effective efficient, increased safety, security, privacy and standard procedures and skills followed by the professionals. Which drives the market growth of IoT in healthcare.
Impact of covid-19 virus have largely affected the market growth of healthcare in IoT. Increased number of infected patients with virus increased number of hospitalizations for a longer period of time with usage of medical devices. More than 185 million peoples are infected by the corona virus and millions of deaths.
Governments from various countries have imposed the rules and regulations to control the wide spread of the disease. Shutdown of the nation, ceased transportation, curfews. Increased number of covid-19 positive patient thrived the number of testing procedures and expansion of IoT in healthcare market growth.
Report Scope of the Internet of Things (IOT) in Healthcare Market
| | |
| --- | --- |
| Report Coverage | Details |
| Market Size in 2023 | USD 212.04 Billion |
| Market Size by 2032 | USD 962.21 Billion |
| Growth Rate from 2023 to 2032 | CAGR of 18.3% |
| Base Year | 2022 |
| Forecast Period | 2023 to 2032 |
| Segments Covered | Medical Devices, Software and System, Services, Product, Connectivity, End User and Geography |
| Companies Mentioned | Medtronic (US), Hillrom- Welch Allyn (US), Stanley Healthcare (US), Abbott Laboratories, AgaMtrix (US), iHealth Lab, Inc, AliveCor,Inc, Bio Telemetry, Inc, Omron Healthcare, Inc (Japan), Siemens AG (Germany), Johnson & Johnson Services, Inc, Boston Scientific Corporation (US), BIOTRNIK (Germany), Honeywell Life Care Solutions (US), Koninklijke Philips N.V. (Netherlands), GE Healthcare (US) |
Key Market Drivers
Driving factors of IoT in healthcare have enhanced the medical devices market growth. Advanced developed technologies of medical devices in health sector for patients safety with efficient and effective procedures. Increase costing of the medical devices in health care sector in last few years because of the advanced technologies developed and increased the quality of the service provided by the health center.
The rising number of the active patients with chronic disorders, respiratory diseases, genetic diseases, COPD and other disorders which increased the hospitalization an increased use of medical devices. Increasing huge number of geriatric patients. The major factor rising of the IoT healthcare is due to outdated old medical and clinical devices with errors in the devices which attracted the attention of the patients towards the newly developed technologies.
Key Market Challenges
Increased usage of the IoT in healthcare in health care center due to increased number of patients and developed technologies in medical devices over wireless connections, embedded systems and other. Transmitting of data from one machine to another machine over wireless connectivity, developed software's and updating of the software's is utmost important for continue chain of the process.
Increased online processed with more data security issues and the data hack or release of the data is the challenging task to challenge the expansion of the growth of the market rate. Increased costing of the medical devices in health sector with developed technologies is the challenging task for the growth. Many citizens cannot afford the cost of the medical devices.
Key market opportunities
Due to increased self-medical devices available in the market for example, glucose monitor, blood pressure monitoring devices, self-injecting, sleep monitor device, stress monitors, inhalers installed in the smart phone or the smart watches over wireless connectivity. Which enhanced the market growth of IoT in healthcare.
Decreased ratio of doctor to patient in various countries. Developed technologies for wireless connectivity between one users to another user. The number of imposed new policies from the government such as reimbursement. Which enables the citizens to experience.
Increased research and development of the medical devices in IoT with improved technologies and facilities with new infrastructures of health care center developed. The key market players involved in introducing the new medical devices contributes to enhance the market growth of IoT.
Segmental Insights
Product Insights
Segmentation of IoT in healthcare on the basis of product advanced developed technologies with improved electronic health records for monitoring the health. Which includes vital signs monitoring devices involves blood glucose monitors, blood pressure monitors, multipara meter monitors, Heart rate monitors. Imaging systems, respiratory devices, patient monitoring, infusion pump, hearing devices, anesthesia machines, ventilators, neurological devices, fetal monitoring devices, implantable cardiac devices includes pacemakers, implantable cardiac monitors, implantable cardioverter defibrillators and other products. Advanced developed technology of medical devices using wireless connections in health care center has increased widely to monitor the health of the active patient, management of disorders, and many more which boost the market high.
Type Insights
Segmentation of internet of things in healthcare based on the type basically involves stationary medical devices, implantable medical devices, wearable medical devices and other medical devices with enhanced development and features of medical devices in health care center. Based on connectivity technology Wi-Fi, Bluetooth, signee and other embedded systems which carry out the work flow smoothly without any disruption. System and software involved re analytics layer, database layer, network layer.
Application Insights
Segmentation of internet of things healthcare based on the application widely utilized in the telemedicine, store and forward telemedicine over a software using the wireless connections, medication management, interactive medication, monitoring of the patient, clinical operations, work flow management, clinical imaging, measurement of fitness. Drug development and research which helps to boost the IoT healthcare market.
Internet of Things (IOT) in Healthcare Market Share, By Region, 2022 (%)
| | |
| --- | --- |
| Regions | Revenue Share in 2022 (%) |
| North America | 40.30% |
| Asia Pacific | 20.60% |
| Europe | 25.70% |
| Latin America | 9% |
| MEA | 4.40% |
Geography Insights
On the basis of geography, Asia Pacific region to hold the top most position of development of IoT in healthacre in health care center with developed technologies and increased demand have increased the market rate. Government also contributed with the increased facilities of IoT in healthcare with new developed infrastructure. North America, Europe, Latin America, Middle East and Africa also raised the utilization and adapting the new developed IoT in healthcare in the health care which help to boost the market growth.
Recent developments
In the year 2020, Abbott and Insulet collaborated together to introduce a glucose determining and auto insulin delivery.
In the year 2021, Hill Rom introduced a suite of connected solutions to increase the patient outcome.
In the year 2021, Surgical theatre collaborated with Medtronic to launch surgical theatres SyncaR augmented reality (AR) technology with Medtronic's StealthStation S8 surgical navigation system.
Key market players
Medtronic (US)
Hillrom- Welch Allyn (US)
Stanley Healthcare (US)
Abbott Laboratories
AgaMtrix (US)
iHealth Lab, Inc
AliveCor,Inc
Bio Telemetry, Inc
Omron Healthcare, Inc (Japan)
Siemens AG (Germany)
Johnson & Johnson Services, Inc
Boston Scientific Corporation (US)
BIOTRNIK (Germany)
Honeywell Life Care Solutions (US)
Koninklijke Philips N.V. (Netherlands)
GE Healthcare (US)
Segments covered in the report
(Note*: We offer report based on sub segments as well. Kindly, let us know if you are interested)
By Medical Devices
Stationary Medical Devices
Wearable External Medical Devices
Implantable Medical Device
Other medical devices
By Software and System
Application Security
Network Security
Data Analytics
Remote Device Management
Network Bandwidth Management
By Services
Architecture (System Integration)
Consulting
Application Development (Support and Maintenance)
By Product
Vital Signs Monitoring Devices

Blood Glucose Monitors
ECGs/Heart Rate Monitors
Blood Pressure Monitors
Multiparameter Monitors
Oximeters

Imaging Systems
Respiratory Devices
Implantable Cardiac Devices

Implantable Cardioverter-defibrillators
Pacemakers
Implantable Cardiac Monitors

Patient Monitors
Infusion Pump
Fetal Monitoring Devices
Neurological Devices
Ventilators
Anesthesia Machines
Hearing Devices
Other Products
By Connectivity
Bluetooth
Zigbee
Wi-Fi
NFC
Embedded System
Others
By End User
Hospitals
Clinics
Laboratory Research
Others
By Geography
North America
Europe
Asia-Pacific

China
India
Japan
South Korea
Malaysia
Philippines

Latin America

Brazil
Rest of Latin America

Middle East & Africa (MEA)