The global plastic containers market size was valued at USD 64.88 billion in 2022 and it is expected to be worth around USD 113.91 billion by 2032, poised to grow at a CAGR of 5.79% during the forecast period 2023 to 2032.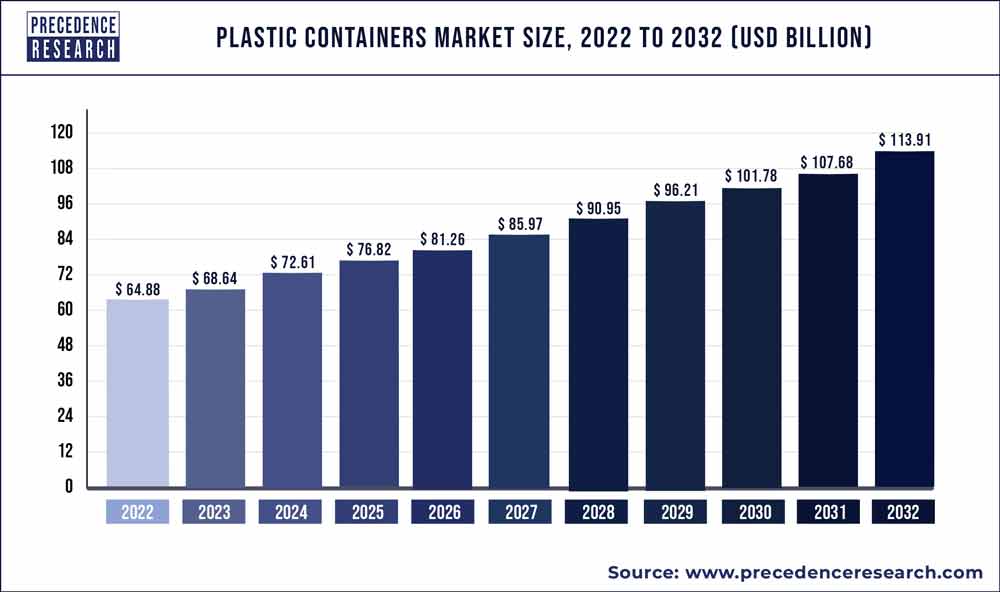 Key Takeaways:
Asia-Pacific generated more than 35% of the revenue share in 2022.
By Type, the bottles & jars segment is expected to expand at the fastest CAGR from 2023 to 2032.
By Material, the polyethylene terephthalate (PET) segment is predicted to lead the global market between 2023 and 2032.
By Ens-user, The food & beverage segment is estimated to dominate the global market from 2023 to 2032.
Plastic containers are widely used in various industries for packaging purposes. They are made from different plastic resins, including polypropylene, polyethylene terephthalate, low-density polyethylene, and high-density polyethylene. These containers come in various forms, such as bottles, jars, bowls, and pails. Therefore, these plastic containers are suitable for packaging food, beverages, pharmaceuticals, and cosmetics. They offer durability, lightweight construction, and are impervious to moisture. In addition, plastic containers provide protection from sunlight, which helps maintain the quality of the packaged products. The increasing demand for rigid packaging from food and beverage manufacturers drives the growth of the market. These include a shift towards sustainable packaging solutions, using recycled materials, innovative designs to reduce material usage, and adopting technologies such as smart packaging and tamper-evident features.
Furthermore, the growing consumer preference for convenience and ready-to-eat products further helps drive demand across the market. Plastic containers are durable, lightweight & portable and easy to use, making them popular for packaging food, beverages, personal care products, and household chemicals. They can also be molded into several sizes, shapes, and colors, allowing for branding and differentiation. The plastic container market is expected to grow significantly in the coming years as industries increasingly promote recycling, use more recyclable materials, and develop eco-friendly alternatives like biodegradable plastics and packaging solutions.
However, environmental concerns, regulatory measures, consumer perception and preference shifts are anticipated to impede the market growth. Governments and regulatory bodies are implementing measures to reduce plastic waste and promote sustainable practices. These include bans or restrictions on single-use plastics, taxes or levies on plastic packaging, and mandates for recycling or eco-friendly packaging materials. Such regulations can challenge the plastic container market and require companies to adapt to new standards. For instance, in July 2021, the European Union (EU) implemented a new regulation banning certain single-use plastic items, including plastic cutlery, plates, straws, and beverage stirrers. The regulation aims to reduce plastic waste and promote more sustainable alternatives.
The lockdown measures implemented by various governments in anticipation of the COVID-19 pandemic have caused disruptions in supply chains and manufacturing, leading to a slowdown in economic activity, affecting demand for container products. On the other hand, the government took steps to improve the pharmaceutical industry and recommended citizens enhance their immunity by consuming supplements. Furthermore, the pandemic also presented an opportunity for the plastic container market with a boost in the e-commerce sector. The online delivery of food and beverages, cosmetic products, home care products, and disinfectants supported the growth of container manufacturers as these products required packaging for safe transportation.
Report Scope of the Plastic Containers Market:
| | |
| --- | --- |
| Report Coverage | Details |
| Market Size in 2023 | USD 68.64 Billion |
| Market Size by 2032 | USD 113.91 Billion |
| Growth Rate from 2023 to 2032 | CAGR of 5.79% |
| Largest Market | Asia Pacific |
| Base Year | 2022 |
| Forecast Period | 2023 to 2032 |
| Segments Covered | By Types, By Material, and By Ens-User |
| Regions Covered | North America, Europe, Asia-Pacific, Latin America and Middle East & Africa |

Key Market Drivers:
Increasing demand for consumers to brighten the market prospect
Consumers are increasingly seeking convenience and portability in their everyday lives. Plastic containers provide lightweight and easy-to-handle packaging solutions that align with these preferences. Plastic containers' versatility in size, shape, and functionality allows them to cater to various consumer needs, including food storage, on-the-go beverages, personal care products, and more. Moreover, the fast-paced lifestyle of modern consumers drives the demand for ready-to-eat and pre-packaged foods, beverages, and other consumer goods. It offers an ideal packaging option for these products due to their ability to preserve and protect the contents, ensuring convenience and freshness.
Furthermore, e-commerce and online retail have significantly increased the demand for plastic containers. The growth of delivery services and online shopping platforms requires secure and durable packaging to protect products during transit. They offer excellent protection, lightweight construction, and ease of handling, making them well-suited for e-commerce packaging. Moreover, the visual appeal of plastic containers plays a crucial role in consumer purchasing decisions. Manufacturers incorporate attractive designs, colors, and branding elements to enhance product visibility and attract consumers to store shelves or online platforms.
Growing packaging industry
The need for effective and efficient packaging solutions has increased with the rising demand for convenience foods, ready-to-eat meals, and on-the-go beverages. They offer advantages such as lightweight construction, durability, and excellent barrier properties that help preserve the quality and freshness of food and beverages. Also, the healthcare industry relies heavily on plastic containers for packaging pharmaceuticals, medical devices, and healthcare products. The need for sterile and secure packaging and the demand for child-resistant and tamper-evident containers drive the use of plastic in this sector.
Furthermore, the demand for plastic containers is expected to grow as a growing packaging industry. This is because the overall expansion of the packaging industry across various sectors fuels the demand for plastic containers due to their versatility, cost-effectiveness, and ability to meet diverse packaging needs. Moreover, governments and industries worldwide are investing heavily in developing packaging sources and infrastructure, which is anticipated to drive the growth of the plastic container market. As the packaging industry expands and evolves, the demand for innovative solutions continues growing.
Key Market Challenges:
Environmental concerns about plastic container are causing hindrances to the market
The environmental impact of plastic containers, particularly single-use plastics, has raised significant concerns. Plastic waste pollution, including marine pollution, has led to increased scrutiny and regulatory measures to reduce plastic consumption and promote more sustainable packaging alternatives. Improper disposal and inadequate recycling infrastructure have led to significant plastic pollution in landfills, oceans, and natural environments. This pollution has detrimental effects on ecosystems, wildlife, and human health.
However, the plastic container market must embrace sustainability practices, invest in research and development for eco-friendly materials, collaborate with stakeholders to improve recycling infrastructure, explore alternative packaging materials, and stay ahead of regulatory changes. Adapting to evolving consumer preferences and diversifying product offerings to include more sustainable options can also help mitigate these challenges.
Key Market Opportunities
Development of eco-friendly materials.
Development of advanced technologies in plastic containers.
Growing awareness of recyclable and circular economy initiatives.
Segments Insight:
Container Type Insights:
On the basis of container type, the plastic containers market can be segmented into bottles & jars, pails, tubs, cups & bowls, and others. Among these segments, bottles & jars have emerged as the dominant contributor and are experiencing rapid growth. The pharmaceuticals, food, and beverage industries are driving the demand for bottles & jars as they offer cost-effectiveness, leak-proof properties, and lightweight characteristics. Plastic bottles & jars are increasingly preferred over glass and metal alternatives, making them highly sought after in various sectors. This growing demand from different industries is expected to fuel market growth.
Material Insights:
On the basis of material, it includes polyethylene terephthalate (PET), polypropylene (PP), high-density polyethylene (HDPE), low-density polyethylene (LDPE), and other materials. PET is expected to maintain its dominance throughout the forecast period. It is a lightweight and durable plastic resin that offers transparency similar to glass. PET is preferred for packaging food products and beverages due to its excellent barrier properties against water vapor, gases, oils, alcohol, and dilute acids. High-density polyethylene (HDPE) is a robust and rigid resin known for its good stress, crack resistance, and melt strength. Containers made from HDPE provide an effective moisture barrier and are commonly used in personal care, beverages, food, and chemical industries. Polypropylene (PP) is witnessing growth in adoption by container manufacturers for pharmaceutical and consumer applications.
End-Use Insights:
Based on end-user, the market is classified into food & beverage, pharmaceuticals & healthcare, personal care & cosmetics and others. The food & beverage segment is the leading end-user segment in the market, packaging a wide range of products such as sauces, condiments, dairy products, snacks, beverages, and ready-to-eat meals. Plastic containers are essential for packaging pharmaceutical drugs, vitamins, supplements, and other healthcare products. They provide protection, tamper-evident features, and appropriate storage conditions for medications.
Regional Insights:
On the basis of geography, Asia-Pacific dominates the market, primarily driven by the growing demand for plastic bottles in various industries. The region is expected to witness significant growth in the plastic container market in the coming years, driven by the growing demand for plastic bottles for preserving bottled water and carbonated drinks. The primary material used for beverage bottles is polyethylene terephthalate (PET). China and India are the major countries driving the demand for Plastic Containers in the Asia-Pacific region.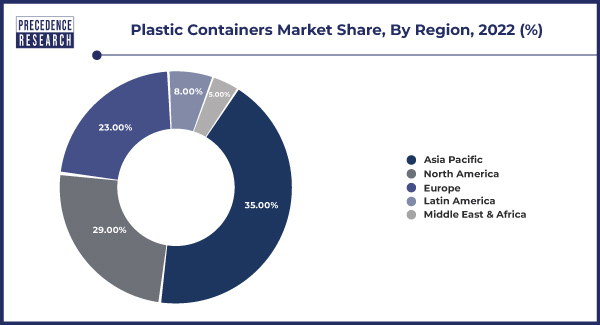 North America is one of the leading plastic container market contributors. This can be attributed to the growth of the food and pharmaceutical industries in the region. Rigid plastic bottles and jars are extensively used in the food industry to protect food and beverages from leakage and contamination. Furthermore, plastic containers are favored in the pharmaceutical industry due to their lightweight nature and durability, making them suitable for storing and transporting medications and healthcare products.
The region in Europe is driven by the growth of the Fast-Moving Consumer Goods (FMCG) and automotive industries. The FMCG sector in the region offers a wide range of products, including detergents, cleaners, and other liquid-based items, which require appropriate packaging solutions. In addition, Europe is home to major premium car manufacturers, leading to a high demand for automotive fluids in the region. Plastic containers are extensively used for packaging automotive lubricants, oil, coolants, and other fluids due to their durability and compatibility with such products. It includes countries like Germany, France, the United Kingdom, and Italy, which play a vital role in the plastic container market.
Recent Developments:
In May 2022, The ALPLA Group, a packaging solutions, and recycling company, collaborated with Vöslauer, an Austria mineral water market firm, to create an innovative returnable PET bottle. This sustainable bottle is designed to reduce carbon emissions by approximately 30% and decrease its weight by nearly 90% compared to its reusable glass alternative.
In May 2021, Plastipak announced a significant investment in recycling operations at a manufacturing site in Spain. The facility will specialize in transforming PET flakes into rPET pellets, known as food-grade recycled PET. These pellets can produce innovative preforms, containers, and bottles. The recycling plant is projected to have an annual pellet production capacity of 20 KT and is scheduled to commence operations in 2022.
In June 2019, Coca-Cola partnered with Coca‑Cola European Partners to introduce a new 100% recycled plastic bottle for its Smartwater brand in the United Kingdom. The new bottle is made from recycled plastic and is part of Coca-Cola's efforts to reduce its use of virgin plastic.
In October 2019, Unilever announced its commitment to reduce its use of virgin plastic by half by 2025. The company aims to achieve this by increasing the use of recycled plastic in its packaging and investing in alternative packaging materials.
Key Market Players:
Amcor plc
Plastipak Holdings, Inc.
ALPLA Group
Graham Packaging Company, L.P.
Berry Global Inc.
Greiner AG
Visy Industries Australia Pty Ltd
Shanghai Zijiang Enterprise Group Co., Ltd
Crown Holdings, Inc.
Silgan Holdings Inc.
Segments Covered in the Report:
(Note*: We offer reports based on sub segments as well. Kindly, let us know if you are interested)
By Types
Bottles & Jars
Pails
Tubs
Cups & Bowls
Others
By Material
Polyethylene Terephthalate (PET)
Polypropylene (PP)
High-density Polyethylene (HDPE)
Low-density Polyethylene (LDPE)
Other Materials
By End-User
Food & Beverage
Pharmaceuticals & Healthcare
Personal Care & Cosmetics
Others
By Geography
North America
Europe
Asia-Pacific
Latin America
Middle East and Africa